---
KF - Fixed Wheel Car Body Transport
---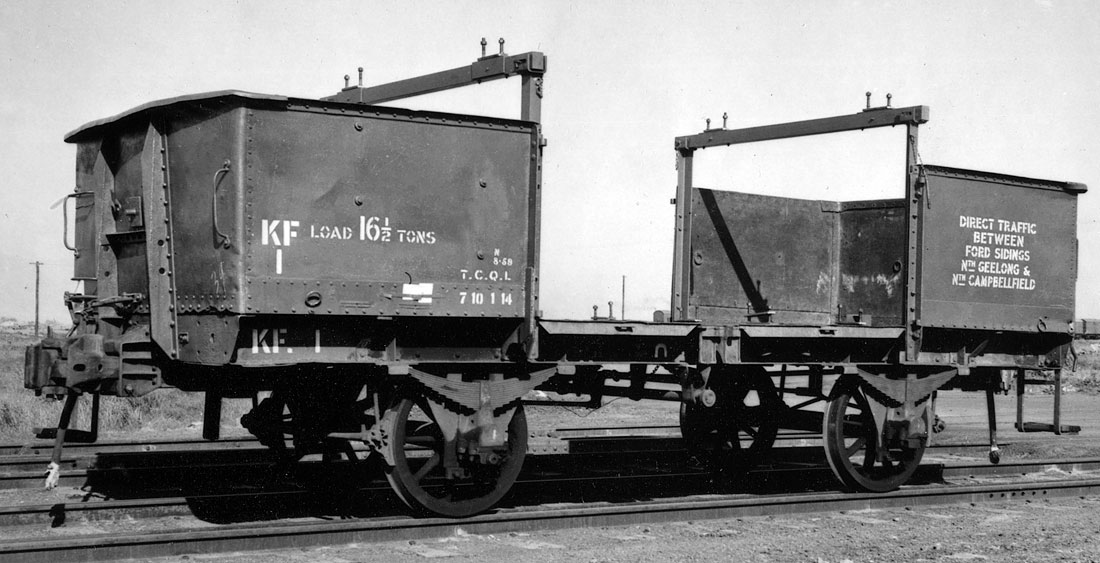 In the late 1950s the Ford Motor Company began to construct and operate a new motor vehicle plant at Campbellfield, north of Melbourne. Until this time, the main plant was at Geelong.
In the transition period, motor car bodies were built at Geelong and then shipped to the Campbellfield plant for completion.
To provide wagons for the movement, one hundred and twenty four wagons were converted from _I__, _IA_ underframes, most of them scrap underframes with no numbers. The conversion involved removal of doors from the wagons and the fitting of motor car body support jigs.
The wagons were classed KF and numbered 1 to 124. They were placed into service during 1959 and 1960.
With the introduction of the standard gauge link and the use of the last letter 'F' for bogie vehicles, the class was recoded to _KW_.
However, about half the class was scrapped. The wagons or in some cases the underframes were modified in conversions to other classes. Some were restored back to I or IA. The other classes the wagons went to were: _B__ boxvans, _DW_ water tanks, _IC_ coal tippler trucks, _IT_ scanting timber transport.
   No photos found for KF   
   No diagrams found for KF   
---
File c251m compiled by Peter J. Vincent, updated 6/2/2010