---
IT - Fixed Wheel Scantling Timber Wagon
---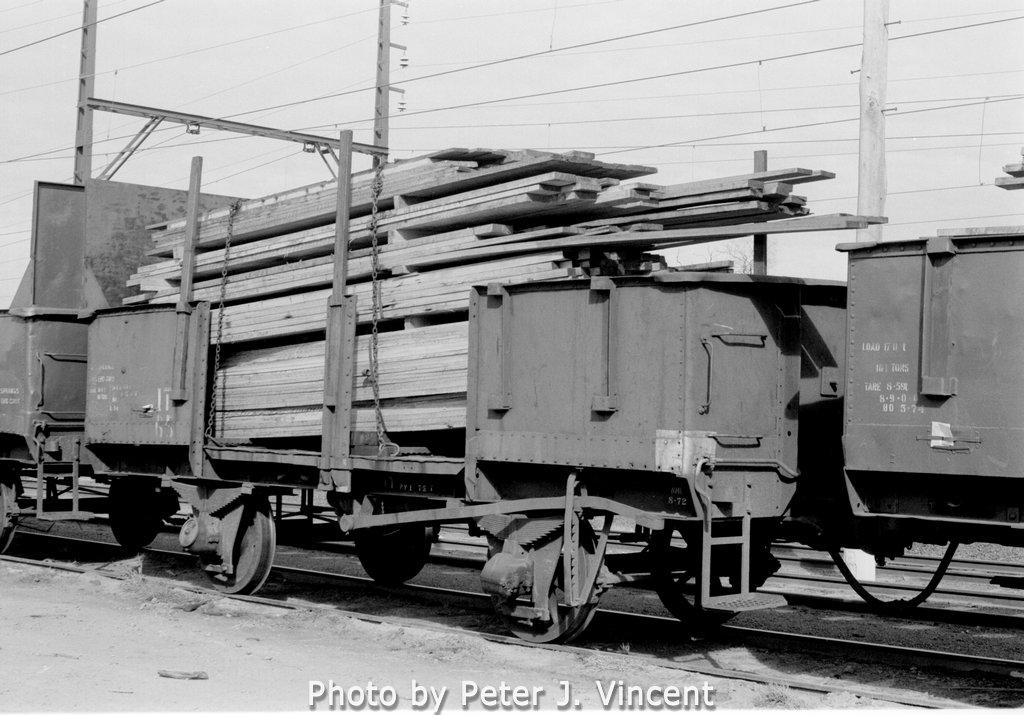 With a rise in housing development in the early 1960's, the timber traffic out of the Orbost region of East Gippsland grew. As a result, about 270 vehicles of _I__ and _IA_ wagons of 15' wheelbase were modified to provide a special vehicle for scantling timber traffic. After trials with one wagon, the class letters IT were adopted. In some cases, other wagn classes with I / IA heritage were used.
The IT number group was 1 - 273.
As scantling timber was packed by the sawmills into 'packs' there was a problem with the load distribution. Each 'pack' consisted of various lengths of sawn timber (scantling) which were stacked with all ends together at one end. To overcome the load problem the IT vehicle had three distinct features:
A bulkhead at one end only, to support the stacked timber
Heavy springs, 10" x 5" journals and 3'2" diameter wheelsets at the bulkhead end
Standard springs and journals, wheelset diameters of 3'0" at the 'light' / opposite end.
Despite extemely uneven loading, derailments were fairly rare. More common was the sight in shunting yards of loaded IT wagons 'rearing up like stallions' when hit roughly from the heavy end during shunting.
By the late 1980's, building construction was using different materials and hardwood was in decline. With reduced traffic, less IT wagons were required and these were replaced by standard wagons with less loading in them.
A batch of bogie wagons were built for timber traffic, coded VFTY. These vehicles, as well as _GY_ and _G__ wagons , gradually replaced the IT wagons in traffic.
Types
There were three main types of IT wagons:
Numbers 2 - 7

Were built "back to front", with the handbrake at the bulkhead end.

Number 252

Wagon IT 252 was an experimental vehicle, a stretched version of a _KT_ truck. As the vehicle was a 22 ton capacity truck and different design, it was recoded to the _KS_ group later.

Remainder

Wagons were built with the bulkhead at the "heavy" end ( ie 22t axlebox/journals/springs) on the non handbrake end.
   Photos   for  'IT  '

   FileID  Description................................................



   CT730   IT        -  rake, mt in gantry road, Bairnsdale, 25/12/1978, [oPJV]

   BC328   IT        - part view, overhanging timber, Westall, 12/1976, [oRXO]

   CZ176   IT      1 - ldd galv. pipes, s1e2, Dandenong, 30/1/1977, [oRXO]

   CZ426   IT      2 - s1e2, empty, Warragul, 9/10/1976, [oRXO]

   BG987   IT      6 - s1e2, ldd timber, Flinders Street Yard, 3/7/1975, [oPJV]

   BG983   IT      6 - s2e1, L7, ldd timber, Flinders Street Yard, 3/7/1975, [oPJV]

   DU226   IT      9 - s2e1, ldd timber, Dandenong, 17/7/1976, [oPJV]

   CZ189   IT     12 - s1, ldd timber, Dandenong, c1976, [oRXO]

   CZ192   IT     16 - s2e1, ldd, Dandenong, 14/11/1976, [oRXO]

   CZ193   IT     18 - s2, loaded, Dandenong, 14/11/1976, [oRXO]

   CZ197   IT     21 - s1e2, loaded, Westall, 31/10/1976, [oRXO]

   CZ199   IT     22 - s2e1, loaded, Dandenong, 14/11/1976, [oRXO]

   DU253   IT     26 - s2, ldd timber/broken sticks, Westall, 17/7/1976, [oPJV]

   CZ201   IT     26 - s2e1, ldd, timber overhang, Dandenong, 14/11/1976, [oRXO]

   CT735   IT     28 - part view, Bairnsdale, 25/12/1978, [oPJV]

   CZ209   IT     32 - ldd timber, Westall, 12/1976, [oRXO]

   BG986   IT     35 - s1e2, ldd timber, Flinders Street Yard, 3/7/1975, [oPJV]

   CZ215   IT     37 - s2, ldd, Dandenong, 14/11/1976, [oRXO]

   CZ228   IT     42 - ldd timber, s1, Westall, 31/10/1976, [oRXO]

   DA639   IT     43 - s2e2 ldd timber, Berwick, 17/7/1976, [oPJV]

   CZ232   IT     48 - s2, ldd, Dandenong, 30/1/1977, [oRXO]

   CZ237   IT     53 - s1e2, ldd timber, Dandenong, 14/11/1976, [oRXO]

   CZ238   IT     54 - s1e2, ldd timber, overhang, Dandenong, 30/1/1977, [oRXO]

   CZ250   IT     62 - s1e2, ldd timber, Westall, 31/10/1976, [oRXO]

   CZ253   IT     65 - s2e1, ldd timber, Dandenong, 14/11/1976, [oRXO]

   BK956   IT     70 - part view, Castlemaine, 29/6/1975, [oPJV]

   CN063   IT     70 - s2e1, ldd timber, 1970s, [oBAU]

   CZ264   IT     71 - s2e1, ldd timber, Dandenong, 30/1/1977, [oRXO]

   DU259   IT     74 - s1, ldd timber, 4  metric/underframe, Westall, 17/7/1976, [oPJV]

   CZ272   IT     78 - s2, ldd timber, Dandenong, 14/11/1976, [oRXO]

   AW755   IT     84 - part view, Warragul, 2/1968, [oPJV]

   CZ279   IT     86 - s2e1, ldd timber, Westall, 31/10/1976, [oRXO]

   BG431   IT     89 - s2e1, ldd posts,  D  crayon, Bairnsdale, 22/9/1975, [oPJV]

   DU250   IT     91 - s1e1, mt, handbrake down full travel, Dandenong, 17/7/1976, [oPJV]

   DU249   IT     91 - s1e1,mtIT    264 - s1e1, mt, Dandenong, 17/7/1976, [oPJV]

   CZ284   IT     91 - s2e1, ldd timber, overhang, Dandenong, 14/11/1976, [oRXO]

   CZ290   IT     98 - s2e1, ldd timber, Westall, 31/10/1976, [oRXO]

   BG985   IT    103 - s1e2, ldd timber, Flinders Street Yard, 3/7/1975, [oPJV]

   CZ305   IT    106 - s2 empty, Westall, 31/10/1976, [oRXO]

   CZ309   IT    110 - s1, ldd, overhang timber, Westall, 31/10/1976, [oRXO]

   DK639   IT    111 - part view/lettering, Orbost, 22/6/1970, [oPJV]

   CZ310   IT    114 - s1, empty, Westall, 12/1976, [oRXO]

   DU274   IT    115 - s2e2, mt, R  crayoned for shunting, Westall, 17/7/1976, [oPJV]

   CZ312   IT    116 - s1, empty, Westall, 12/1976, [oRXO]

   CZ313   IT    117 - s1, ldd, Dandenong, 14/11/1976, [oRXO]

   CZ314   IT    118 - s1, ldd, Westall, 31/10/1976, [oRXO]

   DA650   IT    119 - s1e2 ldd timber, Pakenham, 17/7/1976, [oPJV]

   CZ321   IT    123 - s1, empty, Castlemaine, 13/11/1976, [oRXO]

   CZ325   IT    128 - s1e2, ldd, Dandenong, 14/11/1976, [oRXO]

   CZ328   IT    130 - s2, empty, Westall, 31/10/1976, [oRXO]

   CZ330   IT    131 - s1, empty, North Melbourne C&W, 17/10/1976, [oRXO]

   CZ333   IT    132 - s2, ldd, Westall, 10/11/1976, [oRXO]

   CZ335   IT    133 - s1 perp, empty, Westall, c11/1975, [oRXO]

   CZ338   IT    134 - s1, stored, Rangelea, 13/11/1976, [oRXO]

   CZ341   IT    135 - s1, empty, Dandenong, 30/1/1977, [oRXO]

   CZ343   IT    137 - s2, ldd, Dandenong, 14/11/1976, [oRXO]

   CZ344   IT    139 - s2, empty, Dandenong, 14/11/1976, [oRXO]

   CZ348   IT    140 - s2, ldd, Dandenong, 14/11/1976, [oRXO]

   CZ354   IT    144 - s1, empty, Dandenong, 14/11/1976, [oRXO]

   DU252   IT    145 - s2, ldd timber, Westall, 17/7/1976, [oPJV]

   CZ357   IT    147 - s2, ldd timber/overhang, Dandenong, 14/11/1976, [oRXO]

   DU227   IT    149 - s2e1, ldd timber, Dandenong, 17/7/1976, [oPJV]

   BH129   IT    151 - part view, North Melbourne C&W Shops, 4/3/1981, [oPJV]

   CZ362   IT    151 - s1e2, empty, Westall, 31/10/1976, [oRXO]

   AV786   IT    152 - empty, s2, HBW, Newport Workshops, 19/2/1977, [oPJV]

   CZ369   IT    156 - s2e1, empty, Dandenong, 30/1/1977, [oRXO]

   CZ371   IT    159 - s1, empty, Westall, 10/11/1976, [oRXO]

   CZ374   IT    160 - s2e1, ldd short dried stack, Dandenong, 14/11/1976, [oRXO]

   CZ375   IT    161 - s2, empty, Westall, 10/11/1976, [oRXO]

   CZ376   IT    162 - s1, ldd, Westall, 12/1976, [oRXO]

   B1351   IT    163 - e1p, Flinders Street Yard, 25/3/1978, [oPJV]

   B1335   IT    163 - e1q, no end bracing, Flinders Street Yard, 25/3/1978, [oPJV]

   CZ377   IT    163 - s1, ldd, Dandenong, 14/11/1976, [oRXO]

   B1333   IT    163 - s2e1c, ldd, Flinders Street Yard, 25/3/1978, [oPJV]

   CZ378   IT    164 - s1, ldd - poorly and overhang, Dandenong, 30/1/1977, [oRXO]

   CZ384   IT    165 - s1, ldd, overhang, Dandenong, 14/11/1976, [oRXO]

   CT732   IT    168 - deck/chains/stowage/bolsters, Bairnsdale, 25/12/1978, [oPJV]

   CT733   IT    168 - ID/lettering, Bairnsdale, 25/12/1978, [oPJV]

   CZ392   IT    169 - s2, empty, Westall, 10/11/1976, [oRXO]

   DU256   IT    169 - s2, ldd timber, 4  imperial lettering/underframe, Westall, 17/7/1976, [oPJV]

   CZ394   IT    170 - s1, empty, Woodend, 8/11/1976, [oRXO]

   CZ396   IT    171 - s2, empty, Dandenong, 30/1/1977, [oRXO]

   BG984   IT    172 - s1e2, L4, ldd timber, Flinders Street Yard, 3/7/1975, [oPJV]

   CZ397   IT    172 - s2, ldd, 4  lettering, Westall, 10/11/1976, [oRXO]

   CZ398   IT    173 - s2, empty, Dandenong, 14/11/1976, [oRXO]

   CZ402   IT    176 - s1, empty, 4  lettering, Rangelea, 13/11/1976, [oRXO]

   CZ403   IT    178 - s2, empty, Westall, 31/10/1976, [oRXO]

   CZ404   IT    179 - s1, ldd, Westall, 31/10/1976, [oRXO]

   CZ408   IT    181 - s2, ldd, Dandenong, 30/1/1977, [oRXO]

   CZ409   IT    182 - s2, ldd, Dandenong, 30/1/1977, [oRXO]

   CZ411   IT    185 - s1, ldd, Dandenong, 30/1/1977, [oRXO]

   CZ412   IT    186 - s1, ldd, Westall, 31/10/1976, [oRXO]

   DU273   IT    186 - s1e1, ldd timber, Westall, 17/7/1976, [oPJV]

   CZ416   IT    189 - s2, ldd, Westall, 31/10/1976, [oRXO]

   CZ418   IT    190 - s1, ldd, Westall, 10/11/1976, [oRXO]

   CZ423   IT    195 - s2, ldd, Dandenong, 30/1/1977, [oRXO]

   CZ424   IT    196 - s2, ldd, Westall, 31/10/1976, [oRXO]

   DU254   IT    197 - s1, ldd timber, Westall, 17/7/1976, [oPJV]

   CZ425   IT    198 - s2, ldd, Westall, 10/11/1976, [oRXO]

   BA061   IT    199 - s1, empty, Rangelea, 13/11/1976, [oRXO]

   BA064   IT    200 - s1, ldd, Westall, 31/10/1976, [oRXO]

   BA066   IT    201 - s2, ldd, Dandenong, 14/11/1976, [oRXO]

   BA067   IT    202 - s2, empty, Westall, 12/1976, [oRXO]

   BA074   IT    210 - s2, empty, Dandenong, 30/1/1977, [oRXO]

   BA075   IT    211 - s2, ldd, Westall, 10/11/1976, [oRXO]

   BA078   IT    216 - s2p, ldd, Dandenong, 14/11/1976, [oRXO]

   DU258   IT    218 - s2, ldd timber, Westall, 17/7/1976, [oPJV]

   CN061   IT    219 - s1p, ldd timber, Dandenong, 1970s, [oBAU]

   BA081   IT    223 - s2, ldd, Dandenong, 14/11/1976, [oRXO]

   CB204   IT    224 - boeing winches/web/mt, Oakleigh, 13/4/1979, [oPJV]

   CB205   IT    224 - detail: web winch, Oakleigh, 13/4/1979, [oPJV]

   CB206   IT    224 - detail: webbing retainer bar/opp side, Oakleigh, 13/4/1979, [oPJV]

   BM619   IT    224 - s2, boeing winches, mt, Graham, 30/1/1980, [oPJV]

   BA082   IT    226 - s2, ldd, Westall, 10/11/1976, [oRXO]

   BA083   IT    227 - s1e2, ldd, Dandenong, 30/1/1977, [oRXO]

   BA084   IT    228 - s2, ldd, Westall, 12/1976, [oRXO]

   BA085   IT    229 - s1, ldd steel rod, Dandenong, 30/1/1977, [oRXO]

   DU255   IT    230 - s2, ldd timber, Westall, 17/7/1976, [oPJV]

   BA087   IT    231 - s1, empty, Westall, 31/10/1976, [oRXO]

   BA088   IT    233 - s2, ldd, overhang, Dandenong, 30/1/1977, [oRXO]

   BG402   IT    234 - s1e2, ldd timber, Flinders Street Yard, 16/10/1975, [oPJV]

   BA090   IT    238 - s2p, empty, Westall, 30/1/1977, [oRXO]

   BQ896   IT    239 - s1e2 mt, Flinders Street Yard, 8/12/1980, [oPJV]

   DA641   IT    240 - s2e2 ldd timber, Berwick, 17/7/1976, [oPJV]

   CU657   IT    241 - mt, s1e2c, Bairnsdale, 25/12/1978, [oPJV]

   BM618   IT    241 - s2, boeing winches, mt, Graham, 30/1/1980, [oPJV]

   DU237   IT    243 - s1e2c, ldd timber, Dandenong, 17/7/1976, [oPJV]

   BA095   IT    246 - s1, ldd, Westall, 12/1976, [oRXO]

   BA097   IT    247 - s1, ldd, Dandenong, 14/11/1976, [oRXO]

   CT713   IT    247 - s1e2, mt, Bairnsdale, 25/12/1978, [oPJV]

   BA098   IT    248 - s2, ldd, Westall, 10/11/1976, [oRXO]

   DU272   IT    249 - s2e2, mt, Westall, 17/7/1976, [oPJV]

   BA100   IT    250 - s2, ldd, overhang, Oakleigh, 12/1976, [oRXO]

   BA102   IT    253 - s1, ldd, Westall, 10/11/1976, [oRXO]

   BA103   IT    254 - s1, empty, Rangelea, 13/11/1976, [oRXO]

   BA104   IT    255 - s2, ldd, Dandenong, 30/1/1977, [oRXO]

   BT856   IT    255 - s2,part view, mt, 1980s, [oMUH]

   BA107   IT    260 - s1p, ldd, Westall, 30/1/1977, [oRXO]

   DU246   IT    261 - s2e1, mt,  ..21  under paint, Dandenong, 17/7/1976, [oPJV]

   DU248   IT    264 - s1e1, mt, Dandenong, 17/7/1976, [oPJV]

   BA110   IT    266 - s1e2, ldd, Westall, 31/10/1976, [oRXO]

   BA111   IT    267 - s2e1, ldd, Dandenong, 14/11/1976, [oRXO]

   DA647   IT    268 - s1e2 ldd timber, Berwick, 17/7/1976, [oPJV]

   BA112   IT    269 - s1, ldd, overhang, Westall, 12/1976, [oRXO]

   DU247   IT    270 - s1e1, mt, Dandenong, 17/7/1976, [oPJV]

   CN062   IT    273 - s2e1, ldd timber, 1970s, [oBAU]

 
   Diagrams   for  'IT  '

   FileID  Description................................................



   DF070   IT        -  Axlebox and pan, Drg 3289a, [sPHD]

   CQ848   IT        -  Axlebox Drg 3289a, [oPTC]

 
---
File c011m, compiled by Peter J. Vincent, updated 17/1/2007