---
IC - Fixed Wheel Tippler Wagons
---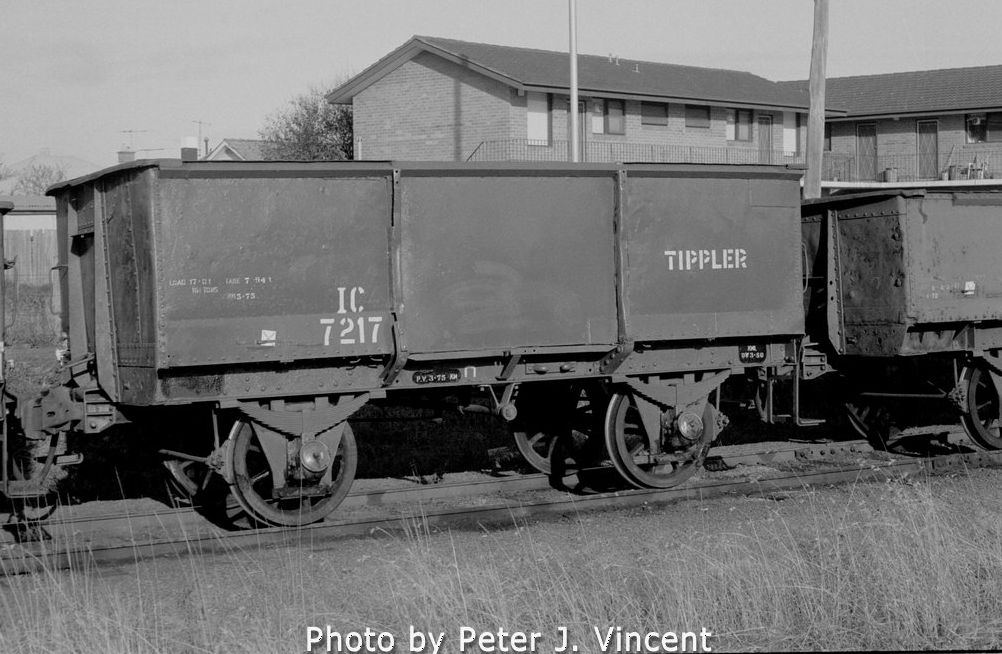 The IC class was converted from _I__ and _IA_ type wagons of both short and long underframe type.
The first IC's appeared in 1954. This may have been part of the electrification project to segregate brown coal traffic as a new electrified branch from Moe to the Yallourn opened in the same year.
By the 1970's, the IC traffic was Bacchus Marsh (Maddingley mine) and Fairfield with about 3-4 trains per week. The Yallourn IC traffic had stopped long ago. Briquette trains still ran to Newport Power station, though from the Morwell Briquette factory. Briquettes were originally planned for production with Morwell coal. However the coal was unsuitable and Yallourn coal was transferred to Morwell via the narrow gauge SEC railway.
There were three tipplers in the system: Newport Power Station; APM, Fairfield and the Heinz Co. plant at Dandenong whch was still working into the late 1990's before conversion to gas. The tippler was simply a large clamp that secured the wagon to a table. The table then rotated around to empty the wagon, then returned. Rotation involved uncoupling the wagon and placing it on the table. Axlebox oil levels needed to be checked after tippling to see if topping up was required.
Some conversions into the class involved other wagons with I / IA heritage.
All up, there were about 350 vehicles in this traffic between 1954 and late 1970's. For this traffic surplus open wagons had the doors welded closed or large steel plates placed across the door openings. Many of the conversions replaced wagons being removed from service.
The IC's were scrapped progressively from 1970 to 1978. There were some conversion to _HD_ for locomotive traction sand.
   Photos   for  'IC  '

   FileID  Description................................................



   BH386   IC   3833 - 4  class/number side, 4  number on und, 1974, [oPJV]

   BH365   IC   3833 - s1, ldd coal, [oPJV]

   CN058   IC   6811 - s1p, L7, Off Reg, 1970s, [oBAU]

   CN057   IC   6811 - s2e2, Off Reg, L7, 1970s, [oBAU]

   DK810   IC   7223 - s1, Off Reg, Tottenham Yard, 7/7/1977, [oPJV]

   DN697   IC   7223 - s2p,  TIPPLER , Rangelea, 13/11/1976, [oRXO]

   DN699   IC   7417 - s1,  TIPPLER , Rangelea, 13/11/1976, [oRXO]

   DK810   IC   7467 - Off Reg, s2, Tottenham Yard, 7/7/1977, [oPJV]

   DN700   IC   7467 - s1, TIPPLER, Rangelea, 13/11/1976, [oRXO]

   DN701   IC   7566 - s2p, TIPPLER, Rangelea, 13/11/1976, [oRXO]

   DN703   IC   7928 - s2p, TIPPLER, Rangelea, 13/11/1976, [oRXO]

   BG619   IC   7997 - s2e1, L4, Off Reg, Newport Workshops, 6/11/1975, [oPJV]

   DN706   IC   8125 - s2, TIPPLER, Rangelea, 13/11/1976, [oRXO]

   DN707   IC   8131 - s1, TIPPLER, Rangelea, 13/11/1976, [oRXO]

   DN708   IC   8349 - s2, TIPPLER, Rangelea, 13/11/1976, [oRXO]

   DN709   IC   8362 - s1, TIPPLER, Rangelea, 13/11/1976, [oRXO]

   DN710   IC   8485 - s2, TIPPLER, Rangelea, 13/11/1976, [oRXO]

   DN711   IC   8712 - s2, TIPPLER, Rangelea, 13/11/1976, [oRXO]

   DN713   IC   9029 - s2, TIPPLER, Rangelea, 13/11/1976, [oRXO]

   DK814   IC   9119 - leads stored rake ex Rangelea, Tottenham Yard, 7/7/1977, [oPJV]

   DK813   IC   9119 - lettering panel/16.5t/Off Reg, Tottenham Yard, 7/7/1977, [oPJV]

   DK812   IC   9119 - Off Reg, s1e1, TIPPLER, Tottenham Yard, 7/7/1977, [oPJV]

   DN714   IC   9119 - s2, TIPPLER, Rangelea, 13/11/1976, [oRXO]

   DN715   IC   9234 - s1, TIPPLER, Rangelea, 13/11/1976, [oRXO]

   DN716   IC   9468 - s1, TIPPLER, Rangelea, 13/11/1976, [oRXO]

   DN722   IC  10244 - s2e2, Rangelea, 13/11/1976, [oRXO]

   DN723   IC  10336 - s2, TIPPLER, Rangelea, 13/11/1976, [oRXO]

   DN730   IC  11045 - s1, Bacchus Marsh-Fairfield, Rangelea, 13/11/1976, [oRXO]

   DN731   IC  11226 - s2, TIPPLER, Rangelea, 13/11/1976, [oRXO]

   DN732   IC  11490 - s1, TIPPLER, Rangelea, 13/11/1976, [oRXO]

   DN734   IC  12014 - s1, TIPPLER, Rangelea, 13/11/1976, [oRXO]

   DN737   IC  12244 - s1, Tippler BM - Fairfield, Rangelea, 13/11/1976, [oRXO]

   DN740   IC  13096 - s2, TIPPLER, Rangelea, 13/11/1976, [oRXO]

   DN741   IC  13195 - s1, TIPPLER, Rangelea, 13/11/1976, [oRXO]

   DN742   IC  13221 - s2, TIPPLER, Rangelea, 13/11/1976, [oRXO]

   DN743   IC  13925 - s2, TIPPLER, Rangelea, 13/11/1976, [oRXO]

   DN744   IC  14147 - s2, TIPPLER, Rangelea, 13/11/1976, [oRXO]

   BO257   IC  14427 - L4, OR, TIPPLER, s1, Spotswood Rec Depot, 12/1/1981, [oPJV]

   DN746   IC  14541 - s1, TIPPLER, Rangelea, 13/11/1976, [oRXO]

 
   Diagrams   for  'IC  '

   FileID  Description................................................



   DF069   IC        -  axle box and pan, Drg 2246, [sPHD]

   CQ847   IC        -  Axlebox Drg 2246, [oPTC]

 
---
File c010m, compiled by Peter J. Vincent, updated 17/1/2007