---
AB - First/Second Class Bogie Car
---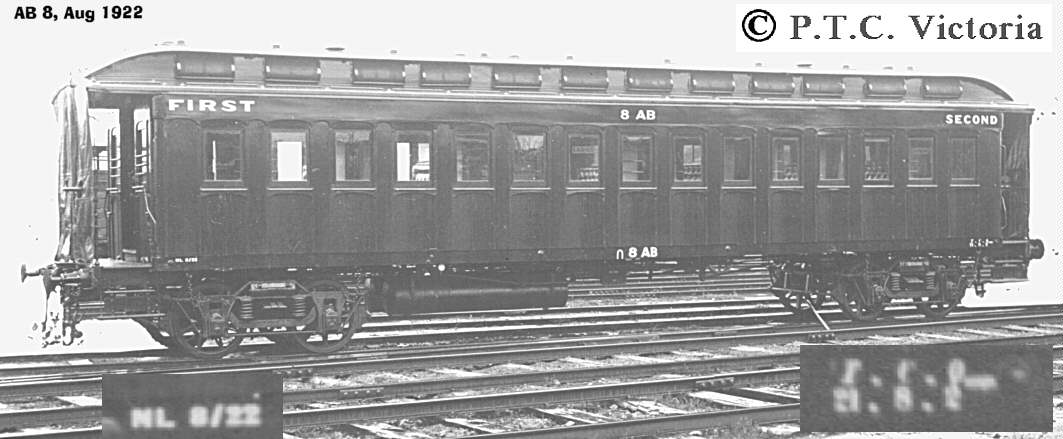 In the 1910 recoding the ABAB group were relettered to AB.
This group comprised of carriages with modified interiors to accommodate both First Class and Second Class passengers. Compartments were arranged in various combinations and were not strictly "First Class at one end" and "Second Class the other end" as with some carriage layouts.
There were seventy nine carriages relettered and renumbered in the 1910 coding, one more conversion in 1912 and two more in 1940.
All up, the number group was 1 - 80.
Three interesting carriages were those that came from Joint Stock service. These carriages became AB 78 - 80. They were built as standard 45' cars of the 1890/91 period. The information for these vehicles has been added incorrectly to carriage diagrams which shows them as "Mansard" roof cars. It was only from research at Laverton Public Records Office that data became available. Even the main Register information had recorded the cars as 39'6"; a reflection of Diagram information.
There were continuous conversions to other classes up to 1928. These conversions were to ABC_, _B__, _BC_ and BCM_.
The first scrappings were in 1927. The carriages were scrapped or converted to _WW_ from 1940/41 to 1962.
   Photos   for  'AB  '

   FileID  Description................................................



   CR178   AB        -  body, Humevale, 1940s, [sIBC]

   CR194   AB        -  body, gable roofed, water tank, front, Humevale, 2/1967, [oARH]

   CR180   AB        -  bogie, bogie on stilts, Humevale, 1940s, [sIBC]

   CR210   AB        -  bogie, white body, with gable roof, Humevale, 1960s, [sARH]

   DE781   AB        -  Mallee car type, roof vents, Warburton, 1920s, [oPTC]

   CQ243   AB        -  Recruiting train, Desk car, c1941, [oPTC]

   CQ241   AB        -  Recruiting train, Interview desks, c1941, [oPTC]

   CQ242   AB        -  Recruiting train, Medical compt, side 1, c1941, [oPTC]

   CQ240   AB        -  Recruiting train, Medical compt, side 2, c1941, [oPTC]

   CV846   AB        -  split body as holiday house, Vaughn, 1/11/1997, [oPJV]

   CR235   AB        -  white body/gable roof added/sharp, Humevale, 1960s, [sARH]

   AM758   AB        - body, Manor, [sPJV]

   BA359   AB        - car body, Manor, c1994, [oPJV]

   CQ239   AB      3 - RAAF Recruiting train/3cars, Spencer Street, c1941, [oPTC]

   AW683   AB     75, [oMDN]
   Diagrams   for  'AB  '

   FileID  Description................................................



   BF639   AB        -  (4 dia inc Mallee type), ex ABAB, [sPJV]

   BF671   AB        -  (ABAB) 2 dia, [sPJV]

   BF670   AB        -  (ABAB) 4 dia, 1909, [sPJV]

   BF514   AB        -  2 x diagrams, [oDO4]

   BF513   AB        -  4 x diagrams, [oDO4]

   BF638   AB        -  6 compt, 1908, [sPJV]

   BF638   AB        -  7compt, 1908, [sPJV]

   BF668   AB        -  ABab (4 dia), 1907, [sPJV]

   BF640   AB        -  American saloon, [sPJV]

   BF638   AB        -  bogie, 1908, [sPJV]

   BF638   AB        -  JS Mansard roof/std sw-d, 1908, [sPJV]

   BF503   AB        - 6 compt bogie, [sPJV]

 
---
File c316m compiled by Peter J. Vincent, updated 9/10/2007