---
ABDABD / ABC - First/Second Class carriage with Van
---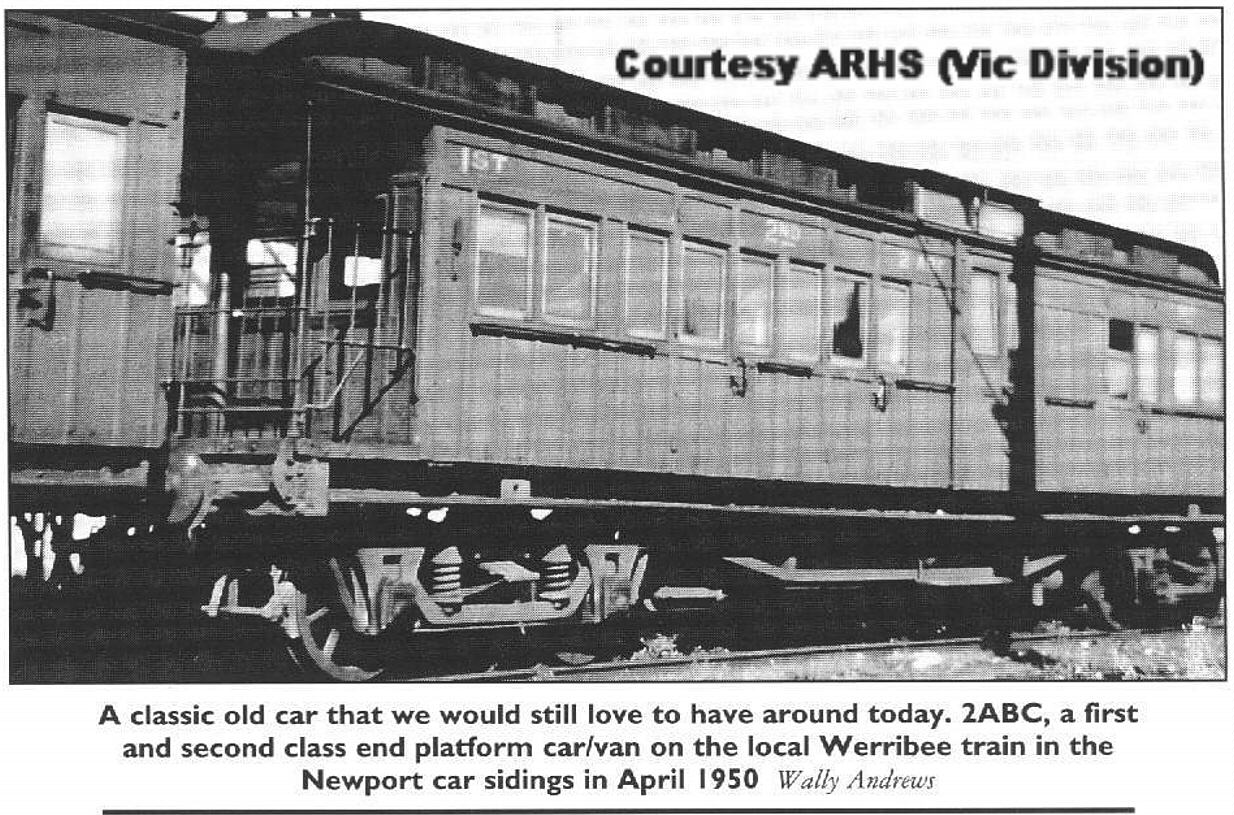 ABDABD
In 1891 a carriage was placed into service that had First and Second Class accommodation, with a guards compartment as well. The carriage was classed as ABDABD, number 1.
Number 2 entered service in 1892. The cars were 45' long and featured small platforms at each end, guards van section in the car centre and passenger accommodation on each side of the van.
In 1896/1897 two more cars of the _AA_ class were modified to ABDABD 3 and 4.
In 1908 an ABAB car was altered to ABDABD 5. This car was most interesting as it had been the 'Albert' car from 1896 until 1902.
It is believed by the author that these five cars were used to cut costs of train running during the 1890's when a depression forced staff cuts across Victoria. Ticket sales were transferred to train staff for lightly used lines.
ABC
In the 1910 recoding this class was relettered to 'ABC'. The carriages retained the same numbers.
Five more carriage became ABC in 1914. These cars were numbered 13, 17, 18, 19, 20. These numbers suggest a conversion program whereby more cars were to be converted to create a large group. With the change in conversions throughout the electrification project, it seems the carriages were either used for other traffic or were converted directly into electric stock without the 'ABC' intermediate conversion.
In 1917, ABC 8 was converted from a BC car. Five months after this conversion, the car became the first swing door car to enter service as electric stock as ABCM 3.
Up to this time, the ABC cars were all conversions from standard swing door stock. From the early 1920's, 'Yankee' or 'Mallee' cars also became ABC cars.
In 1925, some of the _AB_ 'Mallee' or 'Yankee' cars were modified to ABC. These cars became ABC 6, 7, 8(2nd), 9 and 10 and were scrapped between 1927 and 1937.
In 1930 the last conversions to ABC took place. ABC cars 8(3rd), 11, 12, 14 and 16 were converted from BC cars with a difference. These are the cars that had been partly converted to electric stock ( to be ACM_ / _M__) motor coaches. With termination of the project, the cars were returned to steam hauled service with their AC coding and numbers. In 1927 this group was converted to BC with new numbers. These cars ran with curved driving cab ends, drivers windows and other electric stock features.
The last of these cars were out of service by 1961.
   No photos found for ABDABD   
   No diagrams found for ABDABD   
   No photos found for ABC   
   No diagrams found for ABC   
---
File c317m compiled by Peter J. Vincent, updated 9/10/2007