---
AB / ABH - 1st/2nd Class Fixed Wheel Carriage
---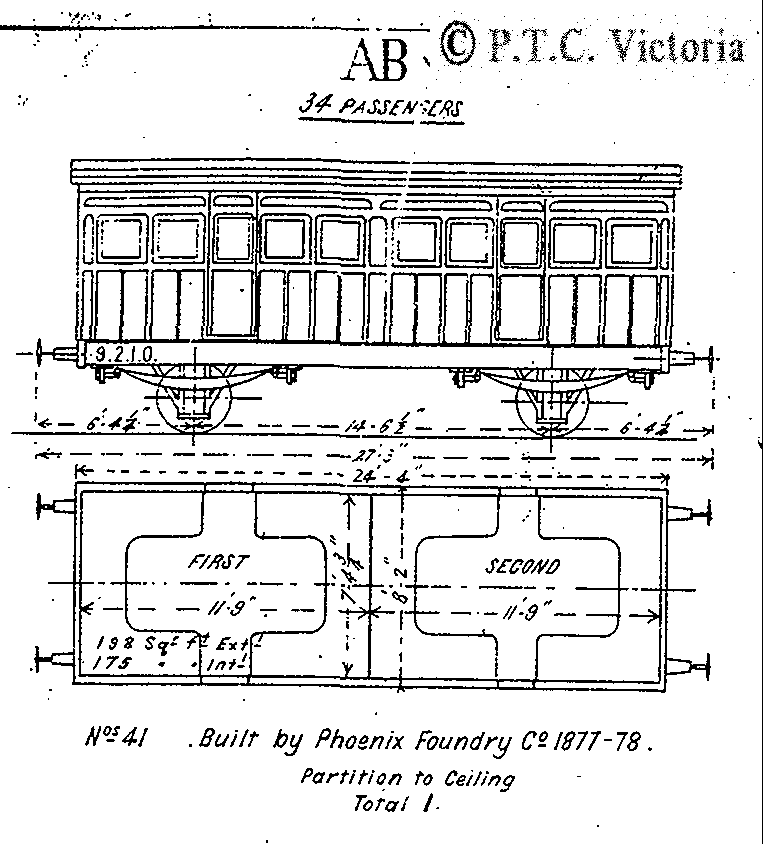 AB
The class 'AB' was a fixed wheel sitting carriage with combined compartments for First Class and Second Class passengers. The First Class compartments were wider, allowing for more legroom.
Vehicles in this group were built between 1859 and 1887. Ten more carriages were converted to AB in 1892. The class numbers were 1 to 157.
Between 1888 and 1904, the class was progressively converted for other uses. Classes recoded to were: _B__, _BH_,TBO_, WMA_ and _WS_. Only ten were scrapped between 1890 and 1900. Car AB 118 was placed into excursion traffic as ABH 118 about 1900.
During the 1910 recoding the class letters 'AB' were altered to _XY_. Other conversions saw cars go to XYH_ and _YH_.
ABH
The car ABH 118 was relettered to XYH_ 15 in the 1910 recoding. It was removed from service in 1913.
   Photos   for  'AB  '

   FileID  Description................................................



   CR178   AB        -  body, Humevale, 1940s, [sIBC]

   CR194   AB        -  body, gable roofed, water tank, front, Humevale, 2/1967, [oARH]

   CR180   AB        -  bogie, bogie on stilts, Humevale, 1940s, [sIBC]

   CR210   AB        -  bogie, white body, with gable roof, Humevale, 1960s, [sARH]

   DE781   AB        -  Mallee car type, roof vents, Warburton, 1920s, [oPTC]

   CQ243   AB        -  Recruiting train, Desk car, c1941, [oPTC]

   CQ241   AB        -  Recruiting train, Interview desks, c1941, [oPTC]

   CQ242   AB        -  Recruiting train, Medical compt, side 1, c1941, [oPTC]

   CQ240   AB        -  Recruiting train, Medical compt, side 2, c1941, [oPTC]

   CV846   AB        -  split body as holiday house, Vaughn, 1/11/1997, [oPJV]

   CR235   AB        -  white body/gable roof added/sharp, Humevale, 1960s, [sARH]

   AM758   AB        - body, Manor, [sPJV]

   BA359   AB        - car body, Manor, c1994, [oPJV]

   CQ239   AB      3 - RAAF Recruiting train/3cars, Spencer Street, c1941, [oPTC]

   AW683   AB     75, [oMDN]
   Diagrams   for  'AB  '

   FileID  Description................................................



   BF639   AB        -  (4 dia inc Mallee type), ex ABAB, [sPJV]

   BF671   AB        -  (ABAB) 2 dia, [sPJV]

   BF670   AB        -  (ABAB) 4 dia, 1909, [sPJV]

   BF514   AB        -  2 x diagrams, [oDO4]

   BF513   AB        -  4 x diagrams, [oDO4]

   BF638   AB        -  6 compt, 1908, [sPJV]

   BF638   AB        -  7compt, 1908, [sPJV]

   BF668   AB        -  ABab (4 dia), 1907, [sPJV]

   BF640   AB        -  American saloon, [sPJV]

   BF638   AB        -  bogie, 1908, [sPJV]

   BF638   AB        -  JS Mansard roof/std sw-d, 1908, [sPJV]

   BF503   AB        - 6 compt bogie, [sPJV]

 
   No photos found for ABH   
   No diagrams found for ABH   
---
File c371m compiled by Peter J. Vincent, updated 23/10/2007