---
TBO - Travelling Booking Office
---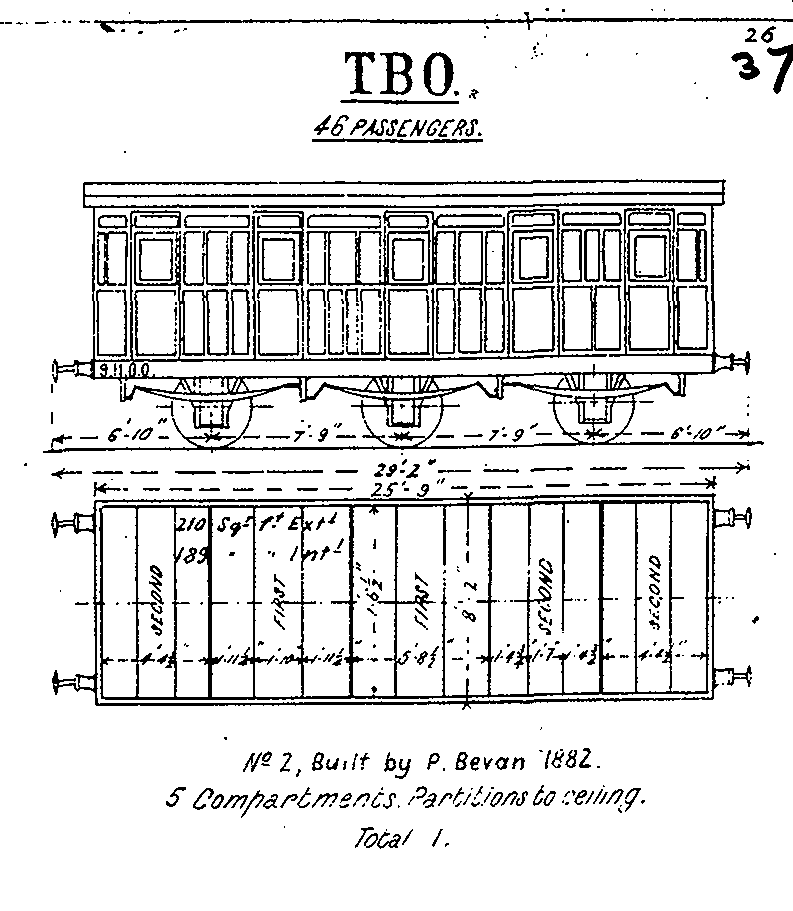 In the early 1890s there was an economic depression. The railways cut costs as best they could. A lot of staff were removed from small stations. Ticket sales for the travelling public were made on the train.
A few guards vans and some carriages were fitted out with 'Booking Offices' complete with small sales windows.
For the South Gippsland Line, a special carriage was provided.
A photo of one of the TBO carriages appears in the book "Great Southern Railway" by Keith Bowden.
First Class carriage _A__ 173 was modified as a Booking Office and classed as a 'Travelling Booking Office', TBO 1, in 1892. Car A 173 was taken over in the 1870s from the Hobson's Bay & United Railway Company. No known data exists for construction.
TBO 1 was converted back to standard traffic in 1900 and became _BH_ 68. This car became _YH_ 57 in about 1910 and became works sleeper _W__ 156 in 1913 and scrapped in 1938.
A second car, TBO 2, was converted from _AB_ 77 in about 1900, correspondence 00/4688, to replace TBO 1. AB 77 had been built in 1882.
TBO 2 ran in service until 1909 when it was converted to a works sleeper _WS_ 117. This became _W__ 115 ( the first of three ) about 1910 and was placed 'Off Register' in 1911.
   No photos found for TBO   
   Diagrams   for  'TBO  '

   FileID  Description................................................



   BF692   TBO        -  (X d), [sPJV]

   BF524   TBO      2, [oD04]

 
---
File c258m compiled by Peter J. Vincent, updated 11/9/2007