---
BH - Second Class 'Holiday' Carriage
---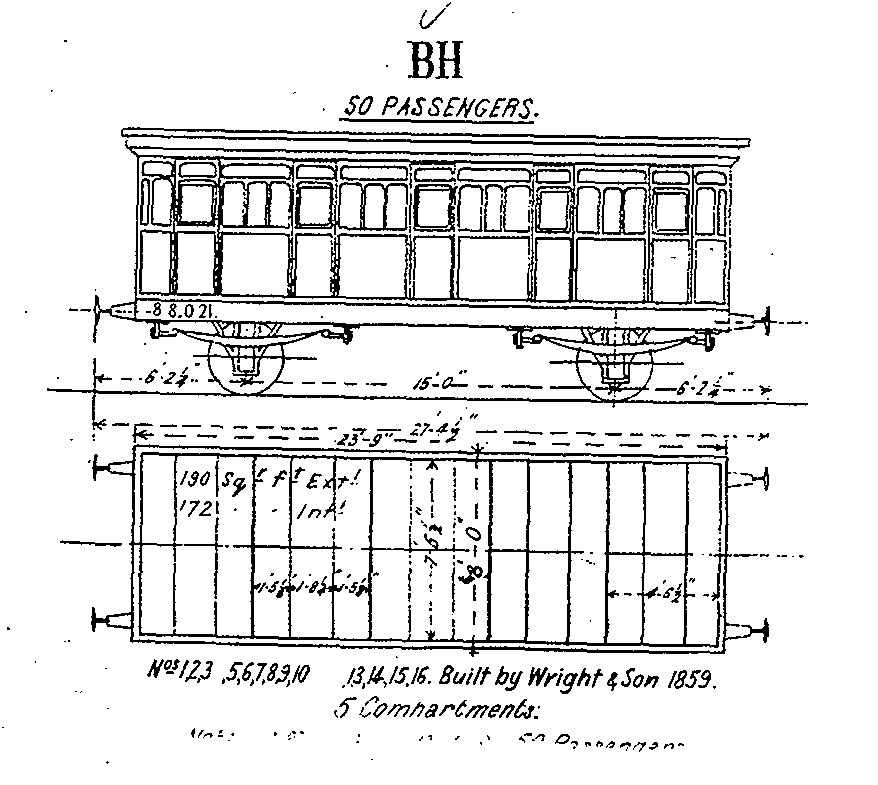 From the mid 1890's and possibly earlier, older carriages were stored and used infrequently. Their use was generally to provide more capacity on trains at holiday times or for the make up of special excursion trains.
The addition of a letter 'H' next to the code, but not part of it, was the initial indicator with the 'H' later becoming part of the code from the 1900's. By 'indicator' I mean the code was B with 'H' an indication of traffic. This is determined by correspondence and Register entries which tend not to include the H in all reportings.
Carriages marked BH were downgraded from class _B__. For some carriages it is difficult to determine whether they were converted from carriages as B and came BH or whether the conversion was directly to BH.
The BH cars were recoded and renumbered to _YH_ in the 1910 recoding.
   Photos   for  'BH  '

   FileID  Description................................................



   AI220   

BH      1

, Newport Workshops, 1982, [oPJV]

   BL305   BH      1 - bogie, Spotswood Workshops, 12/9/1982, [oPJV]

   BL309   BH      1 - bogie date 7/8/79, Spotswood Workshops, 12/9/1982, [oPJV]

   BL307   BH      1 - door, e1@s2, Spotswood Workshops, 12/9/1982, [oPJV]

   BL303   BH      1 - e2@s1 / bogie, Spotswood Workshops, 12/9/1982, [oPJV]

   BI755   BH      1 - ex SAR, into Npt by mistake?, Newport Workshops, 11/11/1982, [oPJV]

   BL306   BH      1 - lettering, Spotswood Workshops, 12/9/1982, [oPJV]

   BL310   BH      1 - lift date BNL DW 8.86, Spotswood Workshops, 12/9/1982, [oPJV]

   BL308   BH      1 - s1e1, Spotswood Workshops, 12/9/1982, [oPJV]

   BL302   BH      1 - s1e2, Spotswood Workshops, 12/9/1982, [oPJV]

   BL304   BH      1 - Waybill card for transfer Npt-Spots, Spotswood Workshops, 12/9/1982, [oPJV]

   BB064   BH    141 - Vline, Newport Workshops, 18/6/1984, [oPJV]

   DH646   BH    143 - VLP, Spencer Street, 28/7/2003, [oPJV]

   AT876   BH    144 - Vline, Spencer Street, 9/1992, [oPJV]

   BB062   BH    146 - 3 car set transfer, Newport Workshops, 18/6/1984, [oPJV]

   BB061   BH    146 - part view, Vline, transfer coupler, Newport Workshops, 18/6/1984, [oPJV]

   AT846   BH    146 - Vline, Spencer Street, 9/1992, [oPJV]

   BB063   BH    146 - Vline, Newport Workshops, 18/6/1984, [oPJV]

   DE498   BH    148 - VLP, Bacchus Marsh, 21/4/2003, [oPJV]

   AT849   BH    150 - Vline, Spencer Street, 9/1992, [oPJV]

   DJ628   BH    150 - Vline, Newport Workshops, 25/8/1984, [oPJV]

   DJ630   BH    153 - Socimi bogie, Newport Workshops, 11/10/1985, [oPJV]

   DJ629   BH    153 - Socimi bogies, long car, Newport Workshops, 11/10/1985, [oPJV]

 
   No diagrams found for BH   
---
File c543m compiled by Peter J. Vincent, updated 1/3/2008