---
B - Fixed Wheel Second Class Carriage
---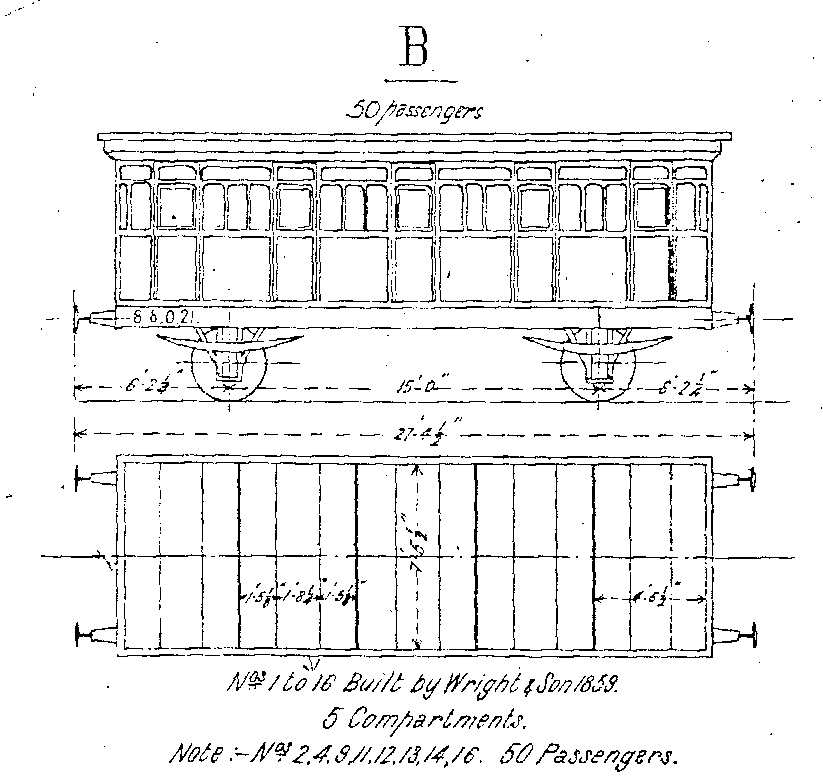 The group of Second Class carriages were coded 'B'.
They were placed in service from 1858 to 1886, with a sole Second Class carriage built in 1893. From 1886 onwards, First Class carriages coded _A__ were downgraded to Second.
The introduction of bogie carriages to country service cascaded stock allowing older vehicles to be scrapped or converted to works cars.
When the railways took over some private companies some of the stock from those companies was consolidated into the fleet. This accounts for some carriages in built in 1855 when the government railways commenced running in 1858.
In the mid to late 1890s, older stock was marked with a 'H' to indicate 'Holiday' traffic; stock stored for use until busy holiday times of the year. The cars were eventually coded _BH_. In the 1910 recoding these cars were recoded to _YH_.
The B/BH group was numbered 1 - 479.
In the 1910 recoding the 'B' class was recoded to _Y__. To remove gaps in the numbers caused by conversions and scrappings, the carriages were renumbered as they were recoded.
The Y/YH group were in the 1 - 385 group.
   Photos   for  'B  '

   FileID  Description................................................



   DE782   B        -  sq end, part view, coupled to AB Mallee Car, Warburton, 1920s, [oPTC]

   BI730   B     35 - body as bunkhouse, 7/11/1982, [oPJV]

   BI733   B     35 - body(l) with 23 WW (r), 7/11/1982, [oPJV]

   BI731   B     35 - lettering/bunkhouse numbers, 7/11/1982, [oPJV]
   Diagrams   for  'B  '

   FileID  Description................................................



   BF677   B        -  (BB) American saloon, [sPJV]

   BF675   B        -  (BB) inc Sth Sub, Mallee, std, [sPJV]

   BF663   B        -  (BB) Pioneer 2nd, [sPJV]

   BF676   B        -  (BB), 59 , [sPJV]

   BF518   B        -  3 x dia, [oDO4]

   BF517   B        -  6 x dia, [sPJV]

   BF516   B        -  6 x dia, [sPJV]

   BF515   B        -  6 x diagrams, [sPJV]

 
   Photos   for  'BH  '

   FileID  Description................................................



   AI220   

BH      1

, Newport Workshops, 1982, [oPJV]

   BL305   BH      1 - bogie, Spotswood Workshops, 12/9/1982, [oPJV]

   BL309   BH      1 - bogie date 7/8/79, Spotswood Workshops, 12/9/1982, [oPJV]

   BL307   BH      1 - door, e1@s2, Spotswood Workshops, 12/9/1982, [oPJV]

   BL303   BH      1 - e2@s1 / bogie, Spotswood Workshops, 12/9/1982, [oPJV]

   BI755   BH      1 - ex SAR, into Npt by mistake?, Newport Workshops, 11/11/1982, [oPJV]

   BL306   BH      1 - lettering, Spotswood Workshops, 12/9/1982, [oPJV]

   BL310   BH      1 - lift date BNL DW 8.86, Spotswood Workshops, 12/9/1982, [oPJV]

   BL308   BH      1 - s1e1, Spotswood Workshops, 12/9/1982, [oPJV]

   BL302   BH      1 - s1e2, Spotswood Workshops, 12/9/1982, [oPJV]

   BL304   BH      1 - Waybill card for transfer Npt-Spots, Spotswood Workshops, 12/9/1982, [oPJV]

   BB064   BH    141 - Vline, Newport Workshops, 18/6/1984, [oPJV]

   DH646   BH    143 - VLP, Spencer Street, 28/7/2003, [oPJV]

   AT876   BH    144 - Vline, Spencer Street, 9/1992, [oPJV]

   BB062   BH    146 - 3 car set transfer, Newport Workshops, 18/6/1984, [oPJV]

   BB061   BH    146 - part view, Vline, transfer coupler, Newport Workshops, 18/6/1984, [oPJV]

   AT846   BH    146 - Vline, Spencer Street, 9/1992, [oPJV]

   BB063   BH    146 - Vline, Newport Workshops, 18/6/1984, [oPJV]

   DE498   BH    148 - VLP, Bacchus Marsh, 21/4/2003, [oPJV]

   AT849   BH    150 - Vline, Spencer Street, 9/1992, [oPJV]

   DJ628   BH    150 - Vline, Newport Workshops, 25/8/1984, [oPJV]

   DJ630   BH    153 - Socimi bogie, Newport Workshops, 11/10/1985, [oPJV]

   DJ629   BH    153 - Socimi bogies, long car, Newport Workshops, 11/10/1985, [oPJV]

 
   Diagrams   for  'BH  '

   FileID  Description................................................



   BF519   BH        -  6 x dia, [oDO4]

   BF520   BH        -  6 x dia/2, [oD04]

   BF521   BH        -  6 x dia/3, [oD04]

   BF522   BH        -  6 x dia/4, [oD04]

   BF523   BH    114, [oD04]

 
---
File c344m compiled by Peter J. Vincent, updated 17/10/2007