---
ABW - First/Second Class "Wayside" Car
---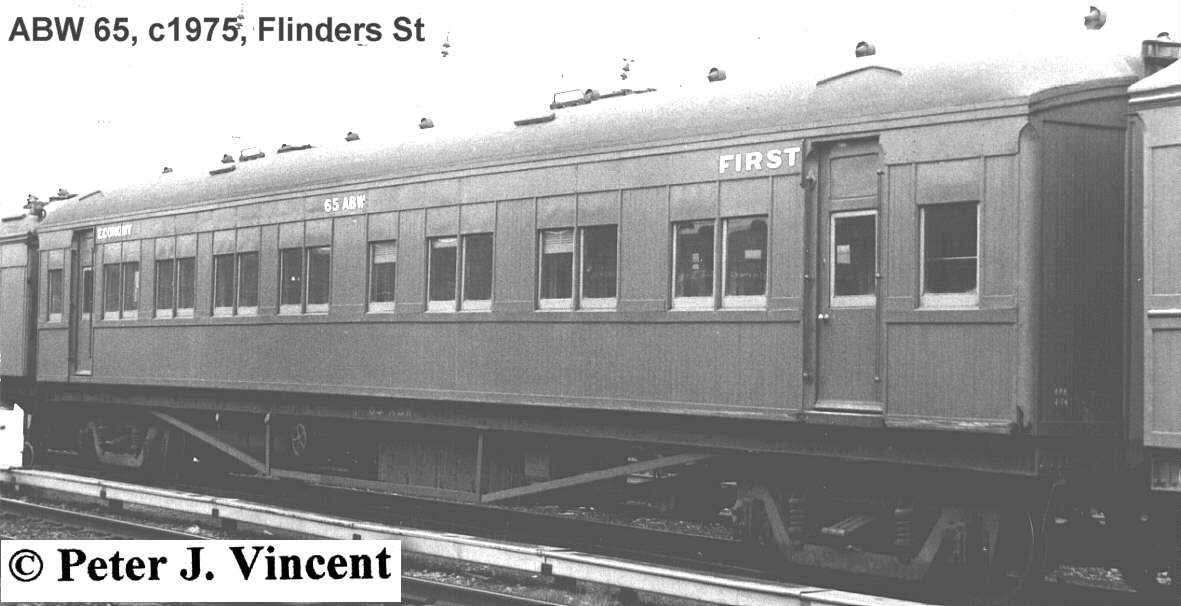 There were fifty seven of these cars built between 1911 and 1926. There were two main types: short clererestory types and the 64' arch roof type.
In design the short version appears to have been a short "E" stock version suitably adapted.
Stock of the type was placed into a 'W' grouping: _AW_, _BW_, ABW, _CW_ ).
The number group was: 1 - 52 for the clerestory stock and 60 - 63, 65 for the arch roof stock.
These coaches were used on main country runs and replaced a lot of swing door types which had been allocated for conversion to electric suburban service.
From 1961 to 1970, the ABW cars in the range 1 - 52 were recoded to ABU_ to seperate them from the larger capacity 64' cars. ABW 1 was not converted as this car was scrapped in 1951.
The cars ran until the late 1980's when replaced by 'N' sets and new timetables working.
For years the biggest mystery ( at least to the author ) was the missing car 64 ABW. It has never been explained why this car was never built or never entered service. The author believed that the car had been built but prior to service the car was diverted to become one of the extra AW cars that appear in 1927.
However research of old stored records show that a more bizarre answer is the most likely reason.
Very careful inspection of all dates to service for the 64' cars show that all cars numbered '64' entered service twelve months after the other cars. For the author, this can only lead to the conclusion that because the cars were new and had been continually referenced as '64 foot' cars there was a strong likelihood of a mixup between the car number '64' and the reference to 'a 64 foot' car. A twelve month delay in placing to service these cars would possibly reduce the chance of a mixup.
So the cars issued in 1926 were numbered to 65, with 64 left blank. By the time further construction was organised during 1927 there appears to have been a re-allocation of carriage types. The number '64' cars for AW and BW were issued first. As it seems likely no more ABW cars were required, the car appears to have been fitted out as an AW.
   Photos   for  'ABW  '

   FileID  Description................................................



   BD159   ABW     60 - body, Harcourt, 13/11/1976, [oRXO]

   BD160   ABW     60 - s2e1, Spencer Street, 20/10/1976, [oRXO]

   BD161   ABW     63 - s1e2, Spencer Street, 20/10/1976, [oRXO]
   Diagrams   for  'ABW  '

   FileID  Description................................................



   BF634   ABW        -  1-42, 1914, [sPJV]

 
---
File c319m compiled by Peter J. Vincent, updated 9/10/2007