---
ABU - First/Second Class Sitting Car
---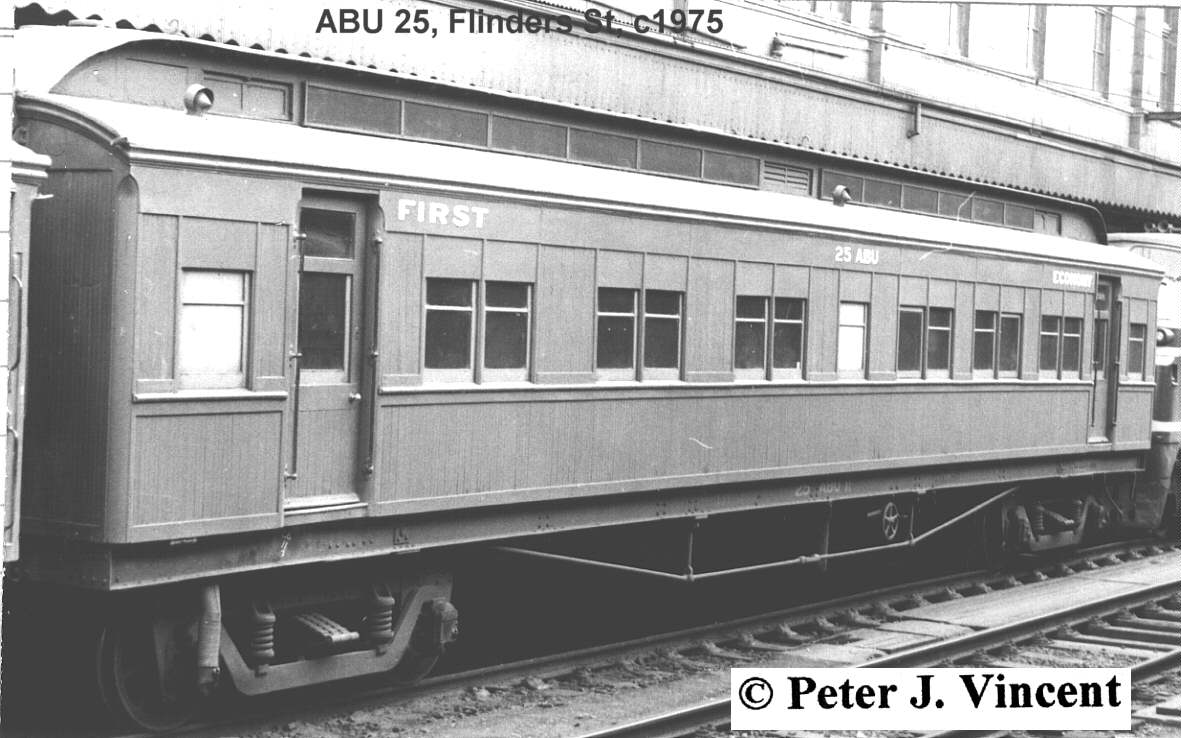 The ABU were introduced to service between 1961 and 1970. They were converted from ABW_ cars and retained the same numbers.
There were fifty one cars recoded. The numbers were: 2 - 52.
The reason for the conversions was to segregate large and small capacity ABW carriages. Small capacity cars were recoded to ABU, large capacity ABW cars retained their coding.
   Photos   for  'ABU  '

   FileID  Description................................................



   BG497   ABU     23 - s2e2, Flinders Street Yard, 16/10/1975, [oPJV]

   BI862   ABU     25 - heads row of stored wooden cars, Melbourne Yard, 18/1/1982, [oPJV]

   BP952   ABU     26 - scrapping, graffitti: ABN 26/Vicrail logo, Newport Workshops, 1/4/1982, [oPJV]

   CM940   ABU     31, Spencer Street, 1970s, [oBAU]

   BD186   ABU     32 - coupled to ABU 40(r), part view couplings, Spencer Street, 20/10/1976, [oRXO]

   BD155   ABU     32 - s1e2, Spencer Street, 20/10/1976, [oRXO]

   BP964   ABU     32 - s2e1, Newport Workshops, 1/4/1982, [oPJV]

   BP771   ABU     32 - Steamrail, Newport Workshops, 2/3/1982, [oPJV]

   BP772   ABU     40, Newport Workshops, 2/3/1982, [oPJV]

   BD186   ABU     40 - coupled to ABU 32(l), part view couplings, Spencer Street, 20/10/1976, [oRXO]

   BD156   ABU     40 - s1e2, Spencer Street, 20/10/1976, [oRXO]

   BP963   ABU     40 - s2e1, Newport Workshops, 1/4/1982, [oPJV]

   BD157   ABU     50 - s1e2c, Spencer Street, 27/10/1976, [oRXO]

   BP950   ABU     52 - cars for scrap, bodies on ground, Newport Workshops, 1/4/1982, [oPJV]

   BD158   ABU     52 - s1e2, Spencer Street, 20/10/1976, [oRXO]

   BP951   ABU     52 - scrapping, Newport Workshops, 1/4/1982, [oPJV]

 
   No diagrams found for ABU   
---
File c318m compiled by Peter J. Vincent, updated 9/10/2007