---
BW / BWL - Second Class 'Wayside' Sitting Car
---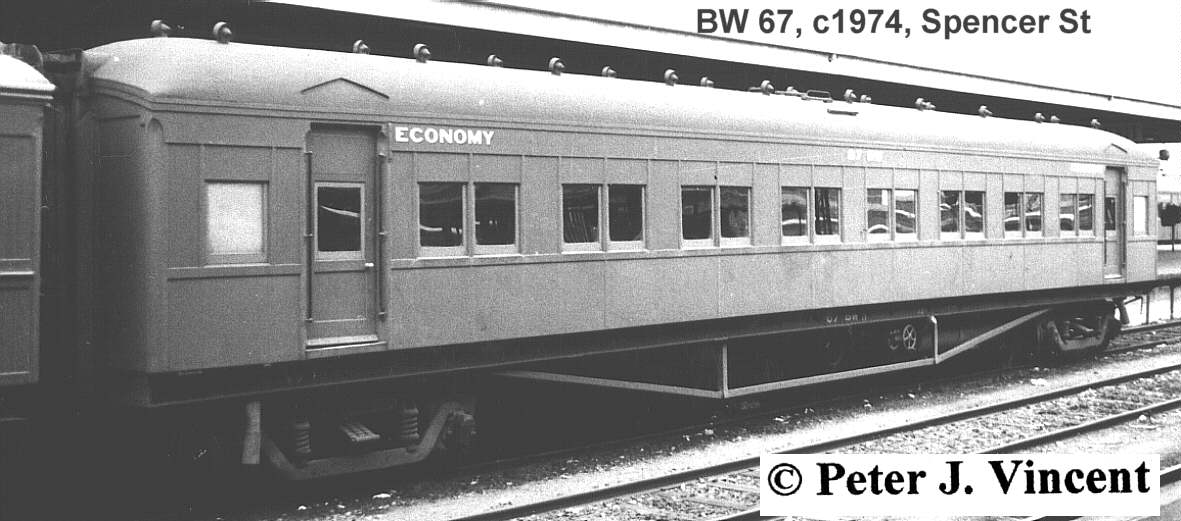 BW
This group of cars was introduced to service from 1911.
There has been great interest in the origin of the 'W' group letter. In most other cases the letter has been derived from a basic feature or use of the car type. In the 1900's, new express passenger cars were being built to replace ageing equipment from the 1890's and earlier.
At the same time shorter cars of the same design were built. As these cars were for general stopping trains, the author believes the 'W' may represent 'Wayside' or non-express passenger type.
Between 1911 and 1925, cars 1 to 44 were placed into service. These were about 58' long. Cars 1 to 39 were clerestory roof style, with the cars 40 to 44 being arched roof, this style being cheap construction.
In 1926/1927, some 64' cars with semi-ellyptical roofs were placed into service ( see ABW_ for unusual 'in service' history ). The eleven cars were numbered 60 - 70. These cars are 10' ( ten foot ) wide. Most other stock was 9'6".
In 1937/1938 more second class cars were required. Cars 71 - 79 were reclassed from similar _AW_ style cars. These cars were converted back to AW in the late 1950's.
In 1980, BW 71 - 79 entered service again for the second time. They were converted from standard guage 'second division' cars ( VFW_ class ) which had been converted from the AW cars recoded from the same BW numbers in the late 1950's!
In 1981, BW 80 - 82 were converted from ABW 61 - 63.
From 1981 the class were progressively removed from service and scrapped or sold. Bodies of both types can been seen around paddocks in Victoria.
BW 10 and 27 were destroyed in a collision at Seymour, 1935.
BW 30 was scrapped in 1970.
BW 24, 29 was destroyed by fire at Ballarat Car Sheds, 1977.
Some cars have been restored to service for historical and charter trips.
BWL
To better describe passenger cars for seating capacity requirements, cars BW 67 and 70 were relettered to BWL in 1982. The 'L' indicates a larger seating capacity.
   Photos   for  'BW  '

   FileID  Description................................................



   DJ590   BW      1 - fresh paint/lift, Bendigo Workshops, 19/8/1976, [oPJV]

   DJ591   BW      1 - Geelong set, Flinders Street Yard, 20/4/1977, [oPJV]

   BD068   BW      1 - s1, Spencer Street, 26/10/1976, [oRXO]

   AV845   BW      2 - s2, Spencer Street, 11/2/1976, [oPJV]

   BC093   BW      6 - body, Newport Workshops, 14/6/1981, [oPJV]

   BC087   BW      6 - body on ground, Newport Workshops, 14/6/1981, [oPJV]

   AW879   BW      7, Flinders Street Yard, 16/9/1967, [oPJV]

   DJ592   BW      7 - s2e2, Flinders Street Yard, 20/4/1977, [oPJV]

   DJ272   BW      8 - detail: divided window closeup, 4/2/1983, [oPJV]

   DJ271   BW      8 - divided window pair/stype, 4/2/1983, [oPJV]

   BD069   BW      8 - s1, Spencer Street, 4/11/1976, [oRXO]

   BP175   BW      9 - lettering: NO BRAKE, North Melbourne C&W, 1/7/1982, [oPJV]

   BJ011   BW      9 - s2, North Melbourne C&W Shops, 18/1/1982, [oPJV]

   BP174   BW      9 - s2e1, lettered NO BRAKE, North Melbourne C&W, 1/7/1982, [oPJV]

   DU294   BW     11 - s1e1, Flinders Street Yard, 18/7/1976, [oPJV]

   BD070   BW     12 - s2, Spencer Street, 21/10/1976, [oRXO]

   BK740   BW     16 - s2, on scrap road, Newport Workshops, 29/10/1982, [oPJV]

   CM970   BW     18, Spencer Street, 1970s, [oBAU]

   BQ275   BW     18 - lettering: S in corner, North Melbourne C&W, 1/2/1982, [oPJV]

   BQ274   BW     18 - S in corners, North Melbourne C&W, 1/2/1982, [oPJV]

   DJ273   BW     18 - s1e1c, S in corners, North Melbourne C&W Shops, 1/2/1982, [oPJV]

   BK906   BW     18 - s2e2c, Newport Workshops, 1/10/1982, [oPJV]

   BK907   BW     18 - s2q, end diaphram, Newport Workshops, 1/10/1982, [oPJV]

   BP957   BW     19 - e2p, S in corners, Newport Workshops, 1/4/1982, [oPJV]

   BP958   BW     19 - s1e1, S in corners, Newport Workshops, 1/4/1982, [oPJV]

   BP956   BW     19 - s1e2, S in corners, Newport Workshops, 1/4/1982, [oPJV]

   BD072   BW     20 - s1, Spencer Street, 19/10/1976, [oRXO]

   BM866   BW     22 - Axle generator, Spencer Street, 20/1/1976, [oPJV]

   BM866   BW     22 - s2e1, axle gen visible, Spencer Street, 20/1/1976, [oPJV]

   BM174   BW     23 - part view, Newport Workshops, 2/6/1980, [oPJV]

   BG229   BW     23 - s1e2, 16/9/1981, [oPJV]

   BD499   BW     24 - e1p, Wodonga, 12/4/1975, [oPJV]

   BD500   BW     24 - e1q, Wodonga, 12/4/1975, [oPJV]

   BD498   BW     24 - s2e1c, Wodonga, 12/4/1975, [oPJV]

   DB183   BW     26 - body in trees/location/roadside view, Hanging Rock, 10/1/2003, [oPJV]

   DB182   BW     26 - body, near roadside, Hanging Rock, 10/1/2003, [oPJV]

   DB181   BW     26 - part view, body, Hanging Rock, 10/1/2003, [oPJV]

   DB184   BW     26 - part view/right end, Hanging Rock, 10/1/2003, [oPJV]

   BD073   BW     28 - s2e1, Spencer Street, 27/10/1976, [oRXO]

   BP751   BW     28 - s2e2, Flinders Street Yard, 4/3/1982, [oPJV]

   AV818   BW     32, Spencer St, 1/2/1976, [oPJV]

   BD074   BW     32 - s2e1, Spencer Street, 27/10/1976, [oRXO]

   BD312   BW     34 - s1p, Wodonga, 12/4/1975, [oPJV]

   BD497   BW     34 - s1q, Wodonga, 12/4/1975, [oPJV]

   DJ274   BW     35 - blurred, on train, s2, North Melbourne, 13/6/1985, [oPJV]

   BM865   BW     35 - s2e2, Spencer Street, 20/1/1976, [oPJV]

   DJ275   BW     36 - s2e1c, Off Reg, scrap road, Newport Workshops, 16/2/1982, [oPJV]

   BD075   BW     39 - s2e1, light fogged, Spencer Street, 4/11/1976, [oRXO]

   BD076   BW     40 - s1e1, Spencer Street, 4/11/1976, [oRXO]

   BD077   BW     41, Spencer Street, 27/10/1976, [oRXO]

   BG498   BW     41 - s2e2, Flinders Street Yard, 16/10/1975, [oPJV]

   AW565   BW     43, c1927, [oMDN]

   CC255   BW     43 - part view, Flinders Street Yard, 3/4/1979, [oPJV]

   CM971   BW     60, 1970s, [oBAU]

   CC257   BW     61 - s2e2, Flinders Street Yard, 3/4/1979, [oPJV]

   DJ276   BW     61 - stored with sign  THIS VEHICLE ... PRESERVED , Newport Workshops, 15/10/1980, [oPJV]

   BY003   BW     61 - with  PRESERVE  sign, Newport Workshops, 10/10/1980, [oPJV]

   BP966   BW     62, Newport Workshops, 1/4/1982, [oPJV]

   CR069   BW     62 - part view, underframe, [oPHD]

   DJ277   BW     63 - boarded up windows, shunting move, Melbourne Yard, 12/1982, [sPJV]

   DJ278   BW     64 - s2, North Melbourne C&W Shops, 26/11/1982, [oPJV]

   BG376   BW     65, Bendigo, 23/5/1976, [oPJV]

   BD078   BW     65 - s1e2, Spencer Street, c1977, [oRXO]

   BD079   BW     66 - s1, Spencer Street, 19/10/1976, [oRXO]

   DJ279   BW     67 - s1e1, Flinders Street Yard, 6/1976, [oPJV]

   BH678   BW     68 - s1e1, Spencer Street, 23/4/1979, [oPJV]

   BD080   BW     69, Spencer Street, 19/10/1976, [oRXO]

   BO012   BW     69 - part view, Newport Workshops, 16/3/1981, [oPJV]

   BG912   BW     70 - part view (dx), Tottenham Yard, 1/2/1981, [oPJV]

   BQ110   BW     71 - s1, Flinders Street Yard, 6/2/1980, [oPJV]

   BI342   BW     72 - scrapping, Newport Workshops, 13/5/1983, [oPJV]

   AW426   BW     75 - s2e1, Flinders Street Yard, 8/1/1981, [oPJV]

   BO842   BW     78 - s1@e1, bogie, Ballarat, 18/7/1982, [oPJV]

   BO841   BW     78 - s1e1c, Ballarat, 18/7/1982, [oPJV]

   BG221   BW     78 - s2e1, Flinders Street Yard, 14/9/1981, [oPJV]

   BD458   BW     79 - s1e1, Flinders Street Yard, 7/1981, [oPJV]

   BF802   BW     80 - s2e1, Spencer Street, 25/9/1981, [oPJV]

   BE464   BW     81, Newport Workshops, 3/9/1981, [oPJV]

   BD455   BW     82 - s1e2, Flinders Street Yard, 7/1981, [oPJV]

   BE703   BW     82 - s1e2, Flinders Street Yard, 27/8/1981, [oPJV]

 
   Diagrams   for  'BW  '

   FileID  Description................................................



   DJ590   BW      1 - fresh paint/lift, Bendigo Workshops, 19/8/1976, [oPJV]

   DJ591   BW      1 - Geelong set, Flinders Street Yard, 20/4/1977, [oPJV]

   BD068   BW      1 - s1, Spencer Street, 26/10/1976, [oRXO]

   AV845   BW      2 - s2, Spencer Street, 11/2/1976, [oPJV]

   BC093   BW      6 - body, Newport Workshops, 14/6/1981, [oPJV]

   BC087   BW      6 - body on ground, Newport Workshops, 14/6/1981, [oPJV]

   AW879   BW      7, Flinders Street Yard, 16/9/1967, [oPJV]

   DJ592   BW      7 - s2e2, Flinders Street Yard, 20/4/1977, [oPJV]

   DJ272   BW      8 - detail: divided window closeup, 4/2/1983, [oPJV]

   DJ271   BW      8 - divided window pair/stype, 4/2/1983, [oPJV]

   BD069   BW      8 - s1, Spencer Street, 4/11/1976, [oRXO]

   BP175   BW      9 - lettering: NO BRAKE, North Melbourne C&W, 1/7/1982, [oPJV]

   BJ011   BW      9 - s2, North Melbourne C&W Shops, 18/1/1982, [oPJV]

   BP174   BW      9 - s2e1, lettered NO BRAKE, North Melbourne C&W, 1/7/1982, [oPJV]

   DU294   BW     11 - s1e1, Flinders Street Yard, 18/7/1976, [oPJV]

   BD070   BW     12 - s2, Spencer Street, 21/10/1976, [oRXO]

   BK740   BW     16 - s2, on scrap road, Newport Workshops, 29/10/1982, [oPJV]

   CM970   BW     18, Spencer Street, 1970s, [oBAU]

   BQ275   BW     18 - lettering: S in corner, North Melbourne C&W, 1/2/1982, [oPJV]

   BQ274   BW     18 - S in corners, North Melbourne C&W, 1/2/1982, [oPJV]

   DJ273   BW     18 - s1e1c, S in corners, North Melbourne C&W Shops, 1/2/1982, [oPJV]

   BK906   BW     18 - s2e2c, Newport Workshops, 1/10/1982, [oPJV]

   BK907   BW     18 - s2q, end diaphram, Newport Workshops, 1/10/1982, [oPJV]

   BP957   BW     19 - e2p, S in corners, Newport Workshops, 1/4/1982, [oPJV]

   BP958   BW     19 - s1e1, S in corners, Newport Workshops, 1/4/1982, [oPJV]

   BP956   BW     19 - s1e2, S in corners, Newport Workshops, 1/4/1982, [oPJV]

   BD072   BW     20 - s1, Spencer Street, 19/10/1976, [oRXO]

   BM866   BW     22 - Axle generator, Spencer Street, 20/1/1976, [oPJV]

   BM866   BW     22 - s2e1, axle gen visible, Spencer Street, 20/1/1976, [oPJV]

   BM174   BW     23 - part view, Newport Workshops, 2/6/1980, [oPJV]

   BG229   BW     23 - s1e2, 16/9/1981, [oPJV]

   BD499   BW     24 - e1p, Wodonga, 12/4/1975, [oPJV]

   BD500   BW     24 - e1q, Wodonga, 12/4/1975, [oPJV]

   BD498   BW     24 - s2e1c, Wodonga, 12/4/1975, [oPJV]

   DB183   BW     26 - body in trees/location/roadside view, Hanging Rock, 10/1/2003, [oPJV]

   DB182   BW     26 - body, near roadside, Hanging Rock, 10/1/2003, [oPJV]

   DB181   BW     26 - part view, body, Hanging Rock, 10/1/2003, [oPJV]

   DB184   BW     26 - part view/right end, Hanging Rock, 10/1/2003, [oPJV]

   BD073   BW     28 - s2e1, Spencer Street, 27/10/1976, [oRXO]

   BP751   BW     28 - s2e2, Flinders Street Yard, 4/3/1982, [oPJV]

   AV818   BW     32, Spencer St, 1/2/1976, [oPJV]

   BD074   BW     32 - s2e1, Spencer Street, 27/10/1976, [oRXO]

   BD312   BW     34 - s1p, Wodonga, 12/4/1975, [oPJV]

   BD497   BW     34 - s1q, Wodonga, 12/4/1975, [oPJV]

   DJ274   BW     35 - blurred, on train, s2, North Melbourne, 13/6/1985, [oPJV]

   BM865   BW     35 - s2e2, Spencer Street, 20/1/1976, [oPJV]

   DJ275   BW     36 - s2e1c, Off Reg, scrap road, Newport Workshops, 16/2/1982, [oPJV]

   BD075   BW     39 - s2e1, light fogged, Spencer Street, 4/11/1976, [oRXO]

   BD076   BW     40 - s1e1, Spencer Street, 4/11/1976, [oRXO]

   BD077   BW     41, Spencer Street, 27/10/1976, [oRXO]

   BG498   BW     41 - s2e2, Flinders Street Yard, 16/10/1975, [oPJV]

   AW565   BW     43, c1927, [oMDN]

   CC255   BW     43 - part view, Flinders Street Yard, 3/4/1979, [oPJV]

   CM971   BW     60, 1970s, [oBAU]

   CC257   BW     61 - s2e2, Flinders Street Yard, 3/4/1979, [oPJV]

   DJ276   BW     61 - stored with sign  THIS VEHICLE ... PRESERVED , Newport Workshops, 15/10/1980, [oPJV]

   BY003   BW     61 - with  PRESERVE  sign, Newport Workshops, 10/10/1980, [oPJV]

   BP966   BW     62, Newport Workshops, 1/4/1982, [oPJV]

   CR069   BW     62 - part view, underframe, [oPHD]

   DJ277   BW     63 - boarded up windows, shunting move, Melbourne Yard, 12/1982, [sPJV]

   DJ278   BW     64 - s2, North Melbourne C&W Shops, 26/11/1982, [oPJV]

   BG376   BW     65, Bendigo, 23/5/1976, [oPJV]

   BD078   BW     65 - s1e2, Spencer Street, c1977, [oRXO]

   BD079   BW     66 - s1, Spencer Street, 19/10/1976, [oRXO]

   DJ279   BW     67 - s1e1, Flinders Street Yard, 6/1976, [oPJV]

   BH678   BW     68 - s1e1, Spencer Street, 23/4/1979, [oPJV]

   BD080   BW     69, Spencer Street, 19/10/1976, [oRXO]

   BO012   BW     69 - part view, Newport Workshops, 16/3/1981, [oPJV]

   BG912   BW     70 - part view (dx), Tottenham Yard, 1/2/1981, [oPJV]

   BQ110   BW     71 - s1, Flinders Street Yard, 6/2/1980, [oPJV]

   BI342   BW     72 - scrapping, Newport Workshops, 13/5/1983, [oPJV]

   AW426   BW     75 - s2e1, Flinders Street Yard, 8/1/1981, [oPJV]

   BO842   BW     78 - s1@e1, bogie, Ballarat, 18/7/1982, [oPJV]

   BO841   BW     78 - s1e1c, Ballarat, 18/7/1982, [oPJV]

   BG221   BW     78 - s2e1, Flinders Street Yard, 14/9/1981, [oPJV]

   BD458   BW     79 - s1e1, Flinders Street Yard, 7/1981, [oPJV]

   BF802   BW     80 - s2e1, Spencer Street, 25/9/1981, [oPJV]

   BE464   BW     81, Newport Workshops, 3/9/1981, [oPJV]

   BD455   BW     82 - s1e2, Flinders Street Yard, 7/1981, [oPJV]

   BE703   BW     82 - s1e2, Flinders Street Yard, 27/8/1981, [oPJV]

 
   Photos   for  'BWL  '

   FileID  Description................................................



   DJ280   BWL     66 - s1e2, blurred, on train/passengers, North Melbourne, 13/6/1985, [oPJV]

   BP078   BWL     68 - s1, North Geelong Yard, 5/9/1982, [oPJV]

   BL314   BWL     68 - s1e2c, Geelong, 12/9/1982, [oPJV]

 
   No diagrams found for BWL   
---
File c328m compiled by Peter J. Vincent, updated 10/10/2007