---
AW - First Class Sitting Car
---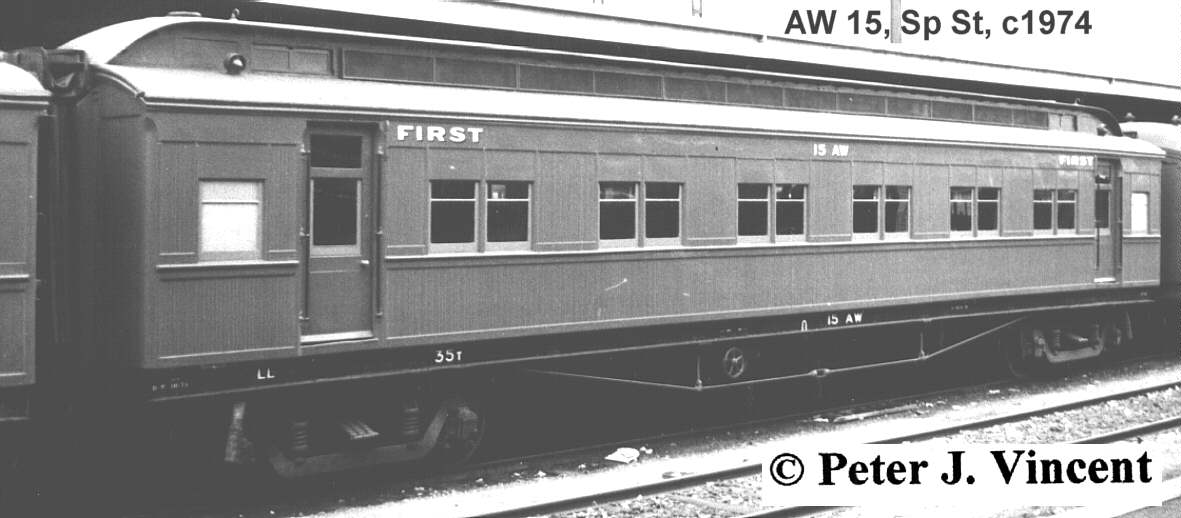 Between 1911 and 1927 there were 49 cars built coded AW. The number group was 1 - 40, 60 - 68. These were replacement cars for swing door stock being converted for suburban electric service.
Cars 1 - 35 were clerestory roof style. Cars 36 - 40 were arch roof style. Cars 60 - 68 were longer cars with arched roof construction.
One of the features of cars of this era construction was the 'Divided' window. This style window developed from travelling salesmans who complained about the open windows sending gusts of wind into the compartments. To overcome this problem, the railways developed the 'divided' window which allowed the upper portion of the window to open for ventilation without inducing wind gusts. Maintenance was a problem and by the late 1940's travelling salesmen had abandoned rail for the motor car. The upper portions of the windows were fixed shut.
   Photos   for  'AW  '

   FileID  Description................................................



   BR940   AW      1 - part view, Newport Workshops, 2/12/1980, [oPJV]

   BD165   AW      1 - s2e1, Spencer Street, 21/10/1976, [oRXO]

   BD166   AW      2 - s1e2, Spencer Street, 21/10/1976, [oRXO]

   BC098   AW      4 - body, Newport Workshops, 14/6/1981, [oPJV]

   BM011   AW      7 - s1, Spencer Street, 24/2/1976, [oPJV]

   BD167   AW      8 - s1e2, Spencer Street, 21/10/1976, [oRXO]

   BI863   AW      9 - head of stored pass car row, Melbourne Yard, 18/1/1982, [oPJV]

   BD168   AW     10 - s1e2, Spencer Street, 12/1976, [oRXO]

   AW685   AW     11, [oMDN]

   AW942   AW     13 - part view, Newport Workshops, 7/11/1983, [oPJV]

   BD169   AW     13 - s1e1, Spencer Street, 19/10/1976, [oRXO]

   AW938   AW     13 - stripped, Newport Workshops, 7/11/1983, [oPJV]

   BD170   AW     14 - s1, ramp to e2 from platform, Spencer Street, 19/8/1976, [oRXO]

   BM014   AW     17 - s2, Spencer Street, 24/2/1976, [oPJV]

   BL721   AW     18 - s1, Bendigo Workshops, 13/4/1980, [oPJV]

   AV843   AW     23 - s1, Spencer Street, 11/2/1976, [oPJV]

   BD171   AW     23 - s1, battery box, Spencer Street, 9/11/1976, [oRXO]

   BO801   AW     25 - s1e2, Newport Workshops, 2/9/1982, [oPJV]

   BD172   AW     26 - s2e1, Spencer Street, 4/11/1976, [oRXO]

   AV835   AW     26 - side 2, Spencer St, 1/2/1976, [oPJV]

   AL584   AW     29, Spencer St, 9/1968, [oPJV]

   BM878   AW     34 - s2e2c, Spencer Street, 20/1/1976, [oPJV]

   BM136   AW     37 - part view, Flinders Street Yard, 3/6/1980, [oPJV]

   BD173   AW     37 - s2e1, arch, Spencer Street, 18/10/1976, [oRXO]
   Diagrams   for  'AW  '

   FileID  Description................................................



   BF633   AW        -  1-23, 1914, [sPJV]

 
---
File c062m compiled by Peter J. Vincent, updated 23/5/2009