---
YZ / YZH - Guards Van/Second Class Car
---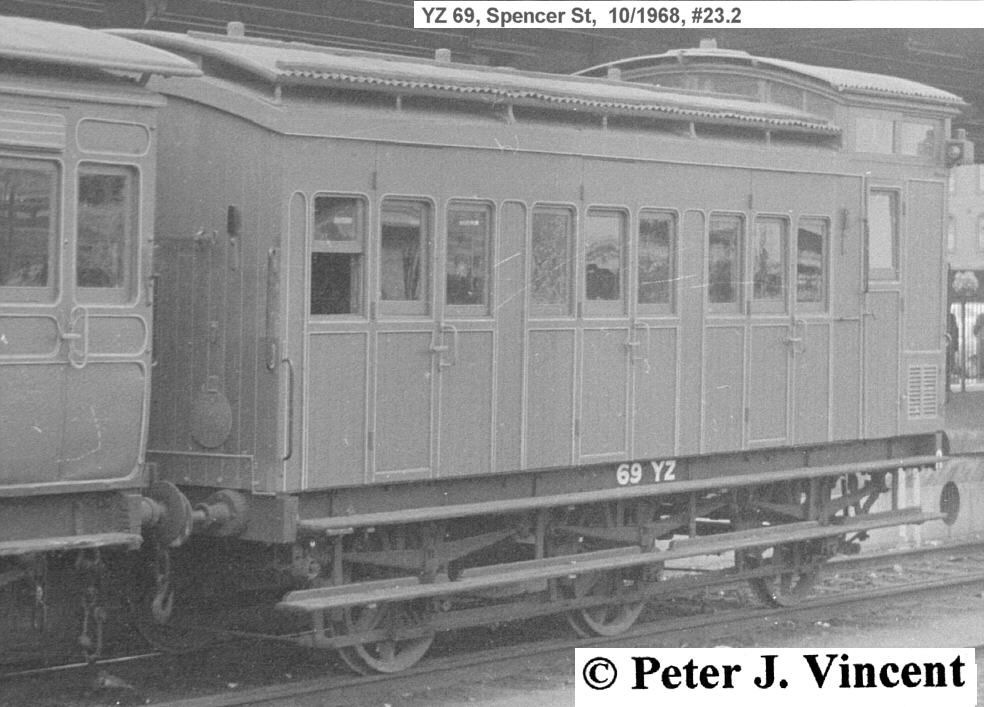 YZ
YZ class were mainly recoded from _BD_ in the 1910 recoding. Some vans were converted into the class in the late 1900's. The number group was 1 - 69.
In 1922, YZ 12 was converted to XYZ_ 14.
By the 1930's, the only vans left were stationed at loco depots on 'Breakdown trains'. One van survived as a railmotor trailer in the Mallee district.
YZH
The YZ number group combines the codes YZ and YZH. The YZH vans were recoded from BDH_ vans in the 1910 recoding. These were vehicles removed from general service due to age and were placed into limited traffic such as for holidays or special excursions.
There were only two YZH vans: numbers 43 and 67. The last car YZH 67 was removed from service in 1913.
   Photos   for  'YZ  '

   FileID  Description................................................



   DJ481   YZ      9 - wood underframe, inverted, on ground, Newport Workshops, 4/2/1983, [oPJV]

   CP901   YZ     19 - body, Maldon, 1990s, [oPHD]

   CP905   YZ     19 - body 2, Maldon, 1990s, [oPHD]

   CP898   YZ     19 - body detail/SMOKING etched window, Maldon, 1990s, [oPHD]

   CP900   YZ     19 - body, van end, Maldon, 1990s, [oPHD]

   CP903   YZ     19 - body,pr/cupola/roof, Maldon, 1990s, [oPHD]

   CP904   YZ     19 - body/pr/cupola, Maldon, 1990s, [oPHD]

   CP899   YZ     19 - etched window  SMOKING , Maldon, 1990s, [oPHD]

   CP909   YZ     19 - interior, cupola end, Maldon, 1990s, [oPHD]

   CP910   YZ     19 - interior, drop windows, Maldon, 1990s, [oPHD]

   CP906   YZ     19 - interior, guards seat right, Maldon, 1990s, [oPHD]

   CP907   YZ     19 - interior, guards seat/removed/left, Maldon, 1990s, [oPHD]

   CP908   YZ     19 - interior, van end/ceiling, Maldon, 1990s, [oPHD]

   DF055   YZ     19 - Loco Van Seymour, Seymour, 1950s, [sPHD]

   CP902   YZ     19 - pl/body/roof, Maldon, 1990s, [oPHD]

   CP911   YZ     19 - pr/side door, Maldon, 1990s, [oPHD]

   CP912   YZ     19 - pr/side door 2, Maldon, 1990s, [oPHD]
   No diagrams found for YZ   
   No photos found for YZH   
   No diagrams found for YZH   
---
File c102m compiled by Peter J. Vincent, updated 15/5/2007