---
TT - Wooden Insulated Van
---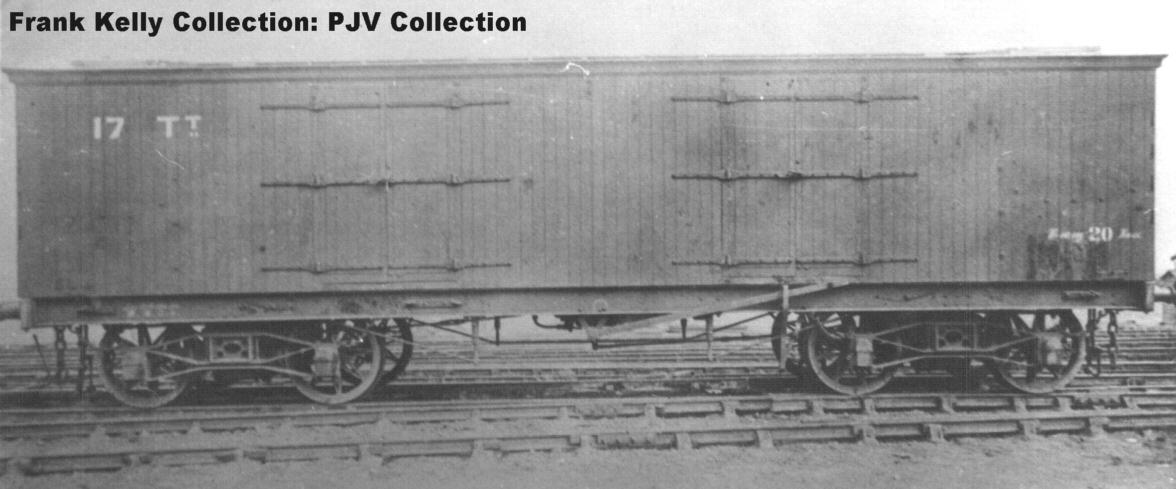 The TT vans were built between 1889 and 1891 and were numbered 1 - 31.
They were an insulated van with hollow sides and ends. End and side slots allowed air to travel through the walls. Photographs of the vans and the diagrams show roof hatches at each end to allow some air flow.
TT 1 was used in Gippsland as a milk van. Most likely this would have been Warragul to Moe as this section is still dairy farms. TT 31 was modified for fish traffic about six months after being issued to traffic in Jan 1891.
There is a photograph from the 1920's that shows one of the TT's with a stencilled board. The van was used for banana traffic between Albury and Melbourne. This traffic would probably have been by fast mail trains from northern New South Wales to Albury where was transhipped.
Some vans were used as "Baggage Vans" from the late 1920's with most vans getting "passenger type" bogies ( _C__ van type ) between 1941 and 1946. From about 1933, vans were either used as baggage vans or placed into Casualty van service.
There was a derailment at Winton (north of Benalla) in 1939, vans 14 and 17 were damaged. The bodies were scrapped and the underframes re-used. One underframe was used to replace _R__ 11 underframe. R 11 was in overhead maintenance service. The other underframe was used to replace _Q__ 27 underframe, a Pintsch Gas transport.
In 1956/1957 the TT vans were recoded to _BB_, _HH_ and _TP_.
Types
From the 1904 Diagrams Book, there were two types
TT 1 had three single doors per side
TT 2 - 31 had two sets of double doors per side, both close to the middle of the sides
   Photos   for  'TT  '

   FileID  Description................................................



   CQ749   TT      9 - Banana traffic, white vert lines, roof vents, Spencer Street, c1938, [oPTC]

   DF020   TT      9 - Banana traffic: lettering, vertical stripes, Spencer Street, c1928, [oPTC]

   DF021   TT      9 - detail: lettering/Train Lighting, bogie/chain, Spencer Street, c1929, [oPTC]

   CQ904   TT      9 - lettering detail/bogie, Spencer Street, c1929, [oPTC]

   DF022   TT      9 - lettering:  When Dynamo belt is broken ... , Spencer Street, c1929, [oPTC]

   CQ751   TT      9 - Train Lighting Depot lettering, c1929, [oPTC]

   CS086   TT     17 - s1p, lever handbrake, 1900s, [oPTC]

   CQ748   TT     28 - fitted DF bogies, 1950s, [oPTC]

   DF019   TT     28 - s2e1, transverse handbrake/white end square, AC, c11/1933, [oPTC]

 
   Diagrams   for  'TT  '

   FileID  Description................................................



   BF724   TT        -  2 dia, [sPJV]

   CP834   TT        -  GA2944  Arranged for carrying milk , c1891, [oPTC]

   BF551   TT      1 - as  Milk , 1904, [oD04]

 
---
File c216m compiled by Peter J. Vincent, updated 29/8/2007