---
HH - Bogie Breakdown Van
---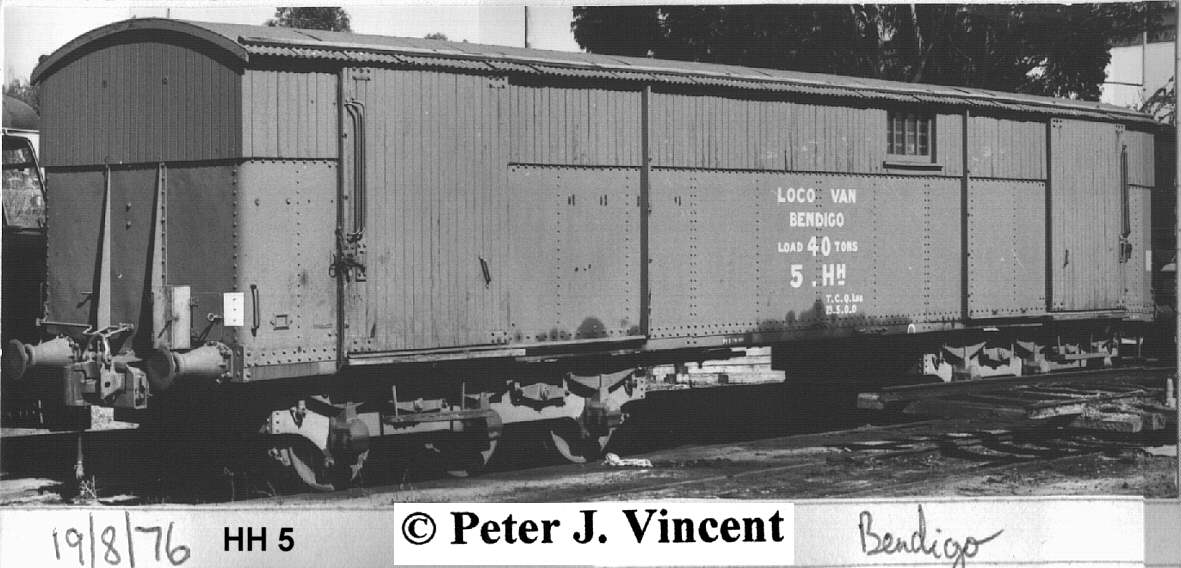 The 'HH' class letters were adopted in 1956 as part of a class letter rationalisation. This enabled wagons in non revenue service to be easily identified. The HH number group was 1 to 12.
HH 1 - 6 were ex _OO_ wagons 1 - 6. They were assigned to different depots throughout Victoria: North Melbourne, Geelong, Bendigo, Seymour, Ballarat.
HH 7 - 12 were built as _TT_ vans in 1891. By the late 1920's they were placed into breakdown service and assigned to country loco depots: Ararat, Benalla, Dimboola, Traralgon and others.
Depot assignments changed with time depending upon depot importance at the time. When depots closed down, the vans moved to other locations.
The vans contained tools and equipment for rerailing locomotives and vehicles. Detailed lists were supplied for all fittings and tools. This even included specific rope sizes and lengths.
The vans were all removed from service in the late 1980's when road access to the lineside improved and major derailment work was done by road cranes.
   Photos   for  'HH  '

   FileID  Description................................................



   BI222   HH        - ex TT, interior and details, Newport Workshops, 24/11/1981, [oPJV]

   CJ225   HH      1 - s2e2c SEYMOUR, Seymour, 5/4/1975, [oPJV]

   DB123   HH      2 - restored as OO 2 Loco Van Geelong, Daylesford, 9/1/2003, [oPJV]

   DB124   HH      2 - restored lettering as OO 2 Loco Van Geelong, Daylesford, 9/1/2003, [oPJV]

   DB125   HH      2 - restored, raised lettering under paintwork, Daylesford, 9/1/2003, [oPJV]

   B3599   HH      3 - diamond frame bogie, South Dynon, 20/5/1975, [oPJV]

   BB850   HH      3 - ex OO, Off Reg, Newport Workshops, 1/4/1981, [oPJV]

   BQ190   HH      3 - s2e1, Newport Workshops, 17/3/1981, [oPJV]

   CZ221   HH      4 - s1e1, Ballarat East, 2/10/1976, [oRXO]

   BH371   HH      5 -  OO  lettering beneath paintwork, 1975, [oPJV]

   BL683   HH      5 - 1902 builders plate, Bendigo, 29/6/1975, [oPJV]

   BL682   HH      5 - e1@s1 / bogie, Bendigo, 29/6/1975, [oPJV]

   CN049   HH      5 - e2p, Bendigo, 1970s, [oBAU]

   BL687   HH      5 - e2p, Bendigo, 29/6/1975, [oPJV]

   BL686   HH      5 - HH lettering over  OO , Bendigo, 29/6/1975, [oPJV]

   BL685   HH      5 - lettering, Bendigo, 29/6/1975, [oPJV]

   BL681   HH      5 - part view, s1, Bendigo, 29/6/1975, [oPJV]

   CZ233   HH      5 - s1e2, ex OO, Bendigo, c1977, [oRXO]

   CN048   HH      5 - s1e2c Benigo Loco Van, Bendigo, 1970s, [oBAU]

   BL684   HH      5 - s2e2c, Bendigo, 29/6/1975, [oPJV]

   AY428   HH      5 - side lettering, 1975, [oPJV]

   BQ188   HH      6 + HH 3 - ex OO s, Newport Workshops, 17/3/1981, [oPJV]

   AX944   HH      6 - ex OO, Little Boundary Rd, Sunshine, 4/1998, [oNXB]

   BB849   HH      6 - ex OO, Off Reg, Newport Workshops, 1/4/1981, [oPJV]

   CZ247   HH      6 - s1e2, ex OO, South Dynon, 13/10/1976, [oRXO]

   BQ189   HH      6 - s1e2c, Newport Workshops, 17/3/1981, [oPJV]

   BB848   HH      6 - stored with HH 3 ex Dynon, Newport Workshops, 1/4/1981, [oPJV]

   BF081   HH      7 - s2e1c, South Dynon, 2/7/1975, [oPJV]

   BF080   HH      7 - s2p, South Dynon, 2/7/1975, [oPJV]

   11113   HH     10 - Ararat Loco s1e2c, Ararat, 29/4/1978, [oPJV]

   11116   HH     10 - Ararat Loco s2e1c, Ararat, 29/4/1978, [oPJV]

   BM405   HH     10 - body, station ground, Yarrawonga, 11/5/1980, [oPJV]

   11114   HH     10 - lettering: AL 7.5(5), Ararat, 29/4/1978, [oPJV]

   AN244   HH     10 - Loco Van Ararat, Ballarat, 22/4/1979, [oPJV]

   AU786   HH     11 - body with ZB 7 body, Bet Bet, 22/4/1979, [oPJV]

   BX720   HH     11 - body, Loco Van South Dynon, Bet Bet, 22/4/1979, [oPJV]

   AX945   HH     11 - body, Old Church of Christ, Bet Bet, 2/1996, [oNXB]

   CN047   HH     11 - South Dynon Loco, s2e2, 1980s, [oBAU]

 
   No diagrams found for HH   
---
File c209m compiled by Peter J. Vincent, updated 26/8/2007