---
R - Bogie Open wagon
---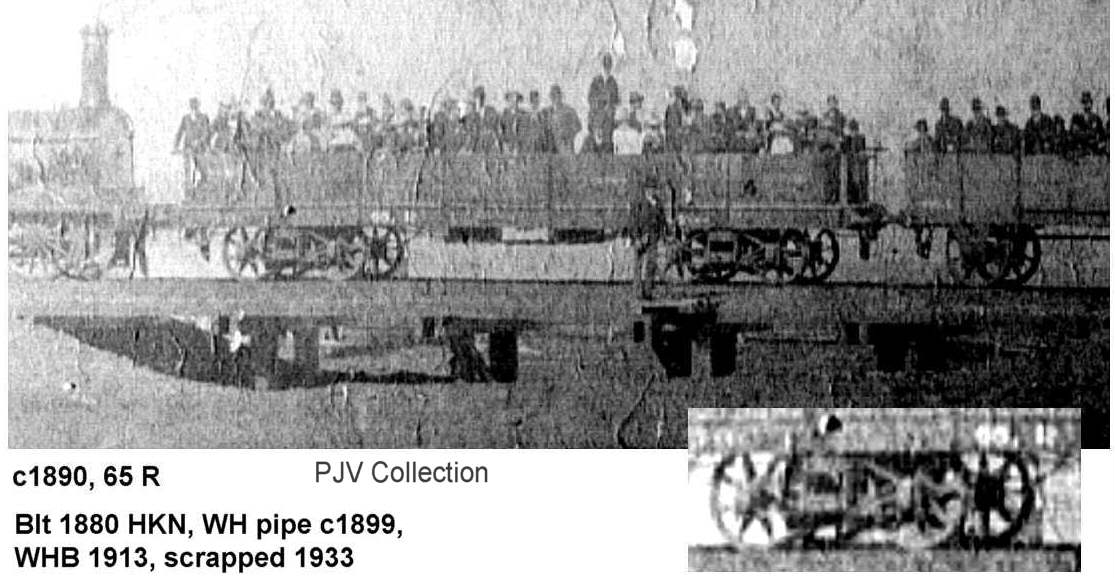 There were seventy R wagons built, numbered 1 - 70. They were built in 1880.
Most were scrapped from 1891 through to 1899.
The remaining vehicles were used in departmental traffic.
The last wagon was in overhead maintenance traffic and was scrapped in the late 1950's.
The VR Register notes that several R wagons were used as Coal Stage platforms from 1892 until scrapped in 1899. A photo of one of these can be found in the book 'Steam Suburban': a small wagon fitted out as a platform with safety rails and loaded with bagged coal and placed at Flinders St east end. The view is from Swanson St bridge looking west from the south platform.
   Photos   for  'R  '

   FileID  Description................................................



   DH948   R        -  part view, overhead use with platform, Spencer Street, c9/1921, [oPTC]

   AW693   R     48, [sMDN]

   BM838   R     57, Mortlake, c1897, [sGEA]

   BM839   R     57 - (l), I (r) coupled, Mortlake, c1897, [sGEA]

   BM836   R     65, Mortlake, c1897, [sGEA]

   BI722   R     65 - ldd people, Mortlake, c1898, [sPJV]

   BI724   R     67 - ldd people, Mortlake, c1898, [sPJV]

 
   Diagrams   for  'R  '

   FileID  Description................................................



   BF549   R        -  medium, 1904, [oD04]

 
---
File c076m compiled by Peter J. Vincent, updated 25/4/2007