---
Q - Bogie Flat Wagon
---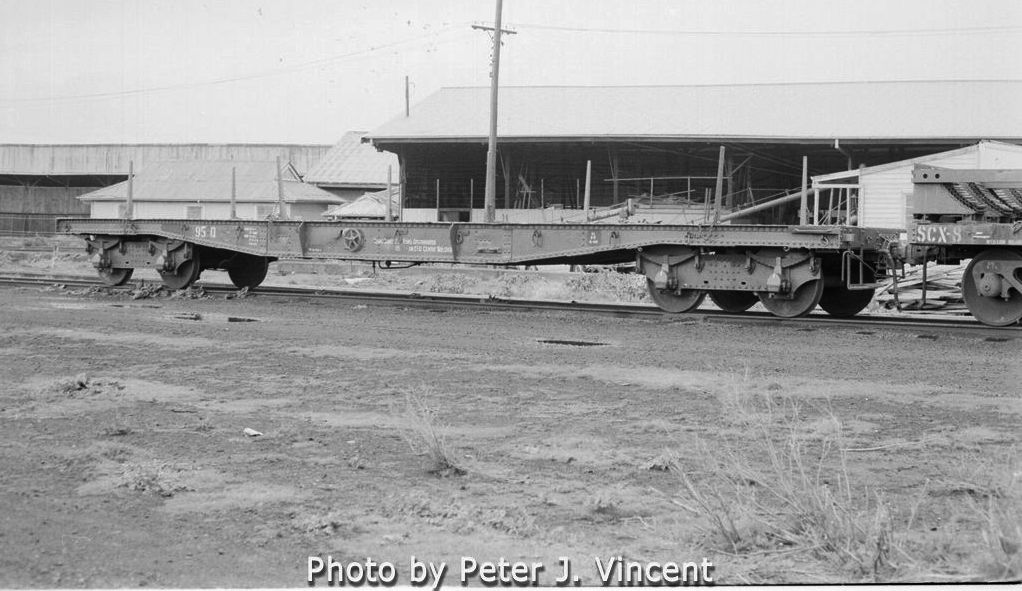 The Q class were introduced as bogie flatwagons in the 1870's. Large Q wagons as shown were built to the 1920's
In the early 1900's, some Q wagons were modified for Pintsch Gas traffic with a small pump motor cabin at one end and a tank for carrying the gas. Other conversions for traffic were as required. Examples were: sheet glass, skeletal underframes between workshops
In 1926 the railways built two narrow gauge Garratt locomotives. As normal wagons were unsuitable for moving these locomotives a special skeletal wagon was built. The engines were split into units for transportation. It featured axle bearings and boxes from steam engines, had hinged buffers that could drop out of the way during loading/unloading. It also featured 'strap' rail along the deck. The wagon was Q 129. This wagon was also available for general narrow gauge rolling stock.
Q wagons were numbered from 1 to 136.
The class was reduced by scrapping, conversion or recoding to QAB_, _QF_, _QH_ or VFAA.
The gas traffic wagons Q 26 and Q 30 in storage at Newport Workshops had their numbers swapped in the mid 1980's.
---
   Photos   for  'Q  '

   FileID  Description................................................



   DT858   Q        -  no buffers, tarp covered load, ex S tender, 1950s, [sPJV]

   DJ772   Q        -  on train, sheet steel loading, Tottenham, 29/10/1976, [oPJV]

   DT859   Q        -  part view ex S tender, bogie, 1950s, [oPTC]

   CC229   Q        -  Yard Use Only, Newport Workshops, 2/4/1979, [oPJV]

   AI384   Q        - gas, Spencer St, 5/1968, [oPJV]

   BF055   Q        - Gas pump (26or30), Newport Workshops, 20/9/1975, [oPJV]

   AI373   Q        - gas truck (26 or 30), Spencer St, 5/1968, [oPJV]

   BG827   Q        - part view, ldd rails, Parwan, 12/11/1975, [oPJV]

   CZ577   Q      1 - s1e2, empty, East Yard, c1976, [oRXO]

   CN174   Q      1 - s2, mt, Williamstown Pier, 1970s, [oBAU]

   BP786   Q     26 - cabin / fittings inside, Newport Workshops, 2/3/1982, [oPJV]

   BP785   Q     26 - cabin tank fittings, Newport Workshops, 2/3/1982, [oPJV]

   BO323   Q     26 - e2q, uf obscured, Newport Workshops, 21/1/1981, [oPJV]

   BP784   Q     26 - Gas pump, Newport Workshops, 2/3/1982, [oPJV]

   BP783   Q     26 - lettering painted over, Newport Workshops, 2/3/1982, [oPJV]

   BP777   Q     26 - OR 2, Newport Workshops, 2/3/1982, [oPJV]

   BP776   Q     26 - OR, with Q 30, Newport Workshops, 2/3/1982, [oPJV]

   BO307   Q     26 - s1e2, acute angle, Newport Workshops, 21/1/1981, [oPJV]

   BP782   Q     26 - uf stamp, Newport Workshops, 2/3/1982, [oPJV]

   BP775   Q     27 - OR, code/number painted out, YARD USE ONLY, Newport Workshops, 2/3/1982, [oPJV]

   BP780   Q     30 - cab / tank join, Newport Workshops, 2/3/1982, [oPJV]

   BP776   Q     30 - distant, OR, Newport Workshops, 2/3/1982, [oPJV]

   BP787   Q     30 - hand lettering, Newport Workshops, 2/3/1982, [oPJV]

   BP781   Q     30 - hand lettering for class, Newport Workshops, 2/3/1982, [oPJV]

   BP779   Q     30 - OR, Newport Workshops, 2/3/1982, [oPJV]

   BO295   Q     30 - OR lettering/new class stencil, Newport Workshops, 21/1/1981, [oPJV]

   BO297   Q     30 - s1e1, Newport Workshops, 21/1/1981, [oPJV]

   BO296   Q     30 - s1e2, Newport Workshops, 21/1/1981, [oPJV]

   BB813   Q     30 - s2e1, Off Reg,  Hold ARHS... , Newport Workshops, 30/3/1981, [oPJV]

   AW701   Q     33 -  Fitted to carry plate glass , [sMDN]

   BL230   Q     40 - rake of Q wagons, Williamstown Pier, 19/9/1975, [oPJV]

   BL231   Q     40 - s1e1, mt, no bolsters/stakes, Williamstown Pier, 19/9/1975, [oPJV]

   CZ590   Q     41 - s1, empty, Electric Crane Area, 12/1976, [oRXO]

   BE977   Q     42 - e2p, ldd rails, Jolimont Workshops, 27/6/1975, [oPJV]

   BE978   Q     42 - e2q, ldd rails, Jolimont Workshops, 27/6/1975, [oPJV]

   BE979   Q     42 - s1e2, ldd rails, L7, plateframes, Jolimont Workshops, 27/6/1975, [oPJV]

   BL250   Q     43 - s1f, bolsters/stakes, Williamstown Pier, 19/9/1975, [oPJV]

   BF072   Q     45 - s2e1, empty, North Melbourne C&W Shops, 2/7/1975, [oPJV]

   CN177   Q     46 - s1, flat, mt, North melbourne C&W Shops, 1970s, [oBAU]

   DA700   Q     47 - s1e2, L4, bolsters/mt, Arden Street sidings, 14/7/1976, [oPJV]

   CN178   Q     49 - s1, bolsters, mt, friction hb, North melbourne C&W Shops, 1970s, [oBAU]

   B1551   Q     51 - mt, bolsters/stakes, Flinders Street Yard, 25/3/1978, [oPJV]

   CQ394   Q     51 - with bolsters, mt, [oDAC]

   CF605   Q     55 - OR, Ballarat Workshops, 17/4/1978, [oPJV]

   BP149   Q     56 - OR, s2, ldd Y bogies, South Dynon, 22/6/1982, [oPJV]

   BL238   Q     56 - s1e1, plate, stakes/no bolsters, Williamstown Pier, 19/9/1975, [oPJV]

   BL244   Q     56 - s1e2, Williamstown Pier, 19/9/1975, [oPJV]

   CN173   Q     57 - s2e1, flat, mt, North Melbourne C&W Shops, 1970s, [oBAU]

   CC301   Q     58 - bolsters, mt, East Yard, 1/4/1979, [oPJV]

   BL245   Q     58 - deck, Williamstown Pier, 19/9/1975, [oPJV]

   BL236   Q     58 - s1, f, bolsters, no stake, Williamstown Pier, 19/9/1975, [oPJV]

   CZ600   Q     61 - s1, friction h/b, empty, Electric Crane Area, 12/1976, [oRXO]

   CN179   Q     61 - s1, friction hb, flat, mt, North Melbourne C&W Shops, 1970s, [oBAU]

   CF670   Q     66 - OR/lettering, Ballarat Workshops, 17/4/1978, [oPJV]

   AK563   Q     66 - s2, friction hb, mt, North Melbourne C&W Shops, 20/10/1977, [oPJV]

   CZ602   Q     67 - s2, friction h/b, empty, East Yard, 19/10/1976, [oRXO]

   BO952   Q     71 - underframe stamp ID, Newport Workshops, 8/7/1982, [oPJV]

   BO953   Q     71 - Yard use only, no lettering, ldd T hoods, Newport Workshops, 8/7/1982, [oPJV]

   11702   Q     72 - bolsters/end frames, Tottenham Yard, 16/4/1978, [oPJV]

   11699   Q     75 - ldd body IA 13074, Tottenham Yard, 16/4/1978, [oPJV]

   CN180   Q     76 - s2, friction hb, bolster, mt, North Melbourne C&W Shops, 1970s, [oBAU]

   BL246   Q     79 - deck, no stakes/bolsters, Williamstown Pier, 19/9/1975, [oPJV]

   CZ604   Q     79 - s2, friction h/b, ldd scarifier, East Yard, 12/1976, [oRXO]

   BL232   Q     79 - s2, mt, Williamstown Pier, 19/9/1975, [oPJV]

   CC299   Q     80 - deck: caravan wheel guide, East Yard, 1/4/1979, [oPJV]

   CC300   Q     80 - deck: caravan wheel support, East Yard, 1/4/1979, [oPJV]

   BA185   Q     80 - ldd Mobile Caravan, Electric Crane Area, 23/11/1976, [oRXO]

   CC298   Q     80 - mt, East Yard, 1/4/1979, [oPJV]

   CZ605   Q     80 - s1e2, ldd VR Display Caravan/tarped, Electric Crane Area, 23/11/1976, [oRXO]

   CF669   Q     88 - OR/lettering, Ballarat Workshops, 17/4/1978, [oPJV]

   BG775   Q     88 - s1e1, friction h/b, ldd SEC poles, Traralgon, 17/11/1975, [oPJV]

   BL247   Q     89 - lettering/package bearings, Williamstown Pier, 19/9/1975, [oPJV]

   BL235   Q     89 - s2, package bearings, stakes, Williamstown Pier, 19/9/1975, [oPJV]

   BK955   Q     91 - s1q, ldd rails, Castlemaine, 29/6/1975, [oPJV]

   CZ606   Q     95 - s1e2, side stakes fitted, empty, Traralgon, 9/10/1976, [oRXO]

   DS926   Q     96 - ldd L loco bogies, Newport Workshops, 10/10/1980, [oPJV]

   BL234   Q     96 - s2, Williamstown Pier, 19/9/1975, [oPJV]

   CZ607   Q     98 - s2e1, fitted bolsters, ldd rails, Bendigo, 13/11/1976, [oRXO]

   BL242   Q    102 - e1p, Williamstown Pier, 19/9/1975, [oPJV]

   BL241   Q    102 - e1q, Williamstown Pier, 19/9/1975, [oPJV]

   BL240   Q    102 - L4, lettering, friction brake, Williamstown Pier, 19/9/1975, [oPJV]

   BL243   Q    102 - load lettering, Imp., Williamstown Pier, 19/9/1975, [oPJV]

   BL239   Q    102 - s2f, L4, stakes/no bolsters, Williamstown Pier, 19/9/1975, [oPJV]

   BG333   Q    104 - s2e1, ldd rails, Castlemaine, 23/5/1976, [oPJV]

   CN175   Q    109 - s2, flat, mt, friction hb, North Melbourne C&W Shops, 1970s, [oBAU]

   BG356   Q    113 - eXp, bent underframe, Tottenham Yard, 17/1/1976, [oPJV]

   BG357   Q    113 - eXq, bent underframe, Tottenham Yard, 17/1/1976, [oPJV]

   BG358   Q    113 - photo id, Tottenham Yard, 17/1/1976, [oPJV]

   CZ610   Q    113 - s1, friction hb, empty, Electric Crane Area, 23/11/1976, [oRXO]

   BV405   Q    114 - ldd SEC poles, Tottenham Yard, 6/5/1979, [oPJV]

   BV406   Q    114 - load lettering, Tottenham Yard, 6/5/1979, [oPJV]

   BV410   Q    114 - number stamp in underframe, Tottenham Yard, 6/5/1979, [oPJV]

   CN176   Q    114 - s2e1, flat, mt, North Melbourne C&W Shops, 1970s, [oBAU]

   BG617   Q    115 - s2p, Newport Workshops, 6/11/1975, [oPJV]

   BF804   Q    115 - s2q, u/f supports, Newport Workshops, 6/11/1975, [oPJV]

   BG616   Q    115 - s2q, u/f supports, Newport Workshops, 6/11/1975, [oPJV]

   AW702   Q    116, [sMDN]

   BF012   Q    116 - frame support, s2@e2, Newport Workshops, 20/9/1975, [oPJV]

   BF013   Q    116 - frame support, s2@e2, Newport Workshops, 20/9/1975, [oPJV]

   BF011   Q    116 - L4, s2e2, empty, Bo-Npt frames, Newport Workshops, 20/9/1975, [oPJV]

   BF015   Q    116 - s2@e1 frame support, Newport Workshops, 20/9/1975, [oPJV]

   BF016   Q    116 - s2@e1 frame support, Newport Workshops, 20/9/1975, [oPJV]

   BF014   Q    116 - traffic lettering/handbrake/load letter, Newport Workshops, 20/9/1975, [oPJV]

   CB938   Q    121 - s2f bolsters mt, Tallangatta, 6/4/1979, [oPJV]

   BK624   Q    122 - L4, old cast, s2, ldd rails, Tottenham Yard, 4/3/1976, [oPJV]

   B1609   Q    125 - ldd poles, L4, Tottenham Yard, 12/3/1979, [oPJV]

   B1541   Q    128 - part view, cpld to Q, shows height difference, North Melbourne C&W Shops, 1/4/1978, [oPJV]

   B1539   Q    128 - plate bogie/shorn off, North Melbourne C&W Shops, 1/4/1978, [oPJV]

   B1538   Q    128 - pushed over end of siding, bogie shorn off, North Melbourne C&W Shops, 1/4/1978, [oPJV]

   CZ611   Q    128 - s2, friction h/b, empty, Melbourne, 27/10/1976, [oRXO]

   BG596   Q    129 - e1p, Newport Workshops, 6/11/1975, [oPJV]

   BG260   Q    129 - e1p, empty, drop hook/buffers, Newport Workshops, 6/11/1975, [oPJV]

   BG595   Q    129 - e1q, Newport Workshops, 6/11/1975, [oPJV]

   CZ613   Q    131 - Crane 45 jib truck, barframes, s1, Traralgon, 9/10/1976, [oRXO]

 
   Diagrams   for  'Q  '

   FileID  Description................................................



   BF548   Q        -  (4 dia), 1904, [oD04]

   BF549   Q        -  Gas pump/tank, 1904, [oD04]

 
File c006m, compiled by Peter J. Vincent, updated 16/1/2007