---
J - Fixed Wheel Cement Hopper
---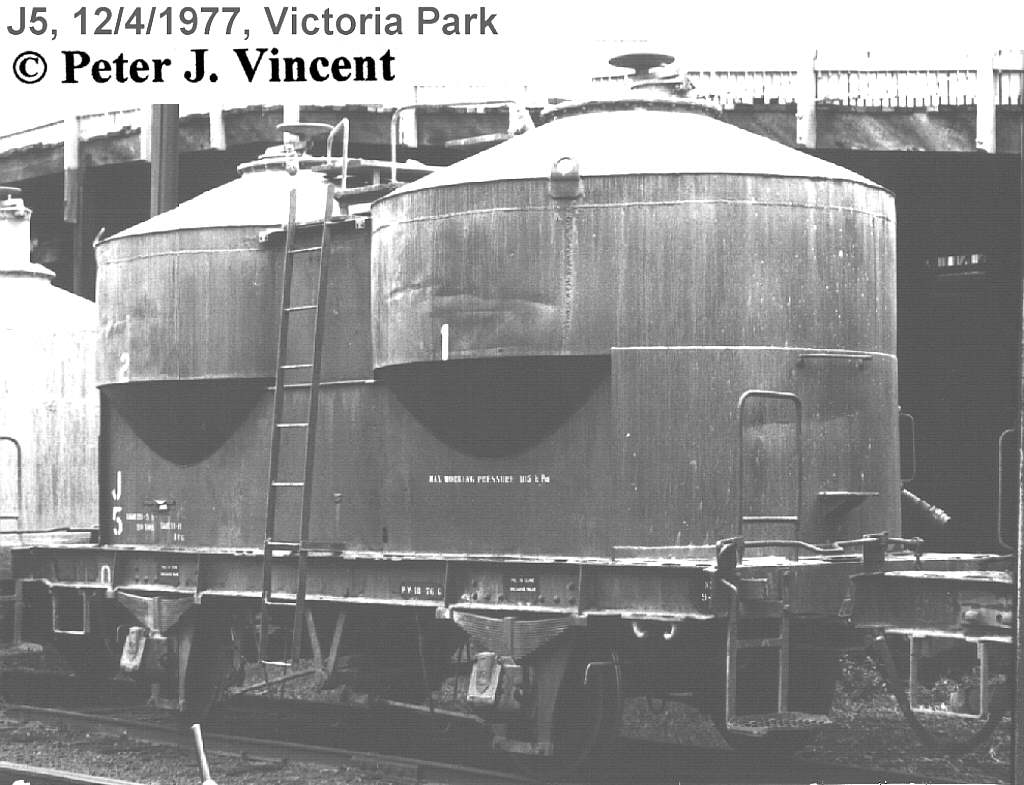 These wagons have their heritage in the seven _CK_ class wagons built for pulverised coal locomotive trials from 1949.
With the introduction of the letter "X" to indicate bogie exchange, the _X__ class wagons were relettered to class "J" in 1963. The wagons numbers were 8 to 77. Wagons 1 - 7 had been converted to _FX_ flour wagons from the X code..
The main traffic depended upon the points of major construction work. The wagons were loaded at Geelong and were sent to various locations in Melbourne and country locations. There were always several wagons on turnaround traffic at Dandenong. Victoria Park received wagons during the construction of the Eastern Freeway. The underground loop works were supplied from a siding near Brunton Avenue; the "Collingwood Sidings", now redeveloped to apartments.
In the main, the hoppers were replaced by an order for fifty VPCX wagons, in the early 1980's. The last remaining J hoppers were used to transport locomotive sand; sand required for wheelslip control.
Types
There were four distinct types of J hoppers
Group 1 were the ex CK hoppers: raised hoppers, marks showing where the old CK fittings had been removed.
Group 2 were J wagons with low hoppers ( "pots" ). This group were designed to suit the wagon capacity so the hoppers were only built large enough for cement traffic. Numbers were 8 to 27 and they can be found on railways diagram J-2/10-5-78.
Group 3 were the wagons with high hoppers built new, numbers 28 - 77, except 41, 42
Group 4 were two J wagons with notched hoppers and there is no information as to why the notches. It is presumed the hoppers were built with a different hopper contour and were "trimmed" back for guage loading or to suit a specific traffic site. These were J 41, 42. Diagram J-3/10-5-78 shows the hoppers with shallower tapered hopper top.
Note: Unable to segregate J hearse, J cement and J hopper wagons for the photo search at the moment
   Photos   for  'J  '

   FileID  Description................................................



   CF720   J        -  gaps between hopper bins, Ballarat Workshops, 17/4/1978, [oPJV]

   BU831   J        -  part view, behind hearse platform trolley, Springvale Cemetery, 1920s, [sPJV]

   BE732   J        - body in paddock, Romsey, 7/10/1984, [oPJV]

   AD133   J        - hearse being rebuilt for display, 1990, [sPJV]

   AD132   J        - hearse body, [sPJV]

   AL437   J        - in consist, no pipe extentions, Richnond, 9/1968, [oPJV]

   DE797   J      2 - bogie/detail, s2@e2, 11/1925, [oPTC]

   DE795   J      2 - bogie/lettering, 11/1925, [oPTC]

   DE796   J      2 - centre detail/hoppers/lettering:  .. Slack Coal ..  , 11/1925, [oPTC]

   DE798   J      2 - lettering/builders plate, 11/1925, [oPTC]

   DE965   J      2 - s2e1c, Slack Coal, 11/1925, [oPTC]

   CP938   J      2 - s2p,  Slack Coal Traffic , c1926, [oPTC]

   DE818   J      2 - s2p, (RS242), Slack Coal Traffic Only, 11/1925, [oPTC]

   BE219   J      2F- s2e1, North Geelong, 26/8/1984, [oPJV]

   BR225   J      3 - s1 bent pipe, North Geelong Yard, 4/1/1981, [oPJV]

   BA264   J      3 - s1, 1 x low/1 x high pipe, Castlemaine, 22/4/1979, [oPJV]

   DE972   J      4 - bogie, lift shops, unlettered, s2e1, Newport Workshops, 1940s, [sPHD]

   DE971   J      6 - bogie, hopper doors/ajar, s2p, unlettered, 1930s, [sPHD]

   AW710   J      6 - hopper, 1920s, [sMDN]

   BY441   J      6 - s1, North Geelong Yard, 29/4/1979, [oPJV]

   B1494   J      7 - e1 under deck/pipe outlet, Victoria Park, 14/4/1978, [oPJV]

   B1493   J      7 - e1p, Victoria Park, 14/4/1978, [oPJV]

   B1492   J      7 - e1q, Victoria Park, 14/4/1978, [oPJV]

   DF985   J      7 - restored van, as #7, Fawkner, 2/9/2004, [sPJV]

   B1491   J      7 - s2, Victoria Park, 14/4/1978, [oPJV]

   BB890   J      7 - s2e1, Tottenham Yard, 5/4/1981, [oPJV]

   BW578   J      9 - s1 high pipes, Echuca, 15/4/1979, [oPJV]

   BL169   J     10 - part view, North Geelong Yard, 12/9/1982, [oPJV]

   BL170   J     10 - part view, North Geelong Yard, 12/9/1982, [oPJV]

   CZ481   J     10 - s1, Dandenong, 14/11/1976, [oRXO]

   DA606   J     10 - s2, Dandenong, 17/7/1976, [oPJV]

   DB211   J     10S- off track on ground, east section, Newport Workshops, 6/1/2003, [oPJV]

   BV153   J     11 - s2, North Geelong Yard, 9/11/1980, [oPJV]

   CG002   J     12 - s1, unloading, Avoca, 18/4/1978, [oPJV]

   CG004   J     12 - unloading/council works, Avoca, 18/4/1978, [oPJV]

   BY847   J     12*, North Geelong Yard, 29/4/1979, [oPJV]

   BE218   J     13W- s1e2, North Geelong, 26/8/1984, [oPJV]

   DS051   J     15 - low pipes, s1, North Geelong Yard, 12/10/1980, [oPJV]

   BH197   J     17 - s1e2, straight pipes, Shepparton, 15/3/1981, [oPJV]

   BR227   J     18 - s1 straight pipe, North Geelong Yard, 4/1/1981, [oPJV]

   BR796   J     18 - s1e2, Echuca, 23/11/1980, [oPJV]

   BG063   J     23 - s1e2, straight pipes, North Geelong Yard, 27/9/1981, [oPJV]

   CN065   J     23 - s2, Dandenong, 1970s, [oBAU]

   BW207   J     24 - s1, North Geelong Yard, 9/5/1979, [oPJV]

   AR905   J     25 - s1, high pipes, Bendigo, 22/4/1979, [oPJV]

   BG064   J     26 - s1e2, straight pipes, North Geelong Yard, 27/9/1981, [oPJV]

   BB209   J     31U- s2, Lilydale, 13/7/1984, [oPJV]

   AH237   J     32, North Geelong Yard, 29/4/1979, [oPJV]

   BR797   J     33 - bent pipe detail, Echuca, 23/11/1980, [oPJV]

   BV152   J     33 - bent pipes, North Geelong Yard, 9/11/1980, [oPJV]

   BB743   J     37 - s1, low pipes, North Geelong, 29/3/1981, [oPJV]

   DA607   J     38 - s1, hi to low pipes, Dandenong, 17/7/1976, [oPJV]

   BB208   J     39A- s2, Lilydale, 13/7/1984, [oPJV]

   CA908   J     46 - hopper detail: raised section, Echuca, 15/4/1979, [oPJV]

   BR183   J     46 - s1 straight pipe, North Geelong Yard, 4/1/1981, [oPJV]

   CA909   J     46 - s2e1, Echuca, 15/4/1979, [oPJV]

   DS289   J     49 - s2, North Geelong Yard, 29/4/1979, [oPJV]

   BV608   J     51 - s1e2c, North Geelong Yard, 9/5/1979, [oPJV]

   BV605   J     51 - with J 55, North Geelong Yard, 9/5/1979, [oPJV]

   BA147   J     53 - s1, straight pipes, Dandenong, 29/8/1976, [oRXO]

   BG057   J     53 - s1e1, straight pipes, North Geelong Yard, 27/9/1981, [oPJV]

   BV605   J     55 + J 51, North Geelong Yard, 9/5/1979, [oPJV]

   BB516   J     57 - s1, straight pipes, Tottenham Yard, 29/3/1981, [oPJV]

   BL773   J     64 - s1e2, Echuca, 13/4/1980, [oPJV]

   AU874   J     65 - s1e2, low pipe, North Melbourne, 2/1977, [oPJV]

   AH238   J     66 - s1 low pipe, North Geelong Yard, 29/4/1979, [oPJV]

   AR875   J     68 - s1, high pipes, Bendigo, 22/4/1979, [oPJV]

   BY960   J     69, North Geelong Yard, 29/4/1979, [oPJV]

   BY624   J     71 - s1, North Geelong Yard, 29/4/1979, [oPJV]

   BA155   J     72 - s1, Dandenong, 14/11/1976, [oRXO]

   CG003   J     72 - s1, Avoca, 18/4/1978, [oPJV]

   CB101   J     73 - part view, East Yard, 16/4/1979, [oPJV]

   BA157   J     75 - s1e2, straight pipe, Dandenong, 14/11/1976, [oRXO]

   BM465   J     76 - part view, Echuca, 11/5/1980, [oPJV]

   BR226   J     77 - s1 straight pipe, North Geelong Yard, 4/1/1981, [oPJV]

   BA158   J     77 - s2, Westall, 12/1976, [oRXO]

   CN066   J     77 - s2e1, Dandenong, 1980s, [oBAU]

 
   Diagrams   for  'J  '

   FileID  Description................................................



   BF698   J        -  (C), [sPJV]

   CP839   J        -  bogie hopper, ACF GA 6575297, 24/1/1925, [sPHD]

 
---
File c153m compiled by Peter J. Vincent, updated 3/7/2007