VPAX / VPBX / VPCX - Air Discharge Cement Hopper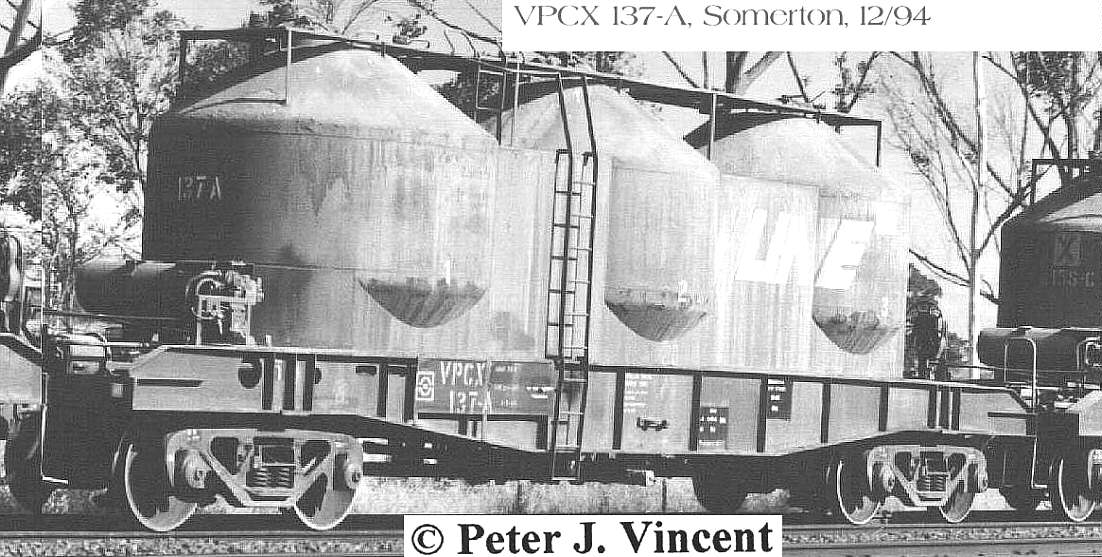 VPCX
In the 1979 recoding, the _JX_ wagons ( numbers 1 to 108 ) were reclassed to VPCX.
VPCX 109 to 158 were built new during 1981/1982.
Traffic originated from a cement plant at Fyansford, near Geelong. Melbourne was a major destination. Cement powder was also transported from Fyansford for the construction of the new Parliament House at Canberra.
The 'Blue Circle' cement group built a holding depot at Somerton. This allowed for road distribution in the northern area. It had been anticipated that cement powder from offshore sources would ultimately be purchased; by ship to Sydney, then rail to Somerton.
To segregate the different air pressure discharge groups, the class was split into three groups. About 1992, the group 59 - 108 began being relettered VPAX. In 1996, the group 109 - 158 began being reclassed VPBX.
VPAX
From 1992 the VPCX wagons numbered 59 - 108 were being relettered to VPAX.
VPBX
From 1996 the VPCX wagons numbered 109 - 158 were being relettered VPBX.
   Photos   for  'VPAX  '

   FileID  Description................................................



   AV390   VPAX     82F- Vline, Tottenham, 14/1/2000, [oPJV]

   AV391   VPAX     94X- large VR, Tottenham, 14/1/2000, [oPJV]

   CB808   VPAX     94X- s2e2, VR, Waurn Ponds, 21/3/1990, [oJAB]

   AV262   VPAX     94X- VR logo, Wodonga Coal Siding, 19/1/2000, [oPJV]

 
   No diagrams found for VPAX   
   No photos found for VPBX   
   No diagrams found for VPBX   
   Photos   for  'VPCX  '

   FileID  Description................................................



   BI592   VPCX        - #1, no lettering, Bendigo, 18/10/1981, [oPJV]

   BI590   VPCX        - #10, no lettering, Bendigo, 18/10/1981, [oPJV]

   BI593   VPCX        - #12, no lettering, Bendigo, 18/10/1981, [oPJV]

   BI585   VPCX        - #15, no lettering, Bendigo, 18/10/1981, [oPJV]

   BI586   VPCX        - #16, no lettering, Bendigo, 18/10/1981, [oPJV]

   BI584   VPCX        - #18, no lettering, Bendigo, 18/10/1981, [oPJV]

   BI588   VPCX        - #8, no lettering, Bendigo, 18/10/1981, [oPJV]

   BI589   VPCX        - #9, no lettering, Bendigo, 18/10/1981, [oPJV]

   BI587   VPCX        - no lettering, shell only, Bendigo, 18/10/1981, [oPJV]

   BI594   VPCX        - Rake of 12 shells/red/no lettering, Bendigo, 18/10/1981, [oPJV]

   BI591   VPCX        - Rake of 5 shells/red/no lettering, Bendigo, 18/10/1981, [oPJV]

   BI583   VPCX        - Rake of 7 shells/red/no lettering, Bendigo, 18/10/1981, [oPJV]

   BV151   VPCX      1, North Geelong Yard, 9/11/1980, [oPJV]

   BY323   VPCX      2, North Geelong Yard, 12/10/1980, [oPJV]

   BV054   VPCX      3, North Geelong Yard, 9/11/1980, [oPJV]

   BB518   VPCX      3 - s1e1, Miner h/brake, Tottenham Yard, 29/3/1981, [oPJV]

   BB521   VPCX      3 - s1e2, Tottenham Yard, 29/3/1981, [oPJV]

   BB527   VPCX      6 - s2e1, Tottenham Yard, 29/3/1981, [oPJV]

   BR194   VPCX      8, North Geelong Yard, 4/1/1981, [oPJV]

   BM696   VPCX     11 - s1e2, 1 pipe, North Geelong Yard, 5/9/1982, [oPJV]

   DG473   VPCX     11P- Vline, s2e1, 1980s, [oDVC]

   BG052   VPCX     12 - s2e1, North Geelong Yard, 27/9/1981, [oPJV]

   BB519   VPCX     13 - s1e2, ratchet h/b, Tottenham Yard, 29/3/1981, [oPJV]

   BX853   VPCX     14, North Geelong Yard, 12/10/1980, [oPJV]

   BJ210   VPCX     16, North Geelong Yard, 9/11/1980, [oPJV]

   BR199   VPCX     16, North Geelong Yard, 4/1/1981, [oPJV]

   BB944   VPCX     16 - part view, Tottenham Yard, 5/4/1981, [oPJV]

   BR197   VPCX     23, North Geelong Yard, 4/1/1981, [oPJV]

   BV056   VPCX     26, North Geelong Yard, 9/11/1980, [oPJV]

   BU975   VPCX     28, Bendigo, 23/11/1980, [oPJV]

   BL772   VPCX     29 - s1e2, Echuca, 13/4/1980, [oPJV]

   BL177   VPCX     31 - part view, North Geelong Yard, 12/9/1982, [oPJV]

   BB789   VPCX     31 - s2e1, North Geelong, 29/3/1981, [oPJV]

   BD898   VPCX     32 - s1e2c, North Geelong Yard, 26/8/1984, [oPJV]

   BB944   VPCX     41 - s1e2, Tottenham Yard, 5/4/1981, [oPJV]

   BN943   VPCX     42, Tottenham Yard, 1/2/1981, [oPJV]

   BE220   VPCX     47B- s2e1, North Geelong, 26/8/1984, [oPJV]

   BN944   VPCX     48 - s1e2c, Tottenham Yard, 1/2/1981, [oPJV]

   BK706   VPCX     49 - s1, Bendigo, 27/7/1980, [oPJV]

   BJ215   VPCX     50, North Geelong Yard, 9/11/1980, [oPJV]

   BV081   VPCX     51, North Geelong Yard, 9/11/1980, [oPJV]

   BV149   VPCX     52, North Geelong Yard, 9/11/1980, [oPJV]

   BL170   VPCX     53 - part view, North Geelong Yard, 12/9/1982, [oPJV]

   AV261   VPCX     53 - part view, no logo, Wodonga Coal Siding, 19/1/2000, [oPJV]

   BB522   VPCX     54 - s2e1, Tottenham Yard, 29/3/1981, [oPJV]

   BQ280   VPCX     55 - s1e2, Lilydale, 6/2/1982, [oPJV]

   BM386   VPCX     61 - s2e1c, Wodonga Coal Siding, 10/5/1980, [oPJV]

   BL177   VPCX     64 - part view, North Geelong Yard, 12/9/1982, [oPJV]

   BI250   VPCX     68 - s1e2c, Swanston Dock, 22/11/1981, [oPJV]

   BG018   VPCX     69 - s1e2, Tottenham Yard, 13/9/1981, [oPJV]

   BR196   VPCX     70, North Geelong Yard, 4/1/1981, [oPJV]

   BM201   VPCX     71 - s2e1c, Newport Workshops, 2/6/1980, [oPJV]

   BD472   VPCX     72 - s2e1, Flinders Street Yard, 7/1981, [oPJV]

   BR198   VPCX     73, North Geelong Yard, 4/1/1981, [oPJV]

   BL774   VPCX     74 - s1e2, Echuca, 13/4/1980, [oPJV]

   BD899   VPCX     80Q- s1e2, North Geelong Yard, 26/8/1984, [oPJV]

   BB523   VPCX     87 - s1e2, Tottenham Yard, 29/3/1981, [oPJV]

   BV675   VPCX     88 - lettering/bogie XC 16829, North Geelong Yard, 9/5/1979, [oPJV]

   BV672   VPCX     88 - s2, North Geelong Yard, 9/5/1979, [oPJV]

   BD943   VPCX     89F- s1e2, North Geelong, 26/8/1984, [oPJV]

   BD473   VPCX     90 - s1e2, Flinders Street Yard, 7/1981, [oPJV]

   BV150   VPCX     91, North Geelong Yard, 9/11/1980, [oPJV]

   BD901   VPCX     92T- s1e2, North Geelong Yard, 26/8/1984, [oPJV]

   BQ277   VPCX    104 - s1e2c, Pakenham, 4/2/1982, [oPJV]

   BP064   VPCX    108 - s2e1, North Geelong Yard, 5/9/1982, [oPJV]

   BI167   VPCX    109, Dandenong, 16/11/1981, [oPJV]

   BI168   VPCX    109 - lettering / bogie, Dandenong, 16/11/1981, [oPJV]

   BI169   VPCX    109 - s1p, Dandenong, 16/11/1981, [oPJV]

   BD900   VPCX    114D- s2e1, North Geelong Yard, 26/8/1984, [oPJV]

   BD902   VPCX    115M- s1e2, North Geelong Yard, 26/8/1984, [oPJV]

   BD944   VPCX    116V- s1e2, North Geelong, 26/8/1984, [oPJV]

   BB210   VPCX    117H- s2e1, Lilydale, 13/7/1984, [oPJV]

   BQ285   VPCX    119 - discharge gear/lettering, Lilydale, 6/2/1982, [oPJV]

   BQ283   VPCX    119 - discharge instructions, Lilydale, 6/2/1982, [oPJV]

   BQ282   VPCX    119 - discharge valves, Lilydale, 6/2/1982, [oPJV]

   BQ290   VPCX    119 - e1 deck, Lilydale, 6/2/1982, [oPJV]

   BQ287   VPCX    119 - e1p, Lilydale, 6/2/1982, [oPJV]

   BQ286   VPCX    119 - e1q, Lilydale, 6/2/1982, [oPJV]

   BQ292   VPCX    119 - e2 deck, Lilydale, 6/2/1982, [oPJV]

   BQ288   VPCX    119 - mesh deck/top, Lilydale, 6/2/1982, [oPJV]

   BQ281   VPCX    119 - s1e2c, Lilydale, 6/2/1982, [oPJV]

   BQ284   VPCX    119 - s1p, Lilydale, 6/2/1982, [oPJV]

   BQ291   VPCX    119 - top fill hatch, Lilydale, 6/2/1982, [oPJV]

   BD889   VPCX    120V- s2e1, Geelong, 26/8/1984, [oPJV]

   BE224   VPCX    126G- s2e1, North Geelong, 26/8/1984, [oPJV]

   BD942   VPCX    129K- s1e2, North Geelong, 26/8/1984, [oPJV]

   BE222   VPCX    131P- s1e2, North Geelong, 26/8/1984, [oPJV]

   BN882   VPCX    132 - s1e2, Flinders Street, 11/2/1982, [oPJV]

   BO765   VPCX    132 - s1e2, North Geelong Yard, 5/9/1982, [oPJV]

   BM698   VPCX    134 - s1e1, 1 pipe, North Geelong Yard, 5/9/1982, [oPJV]

   BJ009   VPCX    136 - s2e1, North Melbourne C&W Shops, 18/1/1982, [oPJV]

   BP970   VPCX    137 - s1e2, Pakenham, 2/4/1982, [oPJV]

   BM697   VPCX    138 - s1e2, 1 pipe, North Geelong Yard, 5/9/1982, [oPJV]

   BO766   VPCX    143 - s1e2, North Geelong Yard, 5/9/1982, [oPJV]

   BD897   VPCX    149D- s2e1, 2  lettering, North Geelong Yard, 26/8/1984, [oPJV]

   BD903   VPCX    154M- s1e2, North Geelong Yard, 26/8/1984, [oPJV]

   BO764   VPCX    158 - s1e2, North Geelong Yard, 5/9/1982, [oPJV]

 
   No diagrams found for VPCX   
---
File c092m compiled by Peter J. Vincent, updated 5/5/2007