---
ELX - Bogie Open Wagon
---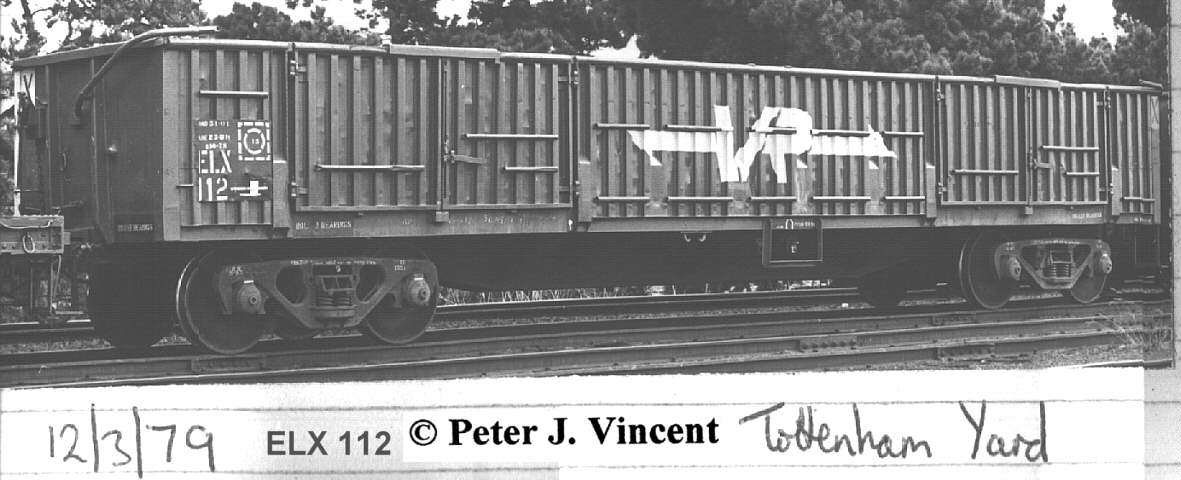 The ELX class represented the largest block of bogie open wagon owned by the Victorian Railways (VR). Construction started in 1961 as ELF_, with new wagons built as ELX from 1964. Existing ELF wagons were recoded to ELX.
Numbers were 1 - 454, 1001 - 1104. The number block 501 - 1000 were allocated to similar type wagons operated by the South Australian Railways.
Part way through the ELX construction order in 1978, the class was altered to VOCX. Vehicles 1105 to 1170 were issued as VOCX class.
As part of this recoding, the ELX vehicles were split into two distinct groups: those fitted with standard tarpaulin support "ridge gear" were coded VOCX, and those either not fitted at all or fitted with non-standard "ridge gear" were recoded VOBX.
The railways altered the method of freight distribution in 1979. Small stations and sidings were closed and freight waybilled to major depots on each line. These depots were called "Freight Centres". For LCL (Less than Car Load) traffic a group of ELX/VOCX wagons were specially set aside and coded VOCY.
Types
There were some basic construction types: flat sides, strengthened flat sides, corrugated sides, and corrugated sides with different coping along the "waterline" ( top of the sides ). Different methods of tarpaulin lashing bars were tried.
In the late 1970's, older style bodies were rebuilt with the construction style of the current wagon orders.
   Photos   for  'ELX  '

   FileID  Description................................................



   BX901   ELX        - ldd carbon black containers, part view, Tottenham Yard, 7/4/1979, [oPJV]

   CM992   ELX      1, 1970s, [oBAU]

   CM989   ELX      1 - number panel, 5/1977, [oBAU]

   CB512   ELX      4 - OR COND flat sides, Frezzers Siding, 8/4/1979, [oPJV]

   BK968   ELX      5 - lettering section/no panel/flat side, Castlemaine, 29/6/1975, [oPJV]

   BK969   ELX      5 - s2e1, flat sides, Castlemaine, 29/6/1975, [oPJV]

   B1453   ELX      6 - body rebuilt, Canal Zone, 13/4/1978, [oPJV]

   BX790   ELX      6 - rebuilt body, North Geelong Yard, 29/4/1979, [oPJV]

   DT025   ELX      6 - rebuilt body/std ridge gear, North Geelong Yard, 29/4/1979, [oPJV]

   CM990   ELX     10 - s2e1, Woodend, 1970s, [oBAU]

   CB722   ELX     15 - RHS rebuilt, ldd 2 x ISO, Canal Zone, 7/4/1979, [oPJV]

   BP633   ELX     17 - s1e2, rebuilt RHS coping, East Yard, 28/2/1980, [oPJV]

   CK424   ELX     23 - tarped, rebuilt corrugated sides, Flinders Street Yard, 11/3/1979, [oPJV]

   CZ178   ELX     27 - s2e1, Castlemaine, 13/11/1976, [oRXO]

   BV279   ELX     29, Flinders Street, 5/5/1979, [oPJV]

   CC107   ELX     29, Wodonga Coal Siding, 6/4/1979, [oPJV]

   BE930   ELX     31 - s2e1, VR, L7, Castlemaine, 29/6/1975, [oPJV]

   DS952   ELX     35, North Geelong Yard, 29/4/1979, [oPJV]

   DT088   ELX     36 - e1p, North Melbourne C&W Shops, 11/7/1980, [oPJV]

   BY250   ELX     36 - e1q, North Melbourne C&W Shops, 11/7/1980, [oPJV]

   DT010   ELX     36 - rebuilt body, North Melbourne C&W Shops, 11/7/1980, [oPJV]

   AJ134   ELX     36 - s1e1 rebuilt body, ratchet h/b, Tottenham Yard, 29/4/1979, [oPJV]

   AJ133   ELX     36 - s1e2 rebuilt body, Tottenham Yard, 29/4/1979, [oPJV]

   B1162   ELX     37 - ldd carbon black flattops, Tottenham Yard, 25/3/1979, [oPJV]

   CC292   ELX     38, East Yard, 1/4/1979, [oPJV]

   CC067   ELX     40, East Yard, 5/4/1979, [oPJV]

   B2845   ELX     46, Oakleigh, 4/4/1978, [oPJV]

   B2846   ELX     46 - number stamp with two numbers (SLX?), Oakleigh, 4/4/1978, [oPJV]

   B2847   ELX     46 - stirrup around brake eqmnt, Oakleigh, 4/4/1978, [oPJV]

   CZ180   ELX     47 - s1e2, East Yard, 20/8/1976, [oRXO]

   B1632   ELX     52 - e1p  NOT TO GO  chalk, Tottenham Yard, 12/3/1979, [oPJV]

   B1634   ELX     52 - e2q, Tottenham Yard, 12/3/1979, [oPJV]

   B1631   ELX     52 - s1e2, Tottenham Yard, 12/3/1979, [oPJV]

   CT978   ELX     54, Sunshine, 15/1/1979, [oPJV]

   CU718   ELX     57, North Melbourne C&W Shops, 11/1/1979, [oPJV]

   BL971   ELX     61 - ldd ZL van bits(286?), Tottenham Yard, 20/4/1980, [oPJV]

   CZ182   ELX     65 - s1e2, Westall, 10/11/1976, [oRXO]

   CM995   ELX     67 - flat tarped, 1970s, [oBAU]

   CZ183   ELX     67 - s1 perp, Woodend, 8/11/1976, [oRXO]

   CF531   ELX     73, South Dynon, 26/4/1978, [oPJV]

   BV343   ELX     74, Tottenham Yard, 6/5/1979, [oPJV]

   BE931   ELX     76 - part view, Castlemaine, 29/6/1975, [oPJV]

   CG224   ELX     77, Mittyack, 21/4/1978, [oPJV]

   CG226   ELX     77 - doors/no lashing rails, Mittyack, 21/4/1978, [oPJV]

   CG225   ELX     77 - old traffic board, Mittyack, 21/4/1978, [oPJV]

   CC086   ELX     79, Centre Yard, 5/4/1979, [oPJV]

   CZ437   ELX     80 - part view, Warragul, 9/10/1976, [oRXO]

   CK466   ELX     93 - flat sides, North Geelong Yard, 12/3/1979, [oPJV]

   CT956   ELX    101, Appleton Dock, 13/1/1979, [oPJV]

   CM991   ELX    102, North Melbourne, 1970s, [oBAU]

   BG790   ELX    106 - s2e1, ldd briquettes, Maryvale siding, 17/11/1975, [oPJV]

   B1610   ELX    112, Tottenham Yard, 12/3/1979, [oPJV]

   B1612   ELX    112 - detail: LCB/ridge gear support, Tottenham Yard, 12/3/1979, [oPJV]

   CB075   ELX    113 - part view, Canal Zone, 16/4/1979, [oPJV]

   B9924   ELX    119 - part view, Woodend, 15/3/1978, [oPJV]

   CZ190   ELX    120 - s2, Castlemaine, 13/11/1976, [oRXO]

   CB092   ELX    122, North Melbourne C&W Shops, 16/4/1979, [oPJV]

   B9986   ELX    129, Woodend, 15/3/1978, [oPJV]

   CB201   ELX    129 - s1e2c, rebuilt body RHS, Oakleigh, 13/4/1979, [oPJV]

   CB202   ELX    129 - s2e1c, Oakleigh, 13/4/1979, [oPJV]

   CB708   ELX    135, Tottenham Yard, 7/4/1979, [oPJV]

   B1329   ELX    136, Tottenham Yard, 16/4/1978, [oPJV]

   B1330   ELX    136 - lettering panel shows  4 , Tottenham Yard, 16/4/1978, [oPJV]

   BP227   ELX    149, Geelong Loco, 17/8/1980, [oPJV]

   BP673   ELX    153 - s1e2, Flinders Street Yard, 2/3/1980, [oPJV]

   BL602   ELX    167 - s1e2, Port Melbourne, 3/4/1980, [oPJV]

   BV078   ELX    174 - ldd briquettes, North Geelong Yard, 9/11/1980, [oPJV]

   CB503   ELX    177 - lettering/bogie/doors, Frezzers Siding, 8/4/1979, [oPJV]

   CB504   ELX    177 - s2e1, Frezzers Siding, 8/4/1979, [oPJV]

   CB502   ELX    177 - s2e2 part view, in storage rake, Frezzers Siding, 8/4/1979, [oPJV]

   CB066   ELX    178, Dandenong, 19/4/1979, [oPJV]

   CB067   ELX    178 - detail: ridge gear/brake/protect iron, Dandenong, 19/4/1979, [oPJV]

   B1488   ELX    187 - tarped, Flinders Street Yard, 25/3/1978, [oPJV]

   BP854   ELX    192 - lettering panel, Traralgon, 3/2/1980, [oPJV]

   BP853   ELX    192 - s1e2, Traralgon, 3/2/1980, [oPJV]

   BK971   ELX    201 - s1, Lysaght ridge gear, Castlemaine, 29/6/1975, [oPJV]

   BE926   ELX    201 - s2e1, Castlemaine, 29/6/1975, [oPJV]

   DK511   ELX    202 - part view/lettering, Frankston, 20/1/1978, [oPJV]

   CC108   ELX    216 - s1, Wodonga Coal Siding, 6/4/1979, [oPJV]

   CC110   ELX    216 - s2 ldd wire coil, Wodonga Coal Siding, 6/4/1979, [oPJV]

   CB845   ELX    220 - s2e2, Tottenham Yard, 7/4/1979, [oPJV]

   CZ200   ELX    226 - s1e2, Electric Crane Area, 12/1976, [oRXO]

   BP888   ELX    228, Centre Yard, 26/4/1979, [oPJV]

   CB980   ELX    235, Albury, NSW, 6/4/1979, [oPJV]

   BV348   ELX    236, Tottenham Yard, 6/5/1979, [oPJV]

   B1048   ELX    241, Tottenham Yard, 25/3/1979, [oPJV]

   CC304   ELX    244, Centre Yard, 1/4/1979, [oPJV]

   CK467   ELX    250 - s2, North Geelong Yard, 12/3/1979, [oPJV]

   BF124   ELX    259 - e2p, Newport Goods Yard, 20/9/1975, [oPJV]

   BF123   ELX    259 - e2q, Newport Goods Yard, 20/9/1975, [oPJV]

   BF121   ELX    259 - s1p, L7, Newport Goods Yard, 20/9/1975, [oPJV]

   BF122   ELX    259 - s1q, s1e2c, Newport Goods Yard, 20/9/1975, [oPJV]

   BX776   ELX    263 - LRG inside, North Geelong Yard, 29/4/1979, [oPJV]

   DT103   ELX    263 - LRG side on, North Geelong Yard, 29/4/1979, [oPJV]

   BY117   ELX    263 - with Lysaght Ridge Gear complete, North Geelong Yard, 29/4/1979, [oPJV]

   BY846   ELX    279 - ldd 2 x tractors, North Geelong Yard, 29/4/1979, [oPJV]

   CC109   ELX    281, Wodonga Coal Siding, 6/4/1979, [oPJV]

   BY878   ELX    294, North Geelong Yard, 29/4/1979, [oPJV]

   CC086   ELX    296 - part view, Centre Yard, 5/4/1979, [oPJV]

   CZ206   ELX    304 - part view, Electric Crane Area, 23/11/1976, [oRXO]

   BV418   ELX    305 - no ridge gear, Tottenham Yard, 6/5/1979, [oPJV]

   CZ207   ELX    306 - part view, Bendigo, 1/11/1976, [oRXO]

   DS901   ELX    315 - end chalk tare, Flinders Street Yard, 4/8/1980, [oPJV]

   CU027   ELX    326 - ID/panel/yellow tape/waybill envelope, Maryvale siding, 25/12/1977, [oPJV]

   CU023   ELX    328 - tarped, yellow tape: APM hire, Maryvale siding, 25/12/1977, [oPJV]

   B3328   ELX    333, North Geelong Yard, 25/3/1979, [oPJV]

   BV350   ELX    335, Tottenham Yard, 6/5/1979, [oPJV]

   BV085   ELX    338 - lettering: number painted over waybill clip, North Geelong Yard, 9/11/1980, [oPJV]

   CF945   ELX    341 - tarped, Donald, 19/4/1978, [oPJV]

   CU459   ELX    346, North Geelong Yard, 12/3/1979, [oPJV]

   BM625   ELX    349 - s2, Graham, 30/1/1980, [oPJV]

   AT364   ELX    350, Bendigo, 22/4/1979, [oPJV]

   CZ212   ELX    350 - s2, Lysaughts ridge gear, McIntyre, 8/11/1976, [oRXO]

   B1328   ELX    358, Tottenham Yard, 16/4/1978, [oPJV]

   B1441   ELX    358, Canal Zone, 13/4/1978, [oPJV]

   CU553   ELX    363, Appleton Dock, 7/1/1979, [oPJV]

   CZ213   ELX    363 - s2, Dandenong, 29/8/1976, [oRXO]

   B1051   ELX    366, Tottenham Yard, 25/3/1979, [oPJV]

   CZ214   ELX    369 - s2, Colac, 27/11/1976, [oRXO]

   CB349   ELX    372, Castlemaine, 8/4/1979, [oPJV]

   CF671   ELX    374 - cranvel tractor crane unloading, Ballarat Workshops, 17/4/1978, [oPJV]

   CZ216   ELX    379 - s2, McIntyre, 8/11/1976, [oRXO]

   CZ218   ELX    380 - s1e2 clear, Cobden, 28/11/1976, [oRXO]

   BP894   ELX    381 - LRG, Centre Yard, 26/4/1979, [oPJV]

   BP913   ELX    381 - LRG/detail, Centre Yard, 26/4/1979, [oPJV]

   BP920   ELX    381 - Lysaght ridge gear/interior, Centre Yard, 26/4/1979, [oPJV]

   CU695   ELX    393, Dandenong, 10/1/1979, [oPJV]

   CZ223   ELX    404 - s1e2, McIntyre, 8/11/1976, [oRXO]

   BE858   ELX    406 - s1e1, Castlemaine, 29/6/1975, [oPJV]

   BE856   ELX    406 - s1p, VR, L7, coupled to I wagon, Castlemaine, 29/6/1975, [oPJV]

   CZ226   ELX    413 - s1e2, Dandenong, 14/11/1976, [oRXO]

   CG223   ELX    414, Mittyack, 21/4/1978, [oPJV]

   CU671   ELX    415, Oakleigh, 10/1/1979, [oPJV]

   BE924   ELX    417 - e2p, Castlemaine, 29/6/1975, [oPJV]

   BE863   ELX    417 - e2q, Castlemaine, 29/6/1975, [oPJV]

   BK967   ELX    417 - part view, Castlemaine, 29/6/1975, [oPJV]

   CZ227   ELX    417 - part view, Electric Crane Area, 18/11/1976, [oRXO]

   BE859   ELX    417 - s1e2c, shelf coupler, Castlemaine, 29/6/1975, [oPJV]

   CC085   ELX    423, Centre Yard, 5/4/1979, [oPJV]

   CB408   ELX    424, Bendigo, 8/4/1979, [oPJV]

   CB496   ELX    426, Bendigo Workshops, 8/4/1979, [oPJV]

   CU552   ELX    429, Appleton Dock, 7/1/1979, [oPJV]

   DU301   ELX    433 - part view, tarped, Flinders Street Yard, 18/7/1976, [oPJV]

   BQ789   ELX    434 - part view, South Dynon, 5/2/1980, [oPJV]

   11703   ELX    437, Tottenham Yard, 16/4/1978, [oPJV]

   BM534   ELX    439 - s1e2, Tottenham Yard, 20/4/1980, [oPJV]

   CF582   ELX    441, Ararat, 18/4/1978, [oPJV]

   11480   ELX    443, Tottenham Yard, 16/4/1978, [oPJV]

   CZ229   ELX    443 - s2, no ridge gear, Mortlake, 28/11/1976, [oRXO]

   B1055   ELX    444, Tottenham Yard, 25/3/1979, [oPJV]

   CU676   ELX    445, Dandenong, 10/1/1979, [oPJV]

   CZ230   ELX    451 - s2e1, no ridge gear, Electric Crane Area, 12/1976, [oRXO]

   B1146   ELX    454, Hump Yard, 26/3/1979, [oPJV]

   CM994   ELX    454 - ldd briquettes, Oakleigh, 1970s, [oBAU]

   CU462   ELX    532 - part view, North Geelong Yard, 12/3/1979, [oPJV]

   CU652   ELX   1016 - e1p, Tottenham Yard, 12/3/1979, [oPJV]

   CU653   ELX   1016 - e1q, Tottenham Yard, 12/3/1979, [oPJV]

   CU655   ELX   1016 - e2p, Tottenham Yard, 12/3/1979, [oPJV]

   CU654   ELX   1016 - e2q, Tottenham Yard, 12/3/1979, [oPJV]

   CF693   ELX   1016 - part view, Ballarat Workshops, 17/4/1978, [oPJV]

   CU651   ELX   1016 - s2e1c, Tottenham Yard, 12/3/1979, [oPJV]

   CU024   ELX   1021 - tarped, yellow tape: APM hire, Maryvale siding, 25/12/1977, [oPJV]

   CB909   ELX   1023 - ldd high briquettes, Wangaratta, 7/4/1979, [oPJV]

   BV412   ELX   1024 - no ridge gear, Tottenham Yard, 6/5/1979, [oPJV]

   CZ296   ELX   1025 - s2, tarped, Albury, NSW, 7/11/1976, [oRXO]

   BJ193   ELX   1027 - lettering: dot on class panel, North Geelong Yard, 9/11/1980, [oPJV]

   BJ194   ELX   1027 - with dot on class panel, North Geelong Yard, 9/11/1980, [oPJV]

   CM993   ELX   1032 - ridge gear, Dandenong, 1970s, [oBAU]

   B3451   ELX   1041 - part view, Tottenham Yard, 18/3/1979, [oPJV]

   CU025   ELX   1044 - e2p/tarped/ropes/chalked tail disk/yellow tape, Maryvale siding, 25/12/1977, [oPJV]

   CU026   ELX   1044 - ID/panel/yellow tape, Maryvale siding, 25/12/1977, [oPJV]

   BQ138   ELX   1055 - s1e1, tarped, Flinders Street Yard, 10/2/1980, [oPJV]

   BQ136   ELX   1055 - s1e2, tarped, Flinders Street Yard, 10/2/1980, [oPJV]

   BP855   ELX   1056 - s1e2, Traralgon, 3/2/1980, [oPJV]

   AX090   ELX   1059 - lettering panel, Canal Zone, 2/1977, [oPJV]

   AX089   ELX   1059 - lettering:  9  painted over  6 , Canal Zone, 2/1977, [oPJV]

   AL213   ELX   1059 - part view, South Dynon, 23/4/1979, [oPJV]

   AX088   ELX   1059 - s2e2, Canal Zone, 2/1977, [oPJV]

   AU881   ELX   1069 - s1e2, Bendigo, 18/2/1977, [oPJV]

   AU884   ELX   1070 - no lettering a/c painting, Bendigo Workshops, 18/2/1977, [oPJV]

   AU885   ELX   1070 - number stamp / photo id, Bendigo Workshops, 18/2/1977, [oPJV]

   B1456   ELX   1073 - e1p, North Melbourne C&W Shops, 13/4/1978, [oPJV]

   B1457   ELX   1073 - e1q, North Melbourne C&W Shops, 13/4/1978, [oPJV]

   11214   ELX   1073 - s1e1, North Melbourne C&W Shops, 7/4/1978, [oPJV]

   BI687   ELX   1083 - part view, Dandenong, 17/10/1981, [oPJV]

   DT311   ELX   1086, North Geelong Yard, 29/4/1979, [oPJV]

   DK694   ELX   1088 - s1e2c, Ararat, 1/2/1979, [oPJV]

   B9936   ELX   1096, Flinders Street Yard, 17/3/1978, [oPJV]

   B1523   ELX   1099 - part view, Canal Zone, 1/4/1978, [oPJV]

   CT721   ELX   1099 - tarped, Bairnsdale, 25/12/1978, [oPJV]

   BO677   ELX   1101 - s1 tarped, Albury, NSW, 10/5/1980, [oPJV]

   BM947   ELX   1104 - part view, North Melbourne C&W, 25/2/1980, [oPJV]

   CK458   ELX   1105 - tarped flat, North Geelong Yard, 12/3/1979, [oPJV]

 
   No diagrams found for ELX   
---
File c138m compiled by Peter J. Vincent, updated 26/6/2007