---
D / Z - Fixed wheel Guards Van
---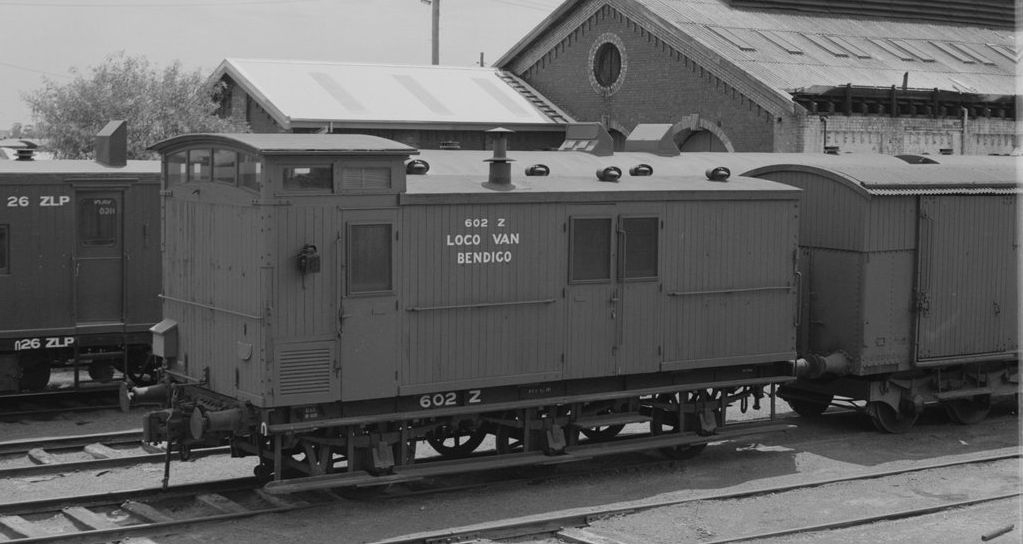 D
The first government railway guards vans were coded 'D'. These vans were attached at the rear of trains. As there was no continuous brake, the guard at the rear assisted stopping by using the handbrake.
Construction of these vehicles was nearly continuous from 1858 to 1891. The last vans built with the 'D' code were in 1907.
At this time the number group was 1 to 265. Many of the earlier vans had been scrapped and replaced by new vans which took the same numbers.
In the 1890's some vans were rebuilt from four to six wheels.
Z
In the 1910 recoding, the D vans were relettered to Z. Not, as some urban legend relates, because Z was the last letter and the van was the last wagon on the train. The fixed wheel carriage codes starting with A, B and D were relocated to X, Y and Z to free up alphabet space for bogie passenger stock.
Vans in the group 1 - 265 were recoded and renumbered to Z 1 - 242. Vans converted or constructed from March 1911 were coded Z and numbered from 243 onwards.
Included in the same number group were vans coded _DH_ / _ZH_.
Up to 1960 there was a fleet of nearly 750 of these vans.
Vans numbered 1 to 626 were six wheeled and 627 to 746 were four wheelers.
In 1924 when the railways took control of the Deniliquin and Moama Railway, three guards vans previously purchased from the Victorian Railways in the 1890's/1900's were acquired. One van was scrapped and the others were numbered into the Z group, surviving until the 1970's.
The diesels introduced from the early 1950's were auto-coupled only. To ensure screw coupled passenger stock could be hauled by autocoupler only locomotives several Z vans were fitted with dual screw/auto couplings in 1954/1955. From 1956, these vans were recoded to _ZP_ and were were attached to one or both ends of some passenger sets.
During the autocoupler conversion project Z vans fitted with auto-couplers were externally marked with an 'A' in the diagonal corners.
Z vans were gradually upgraded to _ZL_ vans for better riding from 1959 to the mid 1960's.. Before the introduction of ZL vans, and experimental _ZZ_ bogie van was tested.
A few remaining Z vans that remained were located at major loco depots and were used in breakdown trains.
   Photos   for  'D  '

   FileID  Description................................................



   DH952   D        -  distant view, Spencer Street, 1860s, [oPTC]

   BD144   D      1 - Joint Stock, end clear, unloading, Spencer Street, 15/10/1976, [oRXO]

   AW567   D      2 - V&SA, c1927, [oMDN]
   Diagrams   for  'D  '

   FileID  Description................................................



   BF528   D        -  (3 dia), [sPJV]

   BF660   D        -  (EEB), [sPJV]

   BF654   D        -  ex EEB, [sPJV]
   Photos   for  'Z  '

   FileID  Description................................................



   CQ870   Z        -  16 vans on transfer, A, roof vents, Warrenheip, 1950s, [sPHD]

   B5382   Z        -  part view, roof/gas line, Sunbury, 1940s, [oJAM]

   B5331   Z        -  vans in yard, distant, Hamilton, 25/12/1940, [oJAM]

   DF094   Z        -  vans on transfer (16 no.), Warrenheip, 1950s, [sPHD]

   DF093   Z        -  vans on transfer, all with A corners, Warrenheip, 1950s, [sPHD]

   CQ869   Z        -  vans on transfer, some A, with gas roof vents, 1950s, [sPHD]

   BF955   Z        - ARHS body #3 ex Humevale, Newport Workshops, c1976, [oMXB]

   BH240   Z        - Bendigo van, e1p, [oPJV]

   BC831   Z        - body, c1977, [oRXO]

   BH241   Z        - Handbrake screw, close rail clearance, Bendigo, [oPJV]

   CQ841   Z     10 - Ain corners, dual gear, 1950s, [sPHD]

   DF063   Z     10 - van end, A corners, 1950s, [sPHD]

   DK568   Z     13 - DIMBOOLA LOCO, with H 9, Dimboola, 12/8/1976, [oPJV]

   AV263   Z     58 -  Wodonga Loco  lettering, Huon, 19/1/2000, [oPJV]

   AV265   Z     58 - rake of stored vehicles, Huon, 19/1/2000, [oPJV]

   DG424   Z     58 - stored, Huon, [oDVC]

   DG426   Z     58 - wheel/step/axlebox, stored, Huon, 1990s, [oDVC]

   DG425   Z     58 - Wodonga Loco, stored, Huon, 1990s, [oDVC]

   CQ837   Z    184*- 6whl, panel sides, planked cupola end, 1950s, [sPHD]

   DF059   Z    184*- screw cpld/cupola end/full windows/cpld to GY, 1950s, [sPHD]

   DF090   Z    187 - P corners/lettering: Prepared for Passenger Trains..., 1950s, [sPHD]

   CQ866   Z    187 - P in corners, Dual coupling Loco/Car board, 1950s, [sPHD]

   DF068   Z    188 - A in corners, dual cpld, 1950s, [sPHD]

   CQ846   Z    188 - auto/screw, A in corners, 1950s, [sPHD]

   BK690   Z    202 - Dynon traffic, roof tank, Newport Workshops, 22/7/1980, [oPJV]

   BG368   Z    202 - e1p, South Dynon, 18/1/1976, [oPJV]

   BG369   Z    202 - e1q, South Dynon, 18/1/1976, [oPJV]

   BK688   Z    202 - veXp, roof tank, Newport Workshops, 22/7/1980, [oPJV]

   BK689   Z    202 - veXq, roof tank, Newport Workshops, 22/7/1980, [oPJV]

   DF067   Z    225 - black background/white lettering, Newport Workshops, 1940s, [sPHD]

   CQ845   Z    225 - fresh paint, aluminium/black lettering, Newport Workshops, 1930s, [sPHD]

   CQ840   Z    283*- dual gear, A in corners, 1950s, [sPHD]

   DF072   Z    293 - A corners/dual cpld, 1950s, [sPHD]

   CQ850   Z    293 - A in corners, auto cpled, 1950s, [sPHD]

   DF062   Z    293 - cuploa end/full windows/dual cpld, A in corners, 1950s, [sPHD]

   BC829   Z    315 -  Ballarat Loco , Ballarat East, 2/10/1976, [oRXO]

   CN385   Z    315 - Loco Van Ballarat, Ballarat East, 1970s, [oBAU]

   CB256   Z    405 - A in corners, [sPJV]

   CB260   Z    405 - A in corners, c1950, [sPJV]

   DF074   Z    438*- van end/dual cpld, 1960s, [sPHD]

   CQ834   Z    443, 1960s, [sPHD]

   DF056   Z    443 - full windows, 1960s, [sPHD]

   CQ844   Z    470 - Booking Office window, trans hook gear, 1950s, [sPHD]

   CQ867   Z    470 - loco couplers, P in corners, 1950s, [sPHD]

   DF091   Z    470 - P corners/dual coupled/buffers, 1950s, [sPHD]

   DF066   Z    470 - van end, trans hook, 1950s, [sPHD]

   BP411   Z    590 - van end comm door, tank on roof, Newport Workshops, 6/7/1982, [oPJV]

   BP412   Z    590 - veXp, Newport Workshops, 6/7/1982, [oPJV]

   BP413   Z    590 - veXq, Newport Workshops, 6/7/1982, [oPJV]

   BB821   Z    593 - body on ground, Newport Workshops, 30/3/1981, [oPJV]

   AU886   Z    593 - Dynon Loco Van, Bendigo Workshops, 18/2/1977, [oPJV]

   AE974   Z    593 - e2 door, South Dynon, 23/4/1979, [oPJV]

   BB823   Z    593 - from van end/door, Newport Workshops, 30/3/1981, [oPJV]

   BB822   Z    593 - van end perp/door, Newport Workshops, 30/3/1981, [oPJV]

   BL679   Z    602, Bendigo, 29/6/1975, [oPJV]

   BC830   Z    602 -  Loco Van Bendigo , Bendigo, 13/11/1976, [oRXO]

   BL678   Z    602 - eCp, Bendigo, 29/6/1975, [oPJV]

   BL677   Z    602 - eCq, Bendigo, 29/6/1975, [oPJV]

   BL680   Z    602 - eVq, Bendigo, 29/6/1975, [oPJV]

   CN386   Z    602 - Loco Van Bendigo, Bendigo, 1970s, [oBAU]

   CQ838   Z    623 - buffers and transition hook, 1950s, [sPHD]

   CQ839   Z    623 - buffers and transition hook 2, 1950s, [sPHD]

   DF060   Z    623 - cuploa end/screw cpld/trans hook, 1950s, [sPHD]

   DF061   Z    623 - van end/screw cpld/trans hook, 1950s, [sPHD]

   CQ853   Z    639 - Auto cpld, buffers, no A 2, [sPHD]

   CQ852   Z    639 - auto cpled, buffers, no A, 1960s, [sPHD]

   DF075   Z    639 - van end/dual cpld/lettering under number, 1960s, [sPHD]

   DF076   Z    645 - A corners, buffers/dual cpld, 1960s, [sPHD]

   CQ854   Z    645 - auto cpled, buffers, A in corners, no stovepipe, 1950s, [sPHD]

   DF092   Z    732 - end of train/cupola end, 1950s, [sPHD]

   CQ868   Z    732 - no A, auto cpled, 1960s, [sPHD]

   DF057   Z    737 - blurred/A in corners, 1960s, [sPHD]

   CQ835   Z    737 - buffers and trans gear, A in corners, 1950s, [sPHD]

 
   Diagrams   for  'Z  '

   FileID  Description................................................



   BF698   Z        -  (D) 3 dia, [sPJV]

   BF692   Z        -  (DH), [sPJV]

   CQ849   Z        -  Axlebox Drg 6628, [sPJV]

 
---
File c049m compiled by Peter J. Vincent, updated 3/4/2007