---
ZP - Passenger Brakevan
---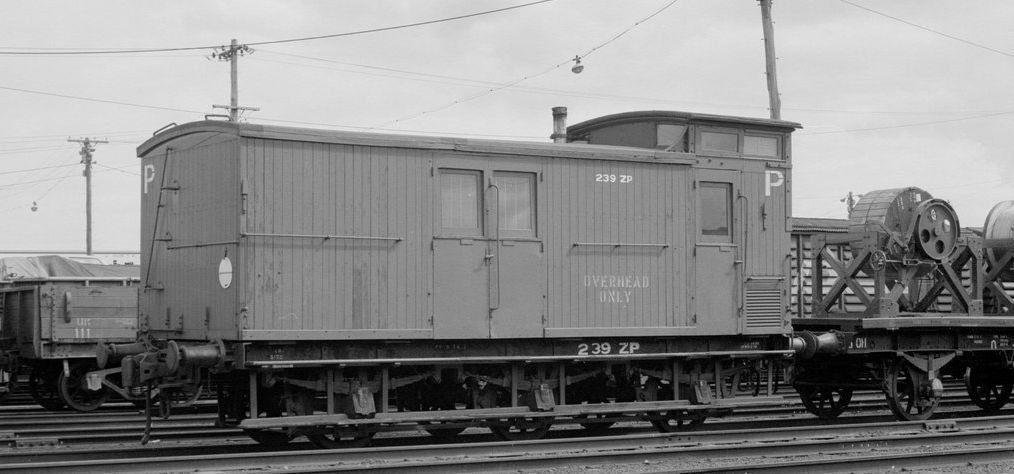 By the mid 1950's, many passenger trains were still screw coupled. The new diesels in service were equipped with auto couplers only. A group of vans were fitted with steam loco swivel couplers which allowed the vans to act as transition vehicles between the engine and screw coupled carriages.
Railway records do not date the modifications. To indicate the dual coupling arrangement, the vans remained coded as _Z__ but were were lettered with a 'P' in the corner to denote 'Plural' couplings. The vans were ballasted with 3 tons of rail, no doubt to improve the riding quality. The ballast was lengths of rail along the floor with a false floor covering the rails.
From 1956 the vans were recoded to ZP. Despite the 'P' in the corners, the vans were only authorised for a maximum speed of 60mph ( WTT Addenda 28/6/1971 ).
With limited traffic in the 1970's, the vans had the ballast removed, speed derated and were recoded to _ZD_.
The ZP numbers were:

    19,     31,     33,     56,     85,    153,    181,    182,    184
   187,    190,    194,    197,    198,    206,    211,    212,    215
   222,    224,    227,    237,    239,    240,    253,    260,
   468 -   471,    494,    498 -   500,    585,    599 -   601,    603
   604,    611,    619
   Photos   for  'ZP  '

   FileID  Description................................................



   DF065   ZP        -  headstock detail: dual cpld/buffers notched, 1950s, [sPHD]

   DF064   ZP    215 - cupola end/dual cpld, no lettering in corners, 1950s, [sPHD]

   CQ843   ZP    215 - headstock/buffers/dual loco coupling, 1950s, [sPHD]

   CQ842   ZP    215 - loco coupler/notched buffers, no P in corners, 1950s, [sPHD]

   BC183   ZP    239 - Overhead traffic, North Melbourne C&W, 17/10/1976, [oRXO]

   AU875   ZP    239 - part view, North Melbourne, 2/1977, [oPJV]

   BK756   ZP    469, Castlemaine, 29/6/1975, [oPJV]

   BK757   ZP    469 - transfer of WW 75, with ZP 494, Castlemaine, 29/6/1975, [oPJV]

   BK760   ZP    469 - veXp, Castlemaine, 29/6/1975, [oPJV]

   BK759   ZP    469 - veXq, Castlemaine, 29/6/1975, [oPJV]

   AU879   ZP    469*- part view, Bendigo, 18/2/1977, [oPJV]

   BL073   ZP    470, Newport Goods Yard, 19/9/1975, [oPJV]

   BE936   ZP    494, Castlemaine, 29/6/1975, [oPJV]

   BK196   ZP    494 - sXp, Castlemaine, 29/6/1975, [oPJV]

   BC199   ZP    619, Woodend, 13/11/1976, [oRXO]

 
   No diagrams found for ZP   
---
File c055m compiled by Peter J. Vincent, updated 13/4/2007