---
NQR / NQ - Narrow Gauge Bogie Open Wagon
---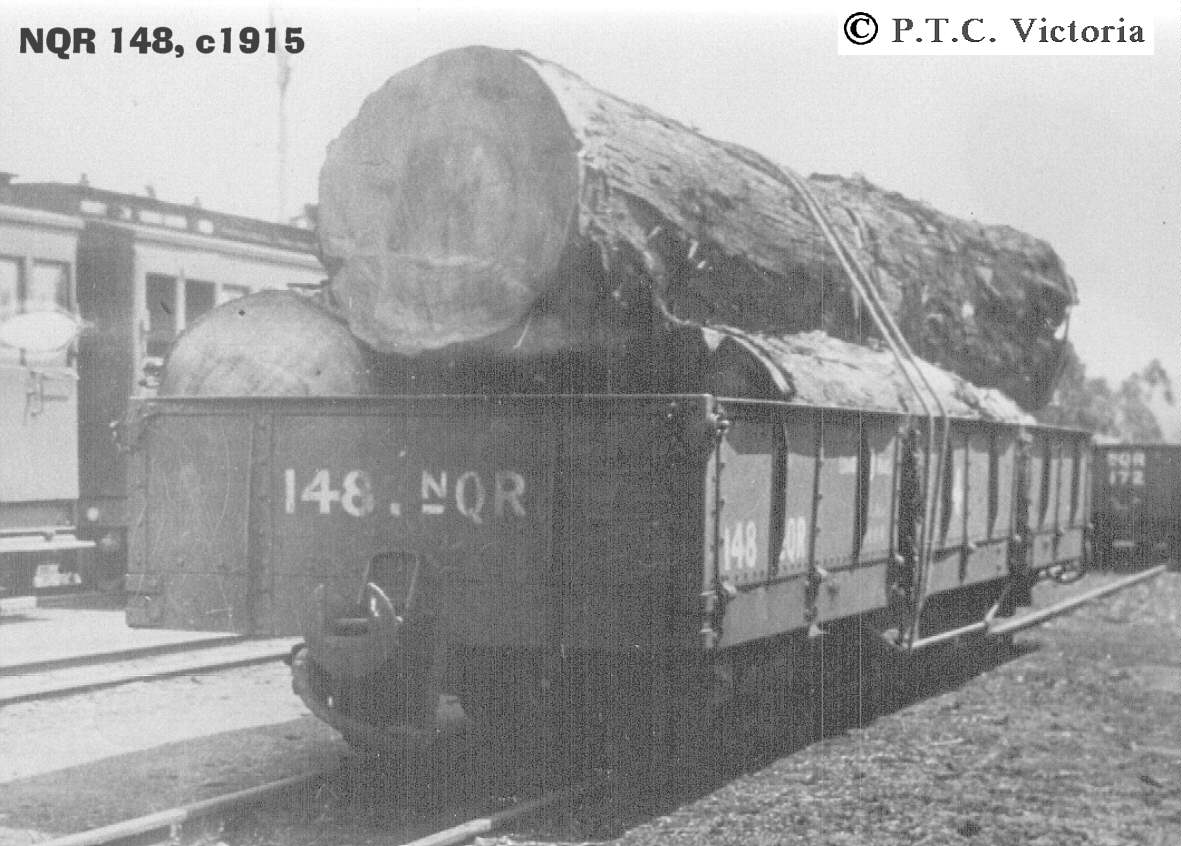 NQR
There were 218 of these wagons built and placed into service. The number group was 1 to 218. It seems that early in the history of the narrow gauge, many of the classes were identical to the broad gauge equivalent type vehicles and the prefix letter 'N' was added to avoid confusion. Original stock was coded as 'QR'.
The vehicles were built between 1898 and 1914. The vehicles featured drop doors along the sides and short end bulkheads that were the same height as the doors.
The doors and end bulkheads could be removed as required to suit the traffic. This was done during line construction for equipment, sleeper and rail transport. As the class and vehicle numbers were on the doors only, vehicle identification became difficult until the class and numbers were painted on the underframes.
In 1919, six vehicles were rebuilt to NBH_ cars.
From 1926 the class was relettered to NQ, same numbers.
NQ
Between 1936 and 1954 about one hundred wagons were scrapped due to downturn in traffic and line closures. As well about fifty wagons were sold off.
Remaining trucks were stored, with some going to the Puffing Billy group at Belgrave. Some remained in storage at Newport Workshops until the mid 1970's.
   Photos   for  'NQR  '

   FileID  Description................................................



   AW691   NQR    124, [sMDN]

   BG422   NQR    186 - e1p, Clematis, 26/8/1976, [oPJV]

   BG304   NQR    186 - e1q, Clematis, 26/8/1976, [oPJV]

   BG421   NQR    186 - e1q, Clematis, 26/8/1976, [oPJV]

   BG420   NQR    186 - s1e1c, empty, Clematis, 26/8/1976, [oPJV]

 
   Diagrams   for  'NQR  '

   FileID  Description................................................



   11835   NQR        -  holiday traffic tarp outline, [sPJV]

 
   No photos found for NQ   
   No diagrams found for NQ   
---
File c445m compiled by Peter J. Vincent, updated 18/11/2007