---
F / FF - Fixed Wheel Horsebox
---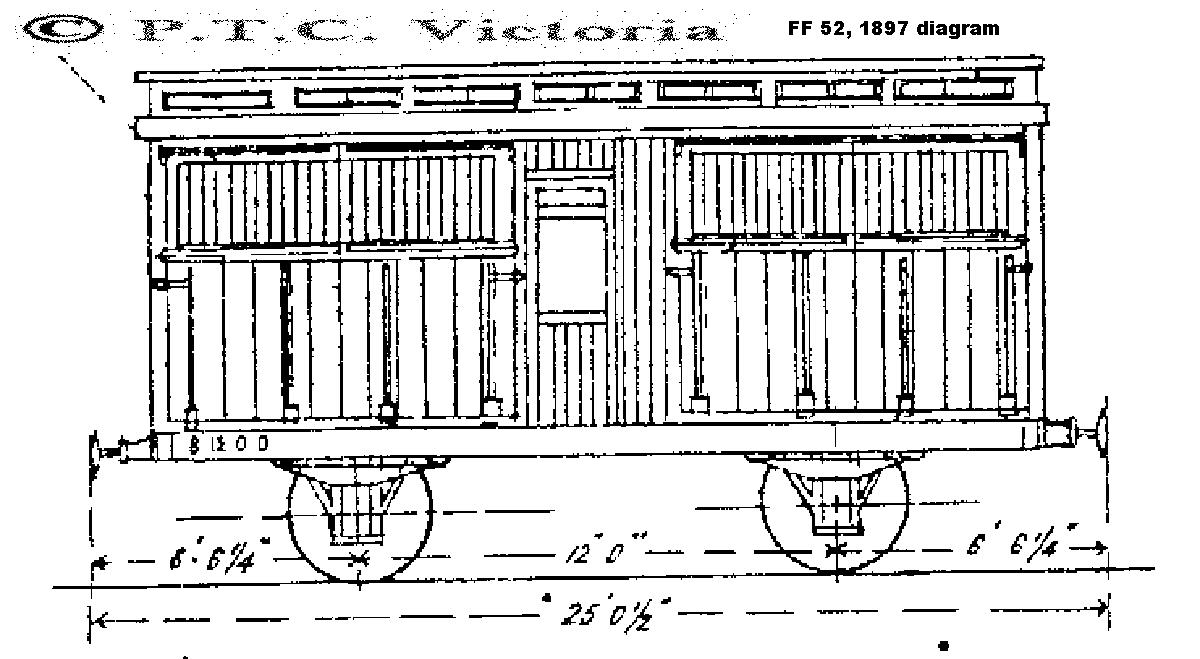 For horse transport, vans coded F were used. The vans were built as required from 1858 to 1914. Over the years, the designs changed from four to six wheel, with a capacity change from up to three stalls to a six stall version.
Photographs from the 1870's show early four wheel horse boxes with curved ends. These ends are probably "boots" for the storage of fodder or equipment. A photograph at Echuca, a Taradale viaduct photo and a Spencer Street station photograph from this era clearly show the vans in service. The vans were scrapped in the 1880's.
With later construction in the 1890's, the large capacity fixed wheel vans were coded _FF_. Most of the small capacity vans were rebuilt to large capacity FF vans between 1905 and 1910.
In 1910 the FF group were reclassified to F. Existing low capacity F vans had been removed from service by scrapping or rebuilding.
Diagram books 1904 and 1914 and facsimile editions do not reflect the changes that took place and the numbers cannot be used in deciphering the changes between F and FF and back to F.
It seems the traffic had gone by the 1940's. For overhead maintenance and other rail service requirements, most of the horsefloats were converted to _OH_ and _HD_ vans.
Vehicle history list - F [up to 1910]
Vehicle history list - FF [up to 1910]
Vehicle history list - F [after 1910]
   Photos   for  'F  '

   FileID  Description................................................



   B5316   F        -  curved top horsebox, Flinders Street, 1895, [oJAM]

   B5331   F        -  in train consist, Hamilton, 25/12/1940, [oJAM]

   AW713   F     23 - curved roof, 1920s, [oMDN]

   BP410   F     47 - lettering: Transport Npt & SpotsRec, Newport Workshops, 6/7/1982, [oPJV]

   BP404   F     47 - underframe, eXp AC, ldd with YZ 9, Newport Workshops, 6/7/1982, [oPJV]

   BP406   F     47 - underframe, eXq AC, ldd with YZ 9, Newport Workshops, 6/7/1982, [oPJV]

   BP408   F     47 - underframe, sX AC, ldd with YZ 9, Newport Workshops, 6/7/1982, [oPJV]

   AW714   F     53, 1920s, [oMDN]

 
   Diagrams   for  'F  '

   FileID  Description................................................



   BF699   F        -  (F/FF), [sPJV]

   BF700   F        -  (FF), [sPJV]

   BF529   F        -  3 stall, [sPJV]

 
---
File c220m compiled by Peter J. Vincent, 29/8/2007