---
JCF / VHCY - Bogie Cement Hopper
---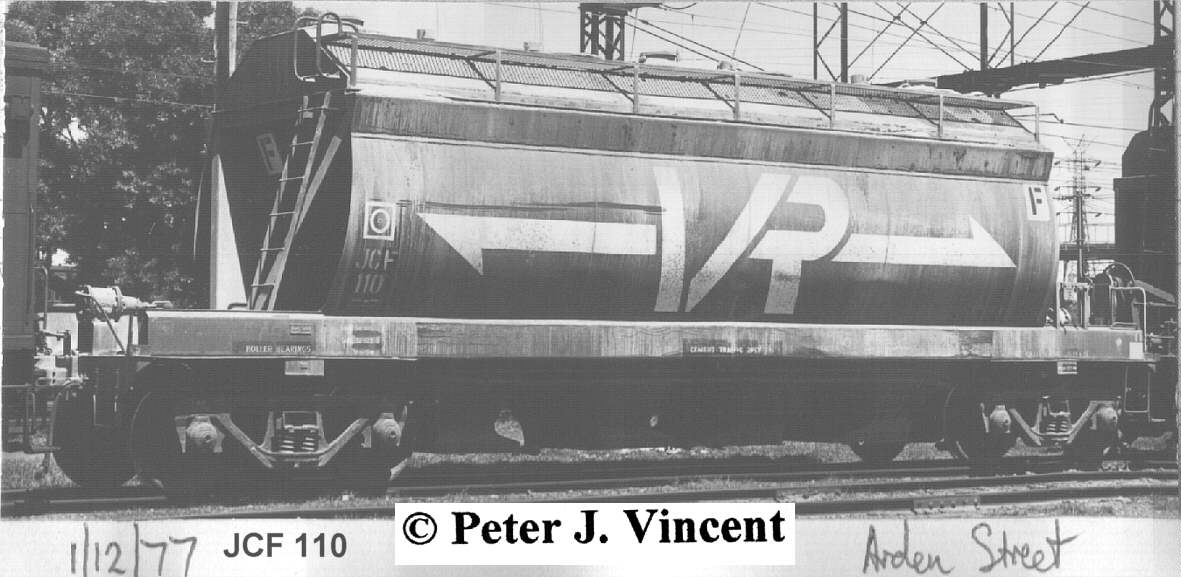 JCF
To reduce the number of "X" ( bogie exchange ) wagons, the wagons coded JCX_ were recoded to JCF during late 1977. Fifteen new JCX were under construction at the time at Ballarat. These wagons were transferred to Newport Workshops where they were recoded to JCF for service.
The JCF numbers were 101 - 130, 101 - 115 ex JCX and 116 - 130 the vehicles built at Ballarat.
In 1978, traffic requirements on the standard gauge required the JCX wagons back in service. Vehicles JCF 101 - 115 were recoded back to JCX.
In the 1979 recoding, the remaining wagons were recoded to VHCY.
VHCY
The VHCY numbers were 116 to 130.
In 1980 all VHCY wagons were reclassed to VHCX.
   Photos   for  'JCF  '

   FileID  Description................................................



   CG125   JCF    104 - lettering panel, 4/1978, [oPJV]

   CG126   JCF    104 - s1e1c, 4/1978, [oPJV]

   AM095   JCF    110, [sPJV]

   CG127   JCF    114, 4/1978, [oPJV]

   CG128   JCF    114 - e1 deck/brake cyl gear, 4/1978, [oPJV]

   CG130   JCF    114 - e1p, 4/1978, [oPJV]

   CG129   JCF    114 - e1q, 4/1978, [oPJV]

   CN069   JCF    114 - s1e2, North Geelong Yard, 1970s, [oBAU]

   CG143   JCF    114 - s1e2, Arden Street Sidings, 25/4/1978, [oPJV]

   CG142   JCF    114 - top, Arden Street Sidings, 25/4/1978, [oPJV]

   CN070   JCF    116 - s1e2, new, North Geelong Yard, 1970s, [oBAU]

   AM098   JCF    117, [sPJV]

   B3164   JCF    120, North Geelong Yard, 25/3/1979, [oPJV]

   CB413   JCF    125 - s2e2, Bendigo Workshops, 8/4/1979, [oPJV]

   CU501   JCF    130 - s2p, North Geelong Yard, 12/3/1979, [oPJV]

   CU500   JCF    130 - s2q, North Geelong Yard, 12/3/1979, [oPJV]

   CF725   JCF   119 - under construction, Ballarat Workshops, 17/4/1978, [oPJV]

 
   Diagrams   for  'JCF  '

   FileID  Description................................................



   AS894   JCF        -  diagram J-12, 18/4/1978, [oPTC]

 
   Photos   for  'VHCY  '

   FileID  Description................................................



   BW508   VHCY        - block coupled to grain wagons, Echuca, 15/4/1979, [oPJV]

   BW506   VHCY        - rake with grain wagons, Echuca, 15/4/1979, [oPJV]

   BW551   VHCY    117, Echuca, 15/4/1979, [oPJV]

   AR370   VHCY    119, [sPJV]

   BW525   VHCY    119, Echuca, 15/4/1979, [oPJV]

   BW544   VHCY    119 - lettering/bogie XC 18454 / hopper, Echuca, 15/4/1979, [oPJV]

   CB399   VHCY    119 - s2, Bendigo, 8/4/1979, [oPJV]

   BW530   VHCY    120, Echuca, 15/4/1979, [oPJV]

   CB400   VHCY    120 - s1, Bendigo, 8/4/1979, [oPJV]

   BW552   VHCY    121, Echuca, 15/4/1979, [oPJV]

   BM416   VHCY    123 - s1e2, Echuca, 11/5/1980, [oPJV]

   BW524   VHCY    124, Echuca, 15/4/1979, [oPJV]

   BW535   VHCY    126, Echuca, 15/4/1979, [oPJV]

   BW546   VHCY    126, Echuca, 15/4/1979, [oPJV]

   BW538   VHCY    126 - WHEAT TRAFFIC ONLY stencil painted over, Echuca, 15/4/1979, [oPJV]

   BW532   VHCY    127, Echuca, 15/4/1979, [oPJV]

   CB401   VHCY    127 - s1, Bendigo, 8/4/1979, [oPJV]

   BW549   VHCY    128, Echuca, 15/4/1979, [oPJV]

   BW547   VHCY    129, Echuca, 15/4/1979, [oPJV]

   BW518   VHCY    130, Echuca, 15/4/1979, [oPJV]

 
   No diagrams found for VHCY   
---
File c187m compiled by Peter J. Vincent, updated 1/8/2007