---
VHCX - Cement Hopper Wagon
---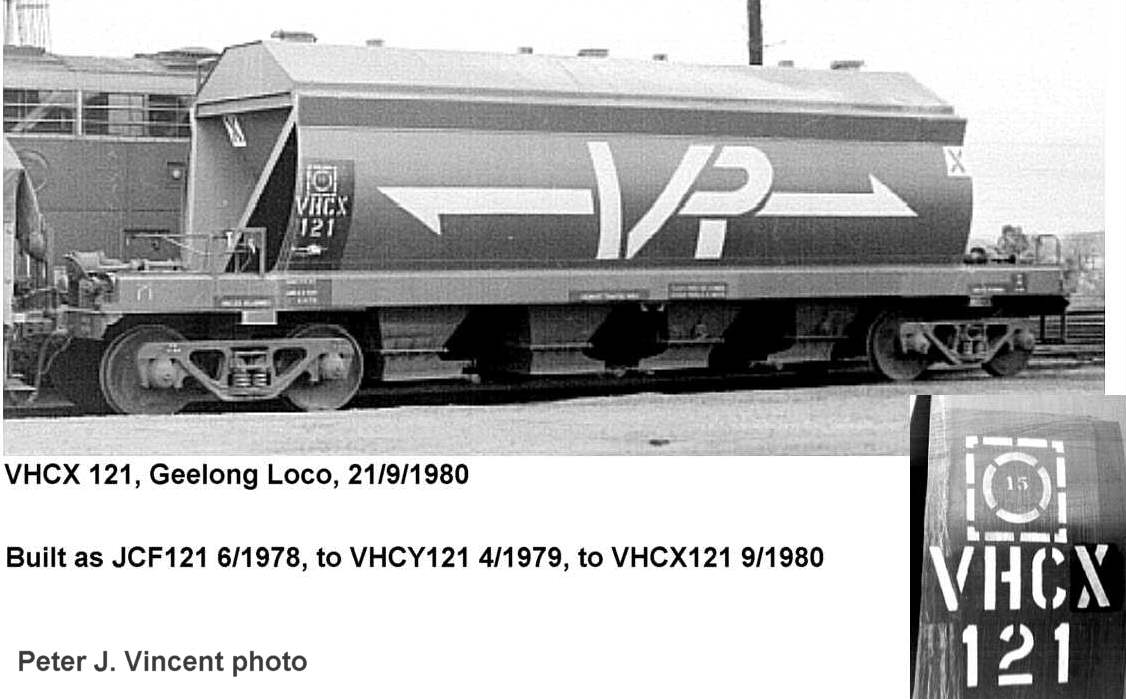 The VHCX class was recoded from JCX_ in the 1979 recoding.
Thirty wagons were originally built as JCX and JCF_. These were numbered 101 - 130.
VHCX 131 - 135 are conversions from VHSY sand traffic hoppers of similar design.
The traffic was cement powder transport from the cement plant at Fyansford, near Geelong. Traffic included locations interstate.
   Photos   for  'VHCX  '

   FileID  Description................................................



   BC007   VHCX        - stacked tops after removal, Ballarat Workshops, 3/1991, [oNXB]

   BP626   VHCX    101 - s2e1, Hump Yard, 28/2/1980, [oPJV]

   BG151   VHCX    102 - s2e1, Tottenham Yard, 27/9/1981, [oPJV]

   BB583   VHCX    105 - s1e2, Tottenham Yard, 29/3/1981, [oPJV]

   BP949   VHCX    105 - s1e2, Hump Yard, 28/2/1980, [oPJV]

   BB581   VHCX    106 - s2e1, Tottenham Yard, 29/3/1981, [oPJV]

   BC007   VHCX    106U- top after removal, Ballarat Workshops, 3/1991, [oNXB]

   BO702   VHCX    107 - s2e1, Wodonga Coal Siding, 10/5/1980, [oPJV]

   BB582   VHCX    108 - s1e2, Tottenham Yard, 29/3/1981, [oPJV]

   BM501   VHCX    109 - s1e2c, Albury, NSW, 15/6/1980, [oPJV]

   BB788   VHCX    110 - s2e1c, North Geelong, 29/3/1981, [oPJV]

   BD445   VHCX    110U- s2e1c, Vl, Arden St Sidings, 13/9/1984, [oPJV]

   BA998   VHCX    111 - s2e1, VR logo, Arden Street, 18/6/1984, [oPJV]

   BB754   VHCX    114 - s2e2, North Geelong, 29/3/1981, [oPJV]

   BC007   VHCX    114 - top after removal, Ballarat Workshops, 3/1991, [oNXB]

   BF848   VHCX    115 - s2e1c, North Geelong Yard, 27/9/1981, [oPJV]

   BC007   VHCX    115T- top after removal, Ballarat Workshops, 3/1991, [oNXB]

   BB532   VHCX    116 - s1e2, Tottenham Yard, 29/3/1981, [oPJV]

   BE230   VHCX    116F- lettering/class, North Geelong, 26/8/1984, [oPJV]

   BE229   VHCX    116F- s2e1c, North Geelong, 26/8/1984, [oPJV]

   DT123   VHCX    117, North Geelong Yard, 21/9/1980, [oPJV]

   BA999   VHCX    118E- no logo, Arden Street, 18/6/1984, [oPJV]

   BX741   VHCX    122, North Geelong Yard, 21/9/1980, [oPJV]

   BY311   VHCX    122 - lettering: Y to X change, North Geelong Yard, 21/9/1980, [oPJV]

   BA996   VHCX    122 - s1e1, no logo, Arden Street, 18/6/1984, [oPJV]

   BA997   VHCX    123 - s1e2, no logo, Arden Street, 18/6/1984, [oPJV]

   BY130   VHCX    125, North Geelong Yard, 21/9/1980, [oPJV]

   BO299   VHCX    126 - class lettering, North Melbourne C&W, 21/1/1981, [oPJV]

   BO298   VHCX    126 - s2e1c, North Melbourne C&W, 21/1/1981, [oPJV]

   BD450   VHCX    126N- s2e1, no logo, Arden St Sidings, 13/9/1984, [oPJV]

   BD449   VHCX    127W- s1e2, no logo, Arden St Sidings, 13/9/1984, [oPJV]

   BG150   VHCX    128 - s2e1, Tottenham Yard, 27/9/1981, [oPJV]

   BX603   VHCX    129, North Geelong Yard, 12/10/1980, [oPJV]

   BG152   VHCX    130 - s1e2, Tottenham Yard, 27/9/1981, [oPJV]

   BD465   VHCX    130N- s2e1, no logo, Arden St Sidings, 13/9/1984, [oPJV]

   BC007   VHCX    131W- top after removal, Ballarat Workshops, 3/1991, [oNXB]

   BC007   VHCX    134 - top after removal, Ballarat Workshops, 3/1991, [oNXB]

 
   No diagrams found for VHCX   
---
File c085m compiled by Peter J. Vincent, updated 28/4/2007