JCX - Bogie Cement Hopper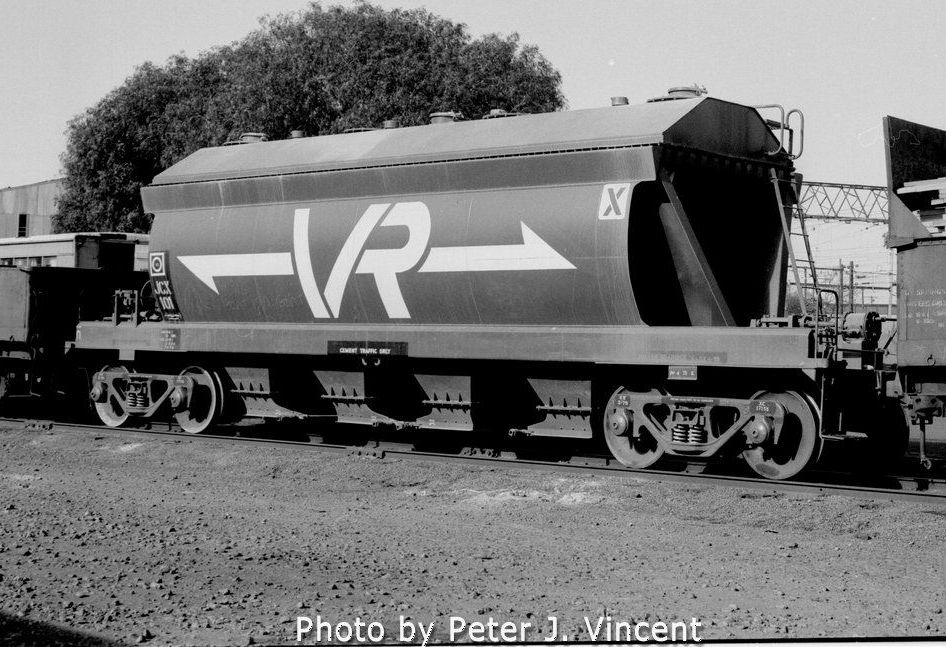 In 1974, the railways introduced to service a short wheelbase bogie hopper wagon. It was a multi purpose design that featured the ability to have a removable roof and discharge doors to suit traffic changes.
The wagons for cement traffic were coded JCX: J-Bogie hopper, C-Cement, X-Bogie exchange. The number group was 101 - 115.
First built JCX 101 features 'scallopped' ends; all other JCX/JCF vehicles have plain ends.
The class was temporarily code JCF_ before conversion back to JCX in 1978.
The JCX class was recoded to VHCX in the 1979 recoding.
   Photos   for  'JCX  '

   FileID  Description................................................



   AM104   JCX    101, [oPJV]

   B3162   JCX    101, North Geelong Yard, 25/3/1979, [oPJV]

   CF490   JCX    101, Arden Street, 28/4/1978, [oPJV]

   CF555   JCX    101 + JCX 102 - shows different sides/scallopped/part view, Arden Street, 28/4/1978, [oPJV]

   CF491   JCX    101 - e2 profile, Arden Street, 28/4/1978, [oPJV]

   CF556   JCX    102, Arden Street, 28/4/1978, [oPJV]

   B3166   JCX    102, North Geelong Yard, 25/3/1979, [oPJV]

   AM107   JCX    102, [oPJV]

   CF555   JCX    102 + JCX 101 - shows different sides/scallopped, Arden Street, 28/4/1978, [oPJV]

   CF552   JCX    103, Arden Street, 27/4/1978, [oPJV]

   B3163   JCX    105, North Geelong Yard, 25/3/1979, [oPJV]

   CK459   JCX    107 - s1e2c, North Geelong Yard, 12/3/1979, [oPJV]

   B3249   JCX    108, North Geelong Yard, 25/3/1979, [oPJV]

   B3250   JCX    108 - e2p, North Geelong Yard, 25/3/1979, [oPJV]

   B3251   JCX    108 - e2q, North Geelong Yard, 25/3/1979, [oPJV]

   CK434   JCX    108 - s2, North Geelong Yard, 12/3/1979, [oPJV]

   CG131   JCX    108 - s2e1c, 4/1978, [oPJV]

   B3165   JCX    109, North Geelong Yard, 25/3/1979, [oPJV]

   CF500   JCX    109, Arden Street, 28/4/1978, [oPJV]

   CF501   JCX    111, Arden Street, 28/4/1978, [oPJV]

   CU489   JCX    112 - s1p, North Geelong Yard, 12/3/1979, [oPJV]

   CU490   JCX    112 - s1q, North Geelong Yard, 12/3/1979, [oPJV]

   CK433   JCX    113 - s2, North Geelong Yard, 12/3/1979, [oPJV]

   CG132   JCX    115, 4/1978, [oPJV]

   CG133   JCX    115 - lettering panel, 4/1978, [oPJV]

   CU491   JCX    115 - s2p, North Geelong Yard, 12/3/1979, [oPJV]

   CU492   JCX    115 - s2q, North Geelong Yard, 12/3/1979, [oPJV]

 
   Diagrams   for  'JCX  '

   FileID  Description................................................



   AS696   JCX        -  diagram J-7, 4/12/1975, [oPTC]

 
File c070m compiled by Peter J. Vincent, updated 17/4/2007