---
FP / VSPY Bogie Horsebox
---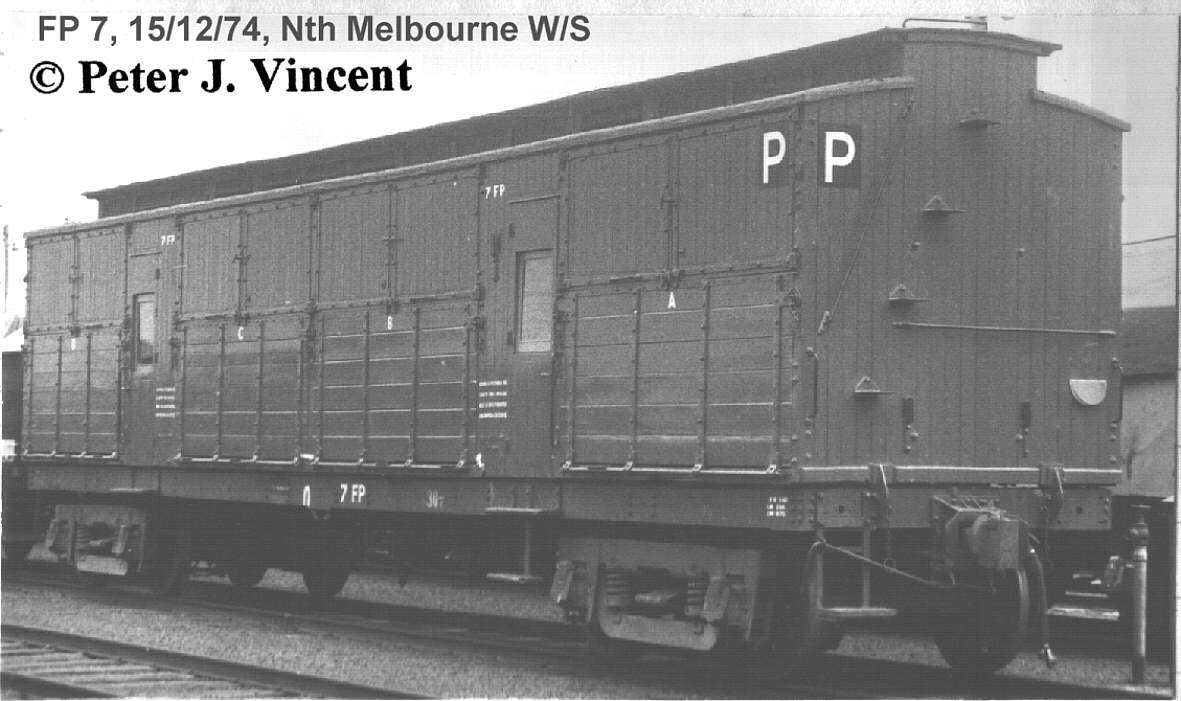 FP
FP 7, 10, 12 and 13 were built as _FF_ vans in 1928.
These vehicles were fitted with welded steel bogies, as fitted under _C__ vans, sometime during the 1940's. Main records do not show modification dates.
With these bogies fitted, the vehicles were in passenger train service, the code not reflecting the maximum speed until 1956. In that year the vans were recoded to FP 7, 10, 12, and 13.
By 1975 only FP 7 was in service with two other FP underframes located at the main railway workshops. One of these underframes was used for replacement vehicle _HR_ 124.
VSPY
In the 1979 recoding, the vehicle FP 7 was recoded to VSPY.
By the mid 1990's, the van was in storage at Newport Workshops
   Photos   for  'FP  '

   FileID  Description................................................



   AI373   FP        - part view, Spencer St, 5/1968, [oPJV]

   AL708   FP        - part view, Spencer Street, 9/1968, [oPJV]

   AL066   

FP      7

, North Melbourne C&W Shops, 15/12/1974, [oPJV]

   CN004   FP      7, 1970s, [oBAU]

   CK297   FP      7 - sXp, Newport Workshops, 7/3/1979, [oPJV]

   CK299   FP      7 - sXq, Newport Workshops, 7/3/1979, [oPJV]

 
   No diagrams found for FP   
   Photos   for  'VSPY  '

   FileID  Description................................................



   BO707   VSPY      7, Newport Workshops, 6/5/1980, [oPJV]

   BP476   VSPY      7, Bendigo, 27/7/1980, [oPJV]

   BO708   VSPY      7 - part side/lettering, Newport Workshops, 6/5/1980, [oPJV]

 
   No diagrams found for VSPY   
---
File c173m compiled by Peter J. Vincent, updated 31/7/2007