---
HR - Workshops Transport
---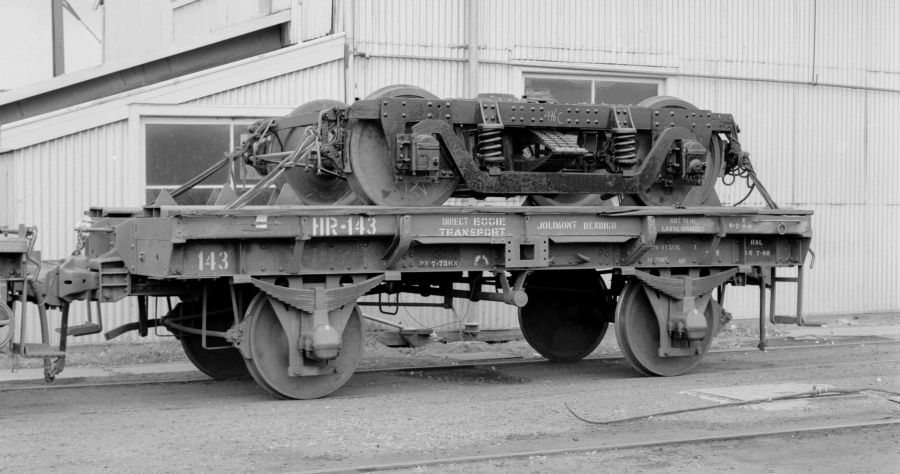 To assist the movement of supplies and parts between the railway workshops and loco depots dedicated wagons were provided to transport various components. The wagon group was called HR: the H for railway service only ( See _H__ class ), the R for 'Rolling Stock Branch'.
The wagons were used to transport pantographs, autocouplers, bogies, wheels, traction motors and other components. They were stencilled for the specific traffic which also indicated the workshops involved.
The original vehicles were from scrap "tommy bent"_IA_ wagons as well as underframes from 16t _I__ and IA wagons. In later years, these wagons were replaced by bogie wagons. The HR number group was 1 - 182.
In the late 1980's the HR group was recoded into a new coding sequence.
   Photos   for  'HR  '

   FileID  Description................................................



   CU379   HR        -  scrapped underframe, Spotswood Rec Depot, 11/1/1979, [oPJV]

   BC058   HR        - (7/8) - part view, unlettered, Newport Workshops, 5/1981, [oPJV]

   BB868   HR        - (7/8), khaki, s1, no lettering, ex RY, Newport Workshops, 4/1981, [oPJV]

   BB867   HR        - (7/8), khaki, s2, no lettering, ex RY, Newport Workshops, 4/1981, [oPJV]

   BB947   HR        - body, Newport Workshops, 2/4/1981, [oPJV]

   BG174   HR        - coupling, transfer with 414M t, Jolimont Workshops, 26/10/1975, [oPJV]

   BG541   HR        - inside, Jol-Npt BB type transfer wagon, Jolimont Workshops, 26/10/1975, [oPJV]

   BG536   HR        - lettering for transfer wagon, Jolimont Workshops, 26/10/1975, [oPJV]

   BX911   HR        - rake: Term/BB, usual line-up, Flinders Street Yard, 1/5/1979, [oPJV]

   BG538   HR        - transfer wagon coupled to 414M t, Jolimont Workshops, 26/10/1975, [oPJV]

   BR086   HR      1 - ldd AC crates, Newport Workshops, 9/12/1980, [oPJV]

   BH120   HR      1 - part view, ldd couplers, North Melbourne C&W Shops, 4/3/1981, [oPJV]

   BK306   HR      1 - s2, ldd mt AC crates, Newport Workshops, 17/12/1981, [oPJV]

   DC341   HR      2 - ID/lettering, North Melbourne C&W Shops, 2/7/1976, [oPJV]

   CZ177   HR      2 - s1e1, ldd autocouplers, Bendigo North Workshops, 1/11/1976, [oRXO]

   BA344   HR      2 - s1e1c, ldd autocouplers, Bendigo North Workshops, 1/11/1976, [oRXO]

   BD401   HR      2 - s1e2, ldd 2 x tender bogies (autocplr tr), Jolimont Workshops, 7/1981, [oPJV]

   DC340   HR      2 - s2e2, mt, Auto Coupler Transport, North Melbourne C&W Shops, 2/7/1976, [oPJV]

   BI091   HR      2Q- 4  number/class, North Melbourne C&W Shops, 8/8/1983, [oPJV]

   BI090   HR      2Q- s1e2, ldd mt AC crates, North Melbourne C&W Shops, 8/8/1983, [oPJV]

   CZ179   HR      3 - cast, wheel transport, s2e1c, North Melbourne C&W, 17/10/1976, [oRXO]

   BP518   HR      5 - e1p, Jolimont Workshops, 22/6/1982, [oPJV]

   BP519   HR      5 - e1q, Jolimont Workshops, 22/6/1982, [oPJV]

   CB832   HR      5 - OR s1 C&W wheels, Tottenham Yard, 7/4/1979, [oPJV]

   BG613   HR      5 - s1e1, ldd wheels, Newport Workshops, 6/11/1975, [oPJV]

   BP520   HR      5 - s1e1, ldd wheels, C&W Wheel Transport, Jolimont Workshops, 22/6/1982, [oPJV]

   BO996   HR      6 - RY body unmod, Npt & Brooklyn Tip, Newport Workshops, 4/8/1982, [oPJV]

   BE202   HR      6 - s1, Npt-Brooklyn Tip, Newport Workshops, 5/8/1981, [oPJV]

   BC104   HR      6 - s1e2, ex RY, Npt-Bkln Tip, Newport Workshops, 14/6/1981, [oPJV]

   BE132   HR      6 - s2e1, ex RY, Npt - Brooklyn Tip, Newport Workshops, 17/8/1981, [oPJV]

   BO995   HR      7 - RY body unmod, Npt & Brooklyn Tip, Newport Workshops, 4/8/1982, [oPJV]

   BE201   HR      7 - s2, off reg, Npt-Brooklyn Tip, Newport Workshops, 5/8/1981, [oPJV]

   BE133   HR      7 - s2e1, ex RY, Npt - Brooklyn Tip, Newport Workshops, 17/8/1981, [oPJV]

   BO710   HR      7 - with HR 8, OR, Sawdust, mod doors, Newport Workshops, 6/5/1980, [oPJV]

   BE306   HR      7P- class lettering, Flinders Street Yard, 27/8/1984, [oPJV]

   BE305   HR      7P- deck pocket / wheel fit, Flinders Street Yard, 27/8/1984, [oPJV]

   BE303   HR      7P- deck view, bogies, Flinders Street Yard, 27/8/1984, [oPJV]

   BE304   HR      7P- deck wheel pockets, Flinders Street Yard, 27/8/1984, [oPJV]

   BE302   HR      7P- e1p, Flinders Street Yard, 27/8/1984, [oPJV]

   BE301   HR      7P- e1q, ldd bogies, Flinders Street Yard, 27/8/1984, [oPJV]

   BE244   HR      7P- e2, Flinders Street Yard, 27/8/1984, [oPJV]

   BD804   HR      7P- e2p, ldd Harris bogies, Jolimont Workshops, 31/8/1984, [oPJV]

   BD805   HR      7P- e2q, ldd Harris bogies, Jolimont Workshops, 31/8/1984, [oPJV]

   BE285   HR      7P- lettering: Harris Bogie Transport, Flinders Street Yard, 27/8/1984, [oPJV]

   BE284   HR      7P- s1e1, Flinders Street Yard, 27/8/1984, [oPJV]

   BE170   HR      7P- s1s2 profile, lettering, bogies ldd, Flinders Street Yard, 27/8/1984, [oPJV]

   BE245   HR      7P- s2, lettering, Flinders Street Yard, 27/8/1984, [oPJV]

   BE075   HR      7P- s2e1, ldd harris bogies, Flinders Street Yard, 27/8/1984, [oPJV]

   BE243   HR      7P- s2e1, ldd Harris bogies, Flinders Street Yard, 27/8/1984, [oPJV]

   BE007   HR      7P- s2e2, Flinders Street Yard, 27/8/1984, [oPJV]

   CB499   HR      8 - underframe, Bendigo Workshops, 8/4/1979, [oPJV]

   CB500   HR      8 - underframe 2, Bendigo Workshops, 8/4/1979, [oPJV]

   BO710   HR      8 - with HR 7, OR, Sawdust, mod doors, Newport Workshops, 6/5/1980, [oPJV]

   DS074   HR      9 - OR, North Geelong Yard, 29/4/1979, [oPJV]

   AU060   HR     10T- ldd M&K wheels, Jolimont Workshops, 7/9/1983, [oPJV]

   AU061   HR     10T- lettering/bogie, Jolimont Workshops, 7/9/1983, [oPJV]

   CC223   HR     11 - cast bogies, ldd bogies, Newport Workshops, 2/4/1979, [oPJV]

   CZ186   HR     11 - s1, ldd wheels, North Melbourne C&W, 17/10/1976, [oRXO]

   BB840   HR     12 - ldd engine block, Newport, 31/3/1981, [oPJV]

   BK764   HR     13 - conversion work ex VOAA 97, Newport Workshops, 22/7/1980, [oPJV]

   AV792   HR     13 - e1p, Newport Workshops, 19/2/1977, [oPJV]

   AV791   HR     13 - e1q, Newport Workshops, 19/2/1977, [oPJV]

   DT039   HR     13 - ex E uf, Newport Workshops, 10/10/1980, [oPJV]

   BG685   HR     13 - s1, ldd wheels, Newport Workshops, 27/1/1976, [oPJV]

   AV789   HR     13 - s2, empty, SG wheels, Newport Workshops, 19/2/1977, [oPJV]

   BB840   HR     15 - ldd engine block, Newport, 31/3/1981, [oPJV]

   BD380   HR     16 - e2 profile, wide door, Newport Workshops, 14/7/1981, [oPJV]

   BP147   HR     16 - s1e1, mt, South Dynon, 22/6/1982, [oPJV]

   BD378   HR     16 - s1e2, Npt W/S-Brooklyn Tip, Newport Workshops, 14/7/1981, [oPJV]

   BD379   HR     16 - s1e2, Npt W/S-Brooklyn Tip, wide doors/mod, Newport Workshops, 14/7/1981, [oPJV]

   BE200   HR     16 - s1e2, off reg, Npt-Brooklyn Tip, Newport Workshops, 5/8/1981, [oPJV]

   BP148   HR     16 - s1e2c, mt, South Dynon, 22/6/1982, [oPJV]

   BE124   HR     16 - s2p, Off Reg, mod doors across side, Newport Workshops, 17/8/1981, [oPJV]

   BE123   HR     16 - s2q, Off Reg, mod doors across side, Newport Workshops, 17/8/1981, [oPJV]

   BD390   HR     17 - s1e2, wide door mod, no traffic lettering, Newport Workshops, 14/7/1981, [oPJV]

   BE190   HR     17 - s2, off reg, Newport Workshops, 5/8/1981, [oPJV]

   BD389   HR     17 - s2e1, no traffic lettering, Newport Workshops, 14/7/1981, [oPJV]

   BB837   HR     18 - s2, ldd engine block, Newport Workshops, 31/3/1981, [oPJV]

   BR825   HR     19 - ex E, r/bearing, Newport Workshops, 24/11/1980, [oPJV]

   AY064   HR     19S- ex E, r/bearing, bogie transport, Jolimont Workshops, 31/12/1983, [oPJV]

   BB112   HR     19S- ex E, s2e1, Bogie transport, ldd, Jolimont Workshops, 20/6/1984, [oPJV]

   BB113   HR     19S- lettering/load, Jol-Bo, Jolimont Workshops, 20/6/1984, [oPJV]

   BG546   HR     20 - deck only, empty, Jolimont Workshops, 26/10/1975, [oPJV]

   BG548   HR     20 - photo id, Jolimont Workshops, 26/10/1975, [oPJV]

   CZ196   HR     20 - s2, empty, TM case transport, Jolimont Workshops, 17/10/1976, [oRXO]

   BG545   HR     21 - deck only, empty, Jolimont Workshops, 26/10/1975, [oPJV]

   BG547   HR     21 - photo id, Jolimont Workshops, 26/10/1975, [oPJV]

   CN050   HR     21 - TM case transport, mt, Jolimont Workshops, 1970s, [oBAU]

   BV506   HR     22, South Dynon, 6/5/1979, [oPJV]

   BO014   HR     22 - s1e2 mt C&W wheel transport, Newport Workshops, 16/3/1981, [oPJV]

   BV512   HR     22 - top view, 2nd wagon, South Dynon, 6/5/1979, [oPJV]

   BV510   HR     23, South Dynon, 6/5/1979, [oPJV]

   BV512   HR     23 + HR 22, top view, South Dynon, 6/5/1979, [oPJV]

   AV783   HR     23 - e2q, Newport Workshops, 19/2/1977, [oPJV]

   BD370   HR     23 - empty, Jolimont Workshops, 31/3/1975, [oPJV]

   AV781   HR     23 - lettering, axle/wheel, s1, Newport Workshops, 19/2/1977, [oPJV]

   AV782   HR     23 - s1, ldd, Flexicoil 3 axle, Newport Workshops, 19/2/1977, [oPJV]

   AV784   HR     23 - s2p, Newport Workshops, 19/2/1977, [oPJV]

   AU041   HR     24, Flinders Street Yard, 7/9/1983, [oPJV]

   AY907   HR     24 - cross bolsters on deck, Jolimont Workshops, 27/8/1983, [oPJV]

   AY905   HR     24 - deck view, Jolimont Workshops, 27/8/1983, [oPJV]

   AU043   HR     24 - end details, Flinders Street Yard, 7/9/1983, [oPJV]

   AY906   HR     24 - part deck, Jolimont Workshops, 27/8/1983, [oPJV]

   BI114   HR     24 - s2, mt, Jolimont Workshops, 15/8/1983, [oPJV]

   AY904   HR     24 - TM cases, s1 ex KAB, Jolimont Workshops, 27/8/1983, [oPJV]

   11477   HR     25 - deck, mt, Tottenham Yard, 16/4/1978, [oPJV]

   11476   HR     25 - e1p, Tottenham Yard, 16/4/1978, [oPJV]

   BF039   HR     25 - e1p, Newport Workshops, 20/9/1975, [oPJV]

   11475   HR     25 - e1q, Tottenham Yard, 16/4/1978, [oPJV]

   BF040   HR     25 - e1q, Newport Workshops, 20/9/1975, [oPJV]

   11478   HR     25 - profile e1/bogie/deck, Tottenham Yard, 16/4/1978, [oPJV]

   11479   HR     25 - s1e2, mt, bogie transport, Tottenham Yard, 16/4/1978, [oPJV]

   BF041   HR     25 - s2e2, empty, Newport Workshops, 20/9/1975, [oPJV]

   BM952   HR     26 - s2@e1 profile, mispainted HD 240, Jolimont Workshops, 25/2/1980, [oPJV]

   BM955   HR     26 - s2@e2, bogie XB 931, Jolimont Workshops, 25/2/1980, [oPJV]

   BM181   HR     26 - s2e1, mt, r/b, Newport Workshops, 2/6/1980, [oPJV]

   BM951   HR     26 - s2e1c, r/bearings, ldd wheels, Jolimont Workshops, 25/2/1980, [oPJV]

   BM954   HR     26 - shows chalk  HD 240 , Jolimont Workshops, 25/2/1980, [oPJV]

   B9966   HR     28 - e1p, Bendigo Workshops, 15/3/1978, [oPJV]

   B9965   HR     28 - e1q, Bendigo Workshops, 15/3/1978, [oPJV]

   B9963   HR     28 - ldd with ldd AC crates, Bendigo Workshops, 15/3/1978, [oPJV]

   BQ407   HR     29 - lettering: DUE PV 1.82 BN, Newport Workshops, 2/3/1981, [oPJV]

   BQ405   HR     29 - s1e2, mt, Newport Workshops, 2/3/1981, [oPJV]

   BO787   HR     30 - lettering / axlebox, Newport Workshops, 20/8/1982, [oPJV]

   BO786   HR     30 - s2e1c, AC transport, mt, Newport Workshops, 20/8/1982, [oPJV]

   BG249   HR     31 - 25t jack/ldd/ p, Melbourne Yard, 25/9/1981, [oPJV]

   BG248   HR     31 - 25t jack/ldd/ q, Melbourne Yard, 25/9/1981, [oPJV]

   BG247   HR     31 - ex RY, s1e2, ldd Jacks, Melbourne Yard, 25/9/1981, [oPJV]

   BF798   HR     31 - ldd Jacks, 25t bogie exchange type, Melbourne Yard, 25/9/1981, [oPJV]

   BF797   HR     31 - ldd Jacks, 25t bogie exchange type p, Melbourne Yard, 25/9/1981, [oPJV]

   BF787   HR     31 - ldd Jacks, 25t bogie exchange type q, Melbourne Yard, 25/9/1981, [oPJV]

   BG068   HR     31 - s1e2, ex RY, Jack Transport, Melbourne Yard, 25/9/1981, [oPJV]

   BS024   HR     33 - ex RY, North Melbourne C&W, 7/1/1981, [oPJV]

   BO308   HR     33 - part tarped, DT Bat-Dyn, ex RY, North Melbourne C&W, 21/1/1981, [oPJV]

   BX509   HR     34 - OR, North Geelong Yard, 29/4/1979, [oPJV]

   AY074   HR     34 - s1e2, empty, Jolimont Workshops, 21/12/1983, [oPJV]

   BP481   HR     35 - barframe, ldd bogies, Bendigo, 27/7/1980, [oPJV]

   BF878   HR     38 - ex RY no doors, ldd Harris bogie, Jolimont Workshops, 5/10/1981, [oPJV]

   BF879   HR     38 - lettering Jol-(Bo), Jolimont Workshops, 5/10/1981, [oPJV]

   BI512   HR     38 - s2, ex RY, ldd Harris bogie, Flinders Street Yard, 19/10/1981, [oPJV]

   BI459   HR     45 - ex short IA, s1, Newport Workshops, 28/4/1983, [oPJV]

   AV956   HR     45 - floor, wheel slots, Jolimont Workshops, 28/2/1977, [oPJV]

   AE544   HR     45 - ldd T loco bogie; DT Bogies Jol-Bat, South Dynon, 23/4/1979, [oPJV]

   AV955   HR     45 - s2, empty, Bogies JOL-BAT, Tommy Bent, Jolimont Workshops, 28/2/1977, [oPJV]

   BE113   HR     47 - s2e1, SG wheels, Newport Workshops, 17/8/1981, [oPJV]

   BG695   HR     48 - deck/slots/lugs, Newport Workshops, 27/1/1976, [oPJV]

   BG689   HR     48 - s2e1, engine coupled wheel transport, Newport Workshops, 27/1/1976, [oPJV]

   BV921   HR     49 - 2, North Geelong Yard, 9/5/1979, [oPJV]

   BV915   HR     49 - s2, ldd W loco wheelset, North Geelong Yard, 9/5/1979, [oPJV]

   BV924   HR     49 - top view/W wheel sets, North Geelong Yard, 9/5/1979, [oPJV]

   BV925   HR     49 - W axle, North Geelong Yard, 9/5/1979, [oPJV]

   BM182   HR     50 - s1e1, mt, r/b, Newport Workshops, 2/6/1980, [oPJV]

   BF042   HR     50 - s2, short IA, empty, Newport Workshops, 20/9/1975, [oPJV]

   BR848   HR     50 - s2e1, ldd wheels, Jolimont Workshops, 6/12/1980, [oPJV]

   CB846   HR     51 - OR s1 ex IA, C&W wheels, Tottenham Yard, 7/4/1979, [oPJV]

   CZ235   HR     51 - s2, ldd wheel, ex swb IA, Bendigo North Workshops, 1/11/1976, [oRXO]

   AW945   HR     51 - u/f on ground, ldd KR 281 u/f, Newport Workshops, 7/11/1983, [oPJV]

   BX484   HR     52 - OR, North Geelong Yard, 29/4/1979, [oPJV]

   BG666   HR     52 - s1e1, ldd wheels, Newport Workshops, 27/1/1976, [oPJV]

   AQ180   HR     53 - B, ldd two Harris bogies, Flinders Street Yard, 2/8/1983, [oPJV]

   AQ181   HR     53 - B, part view, lettering, load, Flinders Street Yard, 2/8/1983, [oPJV]

   BK448   HR     53 - bogie flat with centre frame, Laverton, 16/7/1980, [oPJV]

   BK691   HR     53 - centre support detail, Newport Workshops, 22/7/1980, [oPJV]

   BC027   HR     53 - lett/frane, Upfield-Jol-DNG (Harris CE?), Jolimont Workshops, 1/6/1981, [oPJV]

   BC026   HR     53 - s1 p1, Jolimont Workshops, 1/6/1981, [oPJV]

   BK762   HR     53 - s1e2, Newport Workshops, 22/7/1980, [oPJV]

   BE156   HR     53 - s1e2, ldd harris bogies, Jolimont Workshops, 3/8/1981, [oPJV]

   BE397   HR     53 - s1e2, r/bearings, Flinders Street Yard, 4/9/1981, [oPJV]

   BC025   HR     53 - s1e2c, cast, empty, Jolimont Workshops, 1/6/1981, [oPJV]

   AU644   HR     53K- ldd MK axle sets, s1, Jolimont Workshops, 1/11/1983, [oPJV]

   AU915   HR     53T, Jolimont Workshops, 22/9/1983, [oPJV]

   BS067   HR     53T- ldd Harris bogies, Jolimont Workshops, 29/11/1984, [oPJV]

   11263   HR     54 - e1p, Jolimont Workshops, 12/4/1978, [oPJV]

   11262   HR     54 - e1q, Jolimont Workshops, 12/4/1978, [oPJV]

   11265   HR     54 - e2p, Jolimont Workshops, 12/4/1978, [oPJV]

   11264   HR     54 - e2q, Jolimont Workshops, 12/4/1978, [oPJV]

   11429   HR     54 - s1e1c, Jolimont Workshops, 7/4/1978, [oPJV]

   BG687   HR     55 - empty view of deck/wheel slots, Newport Workshops, 27/1/1976, [oPJV]

   B3361   HR     55 - ldd bogies, Tottenham Yard, 18/3/1979, [oPJV]

   B3362   HR     55 - lettering/bogie/load, Tottenham Yard, 18/3/1979, [oPJV]

   BG684   HR     55 - s1e2, empty, Newport Workshops, 27/1/1976, [oPJV]

   BG688   HR     55 - wheel slot close up, Newport Workshops, 27/1/1976, [oPJV]

   11705   HR     56 - ex I, ldd wheels, Tottenham Yard, 16/4/1978, [oPJV]

   BY292   HR     56 - OR, North Geelong Yard, 29/4/1979, [oPJV]

   BO335   HR     57 - ex RY, hand lettered, Newport Workshops, 21/1/1981, [oPJV]

   CB831   HR     57 - OR s2 C&W wheels, Tottenham Yard, 7/4/1979, [oPJV]

   BC056   HR     57 - s1, C&W wheel transport, Newport Workshops, 5/1981, [oPJV]

   BO198   HR     57 - s2e1c, hand lettering, Newport Workshops, 21/1/1981, [oPJV]

   BB828   HR     58 - handbrake wheel / gears, Newport Workshops, 30/3/1981, [oPJV]

   BB827   HR     58 - s2e1c, empty, r/bearing, Newport Workshops, 30/3/1981, [oPJV]

   BC058   HR     58 - s2e1c, r/b, empty, Newport Workshops, 5/1981, [oPJV]

   CZ243   HR     58 - s2p, Ferrodo blocks, Jolimont Workshops, 17/10/1976, [oRXO]

   BY310   HR     59 - OR, North Geelong Yard, 29/4/1979, [oPJV]

   AW398   HR     62 - detail: load support bolster, North Melbourne C&W, 7/1/1981, [oPJV]

   AE546   HR     62 - ex RY, ldd T loco bogie; DT Bogies Jol-Bat, South Dynon, 23/4/1979, [oPJV]

   AW397   HR     62 - lettering: Bogie transport, North Melbourne C&W, 7/1/1981, [oPJV]

   AW410   HR     62 - load support bolster 2, North Melbourne C&W, 7/1/1981, [oPJV]

   AW388   HR     62 - s1e2c, North Melbourne C&W, 7/1/1981, [oPJV]

   AY068   HR     65W- part view, Jolimont Workshops, 31/12/1983, [oPJV]

   AY067   HR     65W- s1e2, ldd wheels, barframe bogies, Jolimont Workshops, 31/12/1983, [oPJV]

   CZ255   HR     66 - s1e2, L4, brake blocks, Jolimont Workshops, 17/10/1976, [oRXO]

   BN911   HR     67 - s2e1, mt, C&W Wheel traffic, Newport Workshops, 16/2/1982, [oPJV]

   CZ259   HR     68 - s1, brake blocks, Jolimont Workshops, 17/10/1976, [oRXO]

   BK903   HR     69 - Brake Blocks, NPT & GLG, North Melbourne C&W Shops, 1/10/1982, [oPJV]

   BK905   HR     69 - lettering NPT-GLG, North Melbourne C&W Shops, 1/10/1982, [oPJV]

   BK904   HR     69 - lettering/number/stencil, North Melbourne C&W Shops, 1/10/1982, [oPJV]

   CZ261   HR     69 - s1, brake blocks, Jolimont Workshops, 17/10/1976, [oRXO]

   BF926   HR     69 - s1e2, Brake Blocks, Npt - Nth Geelong, Newport Workshops, 1/10/1981, [oPJV]

   BR823   HR     70, Newport Workshops, 24/11/1980, [oPJV]

   BI279   HR     70 - cast, SG loading/traffic, Newport Workshops, 24/11/1981, [oPJV]

   BR824   HR     70 - lettering, Newport Workshops, 24/11/1980, [oPJV]

   BO012   HR     70 - s2e1, mt, SG loading, Newport Workshops, 16/3/1981, [oPJV]

   BB869   HR     71 - body, scrapping, Newport Workshops, 4/1981, [oPJV]

   BB835   HR     71 - inverted body on ground, Newport Workshops, 31/3/1981, [oPJV]

   BC059   HR     71 - s2e1, cast, Newport Workshops, 5/1981, [oPJV]

   BY789   HR     72 - ex RY, DT Jol-Bo, Flinders Street Yard, 2/10/1980, [oPJV]

   BP753   HR     72 - ex RY, lettering: Jol-Bo, Jolimont Workshops, 4/3/1982, [oPJV]

   BP752   HR     72 - ex RY, s1e2c, Jolimont Workshops, 4/3/1982, [oPJV]

   AU062   HR     72D- ex RY 50, Jolimont Workshops, 8/9/1983, [oPJV]

   AU067   HR     72D- ex RY 50, lettering 3/83, Jolimont Workshops, 8/9/1983, [oPJV]

   AU784   HR     72D- ex RY, s1, tarped, Jol-Bo, Jolimont Workshops, 1/11/1983, [oPJV]

   BR927   HR     74 - s1e2, mt, Newport Workshops, 2/12/1980, [oPJV]

   BR928   HR     74 - s2e1, mt, Newport Workshops, 2/12/1980, [oPJV]

   BB826   HR     75 - deck view from tank wagon, wheel transport, Newport Workshops, 30/3/1981, [oPJV]

   CZ269   HR     75 - s1, Bogies Jol-BOW, empty, Woodend, 8/11/1976, [oRXO]

   BN181   HR     75 - s1, ldd bogie, DT Jol-Bo, Canal Zone, 28/2/1980, [oPJV]

   BE146   HR     75 - s1e2, ldd bogie, with HR 146, Flinders Street Yard, 3/8/1981, [oPJV]

   BB825   HR     75 - s2, Newport Workshops, 30/3/1981, [oPJV]

   CZ270   HR     76 - s1e2, Bogies Jol-BOW, ldd, tarp covered, Bendigo, 13/11/1976, [oRXO]

   BO711   HR     76 - s1e2, ldd wheels, r/b, Newport Workshops, 6/5/1980, [oPJV]

   BM180   HR     76 - s1e2, r/b, SG loading, Newport Workshops, 2/6/1980, [oPJV]

   BG530   HR     77 - e1p, Jolimont Workshops, 26/10/1975, [oPJV]

   BG529   HR     77 - e1q, ldd bogie/tarped, Jolimont Workshops, 26/10/1975, [oPJV]

   BD370   HR     77 - ex U/T underframe, Jolimont Workshops, 31/3/1975, [oPJV]

   BG531   HR     77 - step, hosebag, e1, Jolimont Workshops, 26/10/1975, [oPJV]

   CU409   HR     78 - mt, ex U/T, South Dynon, 13/1/1979, [oPJV]

   BL180   HR     79 - lettering: DT Jol-Bo, Jolimont Workshops, 13/9/1982, [oPJV]

   BE605   HR     79 - part view, Jolimont Workshops, 27/8/1981, [oPJV]

   BL179   HR     79 - s2e1, tarped, ex RY, Jol-Bo, Jolimont Workshops, 13/9/1982, [oPJV]

   AU634   HR     79U, Jolimont Sub Train Depot, 16/1/1985, [oPJV]

   AU635   HR     79U- lettering, white shunters step, Jolimont Sub Train Depot, 16/1/1985, [oPJV]

   AX979   HR     79U- s2e1, tarped, ex RY, Flinders Street Yard, 11/11/1983, [oPJV]

   AX279   HR     79U- s2e1, tarped, ex Ry,  Jol - Bendigo , Flinders Street Yard, 29/12/1983, [oPJV]

   BB426   HR     79U- tarped, Jol-Bo, s2, ex RY, fisheye, Jolimont Workshops, 30/7/1984, [oPJV]

   BI388   HR     80 - in brake block HR rake, Flinders Street Yard, 22/4/1983, [oPJV]

   BK314   HR     80 - s1, ldd boxes, Flinders Street Yard, 17/12/1981, [oPJV]

   BK315   HR     80 - stencil: FS Yd - Newport, Flinders Street Yard, 17/12/1981, [oPJV]

   BM557   HR     81 - lettering: Safety Wagon Jol-Bo, Jolimont Workshops, 4/2/1980, [oPJV]

   BQ107   HR     81 - s1, Safety Wagon Jol-Bo, Flinders Street Yard, 6/2/1980, [oPJV]

   BM596   HR     81 - s2e1, Safety Wagon Jol-Bo, Jolimont Workshops, 4/2/1980, [oPJV]

   BM547   HR     81 - s2e2, Safety Wagon Jol-Bo, Jolimont Workshops, 4/2/1980, [oPJV]

   BQ181   HR     82 - ex RY, s1e2, Brake Block traffic, Newport Workshops, 17/3/1981, [oPJV]

   BL842   HR     82 - s1, cutdown RY, BB traffic, Newport Workshops, 17/4/1980, [oPJV]

   CZ277   HR     83 - s2, brake blocks, Jolimont Workshops, 17/10/1976, [oRXO]

   DQ860   HR     84 -  ..between BAT and BO , ex RY, North Melbourne C&W Shops, 1/9/1980, [oPJV]

   DR654   HR     84 - lettering:  ..between BAT and BO , North Melbourne C&W Shops, 1/9/1980, [oPJV]

   AU917   HR     87J- ex E, Jolimont Workshops, 22/9/1983, [oPJV]

   BQ782   HR     91 - s2e1, ldd Y bogies, South Dynon, 5/2/1980, [oPJV]

   BP576   HR     92 - class / RY letters underneath, Jolimont Workshops, 1/6/1982, [oPJV]

   BP574   HR     92 - ex RY, no doors, s1e2, DT Jol-Bo, Jolimont Workshops, 1/6/1982, [oPJV]

   BP577   HR     92 - interior, Jolimont Workshops, 1/6/1982, [oPJV]

   BE182   HR     92 - lettering, ex RY, Spotswood Rec Depot, 5/8/1981, [oPJV]

   BP575   HR     92 - lettering: DT Jol-Bo, Jolimont Workshops, 1/6/1982, [oPJV]

   CZ286   HR     92 - s1, brake blocks, Jolimont Workshops, 17/10/1976, [oRXO]

   BP584   HR     92 - s1e1c, Jolimont Workshops, 1/6/1982, [oPJV]

   BE181   HR     92 - s1e2, ex RY, Seymour loco traffic, Spotswood Rec Depot, 5/8/1981, [oPJV]

   BP583   HR     92 - s1p, Jolimont Workshops, 1/6/1982, [oPJV]

   BP581   HR     92 - s2e1c, Jolimont Workshops, 1/6/1982, [oPJV]

   BP582   HR     92 - s2p, Jolimont Workshops, 1/6/1982, [oPJV]

   BV062   HR     93 - ex RY, North Geelong Yard, 9/11/1980, [oPJV]

   BV064   HR     93 - lettering: on side/metal support straps, North Geelong Yard, 9/11/1980, [oPJV]

   CZ288   HR     94 - s1e1, ldd wheels, South Dynon Bogie Exch, 13/10/1976, [oRXO]

   BI280   HR     94 - s2e1, mt, bogie traffic, Newport Workshops, 24/11/1981, [oPJV]

   BI261   HR     95 - ldd T loco welded bogies, Tottenham Yard, 22/11/1981, [oPJV]

   BO958   HR     95 - ldd X bogie, part side, Newport Workshops, 8/7/1982, [oPJV]

   BO956   HR     95 - ldd X bogie, part side, cast bogies, Newport Workshops, 8/7/1982, [oPJV]

   BI535   HR     95 - lettering  Bogies - Dynon-Bendigo , Newport Workshops, 27/10/1981, [oPJV]

   BI262   HR     95 - lettering / ldd bogie, Tottenham Yard, 22/11/1981, [oPJV]

   BI263   HR     95 - lettering: Dynon Loco - Bendigo, Tottenham Yard, 22/11/1981, [oPJV]

   BI534   HR     95 - mt, deck bolster detail, Newport Workshops, 27/10/1981, [oPJV]

   BI533   HR     95 - mt, s1e2, broken handbrake, Newport Workshops, 27/10/1981, [oPJV]

   BO957   HR     95 - s1e2, ldd 2 x Flexicoil bogies, Newport Workshops, 8/7/1982, [oPJV]

   BI264   HR     95 - s2e2, Tottenham Yard, 22/11/1981, [oPJV]

   BR073   HR     96 - ex RY, North Melbourne C&W, 9/12/1980, [oPJV]

   BP961   HR     96 - ex RY, DT Npt - Bo W/S, Newport Workshops, 1/4/1982, [oPJV]

   BG677   HR     96 - s1, ldd wheels, Newport Workshops, 27/1/1976, [oPJV]

   BE751   HR     96J- ldd LHB bogie cont. frame, Newport Workshops, 1/10/1984, [oPJV]

   BE754   HR     96J- lettering, bogie frame lettering, Newport Workshops, 1/10/1984, [oPJV]

   BE746   HR     96J- with HR 99N, part yard view, Newport Workshops, 1/10/1984, [oPJV]

   B1523   HR     97 - C&W wheels, Canal Zone, 1/4/1978, [oPJV]

   CG148   HR     97 - C&W wheels top view deck/slots/side, North Melbourne C&W Shops, 25/4/1978, [oPJV]

   CG149   HR     97 - C&W wheels top view deck/slots/side, end on, North Melbourne C&W Shops, 25/4/1978, [oPJV]

   AX228   HR     98 - bogie, part view, Jolimont Workshops, 17/8/1983, [oPJV]

   CU310   HR     98 - match truck for 112M mk, distant, Flinders Street Yard, 25/5/1977, [oPJV]

   BG686   HR     98 - s2e1, ldd wheels, Newport Workshops, 27/1/1976, [oPJV]

   BM174   HR     99 - OR, mt, s2, C&W wheels, Newport Workshops, 2/6/1980, [oPJV]

   CZ291   HR     99 - s2, ldd wheels, ex I, North Melbourne C&W, 13/10/1976, [oRXO]

   BF933   HR     99 - s2e1, ex RY, Npt - Bo shops, Newport Workshops, 1/10/1981, [oPJV]

   BE760   HR     99N- ldd LHB bogie frame, Newport Workshops, 1/10/1984, [oPJV]

   BE762   HR     99N- lettring/bogie frame, Newport Workshops, 1/10/1984, [oPJV]

   BE765   HR     99N- s2p, frame, Newport Workshops, 1/10/1984, [oPJV]

   CZ294   HR    100 - s1, empty, Jolimont Workshops, 17/10/1976, [oRXO]

   BA950   HR    100F- s2e1, Bogies Npt-Dynon/SG transfer, Newport Workshops, 18/7/1984, [oPJV]

   BB121   HR    100F- with BCS2356+HR101Y, Newport Workshops, 18/7/1984, [oPJV]

   BQ900   HR    101 - ex RY DT Npt-Bo, Newport Workshops, 8/12/1980, [oPJV]

   BB124   HR    101Y- s1e2, Bogies Npt-Dynon/transfer, Newport Workshops, 18/7/1984, [oPJV]

   BQ269   HR    102 - lettering: DT Npt- ..NM.. , ex RY/ID, North Melbourne C&W, 1/2/1982, [oPJV]

   CZ300   HR    103 - s1, empty, North Melbourne C&W, 17/10/1976, [oRXO]

   CZ302   HR    104 - s2e2, ldd wheels, North Melbourne C&W, 13/10/1976, [oRXO]

   BI388   HR    105 - in brake block HR rake, Flinders Street Yard, 22/4/1983, [oPJV]

   BK899   HR    105 - lettering, BB - NPT & Loco Depots, Jolimont Workshops, 27/9/1982, [oPJV]

   11691   HR    105 - lettering: BB Npt-Loco Depots, Tottenham Yard, 16/4/1978, [oPJV]

   BX911   HR    105 - part view, Flinders Street Yard, 1/5/1979, [oPJV]

   BK898   HR    105 - s1e2, Brake Blocks, Jolimont Workshops, 27/9/1982, [oPJV]

   11688   HR    105 - s2, Tottenham Yard, 16/4/1978, [oPJV]

   BO335   HR    107 - part view, Newport Workshops, 21/1/1981, [oPJV]

   AK375   HR    107 - top view, ldd worn brake blocks, North Melbourne C&W Shops, 20/10/1977, [oPJV]

   BI388   HR    108 - in brake block HR rake, Flinders Street Yard, 22/4/1983, [oPJV]

   BB844   HR    108 - s1, Newport Workshops, 1/4/1981, [oPJV]

   CZ307   HR    108 - s2e1, Brake Blocks, Jolimont Workshops, 17/10/1976, [oRXO]

   BX911   HR    110 - part view, Flinders Street Yard, 1/5/1979, [oPJV]

   DA699   HR    110 - Terminal Traffic FSS - BKT, Flinders Street Yard, 13/7/1976, [oPJV]

   BP960   HR    111 - ex RY, DT Npt-Bo W/S, s2, Newport Workshops, 1/4/1982, [oPJV]

   BO251   HR    111 - ex RY, tarped s2e1c DT Npt-Bo, Newport Workshops, 21/1/1981, [oPJV]

   BP959   HR    111 - lettering: DT Npt-Bo W/S, Newport Workshops, 1/4/1982, [oPJV]

   BB952   HR    111 - s2, ex RY, Npt-BOW traffic, Newport Workshops, 2/4/1981, [oPJV]

   BD370   HR    112 - distant, Jolimont Workshops, 31/3/1975, [oPJV]

   BE980   HR    112 - s1e2, short IA, ldd Tait trailer bogie, Jolimont Workshops, 27/6/1975, [oPJV]

   AY079   HR    113 - e1p, Jolimont Workshops, 21/12/1983, [oPJV]

   AU920   HR    113 - ex KAB, TM cases, tarped, s2, Flinders Street Yard, 23/9/1983, [oPJV]

   BI116   HR    113 - number panel/deck, Jolimont Workshops, 15/8/1983, [oPJV]

   AY077   HR    113 - s2, TM cases, ex KAB, Jolimont Workshops, 21/12/1983, [oPJV]

   AY078   HR    113 - s2e1, ex KAB, empty, TM cases, Jolimont Workshops, 21/12/1983, [oPJV]

   BI115   HR    113 - s2e1, mt, Jol - Bo, Jolimont Workshops, 15/8/1983, [oPJV]

   AY903   HR    113 - TM cases, s2 ex KAB, Jolimont Workshops, 27/8/1983, [oPJV]

   BB413   HR    113R- number panel, Flinders Street Yard, 26/7/1984, [oPJV]

   BB411   HR    113R- s1e2, Flinders Street Yard, 26/7/1984, [oPJV]

   BB409   HR    113R- s1p, Flinders Street Yard, 26/7/1984, [oPJV]

   BB407   HR    113R- s1q, ex KAB, Flinders Street Yard, 26/7/1984, [oPJV]

   BA881   HR    114D- ex E, no doors, package bearing, Jolimont Workshops, 13/6/1984, [oPJV]

   BR259   HR    114D- ex E, row of 4 x HRs, Flinders Street Yard, 22/11/1984, [oPJV]

   BA880   HR    114D- part view, lettering: Harris Bogies, Jolimont Workshops, 13/6/1984, [oPJV]

   BI242   HR    115 - ex E, Jol-Bo, Jolimont Workshops, 12/12/1981, [oPJV]

   BI351   HR    115 - on shunt, Jolimont Workshops, 25/5/1983, [oPJV]

   CZ311   HR    115 - s2, tarped, Motor Bogie transport, Bendigo, 13/11/1976, [oRXO]

   AX280   HR    115M- ex E, package bearing,  Jol - Bendigo , Flinders Street Yard, 29/12/1983, [oPJV]

   CU357   HR    116 - e2p, Jolimont Workshops, 17/3/1979, [oPJV]

   CU356   HR    116 - e2q, Jolimont Workshops, 17/3/1979, [oPJV]

   CU358   HR    116 - e2q2, Jolimont Workshops, 17/3/1979, [oPJV]

   BK483   HR    117 - ldd 2 x T bogies, South Dynon, 21/7/1980, [oPJV]

   BK484   HR    117 - lettering/bogie/T bogie load, South Dynon, 21/7/1980, [oPJV]

   BE897   HR    117H- s1e2, cast, s1e2, bogie traffic Jol-Bo, Jolimont Workshops, 27/9/1984, [oPJV]

   BR074   HR    118 - ex RY NM-BO, North Melbourne C&W, 9/12/1980, [oPJV]

   BE452   HR    118 - s2e2, ex RY, NM - BO traffic, North Melbourne C&W Shops, 11/8/1981, [oPJV]

   AX256   HR    118Q- s2e1, ex RY,  NM & Bendigo  traffic, North Melbourne C&W, 18/11/1983, [oPJV]

   BG683   HR    119 - s1e2c, empty, Newport Workshops, 27/1/1976, [oPJV]

   BM916   HR    120 - distant, tarp covered MK bogies, Newport, 25/2/1980, [oPJV]

   CK486   HR    120 - s1, mt, DT NPT-UPF, Newport Workshops, 7/3/1979, [oPJV]

   BM916   HR    121 + HR 120 - tarp covered MK bogies, Newport, 25/2/1980, [oPJV]

   BE065   HR    123 - s1e1, braframe, VR logo, Flinders Street Yard, 7/8/1981, [oPJV]

   BE066   HR    123 - s1e2, braframe, VR logo, Flinders Street Yard, 7/8/1981, [oPJV]

   BE981   HR    123 - s2e1, short IA, ldd Tait trailer bogie, Jolimont Workshops, 27/6/1975, [oPJV]

   AU883   HR    124 - s1e1, ldd wheelsets, Bendigo, 18/2/1977, [oPJV]

   CZ322   HR    125 - B, s2e2, ldd wheels, cast, North Melbourne C&W, 13/10/1976, [oRXO]

   DA679   HR    126 - ldd, tarped, DT Bogies Bo - Jol, s1, Jolimont Workshops, 9/7/1976, [oPJV]

   CZ326   HR    129 - s2, ldd wheels, North Melbourne C&W, 17/10/1976, [oRXO]

   BK206   HR    130 - ex RY, DT NM-BO, North Melbourne C&W Shops, 4/11/1980, [oPJV]

   BP173   HR    130 - ex RY, DT Nth Melb & Bendigo, North Melbourne C&W, 1/7/1982, [oPJV]

   BH122   HR    130 - part view, ex RY, North Melbourne C&W Shops, 4/3/1981, [oPJV]

   AV790   HR    131 - s1, empty, SG wheels, Newport Workshops, 19/2/1977, [oPJV]

   BP146   HR    132 - deck, South Dynon, 22/6/1982, [oPJV]

   BV134   HR    132 - ldd 2 x T loco bogies, Bendigo Workshops, 23/11/1980, [oPJV]

   BV132   HR    132 - part side/ldd T loco bogie, Bendigo Workshops, 23/11/1980, [oPJV]

   BP529   HR    132 - s2 mt, South Dynon, 22/6/1982, [oPJV]

   BP145   HR    132 - s2, mt, cast bogies, South Dynon, 22/6/1982, [oPJV]

   CS203   HR    133 - ex RY, DT Ballarat & NM Workshops, 1990s, [oPHC]

   BH122   HR    133 - ex RY, s2e1,  NR , BT-NM, North Melbourne C&W Shops, 4/3/1981, [oPJV]

   BX596   HR    134 - ex RY,  Between NM - BKTip , North Melbourne C&W Shops, 2/10/1980, [oPJV]

   BX983   HR    134 - lettering:  Between NM - BKTip , North Melbourne C&W Shops, 2/10/1980, [oPJV]

   11706   HR    135 - cast, ldd bogies, Tottenham Yard, 16/4/1978, [oPJV]

   11707   HR    135 - e1q, Tottenham Yard, 16/4/1978, [oPJV]

   BS025   HR    135 - ex E, bogie transport, North Melbourne C&W, 7/1/1981, [oPJV]

   B1180   HR    135 - ldd freight bogies, Tottenham Yard, 25/3/1979, [oPJV]

   CM858   HR    135 - ldd freight bogies, Newport Workshops, 7/3/1979, [oPJV]

   11710   HR    135 - ldd XC 2998, Tottenham Yard, 16/4/1978, [oPJV]

   11708   HR    135 - lettering/bogie, Tottenham Yard, 16/4/1978, [oPJV]

   AY075   HR    137A- s1e2, cast bogies, E no doors,  Jol-Bt , Jolimont Workshops, 21/12/1983, [oPJV]

   BC093   HR    138, Newport Workshops, 14/6/1981, [oPJV]

   BC088   HR    138 - ldd OO bogies, s1e2c, barframe, Newport Workshops, 14/6/1981, [oPJV]

   B9969   HR    138 - lettering/crates, Bendigo Workshops, 15/3/1978, [oPJV]

   BC089   HR    138 - p1, bogie, lettering, plateframe/3 axle, Newport Workshops, 14/6/1981, [oPJV]

   B9968   HR    138 - s1e1c ldd with ldd AC crates, Bendigo Workshops, 15/3/1978, [oPJV]

   DS971   HR    140 - ex RY, NM & Rec Depot, North Melbourne C&W Shops, 1/9/1980, [oPJV]

   BY371   HR    140 - lettering: NM & Rec Depot, North Melbourne C&W Shops, 1/9/1980, [oPJV]

   AX266   HR    141 - A, s1e2,  NM & Brookland Tip , North Melbourne C&W, 18/11/1983, [oPJV]

   CS202   HR    141 - DT NM - Brookland Top, North Melbourne, 1990s, [oPHC]

   BS032   HR    141 - ex RY, North Melbourne C&W, 7/1/1981, [oPJV]

   BP160   HR    141 - ex RY, s2, DT Nth Melb - Brookland Tip, North Melbourne C&W, 1/7/1982, [oPJV]

   AY897   HR    141 - lettering:  NM & Brookland Tip , Jolimont Workshops, 27/8/1983, [oPJV]

   BC107   HR    141 - s1, NM - Bkln Tip, North Melbourne C&W, 6/1981, [oPJV]

   AY896   HR    141 - s2, RY lever,  NM & Brookland Tip , Jolimont Workshops, 27/8/1983, [oPJV]

   BK896   HR    144 - empty deck, wheel holes, Jolimont Workshops, 27/9/1982, [oPJV]

   BI712   HR    144 - ex E, part view, Bendigo, 18/10/1981, [oPJV]

   CC252   HR    144 - ex E, r/b, VR, lettering/bogie, Jolimont Workshops, 3/4/1979, [oPJV]

   CN051   HR    144 - ex E, VR/roller bearings, Jolimont Workshops, 1970s, [oBAU]

   BK895   HR    144 - lettering: Harris bogies Jol-(Bo)Bat, Jolimont Workshops, 27/9/1982, [oPJV]

   BK893   HR    144 - r/b, no doors, s1e2, ex E, Jolimont Workshops, 27/9/1982, [oPJV]

   BM742   HR    144 - s1e2, roller bearings, ex E, Flinders Street Yard, 6/3/1980, [oPJV]

   CC253   HR    144 - s1e2c, Jolimont Workshops, 3/4/1979, [oPJV]

   BK894   HR    144 - waybill envelope, Jolimont Workshops, 27/9/1982, [oPJV]

   BK897   HR    144 - wheel slot for bogies, Jolimont Workshops, 27/9/1982, [oPJV]

   AU816   HR    144E- ldd 2 x Harris bogies, Jolimont Workshops, 1/9/1983, [oPJV]

   BP962   HR    145 - s1e1, ex RY, Term Npt - Bkn Tip, Newport Workshops, 1/4/1982, [oPJV]

   BE146   HR    146 - s1e2, ldd bogie, distant view, Flinders Street Yard, 3/8/1981, [oPJV]

   CZ355   HR    146 - s1p, TM bogie transport, Woodend, 8/11/1976, [oRXO]

   BV109   HR    147 - part view, Bendigo Workshops, 23/11/1980, [oPJV]

   BV109   HR    148 - distant, Bendigo Workshops, 23/11/1980, [oPJV]

   B3196   HR    148 - ldd T loco bogie, Jolimont Workshops, 23/3/1979, [oPJV]

   BO959   HR    148 - s1e2, package bearings, Newport Workshops, 8/7/1982, [oPJV]

   BV136   HR    148 - with T loco bogie supports, Bendigo Workshops, 23/11/1980, [oPJV]

   BY129   HR    149 - ex RY, drop on  scrap  sign, North Melbourne C&W Shops, 1/9/1980, [oPJV]

   BV063   HR    150 - ex RY, North Geelong Yard, 9/11/1980, [oPJV]

   BE775   HR    151 -  Dynon-Bo Y bogie  lettering, Flinders Street Yard, 27/8/1981, [oPJV]

   BF076   HR    151 - Code/Bogie/Lettering, South Dynon, 2/7/1975, [oPJV]

   BE668   HR    151 - e1/side/bogie load, Jolimont Workshops, 27/8/1981, [oPJV]

   BE679   HR    151 - e1p, loaded bogie, Jolimont Workshops, 27/8/1981, [oPJV]

   BE652   HR    151 - e2/bogie/load Y/Tait bogie, Jolimont Workshops, 27/8/1981, [oPJV]

   CN052   HR    151 - ldd Y loco bogies, South Dynon, 1970s, [oBAU]

   CZ363   HR    151 - lettering/stencil, ldd Tait M bogie, Bendigo, 1/11/1976, [oRXO]

   BF074   HR    151 - s1e1, ldd Y loco bogies, South Dynon, 2/7/1975, [oPJV]

   BF073   HR    151 - s2e1, ldd Y bogies, South Dynon, 2/7/1975, [oPJV]

   BE344   HR    151 - s2e1, Tait M bogies, Flinders Street Yard, 27/8/1981, [oPJV]

   BE605   HR    151 - s2e2, Jolimont Workshops, 27/8/1981, [oPJV]

   BF075   HR    151 - Traffic lettering DYN-Bo, Y Bogies, South Dynon, 2/7/1975, [oPJV]

   BQ227   HR    152 - ex RY, s1, tarped, DT Npt-Bat, Newport Workshops, 2/3/1981, [oPJV]

   BG587   HR    153 - s1e2, ldd wheels, barframe, Newport Workshops, 6/11/1975, [oPJV]

   CZ364   HR    153 - s2e1, ex E, ldd wheels, North Melbourne C&W, 13/10/1976, [oRXO]

   CZ366   HR    154 - s1e2, ex I, TM case transport, Jolimont Workshops, 17/10/1976, [oRXO]

   BY944   HR    155 + HR 157 - ldd 62M mk bogies, Flinders Street Yard, 1/5/1979, [oPJV]

   DS223   HR    155 - ldd 62M mk bogie, Flinders Street Yard, 1/5/1979, [oPJV]

   CZ368   HR    155 - s1, empty, TM case transport, Jolimont Workshops, 17/10/1976, [oRXO]

   BM262   HR    155 - s2, ldd Tait T bogie, Jolimont Workshops, 4/2/1980, [oPJV]

   CB497   HR    156 - ldd 5 x bogies / top view, Bendigo Workshops, 8/4/1979, [oPJV]

   BM389   HR    156 - s2e1, ex E, cast, mt, Wodonga, 10/5/1980, [oPJV]

   BL427   HR    157 - barframe, ex E, Jol-Bo, Flinders Street Yard, 17/3/1980, [oPJV]

   BY944   HR    157 - ldd mk bogie, Flinders Street Yard, 1/5/1979, [oPJV]

   BX938   HR    157 - ldd mk M bogie, Flinders Street Yard, 1/5/1979, [oPJV]

   BV118   HR    157 - part view, ex E, Bendigo Workshops, 23/11/1980, [oPJV]

   CZ370   HR    157 - s2, empty, TM case transport, Jolimont Workshops, 17/10/1976, [oRXO]

   AU058   HR    157Q, Jolimont Workshops, 7/9/1983, [oPJV]

   BA878   HR    157Q- barframe, s1, Jol-Bat-Bo, Jolimont Workshops, 13/6/1984, [oPJV]

   BA879   HR    157Q- lettering, Jolimont Workshops, 13/6/1984, [oPJV]

   AU059   HR    157Q- lettering/bogie, Jolimont Workshops, 7/9/1983, [oPJV]

   BM919   HR    158 - part view, Newport, 25/2/1980, [oPJV]

   CF617   HR    159 - ldd bogies, Ballarat, 17/4/1978, [oPJV]

   CF618   HR    159 - part side, DT Bogies Dyn-Npt, Ballarat, 17/4/1978, [oPJV]

   BL167   HR    159 - s1e2, ldd package bearings, North Geelong Yard, 12/9/1982, [oPJV]

   AT930   HR    159L- loaded 4 x bogies, North Melbourne C&W, 1/9/1983, [oPJV]

   CF609   HR    161 - e1p, Ballarat Workshops, 17/4/1978, [oPJV]

   CF610   HR    161 - e1q, Ballarat Workshops, 17/4/1978, [oPJV]

   CK509   HR    161 - L5, Grade Control, s1, ldd freight bogies, Newport Workshops, 7/3/1979, [oPJV]

   CF611   HR    161 - part s1/bogie/lettering, Ballarat Workshops, 17/4/1978, [oPJV]

   BO955   HR    163 - Grade Control and symbol, Newport Workshops, 8/7/1982, [oPJV]

   BO954   HR    163 - s1e2, Newport Workshops, 8/7/1982, [oPJV]

   BF077   HR    163 - s1e2, ldd Y bogies, cast, GC mark, South Dynon, 2/7/1975, [oPJV]

   BF078   HR    163 - s2e2, ldd Y bogies, cast, GC mark, South Dynon, 2/7/1975, [oPJV]

   BF079   HR    163 - s2p, South Dynon, 2/7/1975, [oPJV]

   B2884   HR    164 - e1p ldd wheels, Bendigo Workshops, 15/3/1978, [oPJV]

   B2883   HR    164 - e1q ldd wheels, Bendigo Workshops, 15/3/1978, [oPJV]

   DK501   HR    164 - load of damaged MK wheels, Jolimont Workshops, 30/11/1977, [oPJV]

   DK502   HR    164 - loaded with damaged MK wheelsets, Jolimont Workshops, 30/11/1977, [oPJV]

   B3595   HR    166 - cast bogie/part lettering, [oPJV]

   CZ385   HR    166 - s1e2, ldd wheels, ex E, North Melbourne C&W, 13/10/1976, [oRXO]

   BK645   HR    167 - e1p, Tottenham Yard, 4/3/1976, [oPJV]

   BR905   HR    167 - part view, Jolimont Workshops, 25/11/1980, [oPJV]

   BK643   HR    167 - s1e1, cast, ldd wheels, Tottenham Yard, 4/3/1976, [oPJV]

   BK646   HR    167 - s1e2, Tottenham Yard, 4/3/1976, [oPJV]

   CZ386   HR    167 - s2, cast, ldd wheels, ex E, North Melbourne C&W, 13/10/1976, [oRXO]

   BO028   HR    168 - s1e2c, mt, Newport Workshops, 17/3/1981, [oPJV]

   BR896   HR    169 - ldd wheels, r/bearing, Newport Workshops, 24/11/1980, [oPJV]

   B1475   HR    170 - e1p, North Melbourne C&W Shops, 13/4/1978, [oPJV]

   B1474   HR    170 - e1q, North Melbourne C&W Shops, 13/4/1978, [oPJV]

   B1477   HR    170 - e2, North Melbourne C&W Shops, 13/4/1978, [oPJV]

   B1476   HR    170 - s2e1c ldd wheels, North Melbourne C&W Shops, 13/4/1978, [oPJV]

   AU815   HR    172 - B, ldd wheels,  C&W Wheel transport , Jolimont Workshops, 1/9/1983, [oPJV]

   CJ925   HR    172 - mt, Newport Workshops, 7/3/1979, [oPJV]

   B9944   HR    173 - detail/brake VVD, Jolimont Workshops, 18/3/1978, [oPJV]

   B9942   HR    173 - ldd wheels, Jolimont Workshops, 18/3/1978, [oPJV]

   AY068   HR    173T- part view, Jolimont Workshops, 31/12/1983, [oPJV]

   11704   HR    174 - ldd wheels, Tottenham Yard, 16/4/1978, [oPJV]

   B2896   HR    174 - no lettering, Bendigo Workshops, 15/3/1978, [oPJV]

   B2897   HR    174 - number stamp/ID, Bendigo Workshops, 15/3/1978, [oPJV]

   BR822   HR    175 - SG loading traffic, Newport Workshops, 24/11/1980, [oPJV]

   BI458   HR    176 - ex RY, Newport Workshops, 28/4/1983, [oPJV]

   BX540   HR    176 - ex RY, DT Npt-Bat, Newport Workshops, 10/10/1980, [oPJV]

   BI741   HR    177 - 1st,  Off Rego  lettering, Wodonga, 7/11/1982, [oPJV]

   BI740   HR    177 - 1st, ex B  Off Rego , Wodonga, 7/11/1982, [oPJV]

   BI736   HR    177 - 2nd, ex B, Wodonga, 7/11/1982, [oPJV]

   BB011   HR    180R- ex RY, s1e2, Jolimont Workshops, 19/4/1984, [oPJV]

   BB010   HR    180R- lettering, Panto traffic Jol-Bat, Jolimont Workshops, 19/4/1984, [oPJV]

   AY094   HR    181J- ex RY, s2e1,  Bt - Jol , Jolimont Workshops, 26/12/1983, [oPJV]

   BB012   HR    181J- ex RY, s2e1, Bat-Jol, Jolimont Workshops, 19/4/1984, [oPJV]

   BP186   HR    181J- interior, panto racks/bits, Jolimont Workshops, 13/11/1984, [oPJV]

   BP185   HR    181J- s2p(fisheye), DT Jol-Bat, Jolimont Workshops, 13/11/1984, [oPJV]

   AY093   HR    182S- ex RY, s2e1,  Bt - Jol , Jolimont Workshops, 26/12/1983, [oPJV]

   AY122   HR    182S- lettered  182.S , Jolimont Workshops, 27/12/1983, [oPJV]

   BB228   HR    182S- s1, Bat-Jol, Jolimont Workshops, 23/7/1984, [oPJV]

   CF727   HR    63 - conversion in workshops, Ballarat Workshops, 17/4/1978, [oPJV]

   CF728   HR    63 - conversion in workshops 2, Ballarat Workshops, 17/4/1978, [oPJV]

 
   No diagrams found for HR   
---
File c069m compiled by Peter J. Vincent, updated 17/4/2007