---
JCP - Joint Stock Guards Van
---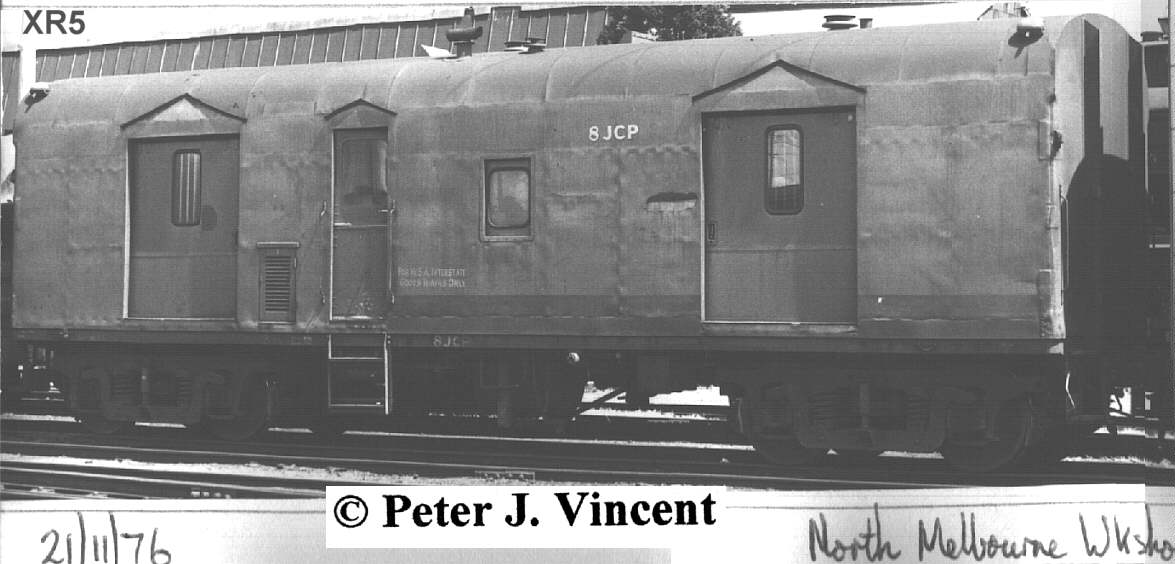 There were nine vans coded JCP, numbers 1 - 9. They were converted from steel bogie vans coded _CP_. The conversion were done in the late 1960's and replaced the ZJP vans which were recoded to ZLP_.
The vans ran on interstate trains between Melbourne, Victoria and Adelaide, South Australia.
In the mid 1980's, the vans were no longer required in Joint Stock service and were recoded back to the CP class.
   Photos   for  'JCP  '

   FileID  Description................................................



   CN071   JCP      2, 1970s, [oBAU]

   BG011   JCP      2 - sXp, North Melbourne C&W Shops, 10/9/1981, [oPJV]

   BG012   JCP      2 - sXq, North Melbourne C&W Shops, 10/9/1981, [oPJV]

   B3382   JCP      3, Tottenham Yard, 18/3/1979, [oPJV]

   BA115   JCP      3 - 3w doors, South Dynon, 13/10/1976, [oRXO]

   CF539   JCP      4, South Dynon, 26/4/1978, [oPJV]

   BK540   JCP      5, North Melbourne C&W Shops, 21/7/1980, [oPJV]

   BA154   JCP      7, South Dynon, 13/10/1976, [oRXO]

   BF936   JCP      7 - part view, North Melbourne C&W Shops, 2/10/1981, [oPJV]

   BA172   JCP      9 - 3w doors, South Dynon, 13/10/1976, [oRXO]

 
   Diagrams   for  'JCP  '

   FileID  Description................................................



   BX843   JCP        -  1-9, [sPJV]

 
---
File c148m compiled by Peter J. Vincent, updated 2/7/2007