---
ZLP / VVBP - Bogie Brakevan
---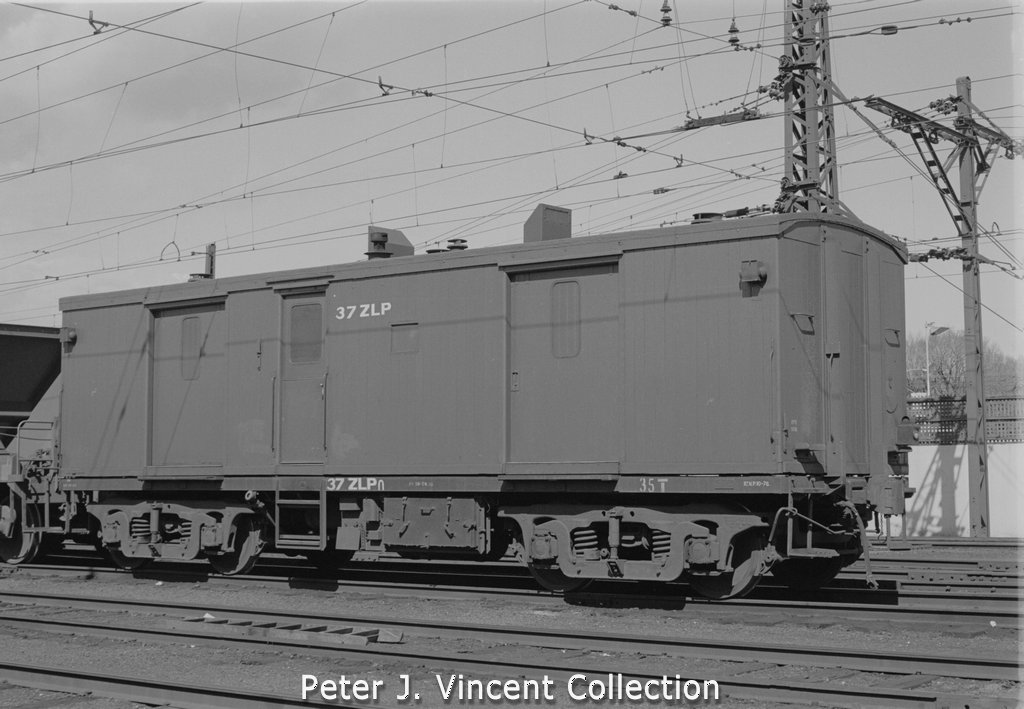 ZLP
These vans were interchangeable between passenger and freight work. Their main use was freight, with the ability to run on extra passenger trains as required.
The vans were recoded from the 1961 _ZF_ freight brakevans when bogies from _BP_ boxvans were swapped. The ZLP code letters indicate Z: brakevan, L: lavatory fitted, P: passenger speed, 70mph/115km/hr.
The number group was 1 to 80.
In 1968, ZLP 32 was fitted with a power generator set for supplying electricity to the "Showmobile" train.
A small group of vans were coded ZJF_ . These were vans in joint service on fast freight trains between Victoria and South Australia.
The 1984 code for ZLP was VVBP.
VVBP
Between 1983 and 1985 many vans were recoded.
From 1984, some of these vans began to be removed from service. Van bodies can occasionally be seen in paddocks.
   Photos   for  'ZLP  '

   FileID  Description................................................



   AK508   ZLP        -    vans in storage: ZL, ZF, ZLP, North Melbourne C&W Shops, 20/10/1977, [oPJV]

   B3252   ZLP        -  Airline brake test, North Geelong Yard, 25/3/1979, [oPJV]

   BY544   ZLP        - (VVBP) on bogie wheat block, Korong Vale, 9/6/1985, [oPJV]

   BY157   ZLP        - (VVBP) on wheat bogies, Korong Vale, 9/6/1985, [oPJV]

   BY704   ZLP        - part view, graffitti  Cuddles ... Croat , North Geelong Yard, 29/4/1979, [oPJV]

   CA917   ZLP      1 - part view, Echuca, 15/4/1979, [oPJV]

   CN434   ZLP      1 - roof view, s2, 1970s, [oBAU]

   B3256   ZLP      4, North Geelong Yard, 25/3/1979, [oPJV]

   CN437   ZLP      4 - s1, 1970s, [oBAU]

   CY964   ZLP      5 - door detail/twin windows, North Melbourne C&W Shops, 2/7/1976, [oPJV]

   DC028   ZLP      5 - s1p, twin door windows, North Melbourne C&W Shops, 2/7/1976, [oPJV]

   CY963   ZLP      5 - s1q, twin door windows, North Melbourne C&W Shops, 2/7/1976, [oPJV]

   BM933   ZLP      5 - s2, repair chalk notes, North Melbourne C&W, 25/2/1980, [oPJV]

   CN432   ZLP      6 - s2, 1970s, [oBAU]

   BK236   ZLP      8 - part view, North Melbourne C&W Shops, 4/11/1980, [oPJV]

   CN433   ZLP      9 - s2, 1970s, [oBAU]

   AO232   ZLP     11, North Melbourne C&W Shops, 23/4/1979, [oPJV]

   AS066   

ZLP     14

, Caulfield, c1975, [oPJV]

   BT544   ZLP     15, North Geelong Yard, 9/11/1980, [oPJV]

   CA983   ZLP     16, North Melbourne C&W Shops, 16/4/1979, [oPJV]

   CA984   ZLP     16 - water fill, lettering TC 4.79, North Melbourne C&W Shops, 16/4/1979, [oPJV]

   CU713   ZLP     19 - s1, Arden Street, 11/1/1979, [oPJV]

   AV822   ZLP     21, Spencer Street, 1/2/1976, [oPJV]

   DC339   ZLP     22, North Melbourne C&W Shops, 2/7/1976, [oPJV]

   CN435   ZLP     23, 1970s, [oBAU]

   BC893   ZLP     23 - s1, Bendigo, 1/11/1976, [oRXO]

   DG452   ZLP     24, 1980s, [oDVC]

   AU921   ZLP     25 - part view, Flinders Street Yard, 24/9/1983, [oPJV]

   BC894   ZLP     26 - part view, Bendigo, 13/11/1976, [oRXO]

   B1591   ZLP     27, Tottenham Yard, 12/3/1979, [oPJV]

   CU370   ZLP     27 - s2, Flinders Street Yard, 17/3/1979, [oPJV]

   CN436   ZLP     28, 1970s, [oBAU]

   DS929   ZLP     31, Newport Workshops, 4/5/1979, [oPJV]

   AV932   ZLP     32 - 1 window/door, Ararat, 27/2/1977, [oPJV]

   AL670   ZLP     32 - Generator van/working on Showmobile, Spencer Street, 9/1968, [oPJV]

   11503   ZLP     32 - part view, Tottenham Yard, 16/4/1978, [oPJV]

   CV899   ZLP     33 - s2, Melbourne Yard, 2/7/1976, [oPJV]

   11132   ZLP     34 - s1, Ararat, 29/4/1978, [oPJV]

   AX057   ZLP     35 - part view, Canal Zone, 2/1977, [oPJV]

   CV900   ZLP     35 - s2, Melbourne Yard, 2/7/1976, [oPJV]

   AC612   ZLP     39 - s1 e(a), Flinders Street Yard, 16/10/1981, [oPJV]

   AC613   ZLP     39 - s1 e(b), Flinders Street Yard, 16/10/1981, [oPJV]

   BY194   ZLP     40, North Melbourne C&W Shops, 1/5/1979, [oPJV]

   BI251   ZLP     42, West Tower, 22/11/1981, [oPJV]

   CN438   ZLP     42 - s1, 1970s, [oBAU]

   DU224   ZLP     43 - s1, Dandenong, 17/7/1976, [oPJV]

   BP681   ZLP     47 - s1, Flinders Street Yard, 2/3/1980, [oPJV]

   CF589   ZLP     47 - s1, Ararat, 18/4/1978, [oPJV]

   BF006   ZLP     48 - s1e1, Newport Workshops, 20/9/1975, [oPJV]

   BJ010   ZLP     50 - s1, North Melbourne C&W Shops, 18/1/1982, [oPJV]

   CB377   ZLP     50 - s2, Bendigo, 8/4/1979, [oPJV]

   BI883   ZLP     52 - part roof/side, North Melbourne C&W Shops, 18/1/1982, [oPJV]

   BI882   ZLP     52 - roof, North Melbourne C&W Shops, 18/1/1982, [oPJV]

   CB392   ZLP     53 - s1, Bendigo, 8/4/1979, [oPJV]

   BX899   ZLP     55, North Melbourne C&W Shops, 7/7/1980, [oPJV]

   AV136   ZLP     56, Flinders Street Yard, 1/10/1983, [oPJV]

   CU413   ZLP     59, North Melbourne C&W Shops, 11/1/1979, [oPJV]

   CK477   ZLP     60, North Geelong Yard, 12/3/1979, [oPJV]

   BC895   ZLP     62 - s1, Woodend, 13/11/1976, [oRXO]

   CV896   ZLP     63, Melbourne Yard, 2/7/1976, [oPJV]

   BR200   ZLP     64, North Geelong Yard, 4/1/1981, [oPJV]

   BF982   ZLP     65 -  OK  lettering, Flinders Street Yard, 30/9/1981, [oPJV]

   BY140   ZLP     66, North Melbourne C&W Shops, 1/5/1979, [oPJV]

   BF007   ZLP     69 - s1e1, Newport Workshops, 20/9/1975, [oPJV]

   BC896   ZLP     69 - s2, North Melbourne C&W Shops, 17/10/1976, [oRXO]

   CA972   ZLP     70, North Melbourne C&W Shops, 16/4/1979, [oPJV]

   AY047   ZLP     71 - part view, Dandenong, 30/1/1977, [oRXO]

   BC295   ZLP     71 - part view, Dandenong, 30/1/1976, [oRXO]

   BC898   ZLP     71 - part view, Dandenong, 30/1/1977, [oRXO]

   CV898   ZLP     71 - s1, Melbourne Yard, 2/7/1976, [oPJV]

   AO219   ZLP     76, North Melbourne C&W Shops, 23/4/1979, [oPJV]

   B1668   ZLP     77, Tottenham Yard, 12/3/1979, [oPJV]

   BC897   ZLP     77 - s1, Bendigo, 1/11/1976, [oRXO]

 
   No diagrams found for ZLP   
   Photos   for  'VVBP  '

   FileID  Description................................................



   BB235   VVBP      2, Spotswood, 18/7/1984, [oPJV]

   BB440   VVBP     10 - s1e2, North Melbourne C&W, 20/8/1984, [oPJV]

   BB047   VVBP     17 - s1, North Melbourne C&W, 18/6/1984, [oPJV]

   BB050   VVBP     18 - s2, North Melbourne C&W, 18/6/1984, [oPJV]

   BT101   VVBP     20 - s2, Flinders Street Yard, 12/1984, [oPJV]

   BB439   VVBP     36 - s1e2, North Melbourne C&W, 20/8/1984, [oPJV]

   BO130   VVBP     47, Broadmeadows, 15/10/1984, [oPJV]

   BH373   VVBP     47 - lettering, painted, 1984, [oPJV]

   BH360   VVBP     47 - s1, [oPJV]

   BT190   VVBP     51, Newport Workshops, 12/1984, [oPJV]

   BB049   VVBP     59 - s2, North Melbourne C&W, 18/6/1984, [oPJV]

   AW382   VVBP     61 - s1, North Melbourne C&W, 21/11/1984, [oPJV]

   BE228   VVBP     63, North Geelong, 26/8/1984, [oPJV]

   AX260   VVBP     79, North Melbourne C&W, 18/11/1983, [oPJV]

   AX262   VVBP     79 - builders plate, North Melbourne C&W, 18/11/1983, [oPJV]

   AX261   VVBP     79 - class letters, North Melbourne C&W, 18/11/1983, [oPJV]

   AY096   VVBP     79 - s1e2, Jolimont Workshops, 26/12/1983, [oPJV]

 
   No diagrams found for VVBP   
---
File c054m compiled by Peter J. Vincent, updated 13/4/2007