---
CP / VVCP - Steel Guards Van
---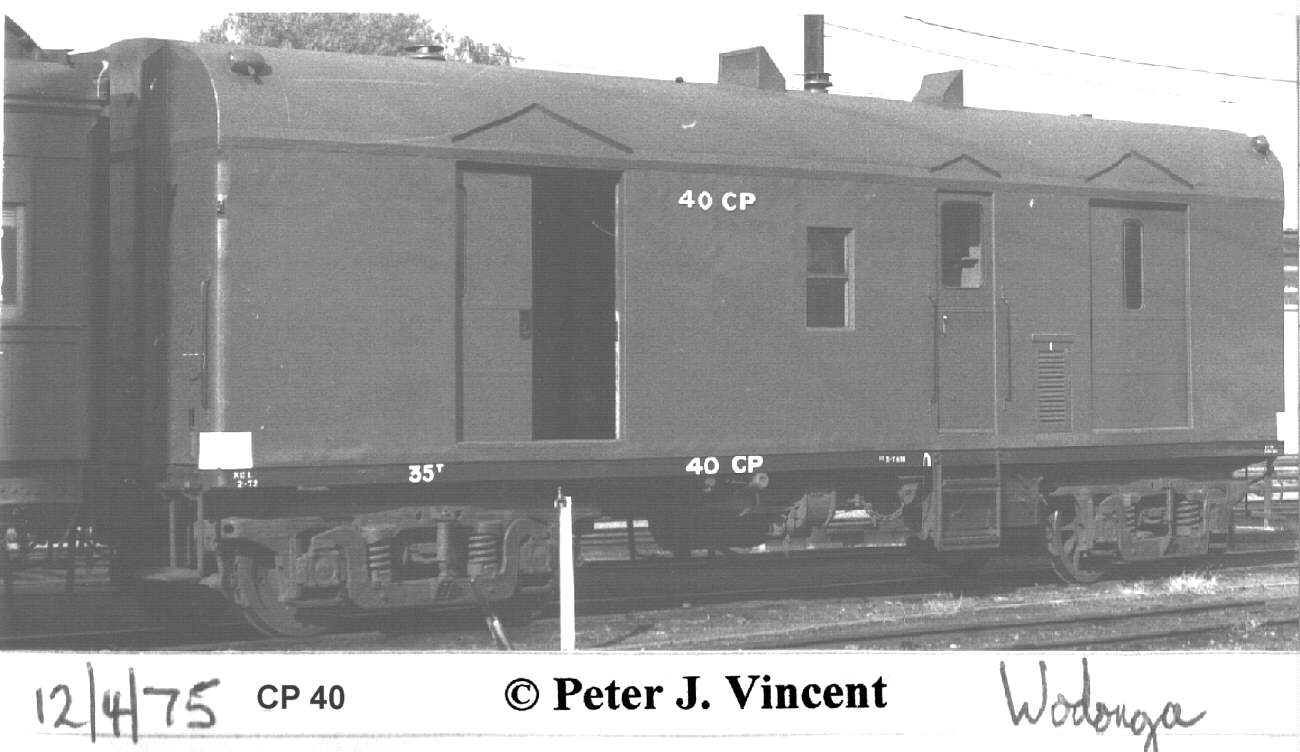 CP
Forty guards vans were built and placed into service between 1956 and 1958. They were coded CP and numbered 1 - 40. One van was destroyed in a collision at Broadmeadows 1958.
To replace the ZJF_ vans in Joint Stock service, nine CP vans were recoded to JCP_. These vans were not required from the mid 1980's and were converted back to CP with their old numbers.
The 1984 recode for these was VVCP.
VVCP
The CP vans were recoded to VVCP between 1983 and 1986. The numbers were reduced from 1987 with conversions and removal from service.
In 1987, four vans were placed into passenger train service. VVCP 6, 16, 25 and 34 were reclassed to CP 294, 292, 293 and 291 respectively. When control of these vans was passed to 'West Coast Rail', a private operator, the class was altered to PCP.
   Photos   for  'CP  '

   FileID  Description................................................



   DN212   CP        -  distant/end of train/chimney smoking, Armstrong, 19/9/1980, [oPJV]

   CV855   CP        -  van on T 409 + 2 x H car pass, Spencer Street, 11/1991, [oPJV]

   BU214   CP        -  Vl, on K set, Spencer Street, c1990, [oSXH]

   AU612   CP        - on train of E cars, Newport, 12/1984, [oPJV]

   BH011   CP        - on Up pass, Flinders Street Yard, 9/3/1976, [oPJV]

   BQ579   CP        - part view, on rear of pass train, Flinders Street Yard, 10/10/1984, [oPJV]

   BD125   CP      1, East Yard, 12/1976, [oRXO]

   CG113   CP      3 - s1, 4/1978, [oPJV]

   AT632   CP      8 - part view, North Melbourne C&W, 10/6/1983, [oPJV]

   BD126   CP      9 - s1, Spencer Street, 22/9/1976, [oRXO]

   BG339   CP     11, Castlemaine, 23/5/1976, [oPJV]

   B3312   CP     16, North Geelong Yard, 25/3/1979, [oPJV]

   BP746   CP     18 - s1, in shadow, North Melbourne C&W, 3/3/1982, [oPJV]

   BH191   CP     20 - part view, Shepparton, 15/3/1981, [oPJV]

   CU465   CP     20 - s2, North Geelong Yard, 12/3/1979, [oPJV]

   DL095   CP     22 - in train, West Footscray, 2/12/1978, [oPJV]

   CU464   CP     22 - s1, North Geelong Yard, 12/3/1979, [oPJV]

   BW575   CP     23 - 1 window doors, s1, Echuca, 15/4/1979, [oPJV]

   BD127   CP     24 - s1, North Melbourne C&W, 17/10/1976, [oRXO]

   CM982   CP     24 - s2, Tottenham Yard, 1970s, [oBAU]

   DG458   CP     28, 1980s, [oDVC]

   DG459   CP     28 - bogie/makers plate (Goodwin), 1980s, [oDVC]

   DC203   CP     31 - body on factory site, Sunshine, 3/2/2003, [oPJV]

   DC202   CP     31 - body, behind fence, Sunshine, 3/2/2003, [oPJV]

   DC206   CP     31 - body, south side, behind fence, Sunshine, 3/2/2003, [oPJV]

   BD128   CP     33 - s2, Bendigo, 1/11/1976, [oRXO]

   BB048   CP     36 - 3 window doors, North Melbourne C&W, 18/6/1984, [oPJV]

   BB437   CP     36 - 3w doors, North Melbourne C&W, 20/8/1984, [oPJV]

   B1552   CP     39 - part view, East Yard, 3/4/1978, [oPJV]

   CC369   CP     39 - s1, Ararat, 29/4/1978, [oPJV]

   BD303   CP     40 - part view, end of pass car set, Wodonga, 12/4/1975, [oPJV]

   BD300   CP     40 - s1e2q, Wodonga, 12/4/1975, [oPJV]

   BD287   CP     40 - s1p, Wodonga, 12/4/1975, [oPJV]
   Diagrams   for  'CP  '

   FileID  Description................................................



   11827   CP        -  Baggage van, [sPJV]

   11846   CP        -  sketch, 1978, [oBAU]

 
   Photos   for  'VVCP  '

   FileID  Description................................................



   BR443   VVCP      3, Flinders Street Yard, 27/11/1984, [oPJV]

   BB051   VVCP     21 - 3 window doors, North Melbourne C&W, 18/6/1984, [oPJV]

   AX417   VVCP     22 - and cars on track, Wobbies World, 22/9/1997, [oPJV]

   AX424   VVCP     22M- lettering/PV dates, Wobbies World, 22/9/1997, [oPJV]

   AX425   VVCP     22M- site, car line, Wobbies World, 22/9/1997, [oPJV]

   BB438   VVCP     23, North Melbourne C&W, 20/8/1984, [oPJV]

 
   No diagrams found for VVCP   
---
File c107m compiled by Peter J. Vincent, updated 1/6/2007