---
JBF / VHBY - Briquette Transport
---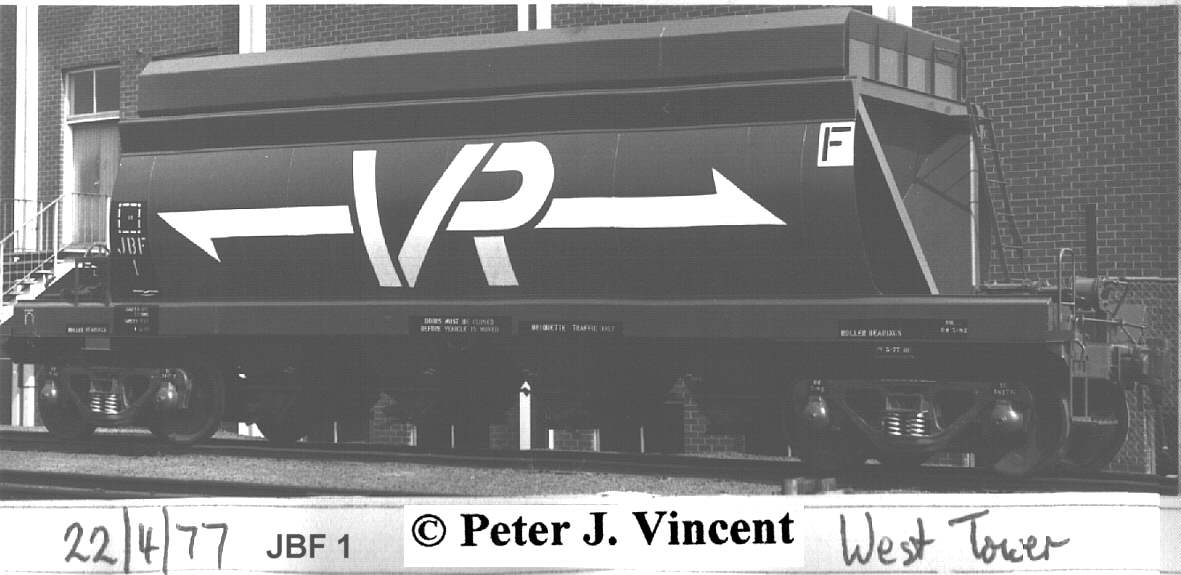 JBF
Briquettes are produced from brown coal mined in the Latrobe Valley. They are combustable "biscuits" made by compressing brown coal dust under extreme pressure. Briquettes have been made since the late 1920's, using technology acquired from the Germans.
Normal transport up to the late 1970's was via standard _I__ and _IA_ wagons which by 1977 were being phased out.
Thirty five bogie wagons were built to the JQX_ style in 1977/1978. The class was JBF with numbers 1 to 35. A "hungry board" section was added to the standard hopper design when built.
The wagons ran in traffic between Morwell and the briquette discharge siding at Footscray,and between Morwelland the Nestles factoryat Dennington.
In the 1979 recoding the wagons were classed VHBY.
The last vehicle JBF 32 was modified for quarry traffic and reclassed to VHQY 421 in 1982.
VHBY
By mistake, JBF 30 was stencilled VHQY 30 for a couple of days until corrected.
In 1982, two wagons were modified for quarry traffic and reclassed to VHQY.
In 1984 all the class but two were withdrawn from briquette traffic. They had been replaced by the VHEY class. The class was modified for ballast discharge and reclassed to VHMY. The remaining two wagons were probably used to support briquette traffic to Dennington, near Warnambool, site of a factory.
In 1986 the last two wagons were modified to VHQY.
   Photos   for  'JBF  '

   FileID  Description................................................



   AM086   JBF      1, [oPJV]

   AK304   JBF      2, Caulfield, 6/7/1977, [oPJV]

   AK281   JBF      3, Caulfield, 6/7/1977, [oPJV]

   AK292   JBF      4, Caulfield, 6/7/1977, [oPJV]

   AJ818   JBF      5, Caulfield, 6/7/1977, [oPJV]

   AJ816   JBF      5 - 10 x JBFs on train rear, Caulfield, 6/7/1977, [oPJV]

   AK231   JBF      6, Caulfield, 6/7/1977, [oPJV]

   AK300   JBF      7, Caulfield, 6/7/1977, [oPJV]

   AK270   JBF      8, Caulfield, 6/7/1977, [oPJV]

   DT317   JBF      9, Flinders Street Yard, 4/8/1980, [oPJV]

   AK305   JBF     11, Caulfield, 6/7/1977, [oPJV]

   B1531   JBF     14 - s1e2c, North Melbourne C&W Shops, 1/4/1978, [oPJV]

   AK282   JBF     15, Caulfield, 6/7/1977, [oPJV]

   BY848   JBF     22, Flinders Street Yard, 4/8/1980, [oPJV]

   DT055   JBF     33, Flinders Street Yard, 4/8/1980, [oPJV]

 
   Diagrams   for  'JBF  '

   FileID  Description................................................



   AS688   JBF        -  diagram J-9, 18/4/1978, [oPTC]

 
   Photos   for  'VHBY  '

   FileID  Description................................................



   BA307   VHBY      5 - prototype ballast hopper / 3 door types, Melbourne Yard, 3/1984, [oNXB]

   BP933   VHBY      6 - s1e2, Hump Yard, 28/2/1980, [oPJV]

   BA336   VHBY      8J- discharge doors removed, Bendigo, c1986, [oNXB]

   BI151   VHBY      9, North Melbourne C&W Shops, 2/11/1981, [oPJV]

   DT135   VHBY     17 - being lifted, end on jacks, North Melbourne C&W Shops, 1/5/1979, [oPJV]

   BA341   VHBY     21, Tottenham Yard, c1986, [oNXB]

   BB054   VHBY     25 - ballast wagon proto, discharge door, North Melbourne C&W, 18/6/1984, [oPJV]

   BB056   VHBY     25 - ballast wagon proto, e1, platform, North Melbourne C&W, 18/6/1984, [oPJV]

   BB052   VHBY     25 - ballast wagon proto, hopper interior, North Melbourne C&W, 18/6/1984, [oPJV]

   BB053   VHBY     25 - ballast wagon proto, plaform/controls, North Melbourne C&W, 18/6/1984, [oPJV]

   BB057   VHBY     25 - ballast wagon proto, s1, discharge doors, North Melbourne C&W, 18/6/1984, [oPJV]

   BB055   VHBY     25 - ballast wagon proto, VR, s2, North Melbourne C&W, 18/6/1984, [oPJV]

   BO293   VHBY     31 - s1e2, North Melbourne C&W, 21/1/1981, [oPJV]

   AR368   VHBY    325, [oBAU]

 
   No diagrams found for VHBY   
---
File c147m compiled by Peter J. Vincent, updated 2/7/2007