---
ABL - First/Second Class Swing Door Corridor Car
---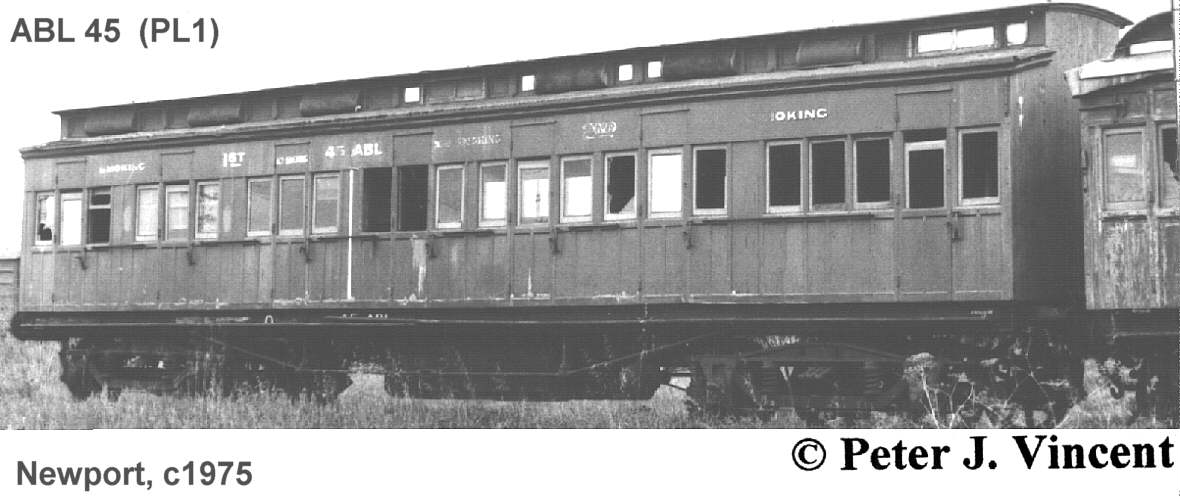 There were 59 cars in the class. Fifty eight were built between 1899 and 1903 as ABC ( C denoted 'Corridor' ). Car 12 _AC_ became 59 ABC in 1908.
These cars are swing door dog box type with a narrow side corridor. In 1892, the railways modified twelve "dogbox" _AA_ class cars with side corridors but no end vestibule connections. These cars were later coded _AC_, then _AL_ then _BL_.
The 1890's saw the start of a push for access to toilets on trains. Previous access was limited to station stops or specified compartments on trains requiring a station stop anyway.
The ABL's were interesting in that they featured a white vertical line on the outside of the car to indicate the division between First and Second Class compartments.
The cars were removed from service between 1956 and 1968. Most were cut up, some were converted to _WW_, with some being chopped into sections and placed on four wheel underframes as _HD_ 225 - 229 Plant Store vans.
   Photos   for  'ABL  '

   FileID  Description................................................



   CP850   ABL        -  eXp, stored, Newport Workshops, 1980s, [oPHD]

   CP853   ABL     42, 1960s, [sPHD]

   CP854   ABL     42 - eXq, end gas pipe/steps, 1960s, [sPHD]

   BL089   ABL     45 - white stripe 1st/2nd, Newport Goods Yard, 19/9/1975, [oPJV]
   Diagrams   for  'ABL  '

   FileID  Description................................................



   BF661   ABL        -  (ABc), [sPJV]

   BF664   ABL        -  (ABc), [sPJV]

   BF665   ABL        -  (ABc), [sPJV]

 
---
File c135m compiled by Peter J. Vincent, updated 26/6/2007