---
BL - Second Class Corridor Car
---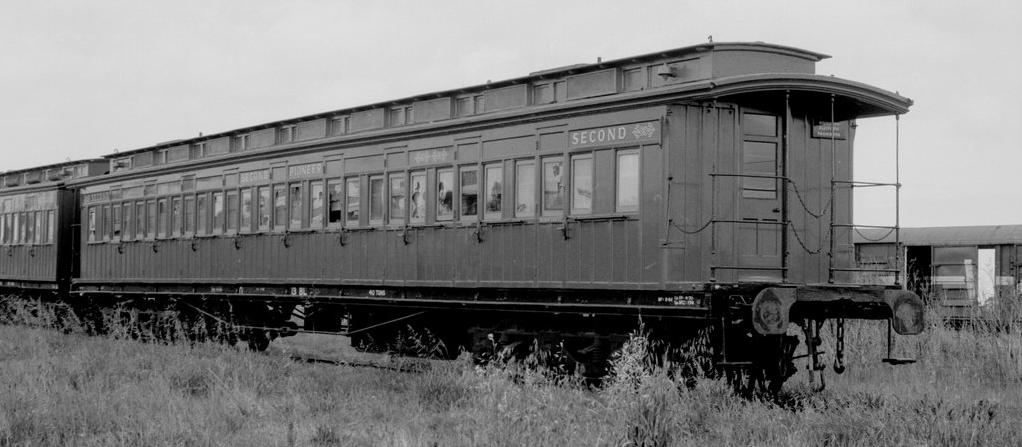 The class of BL cars were recoded from _AL_ cars in 1913. These cars were numbered 1 - 10, with numbers retained.
BL 11 was recoded from ABL_ 59 in 1918.
BL 12 and 13 were renumbered from "Pioneer 1st" and "Pioneer 2nd" respectively, in 1921.
The "Pioneer" cars were built in 1893 for traffic on the Bendigo line.
The BL cars were removed from service in the early 1960's.
BL 12 and 13 were used on circus trains as accommodation cars for many years. Circus performers complained continually about the poor accommodation given, particularly when they were given lavish settings on overseas rail systems.
In 1963 BL 12 was named "Enterprise" and BL 13 named "Pioneer".
   Photos   for  'BL  '

   FileID  Description................................................



   CP890   BL        -  roof detail, Newport Workshops, 1980s, [oPHD]

   CP891   BL        -  roof/end detail, Newport Workshops, 1980s, [oPHD]

   BL299   BL     12 -  Enterprise , Newport Goods Yard, 19/9/1975, [oPJV]

   AV067   BL     12 - Enterprise, RESERVED sign, Newport Workshops, 6/5/1980, [oPJV]

   DJ634   BL     12 - Enterprise, TO BE PRESERVED ..., Newport Workshops, 6/5/1980, [oPJV]

   DJ641   BL     12 - Enterprise, TO BE PRESERVED ... 2, Newport Workshops, 6/5/1980, [oPJV]

   BU349   BL     13, c1990, [oSXH]

   BL085   BL     13 -  Second Pioneer , Newport Goods Yard, 19/9/1975, [oPJV]

   DS819   BL     13 - bogie, Flinders Street Yard, 2/10/1980, [oPJV]

   BB966   BL     13 - bogie p, Newport Workshops, 2/4/1981, [oPJV]

   BB967   BL     13 - bogie q, Newport Workshops, 2/4/1981, [oPJV]

   BB964   BL     13 - e2p, Newport Workshops, 2/4/1981, [oPJV]

   BB963   BL     13 - e2q, Newport Workshops, 2/4/1981, [oPJV]

   BL083   BL     13 - eXp, Newport Goods Yard, 19/9/1975, [oPJV]

   BL082   BL     13 - eXq, Newport Goods Yard, 19/9/1975, [oPJV]

   BL084   BL     13 - eXqo, Newport Goods Yard, 19/9/1975, [oPJV]

   BB962   BL     13 - s2e2c,  Second Pioneer , Newport Workshops, 2/4/1981, [oPJV]

   BB965   BL     13 - s2p, Newport Workshops, 2/4/1981, [oPJV]

   DS179   BL     13 - sXp, Flinders Street Yard, 2/10/1980, [oPJV]

   BY820   BL     13 - sXq, Flinders Street Yard, 2/10/1980, [oPJV]

 
   No diagrams found for BL   
---
File c170m compiled by Peter J. Vincent, updated 27/7/2007