---
CJ / VHCA - Bogie Cement Hopper
---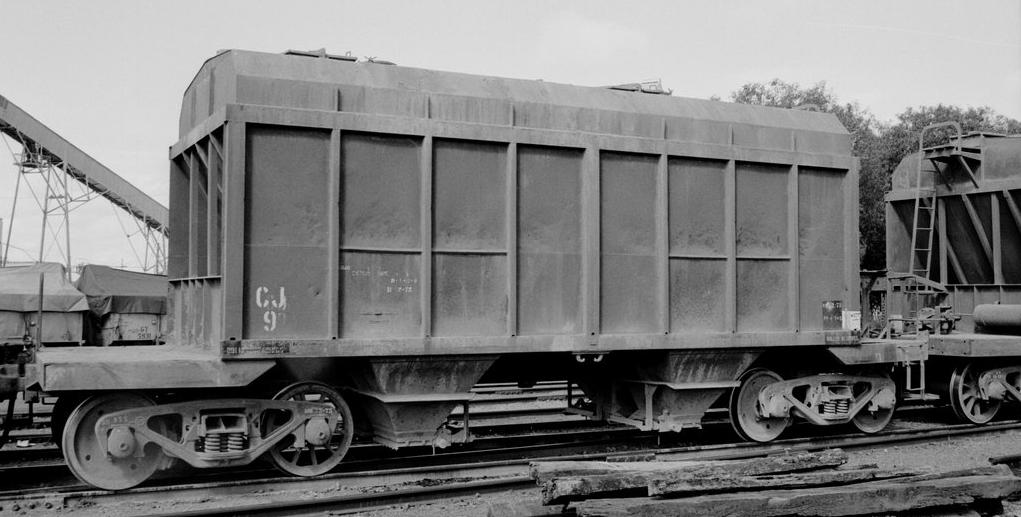 CJ
Ninety seven gravity discharge cement hoppers were built or converted to transport cement powder from Fyansford to Melbourne.
Twelve wagons were converted from the bogie open hopper wagons purchased in 1925 coded _J__. The J wagons were used unsatisfactorily in coal, ballast and grain traffic.
In the mid 1960's the capacity for CJ wagons was raised and the modified vehicles were recoded to CJF_. As the "brake force to load" ratio was incorrect for 'F' designated vehicles, the class were recoded back to CJ.
The two most interesting wagons were CJ 16 and CJ 46. They both went into North Melbourne for conversion from CJF to CJ and were returned to traffic with swapped numbers. So CJ 16 in running during 1975 was built as CJ 46, and CJ 46 at 1975 was built as CJ 16.
The 1979 recode for these vehicles was VHCA.
CJ wagons 9, 52 and 58 were removed from service 1983 / 1985 and were not recoded.
VHCA
The CJ wagons were recoded to VHCA between 1979 and 1984.
The wagons coded to VHCA were numbers 1 - 8, 10 - 51, 53 - 57, 59 - 97.
In 1981, VHCA 83 was modified and recoded to VHLA.
Between 1984 and 1993 VHCA wagons had the top covers removed and were placed into gypsum traffic as open top hoppers.
In 1985 VHCA 48 and 64 were scrapped. Some records show VHCA still coded CJ.
VHCA 55 was sighted at Ararat painted in grey during 1996.
Types
By 1975 there were three main types of CJ:
Standard extended hopper

These were numbered 1 - 5, 7 - 13, 15 - 50, 55 - 79, 88 - 97

Trial extended hopper

These were numbered 6 and 14. Both vehicles feature a 'Mansard' roof type top. From the conversion dates these were the first two vehicles done which leads me to speculate they were a trial modification

Ex J open hopper wagons

There were 12, numbered 51 - 54 and 80 - 87.
   Photos   for  'CJ  '

   FileID  Description................................................



   DE793   CJ        -  roof detail, original design, Arden Street sidings, 1950s, [oPTC]

   CM977   CJ      1 - s2, Arden Street, 1970s, [oBAU]

   CG144   CJ      3 - lettering/panel lugs detail, Arden Street Sidings, 25/4/1978, [oPJV]

   CG121   CJ     11, 4/1978, [oPJV]

   CG151   CJ     13 -  3  upside down, Arden Street Sidings, 26/4/1978, [oPJV]

   CG152   CJ     13 - lettering: 3 inverted, Arden Street Sidings, 26/4/1978, [oPJV]

   BB583   CJ     14 - part view, Tottenham Yard, 29/3/1981, [oPJV]

   CF554   CJ     16 - s1, Arden Street, 28/4/1978, [oPJV]

   CF528   CJ     16 - s2e1, Arden Street, 26/4/1978, [oPJV]

   BG665   CJ     19 - s2e2, Newport Workshops, 27/1/1976, [oPJV]

   B3257   CJ     22 - bogie XB 2, North Geelong Yard, 25/3/1979, [oPJV]

   B3259   CJ     22 - fitted XB 202, North Geelong Yard, 25/3/1979, [oPJV]

   DQ664   CJ     25 - s2, Bendigo North Workshops, 1/11/1976, [oRXO]

   BF010   CJ     28 - L4, s1e1, Newport Workshops, 20/9/1975, [oPJV]

   CF502   CJ     31, Arden Street, 28/4/1978, [oPJV]

   CG153   CJ     31 - s2e1c, Arden Street Sidings, 26/4/1978, [oPJV]

   CG124   CJ     38 - s1e2, 4/1978, [oPJV]

   DE802   CJ     39 - s2e2, unmodified, cast bogies, Arden Street sidings, 1950s, [oPTC]

   CG123   CJ     40 - discharge hopper/blank pipe details, 4/1978, [oPJV]

   CG122   CJ     40 - s2e1c, 4/1978, [oPJV]

   B2967   CJ     44, Arden Street, 1/4/1978, [oPJV]

   CM978   CJ     46, 1970s, [oBAU]

   BM692   CJ     48 - s2e2, North Geelong Yard, 5/9/1982, [oPJV]

   BM693   CJ     48 - Waybill, North Geelong Yard, 5/9/1982, [oPJV]

   CF494   CJ     49, Arden Street, 28/4/1978, [oPJV]

   CP946   CJ     51 - full length roof/cement, s1e2, Arden Street, 1960s, [oPTC]

   CP866   CJ     51 - full length roofline, Newport Workshops, 1960s, [sPHD]

   DE964   CJ     51 - part view, end, 1960s, [sPHD]

   CP947   CJ     51 - s1e2c, 1960s, [sPHD]

   CG115   CJ     52, 4/1978, [oPJV]

   CF551   CJ     53, North Melbourne, 27/4/1978, [oPJV]

   CM979   CJ     53 - s2, Arden Street, 1970s, [oBAU]

   CG161   CJ     54, Arden Street Sidings, 26/4/1978, [oPJV]

   CF550   CJ     58 - lettering 8 upside down, North Melbourne, 27/4/1978, [oPJV]

   BM688   CJ     58 - s1 part view, hopper repairs/cutouts, North Geelong Yard, 5/9/1982, [oPJV]

   BM687   CJ     58 - s1e1, hopper repairs/cutouts, North Geelong Yard, 5/9/1982, [oPJV]

   DE801   CJ     58*- part view, unmodified, Arden Street sidings, 1950s, [oPTC]

   CG114   CJ     63, 4/1978, [oPJV]

   CM980   CJ     67 - s2e2c, Arden Street, 1970s, [oBAU]

   B2976   CJ     72, Arden Street, 1/4/1978, [oPJV]

   B2969   CJ     78, Arden Street, 1/4/1978, [oPJV]

   CF527   CJ     80 - s1, Arden Street, 26/4/1978, [oPJV]

   DE800   CJ     82 - lettering:  ..fitted..roller bearings.. , 43 tons, Arden Street sidings, 1950s, [oPTC]

   DE799   CJ     82 - raised full length hopper roof, roller bearings, Arden Street sidings, 1950s, [oPTC]

   B2974   CJ     83 - lettering: two CJ 83 stencils, Arden Street, 1/4/1978, [oPJV]

   B2973   CJ     83 - two CJ 83 lettering groups, Arden Street, 1/4/1978, [oPJV]

   CG162   CJ     84, Arden Street Sidings, 26/4/1978, [oPJV]

   CM981   CJ     92 - s1e1, Arden Street, 1970s, [oBAU]

 
   Diagrams   for  'CJ  '

   FileID  Description................................................



   CP865   CJ        -  GA CJ1, 1949, [oPTC]
   Photos   for  'VHCA  '

   FileID  Description................................................



   BC008   VHCA        - e1 platform, handbrake, c1989, [oNXB]

   AY117   VHCA        - rake at Arden St, North Melbourne, 26/12/1983, [oPJV]

   CB802   VHCA        - roof hatch, North Melbourne, 11/2000, [oJAB]

   BB269   VHCA        - top, Arden Street, c1988, [oNXB]

   BA342   VHCA      1Y, Riddells Creek, 6/1991, [oNXB]

   BO770   VHCA      3 - s2e1, North Geelong Yard, 5/9/1982, [oPJV]

   BA345   VHCA      4S, North Shore, 7/1997, [oNXB]

   BR228   VHCA      5, North Geelong Yard, 4/1/1981, [oPJV]

   BX718   VHCA      6, Arden Street Sidings, 12/10/1980, [oPJV]

   BB276   VHCA      6N, Fyansford, 5/1995, [oNXB]

   BP792   VHCA      7 - s2e1, Arden Street, 3/3/1982, [oPJV]

   BO772   VHCA     10 - s1e2, North Geelong Yard, 5/9/1982, [oPJV]

   CB803   VHCA     10N- part view, North Melbourne, 11/2000, [oJAB]

   BB276   VHCA     10N- part view, end, Fyansford, 5/1995, [oNXB]

   BB176   VHCA     10N- s1, Geelong Cement sign, Arden Street Sidings, c1988, [oNXB]

   BB178   VHCA     10N- s2e2, Geelong Cement sign, Arden Street Sidings, 2/1994, [oNXB]

   BB177   VHCA     10N- top view, along VHCA rake, Arden Street Sidings, c1988, [oNXB]

   DT098   VHCA     12, North Geelong Yard, 31/8/1980, [oPJV]

   BP077   VHCA     13 - part view, North Geelong Yard, 5/9/1982, [oPJV]

   BV784   VHCA     15, North Geelong Yard, 9/5/1979, [oPJV]

   BV778   VHCA     15 - hopper/vibrator pad, North Geelong Yard, 9/5/1979, [oPJV]

   BV768   VHCA     15 - lettering/bogie XB 800, North Geelong Yard, 9/5/1979, [oPJV]

   BY801   VHCA     17, Arden Street, 7/8/1980, [oPJV]

   BB726   VHCA     20 - s1e2, North Geelong, 29/3/1981, [oPJV]

   BA345   VHCA     21H- part view, North Shore, 7/1997, [oNXB]

   BB175   VHCA     22Q- distant view, s2e1, North Melbourne, c1987, [oNXB]

   BY264   VHCA     23, North Geelong Yard, 12/10/1980, [oPJV]

   BD896   VHCA     25 - s1e2, North Geelong Yard, 26/8/1984, [oPJV]

   BD895   VHCA     26G- s2e1, North Geelong Yard, 26/8/1984, [oPJV]

   BB174   VHCA     31P- s1e2, mod doors, Fyansford, 7/1994, [oNXB]

   BB173   VHCA     31P- s2e1, mod doors, Geelong, 1/1992, [oNXB]

   BD894   VHCA     32 - s2e1, North Geelong Yard, 26/8/1984, [oPJV]

   BV144   VHCA     33, North Geelong Yard, 9/11/1980, [oPJV]

   BB174   VHCA     33K- part view s1e2, Fyansford, 7/1994, [oNXB]

   BF849   VHCA     35 - s1e2, North Geelong Yard, 27/9/1981, [oPJV]

   BY548   VHCA     39, Arden Street, 7/8/1980, [oPJV]

   BB173   VHCA     39 - part view, e1, Geelong, 1/1992, [oNXB]

   BB277   VHCA     41 - top removed, cast bogies, at ACI Pilk., Dandenong, 8/1997, [oNXB]

   BB266   VHCA     43S, Geelong, c1988, [oNXB]

   CB804   VHCA     44E- from height, s2e1, deck, North Melbourne, 22/11/2000, [oJAB]

   BF851   VHCA     45 - s1e2, North Geelong Yard, 27/9/1981, [oPJV]

   BD904   VHCA     45N- s1e2, North Geelong Yard, 26/8/1984, [oPJV]

   CB805   VHCA     49D- s2e1, Fyansford, 7/1996, [oJAB]

   BR182   VHCA     50, North Geelong Yard, 4/1/1981, [oPJV]

   BB267   VHCA     51X- s2, top removed, Newport Workshops, 1984, [oNXB]

   BF850   VHCA     53 - s1e1, ex J, North Geelong Yard, 27/9/1981, [oPJV]

   BB755   VHCA     54 - s2e1, North Geelong, 29/3/1981, [oPJV]

   DS194   VHCA     57, Arden Street, 7/8/1980, [oPJV]

   BB724   VHCA     60 - s1e2, North Geelong, 29/3/1981, [oPJV]

   BB795   VHCA     60 - s1e2, North Geelong, 29/3/1981, [oPJV]

   BR229   VHCA     65, North Geelong Yard, 4/1/1981, [oPJV]

   BD905   VHCA     68 - s1e2, North Geelong Yard, 26/8/1984, [oPJV]

   BA342   VHCA     68K- part view, Riddells Creek, 6/1991, [oNXB]

   BD906   VHCA     72 - s2e1, North Geelong Yard, 26/8/1984, [oPJV]

   BB728   VHCA     74 - s1e2, North Geelong, 29/3/1981, [oPJV]

   BB725   VHCA     75 - s2e1, North Geelong, 29/3/1981, [oPJV]

   AW995   VHCA     78 - s1, Arden St, 10/6/1983, [oPJV]

   BP791   VHCA     79 - s1e2, Arden Street, 3/3/1982, [oPJV]

   BO771   VHCA     79 - s2e1, North Geelong Yard, 5/9/1982, [oPJV]

   BP081   VHCA     82 - s1e2, North Geelong Yard, 5/9/1982, [oPJV]

   BB268   VHCA     82S- s2, top removed, Newport, c1984, [oNXB]

   BO773   VHCA     84 - s2e1, North Geelong Yard, 5/9/1982, [oPJV]

   BY239   VHCA     85 - s2e1c, Arden Street, 7/8/1980, [oPJV]

   BO774   VHCA     87 - s1e2, North Geelong Yard, 5/9/1982, [oPJV]

   BD893   VHCA     90X- s2e1, Geelong, 26/8/1984, [oPJV]

   BW086   VHCA     91, North Geelong Yard, 9/5/1979, [oPJV]

   BY136   VHCA     93, North Geelong Yard, 31/8/1980, [oPJV]

   BB727   VHCA     93 - s2e1, North Geelong, 29/3/1981, [oPJV]

 
   No diagrams found for VHCA   
---
File c108m compiled by Peter J. Vincent, updated 1/6/2007