---
J - Bogie Open Hopper
---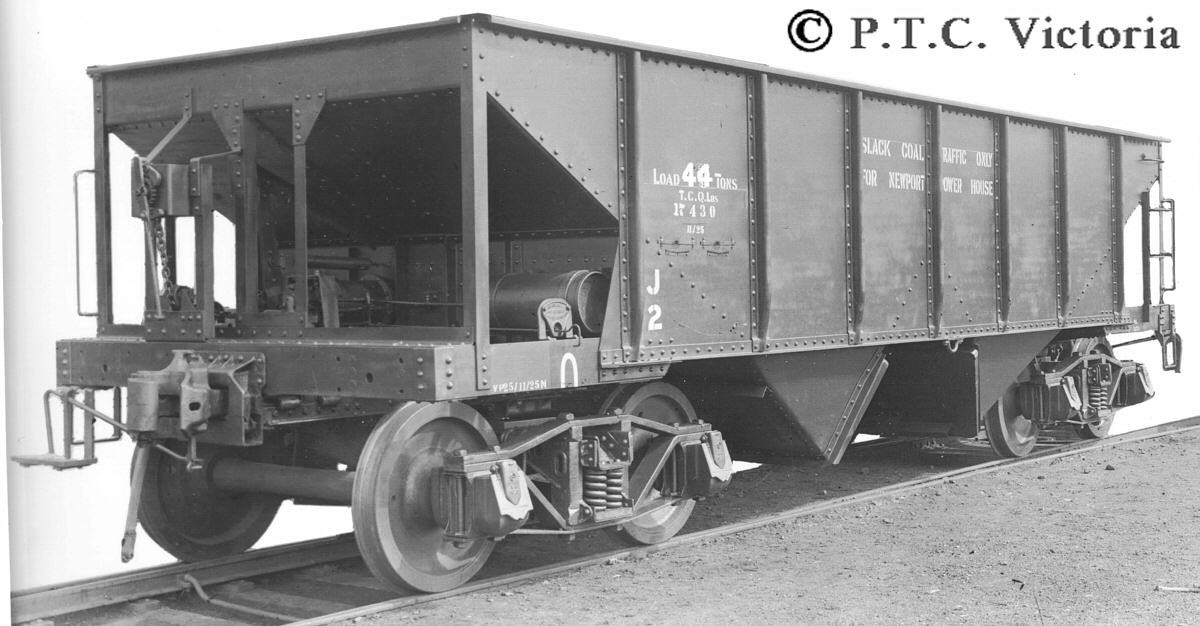 With South Australian Railways (SAR) stimulus, the Victorian Railways purchased some bogie wagons in 1925. These orders were apparently an extension of the SAR contract. One of the orders was for hopper wagons.
The wagons were built as kits by American Car and Foundry, assembled at Newport Workshops and went into service in 1925. The hopper wagons were classed as J with numbers 1 to 12.
They were intended for coal traffic. Markings indicate 'Slack coal traffic'. Reports say they were unsuitable. The main reason being the slope sheets were too shallow and the coal did not discharge fully. The traffic was presumably brown coal as _O__ wagons at the time were transporting brown coal from Yallourn to the Newport Power Station.
The wagons were placed into ballast traffic from the late 1920's. The wagons were in briquette traffic in the late 1930's and ballast traffic again in the 1950's.
In about 1957, J 8 was modified to carry bulk grain. The wagon hopper was covered the entire length with a raised top, similar to the CJ wagons at the time. In late 1958 the wagon re-entered Newport Workshops and was converted to _CJ_ 51. This was the first of the J wagons to be converted.
   Photos   for  'J  '

   FileID  Description................................................



   CF720   J        -  gaps between hopper bins, Ballarat Workshops, 17/4/1978, [oPJV]

   BU831   J        -  part view, behind hearse platform trolley, Springvale Cemetery, 1920s, [sPJV]

   BE732   J        - body in paddock, Romsey, 7/10/1984, [oPJV]

   AD133   J        - hearse being rebuilt for display, 1990, [sPJV]

   AD132   J        - hearse body, [sPJV]

   AL437   J        - in consist, no pipe extentions, Richnond, 9/1968, [oPJV]

   DE797   J      2 - bogie/detail, s2@e2, 11/1925, [oPTC]

   DE795   J      2 - bogie/lettering, 11/1925, [oPTC]

   DE796   J      2 - centre detail/hoppers/lettering:  .. Slack Coal ..  , 11/1925, [oPTC]

   DE798   J      2 - lettering/builders plate, 11/1925, [oPTC]

   DE965   J      2 - s2e1c, Slack Coal, 11/1925, [oPTC]

   CP938   J      2 - s2p,  Slack Coal Traffic , c1926, [oPTC]

   DE818   J      2 - s2p, (RS242), Slack Coal Traffic Only, 11/1925, [oPTC]

   BE219   J      2F- s2e1, North Geelong, 26/8/1984, [oPJV]

   BR225   J      3 - s1 bent pipe, North Geelong Yard, 4/1/1981, [oPJV]

   BA264   J      3 - s1, 1 x low/1 x high pipe, Castlemaine, 22/4/1979, [oPJV]

   DE972   J      4 - bogie, lift shops, unlettered, s2e1, Newport Workshops, 1940s, [sPHD]

   DE971   J      6 - bogie, hopper doors/ajar, s2p, unlettered, 1930s, [sPHD]

   AW710   J      6 - hopper, 1920s, [sMDN]

   BY441   J      6 - s1, North Geelong Yard, 29/4/1979, [oPJV]

   B1494   J      7 - e1 under deck/pipe outlet, Victoria Park, 14/4/1978, [oPJV]

   B1493   J      7 - e1p, Victoria Park, 14/4/1978, [oPJV]

   B1492   J      7 - e1q, Victoria Park, 14/4/1978, [oPJV]

   DF985   J      7 - restored van, as #7, Fawkner, 2/9/2004, [sPJV]

   B1491   J      7 - s2, Victoria Park, 14/4/1978, [oPJV]

   BB890   J      7 - s2e1, Tottenham Yard, 5/4/1981, [oPJV]

   BW578   J      9 - s1 high pipes, Echuca, 15/4/1979, [oPJV]

   BL169   J     10 - part view, North Geelong Yard, 12/9/1982, [oPJV]

   BL170   J     10 - part view, North Geelong Yard, 12/9/1982, [oPJV]

   CZ481   J     10 - s1, Dandenong, 14/11/1976, [oRXO]

   DA606   J     10 - s2, Dandenong, 17/7/1976, [oPJV]

   DB211   J     10S- off track on ground, east section, Newport Workshops, 6/1/2003, [oPJV]

   BV153   J     11 - s2, North Geelong Yard, 9/11/1980, [oPJV]

   CG002   J     12 - s1, unloading, Avoca, 18/4/1978, [oPJV]

   CG004   J     12 - unloading/council works, Avoca, 18/4/1978, [oPJV]

   BY847   J     12*, North Geelong Yard, 29/4/1979, [oPJV]

   BE218   J     13W- s1e2, North Geelong, 26/8/1984, [oPJV]

   DS051   J     15 - low pipes, s1, North Geelong Yard, 12/10/1980, [oPJV]

   BH197   J     17 - s1e2, straight pipes, Shepparton, 15/3/1981, [oPJV]

   BR227   J     18 - s1 straight pipe, North Geelong Yard, 4/1/1981, [oPJV]

   BR796   J     18 - s1e2, Echuca, 23/11/1980, [oPJV]

   BG063   J     23 - s1e2, straight pipes, North Geelong Yard, 27/9/1981, [oPJV]

   CN065   J     23 - s2, Dandenong, 1970s, [oBAU]

   BW207   J     24 - s1, North Geelong Yard, 9/5/1979, [oPJV]

   AR905   J     25 - s1, high pipes, Bendigo, 22/4/1979, [oPJV]

   BG064   J     26 - s1e2, straight pipes, North Geelong Yard, 27/9/1981, [oPJV]

   BB209   J     31U- s2, Lilydale, 13/7/1984, [oPJV]

   AH237   J     32, North Geelong Yard, 29/4/1979, [oPJV]

   BR797   J     33 - bent pipe detail, Echuca, 23/11/1980, [oPJV]

   BV152   J     33 - bent pipes, North Geelong Yard, 9/11/1980, [oPJV]

   BB743   J     37 - s1, low pipes, North Geelong, 29/3/1981, [oPJV]

   DA607   J     38 - s1, hi to low pipes, Dandenong, 17/7/1976, [oPJV]

   BB208   J     39A- s2, Lilydale, 13/7/1984, [oPJV]

   CA908   J     46 - hopper detail: raised section, Echuca, 15/4/1979, [oPJV]

   BR183   J     46 - s1 straight pipe, North Geelong Yard, 4/1/1981, [oPJV]

   CA909   J     46 - s2e1, Echuca, 15/4/1979, [oPJV]

   DS289   J     49 - s2, North Geelong Yard, 29/4/1979, [oPJV]

   BV608   J     51 - s1e2c, North Geelong Yard, 9/5/1979, [oPJV]

   BV605   J     51 - with J 55, North Geelong Yard, 9/5/1979, [oPJV]

   BA147   J     53 - s1, straight pipes, Dandenong, 29/8/1976, [oRXO]

   BG057   J     53 - s1e1, straight pipes, North Geelong Yard, 27/9/1981, [oPJV]

   BV605   J     55 + J 51, North Geelong Yard, 9/5/1979, [oPJV]

   BB516   J     57 - s1, straight pipes, Tottenham Yard, 29/3/1981, [oPJV]

   BL773   J     64 - s1e2, Echuca, 13/4/1980, [oPJV]

   AU874   J     65 - s1e2, low pipe, North Melbourne, 2/1977, [oPJV]

   AH238   J     66 - s1 low pipe, North Geelong Yard, 29/4/1979, [oPJV]

   AR875   J     68 - s1, high pipes, Bendigo, 22/4/1979, [oPJV]

   BY960   J     69, North Geelong Yard, 29/4/1979, [oPJV]

   BY624   J     71 - s1, North Geelong Yard, 29/4/1979, [oPJV]

   BA155   J     72 - s1, Dandenong, 14/11/1976, [oRXO]

   CG003   J     72 - s1, Avoca, 18/4/1978, [oPJV]

   CB101   J     73 - part view, East Yard, 16/4/1979, [oPJV]

   BA157   J     75 - s1e2, straight pipe, Dandenong, 14/11/1976, [oRXO]

   BM465   J     76 - part view, Echuca, 11/5/1980, [oPJV]

   BR226   J     77 - s1 straight pipe, North Geelong Yard, 4/1/1981, [oPJV]

   BA158   J     77 - s2, Westall, 12/1976, [oRXO]

   CN066   J     77 - s2e1, Dandenong, 1980s, [oBAU]

 
   Diagrams   for  'J  '

   FileID  Description................................................



   BF698   J        -  (C), [sPJV]

   CP839   J        -  bogie hopper, ACF GA 6575297, 24/1/1925, [sPHD]

 
---
File c200m compiled by Peter J. Vincent, updated 25/8/2007