---
UB / VLAA - Bogie Louvre Van
---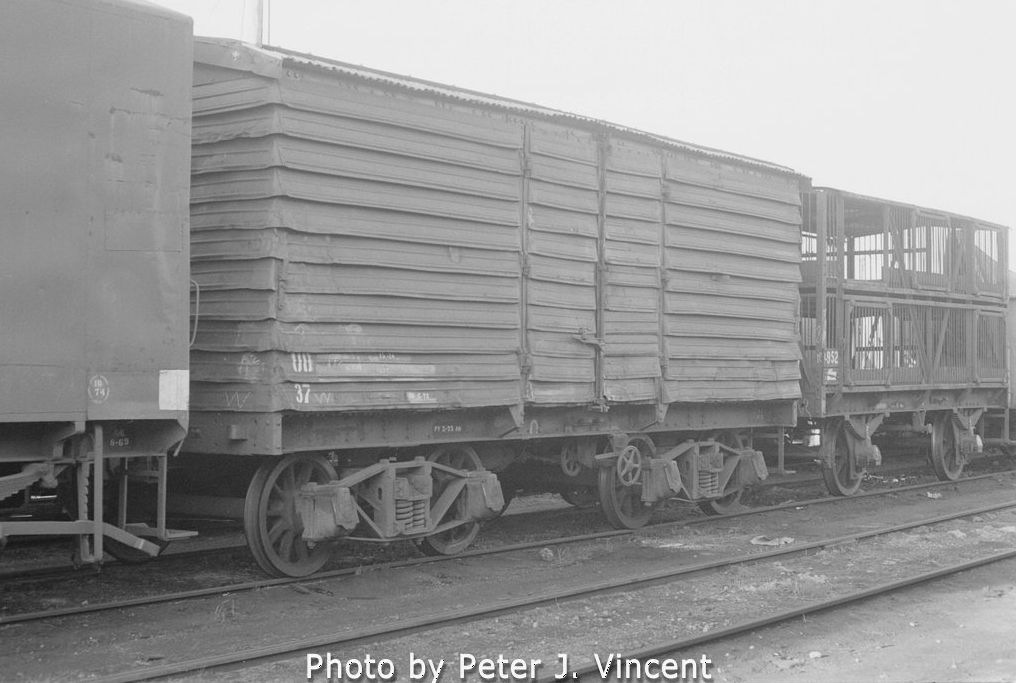 UB
Six wheel _U__ louvre vans were being converted to four wheels and auto-couplers in 1933/34. Opportunity was taken across two projects to convert 60 No. U louvre vans to bogie, auto coupled stock. The projects spanned one block of 50 vans and a followup block of 10 vans. The conversion was to autocoupler 'pockets' with transition hooks used to match existing hook coupled stock. At required times through to the 1950's, the transition hooks were replaced with auto couplers.
The UB numbers were 1 to 60.
UB vans found service behind railmotors on lightly used branch lines. They were originally fitted with diamond frame bogies. These were the bogies that were dispaced from _QR_ open wagons by barframe bogies. One can wonder whether the intention was to use the bogies up, thereby saving money in the autocoupler project.
Probably about the 1940's, some UB's were fitted with welded steel frame bogies more suitable to passenger speeds. And for use on passenger trains and railmotor traffic, the vans were fitted with side lamp brackets and tail discs. Hence these fittings still attached when running as UB vans in the late 1970's.
From 1955, the railways introduced a code system to identify vehicle speeds. This was an urgent consideration as the new 'standard guage' link was under construction and fast goods vehicles were to be marshalled in trains. The UB vehicles in passenger traffic were coded _UP_, the "P" denoting passenger speed. With the reduction of UP traffic in the early 1960's, the vans were recoded back to UB.
In the early 1960's, some UB vans were fitted with fast freight bogies and recoded to _UF_.
VLAA
The last UB in service, UB 56 was recoded to VLAA 56 in 1981. Documents indicated the code for UB would be 'VLLA', but this was a typing mistake.
The van was out of service by 1984.
In 1992 is was sighted at Spotswood Workshops, held for preservation.
   Photos   for  'UB  '

   FileID  Description................................................



   CQ780   UB        -  brake rigging 2, c1978, [sPHD]

   CQ781   UB        -  brake rigging 3, s2 handbrake wheel/lever, c1978, [sPHD]

   CQ779   UB        -  brake rigging detail/levers/cylinder, c1978, [sPHD]

   DF047   UB        -  detail: s2 brake lever/eqmt, 1970s, [oPHD]

   DF045   UB        -  handbrake/brake rodding, triple valve/res, 1970s, [oPHD]

   CN293   UB        -  Off Reg, CONDEMNED, s1e2c, louvres missing, Rangelea, 1970s, [oBAU]

   DF046   UB        -  undergear/brake res/levers/triple valve, 1970s, [oPHD]

   BC995   UB      2 - s1p, panel on door, East Yard, 19/10/1976, [oRXO]

   BC996   UB      2 - s2e1, cast, no door panels, East Yard, 12/1976, [oRXO]

   BC998   UB      3 - s1e2, cast bogies, Dandenong, 30/1/1977, [oRXO]

   CN294   UB      3 - s2, Off Reg, Rangelea, 1970s, [oBAU]

   BC999   UB      4 - s1e2, cast bogies, East Yard, 26/10/1976, [oRXO]

   CN295   UB      4 - s2, Off Reg, Rangelea, 1970s, [oBAU]

   CN296   UB      5 - s2, 1970s, [oBAU]

   BD000   UB      5 - s2e2, cast bogies, c1977, [oRXO]

   BD001   UB      7 - s1, cast bogies, East Yard, 3/11/1976, [oRXO]

   BD002   UB     11 - s1, cast bogies, Mortlake, 28/11/1976, [oRXO]

   BD003   UB     12 - s1, cast bogies, East Yard, 19/10/1976, [oRXO]

   CB383   UB     13 - OR/COND, Bendigo, 8/4/1979, [oPJV]

   CP913   UB     18 - cast bogies, wide doors, 3 panel, Maldon, 1990s, [oPHD]

   B3383   UB     19 - OR/barframe/ Young Husband , Tottenham Yard, 18/3/1979, [oPJV]

   CN297   UB     19 - s1e1, YoungHusband Ltd, 1970s, [oBAU]

   CN298   UB     19 - s1e2, barframes, 1970s, [oBAU]

   BD004   UB     22 - s2, cast, Camberwell, 24/11/1976, [oRXO]

   CB515   UB     23 - OR COND, Rangelea, 8/4/1979, [oPJV]

   CN299   UB     23 - s2e1, cast bogies, 1970s, [oBAU]

   BG680   UB     24 - s1e2c, ex lift/paint over advert, barf, Newport Workshops, 27/1/1976, [oPJV]

   CN300   UB     25 - s1e1, Off Reg, Rangelea, 1970s, [oBAU]

   BK994   UB     26 - body, L4, in entrance to goods yard, Bendigo, 29/6/1975, [oPJV]

   BD005   UB     26 - body, station yard, Bendigo, 1/11/1976, [oRXO]

   BD006   UB     28 - s1, cast, East Yard, 12/1976, [oRXO]

   AV683   UB     30 - s2e1, trap, wide full doors, Ballarat Workshops, 18/2/1977, [oPJV]

   BD007   UB     31 - s2, cast, East Yard, 12/1976, [oRXO]

   CQ397   UB     32 - chalked destinations  Koondrook , [oDAC]

   CQ399   UB     32 - s2e2, [oDAC]

   BD009   UB     34 - part view, East Yard, 12/1976, [oRXO]

   CN301   UB     34 - s2e2, Off Reg, Rangelea, 1970s, [oBAU]

   BD010   UB     38 - s1, cast, East Yard, 23/11/1976, [oRXO]

   CN302   UB     38 - s1e1, Dandenong, 1970s, [oBAU]

   BD011   UB     47 - s2, cast, narrow doors, flat roof, East Yard, 12/11/1976, [oRXO]

   DK686   UB     50 - part view, L4, barframes, Orbost, 24/6/1970, [oPJV]

   BG432   UB     50 - s2e1, cast, wide doors, Bairnsdale, 22/9/1975, [oPJV]

   CQ778   UB     52 - s1, flat roof, barframes, narrow doors, c1979, [sPHD]

   DF044   UB     52 - s1e2, barframe bogies, narrow doors, 1970s, [oPHD]

   AQ550   UB     56, Bendigo, 22/4/1979, [oPJV]

   BM311   UB     56 - lettering: OR, No brake on train, North Melbourne C&W, 20/5/1980, [oPJV]

   BD012   UB     56 - s1, barframe, flat roof, door panels, East Yard, 12/1976, [oRXO]

   BR875   UB     56 - s1e2, Williamstown Pier, 7/12/1980, [oPJV]

   BO586   UB     56 - s2e1c, doors open, Williamstown Pier, 20/4/1980, [oPJV]

   BM154   UB     56 - s2e1c, wide door, 3 plain louvres, Newport Workshops, 9/6/1980, [oPJV]

   BD013   UB     58 - s1, barframe, flat roof, narrow doors, East Yard, 15/10/1976, [oRXO]

   CN303   UB     58 - s2e1, narrows doors, barframes/disc wheels, 1970s, [oBAU]

   BG841   UB     60 - s2e1c, cast, narrow doors, Spencer Street, 12/11/1975, [oPJV]

   CN304   UB     60 - s2e21c, narrow doors, 1970s, [oBAU]

 
   No diagrams found for UB   
   Photos   for  'VLAA  '

   FileID  Description................................................



   BD633   VLAA     56 - class lettering, Dandenong, 30/7/1981, [oPJV]

   BD632   VLAA     56 - s1e2, wide doors, blank 3 sections, Dandenong, 30/7/1981, [oPJV]

 
   No diagrams found for VLAA   
---
File c022m compiled by Peter J. Vincent, updated 22/1/2007