---
U - Fixed Wheel Louvre Van
---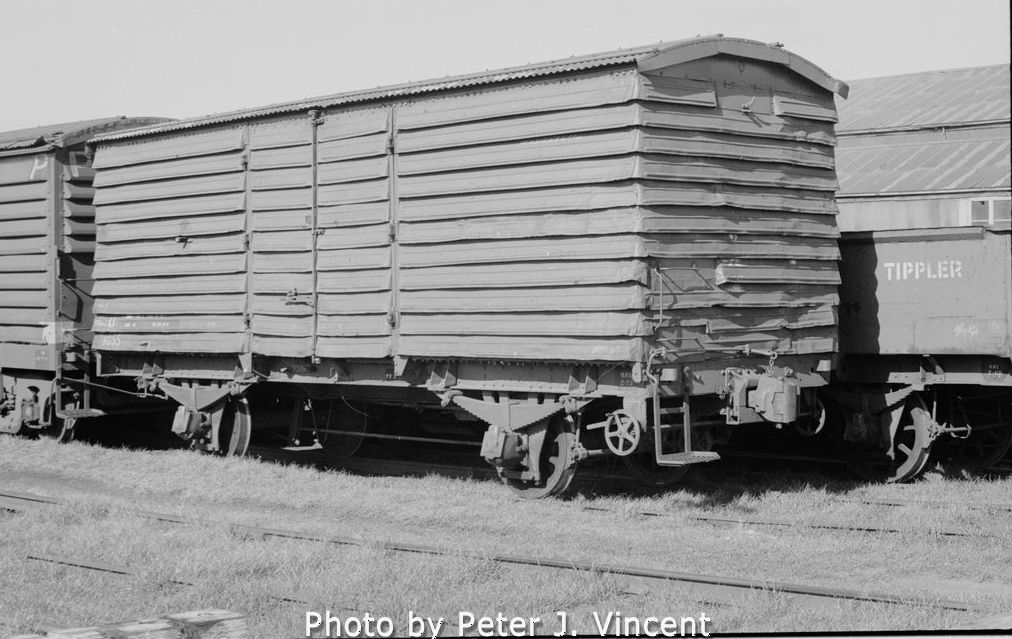 Construction for this group spans 1888 to 1958. The number group was 1 to 1796 with many designs. The photo represents a group built in the late 1900's on six wheels. The six wheeler group were converted to four wheels with larger axleboxes at the same time the underframe was strengthened for auto-coupling in the 1933/34 period.
At the same time, sixty U vans were converted to auto-couplers and fitted with bogies. These vans became the _UB_ class.
U vans were used for perishable traffic. The louvres along the sides and ends providing ventilation.
From 1925, some of the vans earned extra revenue by being painted with company advertising.
U vans were scrapped as more bogie louvre vans were built with numbers progressively scrapped towards the late 1970's. Many had bodies removed and sold with the underframes being converted to KAB_ and KMQ_ wagons.
Types
End trap doors: Vans built to about 1925 feature one trap door at one end underneath the roof outline. The tap door was for the insertion of longitudinal bars used to hang meat from. Vans built from 1925 were fitted with two trap doors, one at each end. With the maintenance of end bodywork from the 1960's, the trap doors were welded shut or replaced by a single louvre piece that removed the trap altogether.
In the mid 1920's, a lot of fruit was carried from the fruit growing areas to Melbourne for shipment. There was concern the vans were too hot in summer months. Some flat sheet roofed vans were given a second corrugated roof, no doubt to test for cooler operation. Nothing appears to have come of the tests. By the 1970's only about 3 vans were in service with the unusual double roof.
In the late 1950's the railways experimented by placing several sets of roller bearing axles under U vans. As more and more bogie rolling stock was being built it was felt that further fixed wheel tests were inappropriate. Nothing more came of the tests.
Most unusual van probably goes to U 961, basically a 'VLX on four wheels'. The body was chopped in 1963 and replaced by unique design ends, VLX_ louvred sides with _B__ van steel sliding doors. The author discovered that this was a design for an experimental explosives van; unusual as most explosive carrying vehicles are boxvans.
---
   Photos   for  'U  '

   FileID  Description................................................



   DJ779   U        -   freshly painted, no lettering, Bendigo Workshops, 3/12/1976, [oPJV]

   DF050   U        -  detail: SKF roller bearing, 1970s, [sPHD]

   CK167   U        -  end trap, [sPJV]

   CT961   U        -  roof, scrap site, Appleton Dock, 13/1/1979, [oPJV]

   CT955   U        -  scrapped van bits/roof/site, Appleton Dock, 13/1/1979, [oPJV]

   CQ807   U        -  SKF roller bearing / wheel, [sPHD]

   CT957   U        -  underframe/metal crusher, Appleton Dock, 13/1/1979, [oPJV]

   CT959   U        -  underframe/scrap site, Appleton Dock, 13/1/1979, [oPJV]

   B5321   U        -  vans in yard, Geelong, c1900, [oJAM]

   DQ791   U        - body, [sRXO]

   BC051   U        - eX, wheel h/b, Wodonga, 17/1/1974, [oPJV]

   CU444   U    281 - body, Spotswood Rec Depot, 11/1/1979, [oPJV]

   CU445   U    281 - ID/Off Reg lettering, Spotswood Rec Depot, 11/1/1979, [oPJV]

   BC366   U    282 - s2, East Yard, 12/1976, [oRXO]

   BC367   U    286 - s1p, Bendigo, 13/11/1976, [oRXO]

   BC368   U    288 - s2, East Yard, 12/1976, [oRXO]

   CP927   U    294 - s1p, buffers/dual gear ex HD, Trentham, 1990s, [oPHD]

   BC369   U    296 - s2, East Yard, 16/11/1976, [oRXO]

   BC370   U    301 - s1e1, L4, East Yard, 12/1976, [oRXO]

   AV692   U    308 - s1, L5, Ballarat Workshops, 18/2/1977, [oPJV]

   BC371   U    309 - s1e2, L7, East Yard, 23/11/1976, [oRXO]

   BC372   U    319 - s2e1, East Yard, 23/11/1976, [oRXO]

   CN288   U    323 - s2, 1970s, [oBAU]

   BC373   U    324 - s1p, L4, c1977, [oRXO]

   BC374   U    340 - s2e1, L4, East Yard, 12/1976, [oRXO]

   BC375   U    345 - s2e1, L7, East Yard, 12/1976, [oRXO]

   CT610   U    346, Arden Street Sidings, 4/9/1977, [oPJV]

   BC376   U    359 - s1e2, L7, East Yard, 16/11/1976, [oRXO]

   BC377   U    366 - s1e2, L4, Camberwell, 31/10/1976, [oRXO]

   DA616   U    389 - s2, L7, Dandenong, 17/7/1976, [oPJV]

   BC378   U    389 - s2e1, L7, East Yard, 12/1976, [oRXO]

   BC379   U    392 - s2, L7, Colac, 27/11/1976, [oRXO]

   BC381   U    418 - s2p, L7, East Yard, 8/10/1976, [oRXO]

   BC380   U    420 - s1e2, L4, Camperdown, 28/11/1976, [oRXO]

   BC382   U    441 - s1e2, L7, Bendigo North Workshops, 1/11/1976, [oRXO]

   BC383   U    446 - s1e2, L7, East Yard, 23/11/1976, [oRXO]

   BC384   U    466 - s1e2, L7, Bendigo North Workshops, 1/11/1976, [oRXO]

   BC385   U    470 - s2e1, L7, Dandenong, 30/1/1977, [oRXO]

   BC386   U    472 - s2, L7, Telford, 18/9/1976, [oRXO]

   BC387   U    474 - s2, L7, East Yard, 16/11/1976, [oRXO]

   BC388   U    489 - s2e1, L7, East Yard, 18/11/1976, [oRXO]

   CF908   U    493 - L7 s1, Donald, 19/4/1978, [oPJV]

   CG120   U    493 - s1e2c, 4/1978, [oPJV]

   BC389   U    504 - s1, L7, one door blank panels, East Yard, 12/1976, [oRXO]

   AT362   U    509 - part view, Bairnsdale, 11/1968, [oPJV]

   BC390   U    510 - s2e1, pressed door panels, Oakleigh, 12/1976, [oRXO]

   BC391   U    521 - s1, L7, East Yard, 12/1976, [oRXO]

   BC392   U    530 - s1e2, L7, bottom door panels flat, Dandenong, 30/1/1977, [oRXO]

   CN263   U    530 - s2e1c, Off Reg, 1970s, [oBAU]

   DT619   U    530 - s2e1c, Off Reg, blank low panels on door, 1980s, [sPJV]

   BC393   U    543 - s1e2, one door panel flat, East Yard, 19/11/1976, [oRXO]

   BE850   U    550 - s1e2c, disc wheels, Castlemaine, 29/6/1975, [oPJV]

   BC394   U    553 - s2e1, L4, East Yard, 12/1976, [oRXO]

   BC396   U    556 - s2e2, L4, Bendigo, 13/11/1976, [oRXO]

   BC395   U    556 - s2p, L4, Woodend, 8/11/1976, [oRXO]

   DQ855   U    564 - OR, North Geelong Yard, 29/4/1979, [oPJV]

   BC397   U    564 - s1e2, L7, bottom panels blank, East Yard, 12/1976, [oRXO]

   B1183   U    565, Tottenham Yard, 25/3/1979, [oPJV]

   BR878   U    565 - hold KMQ, Williamstown Pier, 7/12/1980, [oPJV]

   BC398   U    567 - s2e1, bottom panels blank, East Yard, 12/1976, [oRXO]

   BC399   U    574 - part view, blank panel on door, East Yard, 3/11/1976, [oRXO]

   BM629   U    574 - s1, Hold KMQ, door open, Port Melbourne, 30/1/1980, [oPJV]

   BL464   U    576 - hold KMQ, Williamstown Pier, 18/3/1980, [oPJV]

   BL465   U    576 - hold KMQ lettering only, Williamstown Pier, 18/3/1980, [oPJV]

   BO580   U    576 - s2e1, HOLD KMQ, Williamstown Pier, 20/4/1980, [oPJV]

   BL460   U    584 - hold KMQ/Wpier, Williamstown Pier, 18/3/1980, [oPJV]

   BO581   U    584 - s1e2, HOLD KMQ, Williamstown Pier, 20/4/1980, [oPJV]

   BR881   U    586 - hold KMQ, Williamstown Pier, 7/12/1980, [oPJV]

   BC400   U    590 - s2e2, East Yard, 16/11/1976, [oRXO]

   CB867   U    594, Albury, NSW, 6/4/1979, [oPJV]

   BC401   U    597 - s2e1, blank panel on doors, East Yard, 12/1976, [oRXO]

   CF900   U    598, Donald, 19/4/1978, [oPJV]

   BC402   U    598 - s1p, blank panels, Camberwell, 17/10/1976, [oRXO]

   BM638   U    609 - s1, Hold KMQ, Port Melbourne, 30/1/1980, [oPJV]

   BC403   U    611 - s1e2, L4, narrow doors, East Yard, 19/11/1976, [oRXO]

   BK274   U    614 - hold KMQ, Williamstown Pier, 7/12/1980, [oPJV]

   BC404   U    615 - s2e1, L4, narrow doors, East Yard, 26/10/1976, [oRXO]

   BL470   U    618 - hold KMQ, Williamstown Pier, 18/3/1980, [oPJV]

   BO575   U    618 - s1e2, HOLD KMQ, Williamstown Pier, 20/4/1980, [oPJV]

   BC405   U    621 - s1e2, narrow doors, L7, Timboon, 28/11/1976, [oRXO]

   BL477   U    622 - hold KMQ, Williamstown Pier, 18/3/1980, [oPJV]

   BO590   U    622 - s2e1, HOLD KMQ, Williamstown Pier, 20/4/1980, [oPJV]

   CQ772   U    622 - s2p, flat roof, narrow doors/1 panel,  Hold KMQ  lette, Williamstown Pier, c1980, [sPHD]

   DF038   U    622 - s2p, sheet roof, narrow doors,  Hold ... KMQ , Williamstown Pier, 1980s, [oPHD]

   BM636   U    623 - s2, Hold KMQ, Port Melbourne, 30/1/1980, [oPJV]

   BC406   U    627 - part view s2e1, Woodend, 8/11/1976, [oRXO]

   BC407   U    633 - s2e1, L7, narrow doors, East Yard, 16/11/1976, [oRXO]

   AV669   U    637 - s2, small doors, Castlemaine, 18/2/1977, [oPJV]

   BC408   U    640 - s2e1, L7, wide doors, blank panel, East Yard, 12/1976, [oRXO]

   DA622   U    643 - s2e2, narrow doors, Dandenong, 17/7/1976, [oPJV]

   B3359   U    644, Tottenham Yard, 18/3/1979, [oPJV]

   BR862   U    644 - hold KMQ, Port Melbourne, 7/12/1980, [oPJV]

   CN264   U    644 - s1e2, wide doors/3 panel, 1970s, [oBAU]

   CN290   U    644 - s1e2, wide doors/3 panel, 1970s, [oBAU]

   B1594   U    644 - s2e1c, Tottenham Yard, 12/3/1979, [oPJV]

   BL476   U    648 - hold KMQ, Williamstown Pier, 18/3/1980, [oPJV]

   BO589   U    648 - s2e1, HOLD KMQ, Williamstown Pier, 20/4/1980, [oPJV]

   BL472   U    651 - hold KMQ, Williamstown Pier, 18/3/1980, [oPJV]

   BO573   U    651 - s2e1, HOLD KMQ, Williamstown Pier, 20/4/1980, [oPJV]

   BC409   U    652 - s2e1, narrow doors, trap, East Yard, 12/1976, [oRXO]

   CN291   U    653 - s1e2, narrow doors, 1970s, [oBAU]

   BR858   U    655 - hold KMQ, Port Melbourne, 7/12/1980, [oPJV]

   CY978   U    656 - s1e1, North Melbourne C&W Shops, 2/7/1976, [oPJV]

   BL475   U    660 - hold KMQ, Williamstown Pier, 18/3/1980, [oPJV]

   DA619   U    660 - s1, wide doors,  Morwell  load crayon, Dandenong, 17/7/1976, [oPJV]

   BO588   U    660 - s1e2, HOLD KMQ, Williamstown Pier, 20/4/1980, [oPJV]

   CU700   U    661, Dandenong, 10/1/1979, [oPJV]

   CB714   U    661 - OR, Tottenham Yard, 7/4/1979, [oPJV]

   BO593   U    661 - s1e2, HOLD KMQ, Williamstown Pier, 20/4/1980, [oPJV]

   BC410   U    668 - s1e1, wide doors, blank panels, East Yard, 16/11/1976, [oRXO]

   BM859   U    669 - part view L4, Frankston, 20/1/1976, [oPJV]

   BC622   U    669 - s1, narrow doors, L4, East Yard, 12/1976, [oRXO]

   BC411   U    669 - s2e1, narrow doors, L4, Spencer Street, 20/10/1976, [oRXO]

   BC412   U    671 - part view, s2e1, Dandenong, 30/1/1977, [oRXO]

   CC377   U    679 - s2e1c narrow doors, Ararat, 29/4/1978, [oPJV]

   AJ026   U    681, Tottenham Yard, 29/4/1979, [oPJV]

   BL459   U    681 - hold KMQ/Wpier, Williamstown Pier, 18/3/1980, [oPJV]

   BO582   U    681 - s1e2, HOLD KMQ, Williamstown Pier, 20/4/1980, [oPJV]

   BC300   U    692 - part view, East Yard, 27/10/1976, [oRXO]

   BC413   U    692 - s1e2, narrow doors, L4, East Yard, 26/10/1976, [oRXO]

   BC414   U    692 - s2e1, L4, narrow doors, East Yard, 12/1976, [oRXO]

   B1028   U    696 - OR, Tottenham Yard, 25/3/1979, [oPJV]

   BC415   U    697 - s1e2, narrow doors, L7, East Yard, 12/1976, [oRXO]

   BC416   U    699 - s1e2, wide doors, blank panels, L7, East Yard, 16/11/1976, [oRXO]

   BM646   U    699 - s2, Hold KMQ, Port Melbourne, 30/1/1980, [oPJV]

   DA629   U    699 - s2e2, wide doors, Dandenong, 17/7/1976, [oPJV]

   BC417   U    702 - s1e2, narrow doors, L4, East Yard, 12/1976, [oRXO]

   CG237   U    715, Sealake, 21/4/1978, [oPJV]

   BO594   U    715 - s2e1, HOLD KMQ, Williamstown Pier, 20/4/1980, [oPJV]

   BY697   U    716, Williamstown Pier, 29/4/1979, [oPJV]

   BC418   U    716 - s2e1, wide doors, blank panel, East Yard, 23/11/1976, [oRXO]

   AV526   U    722 - body, west of town, Maryborough, 1/11/1999, [oPJV]

   CG006   U    722 - lettering/OR, Maryborough, 18/4/1978, [oPJV]

   CG005   U    722 - OR/body, Maryborough, 18/4/1978, [oPJV]

   BC419   U    723 - s1, L4, narrow doors, Spencer Street, c1977, [oRXO]

   BQ910   U    725 - hold KMQ, North Melbourne C&W, 9/12/1980, [oPJV]

   BC420   U    731 - part view, East Yard, 12/1976, [oRXO]

   BK763   U    731 - part view, Castlemaine, 29/6/1975, [oPJV]

   BM637   U    737 - s2, Hold KMQ, Port Melbourne, 30/1/1980, [oPJV]

   CQ125   U    740 - s1, 6whl, Griffiths Tea advert, ADV25, c1928, [oPTC]

   CQ124   U    740 - s2, 6whl, Griffiths Tea advert, ADV24, c6/1929, [oPTC]

   BR879   U    741 - hold KMQ, Williamstown Pier, 7/12/1980, [oPJV]

   BC421   U    741 - s2e1, L7, wide doors, blank panels, East Yard, 16/11/1976, [oRXO]

   BM645   U    743 - s1, Hold KMQ, Port Melbourne, 30/1/1980, [oPJV]

   B3370   U    744, Tottenham Yard, 18/3/1979, [oPJV]

   CF929   U    746, St Arnaud, 19/4/1978, [oPJV]

   BQ222   U    746 - old style stencils, Newport Workshops, 5/2/1981, [oPJV]

   BC422   U    765 - s2e1, L7, wide doors, blank panels, East Yard, 12/1976, [oRXO]

   DU489   U    765 - s2e1c, wide doors, North Melbourne C&W Shops, c1978, [oBAU]

   CQ774   U    767 - s1e2c, flat roof, wide doors/panels, Melbourne Yard, c1978, [sPHD]

   DF040   U    767 - s1e2c, sheet roof, wide doors, Melbourne Yard, c1980, [oPHD]

   BC423   U    772 - s1e2, L7, narrow doors, one blank panel, East Yard, 12/1976, [oRXO]

   BC424   U    774 - s1e2, L4, narrow doors, gashed side louvre, East Yard, 25/11/1976, [oRXO]

   BC425   U    777 - s1e2, wide doors, blank panels, West Footscray, 8/11/1976, [oRXO]

   CB090   U    784 - ID/OR/lettering/axle/spring, North Melbourne C&W Shops, 16/4/1979, [oPJV]

   CB089   U    784 - OR, North Melbourne C&W Shops, 16/4/1979, [oPJV]

   BC426   U    784 - part view, L4, Dandenong, 30/1/1977, [oRXO]

   BM635   U    784 - s2, Hold KMQ, Port Melbourne, 30/1/1980, [oPJV]

   BC427   U    788 - part view, East Yard, 25/11/1976, [oRXO]

   BC428   U    791 - s2e1, wide doors, blank panels, Dandenong, 30/1/1977, [oRXO]

   BC429   U    793 - s1e2, wide doors, blank panels, East yard, 26/10/1976, [oRXO]

   CF987   U    801 - body/uf on ground, OR, St Arnaud, 19/4/1978, [oPJV]

   CF988   U    801 - body/uf on ground, with tray truck, St Arnaud, 19/4/1978, [oPJV]

   CF989   U    801 - OR/lettering, St Arnaud, 19/4/1978, [oPJV]

   CF990   U    801 - part side, doors open, St Arnaud, 19/4/1978, [oPJV]

   11522   U    804, Tottenham Yard, 16/4/1978, [oPJV]

   CT725   U    806, Bairnsdale, 25/12/1978, [oPJV]

   BO584   U    806 - s1e2, HOLD KMQ, Williamstown Pier, 20/4/1980, [oPJV]

   B1321   U    807 - narrow doors, Tottenham Yard, 16/4/1978, [oPJV]

   CQ121   U    809 - s1, 6whl, Black Crow advert, ADV18, c1928, [oPTC]

   AV717   U    809 - s1, wide doors/panel, Spencer Street, 18/2/1977, [oPJV]

   DA609   U    811 - s1e1, wide doors, Dandenong, 17/7/1976, [oPJV]

   BC430   U    812 - s2e1, narrow doors, East Yard, 12/1976, [oRXO]

   CT500   U    815 - s1e2c, Victoria Park, 7/7/1977, [oPJV]

   BC431   U    816 - s2e1, wide doors, blank panels, East Yard, 19/11/1976, [oRXO]

   CN265   U    816 - s2e1c, wide doors/3 panel, 1970s, [oBAU]

   CN292   U    816 - s2e1c, wide doors/3 panel, 1970s, [oBAU]

   BC432   U    818 - part view, Dandenong, 30/1/1977, [oRXO]

   CG330   U    824 - chalk load  Korumburra / 51 ctns Kellogs , Tottenham Yard, 16/4/1978, [oPJV]

   B1172   U    824 - OR/part view, Tottenham Yard, 25/3/1979, [oPJV]

   BC433   U    825 - s2e1, wide doors, blank panels, Bendigo, 13/11/1976, [oRXO]

   BC434   U    827 - s1e2, wide doors, blank panels, East Yard, 12/1976, [oRXO]

   BM648   U    827 - s2, Hold KMQ, Port Melbourne, 30/1/1980, [oPJV]

   BU849   U    828, Tottenham Yard, 6/5/1979, [oPJV]

   BC435   U    828 - s2e1, wide doors, blank panels, East Yard, 12/1976, [oRXO]

   BY753   U    830, Arden Street Sidings, 9/7/1980, [oPJV]

   BC436   U    830 - s1e2, wide doors, blank panels, East Yard, 12/1976, [oRXO]

   CQ123   U    831 - s2, 6whl, Griffiths Tea advert, ADV22, c1928, [sPJV]

   BC437   U    831 - s2e1, narrow doors, East Yard, 12/1976, [oRXO]

   BK761   U    839 - part view, L7, Castlemaine, 29/6/1975, [oPJV]

   DT268   U    845, Williamstown Pier, 29/4/1979, [oPJV]

   BM639   U    845 - s2, Hold KMQ, Port Melbourne, 30/1/1980, [oPJV]

   BM640   U    845 - start of rake of U vans for KMQ conversion, Port Melbourne, 30/1/1980, [oPJV]

   CG208   U    857, Manangatang, 21/4/1978, [oPJV]

   BM634   U    857 - s2, Hold KMQ, Port Melbourne, 30/1/1980, [oPJV]

   AW671   U    860 - part view, Horsham, 9/1966, [oPJV]

   BR882   U    871 - hold KMQ, Williamstown Pier, 7/12/1980, [oPJV]

   CG242   U    874, Sealake, 21/4/1978, [oPJV]

   BR880   U    880 - hold KMQ, Williamstown Pier, 7/12/1980, [oPJV]

   CC244   U    881 - OR, Newport Workshops, 2/4/1979, [oPJV]

   BR857   U    882 - hold KMQ, Port Melbourne, 7/12/1980, [oPJV]

   BC438   U    882 - part view, Dandenong, 30/1/1977, [oRXO]

   BC439   U    884 - s1e2, narrow doors, East Yard, 16/11/1976, [oRXO]

   BM643   U    889 - s2, Hold KMQ, Port Melbourne, 30/1/1980, [oPJV]

   BC440   U    889 - s2e1c, wide doors, blank panels, East Yard, 12/1976, [oRXO]

   B2903   U    893, Bendigo Workshops, 15/3/1978, [oPJV]

   BC441   U    907 - part view, East Yard, 28/10/1976, [oRXO]

   BC442   U    914 - s1e1, wide doors, blank panels, East Yard, 16/11/1976, [oRXO]

   CA978   U    917 - OR, North Melbourne C&W Shops, 16/4/1979, [oPJV]

   CA979   U    917 - OR/lettering, North Melbourne C&W Shops, 16/4/1979, [oPJV]

   CN266   U    926 - s1e2, narrow doors, 1970s, [oBAU]

   CT608   U    927 - s2, narrow doors, Arden Street Sidings, 4/9/1977, [oPJV]

   BC443   U    927 - s2e1, narrow doors, East Yard, 23/11/1976, [oRXO]

   BL434   U    928 - hold KMQ/WPier stencil, Williamstown Pier, 18/3/1980, [oPJV]

   BL435   U    928 - stencil: hold KMQ/WPier, Williamstown Pier, 18/3/1980, [oPJV]

   BL458   U    929 - hold KMQ/Wpier, Williamstown Pier, 18/3/1980, [oPJV]

   BO583   U    929 - s2e1, HOLD KMQ, Williamstown Pier, 20/4/1980, [oPJV]

   CB063   U    932 - DO, Dandenong, 19/4/1979, [oPJV]

   BM633   U    932 - s1, Hold KMQ, Port Melbourne, 30/1/1980, [oPJV]

   BC444   U    937 - s1e2, narrow doors, Camberwell, 24/10/1976, [oRXO]

   BR876   U    941 - hold KMQ, Williamstown Pier, 7/12/1980, [oPJV]

   BR877   U    941 - stencil on door panel/hold KMQ, Williamstown Pier, 7/12/1980, [oPJV]

   BC445   U    946 - s1e2, narrow doors, Spencer Street, 14/10/1976, [oRXO]

   BC446   U    946 - s2e1, narrow doors, East Yard, 12/1976, [oRXO]

   BC447   U    957 - part view, Castlemaine, 13/11/1976, [oRXO]

   BR865   U    960 - hold KMQ, Port Melbourne, 7/12/1980, [oPJV]

   BR867   U    960 - hold KMQ 2, Port Melbourne, 7/12/1980, [oPJV]

   CC307   U    960 - roller bearings, East Yard, 1/4/1979, [oPJV]

   BM644   U    960 - s2, Hold KMQ, Port Melbourne, 30/1/1980, [oPJV]

   CP875   U    961 - body, end green, 1990s, [oPHD]

   CP878   U    961 - eXp, body, end green, 1990s, [oPHD]

   CP877   U    961 - lettering, 1990s, [oPHD]

   CP876   U    961 - pr/lettering, 1990s, [oPHD]

   BC448   U    961 - s1e1, rebuilt, Camberwell, 10/11/1976, [oRXO]

   CQ405   U    961 - s1e2c, [oDAC]

   BR859   U    962 - hold KMQ, Port Melbourne, 7/12/1980, [oPJV]

   BC449   U    962 - s1e2, wide doors, blank panels, East Yard, 26/10/1976, [oRXO]

   BM642   U    964 - s1, Hold KMQ, Port Melbourne, 30/1/1980, [oPJV]

   BC450   U    965 - part view, L4, Dandenong, 14/11/1976, [oRXO]

   CN269   U    969 - lettering/axle detail, 1970s, [oBAU]

   BM649   U    969 - s2, Hold KMQ, Port Melbourne, 30/1/1980, [oPJV]

   CN268   U    969 - s2e1, wide doors/3 panel, roller bearings, 1970s, [oBAU]

   CC305   U    970, Centre Yard, 1/4/1979, [oPJV]

   BL473   U    972 - hold KMQ, Williamstown Pier, 18/3/1980, [oPJV]

   BO572   U    972 - s1e2c, HOLD KMQ, Williamstown Pier, 20/4/1980, [oPJV]

   BR860   U    978 - hold KMQ, Port Melbourne, 7/12/1980, [oPJV]

   AW580   U    978 - with U, Melbourne Yard, c1927, [oMDN]

   CB524   U    980 - OR COND, Rangelea, 8/4/1979, [oPJV]

   BC451   U    980 - s1e2, wide doors, blank, East Yard, 12/1976, [oRXO]

   BC452   U    981 - narrow doors, L4, Woodend, 8/11/1976, [oRXO]

   AY163   U    982 - part view, Dandenong, 30/1/1977, [oRXO]

   BC453   U    982 - part view, Dandenong, 30/1/1977, [oRXO]

   CN270   U    983 - s1e2, narrows doors/3 panel on one door/Off Reg, Rangelea, 1970s, [oBAU]

   CG241   U    984, Sealake, 21/4/1978, [oPJV]

   BL457   U    984 - s1e2, open doors/lined, Williamstown Pier, 18/3/1980, [oPJV]

   CB716   U    985, Tottenham Yard, 7/4/1979, [oPJV]

   CQ122   U    992 - s1, 6whl, Berger s advert, ADV2, c8/1928, [oPTC]

   CQ776   U    992 - s1, 6whls, Blue Label Bushels Tea advert, Newport Workshops, c1929, [oPTC]

   CQ775   U    992 - s1e2, 6whls, Berger s Paints advert, Newport Workshops, c1928, [oPTC]

   DF041   U    992 - s1q, lever hb/6 whls, advert: Bergers, Newport Workshops, c1926, [oPTC]

   DF042   U    992 - s1q, lever hb/6 whls, advert: Bushells Blue label tea, Newport Workshops, c1926, [oPTC]

   AY089   U    993 - part view, Dandenong, 14/11/1976, [oRXO]

   BC454   U    993 - s1, corru roof, one door has panel, Dandenong, 14/11/1976, [oRXO]

   BG510   U   1016 - photo id, Hamilton, 11/8/1976, [oPJV]

   BC455   U   1016 - s2, Peters advert, East Yard, 12/11/1976, [oRXO]

   CQ126   U   1028 - s1p, 6whl, Hendersons Springs advert, ADV769, Newport Workshops, c9/1931, [oPTC]

   CQ127   U   1028 - s2p, 6whl, Henderson Springs advert, ADV770, Newport Workshops, c9/1931, [oPTC]

   BC456   U   1034 - s2e1, East Yard, 23/11/1976, [oRXO]

   BC457   U   1038 - s2, East Yard, 12/1976, [oRXO]

   CN271   U   1038 - s2e1, wide doors/3 panel on one door, Woodend, 1970s, [oBAU]

   CQ759   U   1040 - s1p, 6 whls, White Horse Scotch Whisky advert, c1928, [oPTC]

   DF026   U   1040 - s1p, lever hb/6 whls, advert: White Horse, Newport Workshops, c2/1926, [oPTC]

   CQ128   U   1043 - s2p, 6whl, Bushells Blue Label Tea advert, ADV8, Newport Workshops, c6/1928, [oPTC]

   CQ120   U   1044 - Bryant & May advert, 6whl, ADV14, c10/1928, [oPTC]

   CQ777   U   1044 - s2, 6whls, Bryant & May Matches advert, Newport Workshops, c1928, [oPTC]

   BK972   U   1044 - s2e1, Castlemaine, 29/6/1975, [oPJV]

   DF043   U   1044 - s2q, lever hb/6 whls, advert: Bryant & May, Newport Workshops, c1928, [oPTC]

   BC458   U   1047 - s2, Colac, 27/11/1976, [oRXO]

   DF027   U   1051 - s1p, lever hb/6 whls, advert: Ballarat Bitter, Newport Workshops, c1926, [oPTC]

   CQ129   U   1051 - s2p, 6whl, Ballarat Bitter advert, ADV9, Newport Workshops, c9/1928, [oPTC]

   CQ760   U   1051 - s2p, 6whls, Ballarat Bitter advert, c1928, [oPTC]

   CQ761   U   1055 - s2p, 6whls, Drink Black and White Whisky  advert, c1928, [oPTC]

   DF028   U   1055 - s2p, lever hb/6 whls, advert: Black and White Whisky, Newport Workshops, c1926, [oPTC]

   BC459   U   1065 - s2, East Yard, 12/1976, [oRXO]

   BC460   U   1067 - s2, East Yard, 12/1976, [oRXO]

   BC461   U   1069 - s1, East Yard, 12/1976, [oRXO]

   B2972   U   1071, Arden Street, 1/4/1978, [oPJV]

   BC462   U   1071 - part view, East Yard, 12/1976, [oRXO]

   BP637   U   1072 - s2, Hold KMQ, Port Melbourne, 30/1/1980, [oPJV]

   B2996   U   1076, Canal Zone, 1/4/1978, [oPJV]

   BC463   U   1079 - s1, Camberwell, 24/11/1976, [oRXO]

   CK461   U   1084, North Geelong Yard, 12/3/1979, [oPJV]

   BQ220   U   1084 - old style stencils, Newport Workshops, 5/2/1981, [oPJV]

   BC464   U   1085 - s1, East Yard, 12/1976, [oRXO]

   CQ773   U   1092 - s1e1c 2, c1947, [oPTC]

   DF029   U   1092 - s1e1c, 4 whls/AC, c1934, [oPTC]

   CQ762   U   1092 - s1e1c, new,with buffers/trans gear, c1947, [oPTC]

   DF039   U   1092 - s1e2c, 4 whls (hires), c1934, [oPTC]

   BC465   U   1095 - s2, East Yard, 16/11/1976, [oRXO]

   BC466   U   1099 - s1, East Yard, 26/10/1976, [oRXO]

   B2980   U   1100, Canal Zone, 1/4/1978, [oPJV]

   BC467   U   1106 - s1, East yard, 12/11/1976, [oRXO]

   BR855   U   1108 - hold KMQ, Port Melbourne, 7/12/1980, [oPJV]

   B1598   U   1119 - OR, Tottenham Yard, 12/3/1979, [oPJV]

   BC468   U   1122 - s1e2, East Yard, 25/11/1976, [oRXO]

   BC469   U   1124 - s1e2, door broken, Woodend, 8/11/1976, [oRXO]

   CA942   U   1126 - body, Moama, NSW, 15/4/1979, [oPJV]

   AX123   U   1126 - body, end trap, wide doors, corru roof, Echuca area, 3/1993, [oPJV]

   AX124   U   1126 - body, opposite end trap, Echuca area, 3/1993, [oPJV]

   BL469   U   1131 - hold KMQ, Williamstown Pier, 18/3/1980, [oPJV]

   BO576   U   1131 - s1e2, HOLD KMQ, Williamstown Pier, 20/4/1980, [oPJV]

   BC470   U   1132 - part view, East Yard, 12/1976, [oRXO]

   BC471   U   1134 - s2, L4, East Yard, 16/11/1976, [oRXO]

   BC472   U   1136 - s1, Yarrawonga, 18/9/1976, [oRXO]

   BC473   U   1137 - s2p, Oakleigh, 12/1976, [oRXO]

   BC474   U   1138 - part view, East Yard, 26/10/1976, [oRXO]

   11683   U   1140 - lettering, Tottenham Yard, 16/4/1978, [oPJV]

   11684   U   1140 - s1e1c, Tottenham Yard, 16/4/1978, [oPJV]

   CN272   U   1140 - s2e1, wide doors, sheet roof, 1970s, [oBAU]

   BC475   U   1144 - s1e2, East Yard, 18/11/1976, [oRXO]

   BC476   U   1146 - s1e2, East Yard, 23/11/1976, [oRXO]

   BC477   U   1147 - s1e2, Camberwell, 15/11/1976, [oRXO]

   CT615   U   1147 - s2e1, Arden Street Sidings, 4/9/1977, [oPJV]

   BL467   U   1149 - hold KMQ, Williamstown Pier, 18/3/1980, [oPJV]

   BO578   U   1149 - s1e2, HOLD KMQ, Williamstown Pier, 20/4/1980, [oPJV]

   BC478   U   1151 - s2e1c, East yard, 12/1976, [oRXO]

   BC479   U   1154 - s2e1, East Yard, 16/11/1976, [oRXO]

   BC480   U   1155 - s2, East Yard, 12/1976, [oRXO]

   BC482   U   1156 - s1e2, Haig advert, Camberwell, 12/1976, [oRXO]

   DF048   U   1156 - s1p, advert: Haig, Newport Workshops, 1970s, [oPHD]

   DF049   U   1156 - s1p, advert: Haig, 1970s, [oPHD]

   CQ782   U   1156 - s1p, Haig Scotch Whisky advert, Newport Workshops, c1968, [sPHD]

   BC481   U   1156 - s2e2, Haig advert, East Yard, 8/10/1976, [oRXO]

   BC483   U   1160 - s1e2, East Yard, 23/11/1976, [oRXO]

   BC484   U   1161 - s2, East Yard, 19/11/1976, [oRXO]

   BC485   U   1163 - s2, L4, East Yard, 12/1976, [oRXO]

   BC486   U   1165 - s2, L4, East Yard, 18/11/1976, [oRXO]

   CQ763   U   1170 - s2e1c, Off Reg, c1980, [oPHD]

   DF030   U   1170 - s2e1c, Off Reg, Newport Workshops, 1980s, [oPHD]

   AV679   U   1170 - s2e2, trap, wide full doors, Daylesford, 18/2/1977, [oPJV]

   BC487   U   1173 - s1, East Yard, 12/1976, [oRXO]

   BC488   U   1174 - s2e1c, Camberwell, 10/11/1976, [oRXO]

   BC489   U   1175 - s2, East Yard, 12/1976, [oRXO]

   CN273   U   1176 - s1e2, wide doors, 1970s, [oBAU]

   CT501   U   1176 - s2, North Melbourne C&W Shops, 20/10/1977, [oPJV]

   BA336   U   1178 - part view, Bendigo, c1986, [oNXB]

   CB713   U   1179 - OR, Tottenham Yard, 7/4/1979, [oPJV]

   BC490   U   1182 - s2, East Yard, 19/11/1976, [oRXO]

   BR861   U   1183 - hold KMQ, Port Melbourne, 7/12/1980, [oPJV]

   DG047   U   1186, Mildura, 20/4/1978, [oPJV]

   BC491   U   1186 - s1e2, Camberwell, 12/1976, [oRXO]

   BC492   U   1190 - L4, s1, East yard, 12/1976, [oRXO]

   BL598   U   1191 - Hold KMQ, Port Melbourne, 3/4/1980, [oPJV]

   CN274   U   1192 - s1, Off Reg, 3 panel one door, 1970s, [oBAU]

   DA621   U   1193 - s1e1, Dandenong, 17/7/1976, [oPJV]

   BC493   U   1197 - s2, L4, East Yard, 16/11/1976, [oRXO]

   BC494   U   1198 - s2, East Yard, 25/11/1976, [oRXO]

   BC495   U   1200 - s1, L4, Dandenong, 30/1/1977, [oRXO]

   CC306   U   1204, Centre Yard, 1/4/1979, [oPJV]

   BC496   U   1204 - s1e1, L4, Camberwell, 31/10/1976, [oRXO]

   CG213   U   1205, Manangatang, 21/4/1978, [oPJV]

   BC497   U   1207 - s2e1, L7, Camberwell, 24/10/1976, [oRXO]

   BC498   U   1209 - s1, Colac, 27/11/1976, [oRXO]

   BC499   U   1211 - s2, East Yard, 12/1976, [oRXO]

   CG071   U   1215, Robinvale, 21/4/1978, [oPJV]

   DF031   U   1217 - part view s1p, Off Reg, 1980s, [oPHD]

   CQ764   U   1217 - s1p, Off Reg, c1980, [oPHD]

   AV577   U   1218 - OR, Tottenham Yard, 19/4/1979, [oPJV]

   DA620   U   1218 - s1e1, roller bearings, Dandenong, 17/7/1976, [oPJV]

   CT727   U   1226 - e1p, Bairnsdale, 25/12/1978, [oPJV]

   CT726   U   1226 - e1q, trap, Bairnsdale, 25/12/1978, [oPJV]

   BM628   U   1226 - s1, Hold KMQ, Port Melbourne, 30/1/1980, [oPJV]

   CT729   U   1226 - s1p, Bairnsdale, 25/12/1978, [oPJV]

   CT728   U   1226 - s1q, Bairnsdale, 25/12/1978, [oPJV]

   BC500   U   1228 - part view, Woodend, 8/11/1976, [oRXO]

   BC501   U   1229 - part view, Dandenong, 30/1/1977, [oRXO]

   CT606   U   1229 - s1e1, L7, Arden Street Sidings, 4/9/1977, [oPJV]

   BL480   U   1235 - hold KMQ, Williamstown Pier, 18/3/1980, [oPJV]

   BC502   U   1235 - s2, East Yard, 16/11/1976, [oRXO]

   BO591   U   1235 - s2e1, HOLD KMQ, Williamstown Pier, 20/4/1980, [oPJV]

   BW543   U   1238, Tottenham Yard, 7/4/1979, [oPJV]

   BR864   U   1238 - hold KMQ, Port Melbourne, 7/12/1980, [oPJV]

   BR866   U   1238 - hold KMQ, Port Melbourne, 7/12/1980, [oPJV]

   CN275   U   1239 - s1e2, 1970s, [oBAU]

   BC503   U   1241 - s1, L4, Camberwell, 24/10/1976, [oRXO]

   BC504   U   1245 - s2, L4, East Yard, 19/11/1976, [oRXO]

   CT616   U   1250 - s1e2, chalked  Traralgon ,  St Arnaud , Arden Street Sidings, 4/9/1977, [oPJV]

   DA614   U   1254 - s2e2, L4 imperial, Dandenong, 17/7/1976, [oPJV]

   CN276   U   1258 - s1e2, 1970s, [oBAU]

   AX052   U   1259 - part view, Canal Zone, 2/1977, [oPJV]

   DA618   U   1262 - L4 imperial 16T, s2, Dandenong, 17/7/1976, [oPJV]

   AV676   U   1265 - s1e1 trap, corru roof, Castlemaine, 18/2/1977, [oPJV]

   CU699   U   1267, Dandenong, 10/1/1979, [oPJV]

   BR852   U   1267 - hold KMQ, Port Melbourne, 7/12/1980, [oPJV]

   BL597   U   1272 - Hold KMQ, Port Melbourne, 3/4/1980, [oPJV]

   B1519   U   1273 - part view, Canal Zone, 1/4/1978, [oPJV]

   BC505   U   1275 - s2, L4, East Yard, 12/1976, [oRXO]

   BC506   U   1277 - s1, Camberwell, 31/10/1976, [oRXO]

   BC507   U   1280 - s2, Spencer Street, 9/11/1976, [oRXO]

   BC508   U   1281 - s1, Camberwell, 15/11/1976, [oRXO]

   BC509   U   1282 - s2, East Yard, 12/11/1976, [oRXO]

   CF910   U   1283, Donald, 19/4/1978, [oPJV]

   BM627   U   1283 - Hold KMQ lettering, Port Melbourne, 30/1/1980, [oPJV]

   BM626   U   1283 - s1 Hold KMQ, Port Melbourne, 30/1/1980, [oPJV]

   BL438   U   1284 - hold KMQ/WPier, Williamstown Pier, 18/3/1980, [oPJV]

   BC510   U   1287 - s1, East Yard, 16/11/1976, [oRXO]

   BR863   U   1289 - hold KMQ, Port Melbourne, 7/12/1980, [oPJV]

   AM588   U   1291, Maryborough, 22/4/1979, [oPJV]

   BL466   U   1291 - hold KMQ, Williamstown Pier, 18/3/1980, [oPJV]

   BO579   U   1291 - s1e2, HOLD KMQ, Williamstown Pier, 20/4/1980, [oPJV]

   BC511   U   1293 - part view, East Yard, 18/11/1976, [oRXO]

   AQ597   U   1296 - e1p, Bendigo, 22/4/1979, [oPJV]

   AQ568   U   1296 - e1q, Bendigo, 22/4/1979, [oPJV]

   AQ769   U   1296 - ID, Bendigo, 22/4/1979, [oPJV]

   BM084   U   1296 - s1e2, OR, Tottenham Yard, 20/4/1980, [oPJV]

   CA940   U   1297 - body, Moama, NSW, 15/4/1979, [oPJV]

   BC512   U   1298 - s2, East Yard, 12/1976, [oRXO]

   BE497   U   1300 - lettering  hold KMQ conversion , North Melbourne C&W Shops, 11/8/1981, [oPJV]

   BC513   U   1300 - s1, L4, East yard, 23/11/1976, [oRXO]

   DF032   U   1300 - s1e2c,  Hold ... for KMQ ... , 1980s, [oPHD]

   CQ765   U   1300 - s1e2c,  Hold Convert To KMQ Wagons  lettering, c1980, [oPHD]

   CF950   U   1303, Donald, 19/4/1978, [oPJV]

   BL437   U   1305 - s2e1, hold KMQ/WPier, Williamstown Pier, 18/3/1980, [oPJV]

   BL436   U   1305 - stencil: hold KMQ/WPier, Williamstown Pier, 18/3/1980, [oPJV]

   BL441   U   1307 - s1, hold KMQ/WPier, Williamstown Pier, 18/3/1980, [oPJV]

   BC514   U   1308 - s2, East Yard, 12/1976, [oRXO]

   BC515   U   1309 - s1, East Yard, 12/1976, [oRXO]

   BC516   U   1311 - part view, East Yard, 12/1976, [oRXO]

   BC517   U   1313 - s1, East Yard, 23/11/1976, [oRXO]

   BC518   U   1316 - s1, Dandenong, 30/1/1977, [oRXO]

   BC519   U   1318 - part view, Bendigo, 1/11/1976, [oRXO]

   BC520   U   1321 - s2, East Yard, 18/11/1976, [oRXO]

   BC521   U   1323 - s2, Yarrawonga, 18/9/1976, [oRXO]

   BC522   U   1326 - s2, East Yard, 12/1976, [oRXO]

   BC523   U   1337 - s2, std doors, East Yard, 12/1976, [oRXO]

   BC525   U   1342 - s2, East yard, 12/1976, [oRXO]

   BC526   U   1343 - s2, 12/1976, [oRXO]

   BY068   U   1344 - s1, North Geelong Yard, 29/4/1979, [oPJV]

   BL443   U   1345 - s1, hold KMQ/WPier, Williamstown Pier, 18/3/1980, [oPJV]

   BL468   U   1346 - hold KMQ, Williamstown Pier, 18/3/1980, [oPJV]

   CQ766   U   1346 - s1p,  Hold Convert To KMQ Wagons  lettering, c1980, [oPHD]

   DF033   U   1346 - s1p, lever,  Hold for KMQ .. , Williamstown Pier, 1980s, [oPHD]

   BO577   U   1346 - s2e1, HOLD KMQ, Williamstown Pier, 20/4/1980, [oPJV]

   BC527   U   1351 - flat roof, s2, panel doors, East Yard, 12/1976, [oRXO]

   AM574   U   1351 - sheet roof, Maryborough, 22/4/1979, [oPJV]

   BK370   U   1351*- part view, Bunyip, 16/3/1980, [oPJV]

   BC528   U   1355 - s1, L4, East yard, 12/1976, [oRXO]

   CN278   U   1356 - s1e2c, Off Reg, Williamstown Pier, 1970s, [oBAU]

   CU669   U   1357, Oakleigh, 10/1/1979, [oPJV]

   BR851   U   1357 - hold KMQ, Port Melbourne, 7/12/1980, [oPJV]

   BC529   U   1360 - s1, East Yard, 12/1976, [oRXO]

   BY105   U   1363 - part view, North Geelong Yard, 29/4/1979, [oPJV]

   B2988   U   1367 - OR, lettered  News Express Goods  by mistake/one side, Canal Zone, 1/4/1978, [oPJV]

   BC530   U   1367 - s1e2, L4, Camberwell, 12/1976, [oRXO]

   BC531   U   1367 - s2, Dandenong, 30/1/1977, [oRXO]

   BC532   U   1368 - s1, East Yard, 12/1976, [oRXO]

   BC533   U   1374 - s1, East Yard, 19/11/1976, [oRXO]

   CG218   U   1375, Manangatang, 21/4/1978, [oPJV]

   CB064   U   1379 - DO, Dandenong, 19/4/1979, [oPJV]

   BP490   U   1379 - lettering: OR, Hold KMQ, Spotswood Rec Depot, 10/6/1982, [oPJV]

   BP489   U   1379 - OR, Hold KMQ, Spotswood Rec Depot, 10/6/1982, [oPJV]

   BC534   U   1380 - s2p, L4, Morwell, 9/10/1976, [oRXO]

   BL442   U   1381 - s2, hold KMQ/WPier, Williamstown Pier, 18/3/1980, [oPJV]

   BC535   U   1382 - s1, East Yard, 23/11/1976, [oRXO]

   BM859   U   1383 - s2e2 L4, Frankston, 20/1/1976, [oPJV]

   BL439   U   1384 - hold KMQ/WPier, Williamstown Pier, 18/3/1980, [oPJV]

   BC536   U   1384 - s2, Dandenong, 30/1/1977, [oRXO]

   AV716   U   1384 - s2, L7, Spencer Street, 18/2/1977, [oPJV]

   DA630   U   1385 - s1e1 wide doors, Dandenong, 17/7/1976, [oPJV]

   BM337   U   1388 - body on stumps, Huntly, 12/5/1980, [oPJV]

   BC524   U   1388 - s1, East Yard, 12/1976, [oRXO]

   BC537   U   1389 - s2, Colac, 27/11/1976, [oRXO]

   BR883   U   1394 - hold KMQ, Williamstown Pier, 7/12/1980, [oPJV]

   BC940   U   1400 - part view, Morwell, 9/10/1976, [oRXO]

   BC538   U   1400 - s2, East yard, 12/1976, [oRXO]

   BO592   U   1401 - s1e2, HOLD KMQ, Williamstown Pier, 20/4/1980, [oPJV]

   CB410   U   1405, Bendigo, 8/4/1979, [oPJV]

   BM630   U   1405 - s2, Hold KMQ, Port Melbourne, 30/1/1980, [oPJV]

   BC539   U   1406 - s1, East Yard, 12/1976, [oRXO]

   BC540   U   1409 - part view, Dandenong, 30/1/1977, [oRXO]

   BL440   U   1409 - s1, hold KMQ/WPier, Williamstown Pier, 18/3/1980, [oPJV]

   BC541   U   1414 - s1, East Yard, 19/11/1976, [oRXO]

   CB712   U   1415 - OR, Tottenham Yard, 7/4/1979, [oPJV]

   DF034   U   1417 - s2p, advert: KSP Chandler, Spencer Street, c1958, [sPHD]

   CQ767   U   1417 - s2p, KSP Chandler advert, Melbourne Yard, c1958, [sPHD]

   AX196   U   1422 - s2, end trap, Echuca Wharf Museum, 3/1993, [oPJV]

   BK262   U   1434 - hold KMQ, Port Melbourne, 7/12/1980, [oPJV]

   CB927   U   1434 - s1, Benalla, 7/4/1979, [oPJV]

   CG209   U   1435, Manangatang, 21/4/1978, [oPJV]

   BC542   U   1435 - s1, East yard, 12/1976, [oRXO]

   BY221   U   1436, North Geelong Yard, 29/4/1979, [oPJV]

   BC543   U   1440 - s1, East yard, 18/11/1976, [oRXO]

   BR856   U   1442 - hold KMQ, Port Melbourne, 7/12/1980, [oPJV]

   BC544   U   1444 - s1, L4, East Yard, 25/11/1976, [oRXO]

   BC545   U   1448 - s1, Electric Crane Area, 12/1976, [oRXO]

   AV673   U   1448 - s1e1 trap, wide doors, Castlemaine, 18/2/1977, [oPJV]

   BC546   U   1449 - s2, East Yard, 16/11/1976, [oRXO]

   CN279   U   1453 - s1e2, Off Reg, Rangelea, 1970s, [oBAU]

   BC547   U   1453 - s2, East Yard, 12/1976, [oRXO]

   B2991   U   1455 - OR, Canal Zone, 1/4/1978, [oPJV]

   CC309   U   1456, East Yard, 1/4/1979, [oPJV]

   BH143   U   1456 - Off Reg lettering/id, Williamstown, 5/3/1981, [oPJV]

   BO011   U   1456 - s1e2, condemned, Newport Workshops, 16/3/1981, [oPJV]

   BC548   U   1456 - s2, East Yard, 26/10/1976, [oRXO]

   BH144   U   1456 - s2e1c, Off Reg, Williamstown, 5/3/1981, [oPJV]

   AV880   U   1458 - s1e2 trap, Frankston, 10/1/1978, [oPJV]

   BC549   U   1461 - s2, East Yard, 16/11/1976, [oRXO]

   BC550   U   1462 - s2, East Yard, 12/1976, [oRXO]

   BL471   U   1463 - hold KMQ, Williamstown Pier, 18/3/1980, [oPJV]

   BO574   U   1463 - s1e2c, HOLD KMQ, Williamstown Pier, 20/4/1980, [oPJV]

   BC551   U   1473 - s1, short, East Yard, 12/1976, [oRXO]

   BC552   U   1477 - s2, steel door, Colac, 27/11/1976, [oRXO]

   BC553   U   1481 - s1, East Yard, 12/1976, [oRXO]

   BC554   U   1486 - s2, L4, East Yard, 19/11/1976, [oRXO]

   BM858   U   1490 - s1e2, Frankston, 20/1/1976, [oPJV]

   B2822   U   1491, Oakleigh, 4/4/1978, [oPJV]

   BC555   U   1491 - part view, Woodend, 8/11/1976, [oRXO]

   CZ355   U   1491 - part view, Woodend, 8/11/1976, [oRXO]

   DA611   U   1494 - s2e1, Dandenong, 17/7/1976, [oPJV]

   BC556   U   1496 - s1, Timboon, 28/11/1976, [oRXO]

   BC557   U   1498 - s1, East Yard, 12/1976, [oRXO]

   BC558   U   1499 - s2, Bendigo, 13/11/1976, [oRXO]

   BC559   U   1501 - s2, East Yard, 12/11/1976, [oRXO]

   BC560   U   1502 - s2, Camberwell, 12/1976, [oRXO]

   AV675   U   1503 - side, steel door, Castlemaine, 18/2/1977, [oPJV]

   CN280   U   1507 - s2, Off Reg, CONDEMNED, Rangelea, 1970s, [oBAU]

   AV670   U   1509 - s1, Castlemaine, 18/2/1977, [oPJV]

   AV713   U   1511 - arrow on door ex VF, s1, Spencer Street, 18/2/1977, [oPJV]

   CN281   U   1511 - s1, door with arrow, Dandenong, 1970s, [oBAU]

   BC561   U   1512 - part view, Woodend, 8/11/1976, [oRXO]

   CT962   U   1516 - scrapped bits/door lettering, Appleton Dock, 13/1/1979, [oPJV]

   CC396   U   1517 - s1, Ararat, 29/4/1978, [oPJV]

   BC562   U   1523 - s2, East Yard, 16/11/1976, [oRXO]

   BK633   U   1528 - s1e2, Tottenham Yard, 4/3/1976, [oPJV]

   BK634   U   1528 - s1p, PV8.75 MI, Tottenham Yard, 4/3/1976, [oPJV]

   BC563   U   1530 - s1, steel door, East Yard, 19/11/1976, [oRXO]

   AV720   U   1535 - s2, Spencer Street, 18/2/1977, [oPJV]

   BC564   U   1539 - s1, East Yard, 12/1976, [oRXO]

   BC565   U   1549 - s1, East Yard, 16/11/1976, [oRXO]

   BC566   U   1554 - s1, East Yard, 12/1976, [oRXO]

   BC567   U   1555 - s2, East Yard, 12/1976, [oRXO]

   DA617   U   1555 - s2e2, full louvre end, Dandenong, 17/7/1976, [oPJV]

   BC568   U   1556 - s2, East Yard, 12/1976, [oRXO]

   AY953   U   1560 - part view, door fitted to B 59, Dandenong, 30/1/1977, [oRXO]

   CF930   U   1560 - s1e2c full end louvres, St Arnaud, 19/4/1978, [oPJV]

   B9924   U   1567, Woodend, 15/3/1978, [oPJV]

   BC569   U   1568 - s1, East Yard, 23/11/1976, [oRXO]

   CT613   U   1569 - s2, doors open, Arden Street Sidings, 4/9/1977, [oPJV]

   BC571   U   1576 - s1, East Yard, 16/11/1976, [oRXO]

   BC570   U   1576 - s2p, steel door, Camberwell, c1977, [oRXO]

   11496   U   1583 - OR, Tottenham Yard, 16/4/1978, [oPJV]

   AU637   U   1591 - part view, North Melbourne, 2/1977, [oPJV]

   BC572   U   1593 - s1, Spencer Street, 21/10/1976, [oRXO]

   B2992   U   1598 - OR, Canal Zone, 1/4/1978, [oPJV]

   BC573   U   1607 - s2, East yard, 16/11/1976, [oRXO]

   CN282   U   1607 - s2, Williamstown Pier, 1970s, [oBAU]

   CN283   U   1610 - s1, 1970s, [oBAU]

   BC574   U   1618 - part view, East Yard, 15/10/1976, [oRXO]

   BC575   U   1620 - s2, Telford, 18/9/1976, [oRXO]

   BC576   U   1621 - s1, Bendigo, 13/11/1976, [oRXO]

   CT960   U   1625 - underframe stamp, Appleton Dock, 13/1/1979, [oPJV]

   BC577   U   1626 - part view, East Yard, 12/1976, [oRXO]

   BC578   U   1627 - part view, East Yard, 12/1976, [oRXO]

   BC579   U   1628 - s1, steel door, East Yard, 12/11/1976, [oRXO]

   DA632   U   1629 - s1e1, full end louvres, Dandenong, 17/7/1976, [oPJV]

   11518   U   1637, Tottenham Yard, 16/4/1978, [oPJV]

   CB385   U   1641 - OR/COND, Bendigo, 8/4/1979, [oPJV]

   AW845   U   1644 - part view, Newport Workshops, MayHol1967, [oPJV]

   BC580   U   1644 - part view, Williamstown Pier, 20/11/1976, [oRXO]

   AK482   U   1644 - s1e2, Off Reg, North Melbourne C&W Shops, 20/10/1977, [oPJV]

   BA146   U   1647 - part view, East Yard, 27/10/1976, [oRXO]

   BC300   U   1647 - part view, small & large door lettering, East Yard, 27/10/1976, [oRXO]

   BC581   U   1647 - s1, East Yard, 26/10/1976, [oRXO]

   BC582   U   1647 - s2, East Yard, 12/1976, [oRXO]

   BC583   U   1648 - s1, East Yard, 26/10/1976, [oRXO]

   BC584   U   1649 - part view, Bendigo, 13/11/1976, [oRXO]

   BC585   U   1650 - s2, steel door, L4, East Yard, 18/11/1976, [oRXO]

   BC586   U   1652 - s1, Camberwell, 10/11/1976, [oRXO]

   BC587   U   1654 - part view, East Yard, 12/1976, [oRXO]

   CN284   U   1656 - s2e1c, part pressed end, 1970s, [oBAU]

   BC588   U   1658 - s1, East Yard, 12/1976, [oRXO]

   BK632   U   1661 - s2e1, Tottenham Yard, 4/3/1976, [oPJV]

   BC589   U   1662 - s2, East Yard, 12/1976, [oRXO]

   BC590   U   1663 - s1, Dandenong, 30/1/1977, [oRXO]

   BC591   U   1665 - s1, Spencer Street, 9/11/1976, [oRXO]

   BC592   U   1668 - s1, East Yard, 12/1976, [oRXO]

   BC593   U   1670 - s1, East Yard, 12/1976, [oRXO]

   B1025   U   1683 - OR, Tottenham Yard, 25/3/1979, [oPJV]

   BC594   U   1692 - s1, Camberwell, 12/1976, [oRXO]

   BC595   U   1694 - s2, Off Reg, Bendigo, 13/11/1976, [oRXO]

   BC294   U   1695 - part view, East Yard, 9/11/1976, [oRXO]

   BC596   U   1695 - part view, East Yard, 9/11/1976, [oRXO]

   CB386   U   1696 - OR/COND, Bendigo, 8/4/1979, [oPJV]

   BC597   U   1697 - s2, Spencer Street, 12/1976, [oRXO]

   BC598   U   1702 - part view, top, Woodend, 13/11/1976, [oRXO]

   BC599   U   1708 - s2, East Yard, 23/11/1976, [oRXO]

   BC600   U   1711 - s1, East Yard, 12/1976, [oRXO]

   BC601   U   1712 - s1, steel door, East Yard, 26/10/1976, [oRXO]

   BC602   U   1713 - s2, East Yard, 19/11/1976, [oRXO]

   BC603   U   1716 - s1, Dandenong, 30/1/1977, [oRXO]

   BC604   U   1719 - s2e1c, steel door, Bendigo, 1/11/1976, [oRXO]

   BC605   U   1720 - s1, steel door, East Yard, 12/1976, [oRXO]

   CN285   U   1720 - s2e1c, pressed end panels, Off Reg, CONDEMNED, 1970s, [oBAU]

   BC606   U   1724 - part view, East Yard, 3/11/1976, [oRXO]

   BC607   U   1725 - s2, East Yard, 18/11/1976, [oRXO]

   CG333   U   1726, Tottenham Yard, 16/4/1978, [oPJV]

   BC608   U   1732 - s1, steel door, L7, East Yard, 12/1976, [oRXO]

   BC609   U   1735 - part view, Bendigo, 13/11/1976, [oRXO]

   B3391   U   1740, Tottenham Yard, 18/3/1979, [oPJV]

   BC610   U   1745 - part view, Dandenong, 14/11/1976, [oRXO]

   BC611   U   1747 - s2, East Yard, 12/1976, [oRXO]

   BC612   U   1750 - s2, East Yard, 12/1976, [oRXO]

   CN286   U   1750 - s2e2, roof view, 1970s, [oBAU]

   BC613   U   1750*- part view, L4, Woodend, 8/11/1976, [oRXO]

   BC614   U   1756 - s1, Spencer Street, c1977, [oRXO]

   AY108   U   1760 - body, scrap metal yard, Bairnsdale West, 20/4/1994, [oPJV]

   BC615   U   1764 - s1, East Yard, 12/1976, [oRXO]

   BC616   U   1770 - part view, steel door, L4, East Yard, 3/11/1976, [oRXO]

   CN287   U   1770 - s2, Off Reg, Rangelea, 1970s, [oBAU]

   CB384   U   1772 - OR/COND 4 door let/7  ID let, Bendigo, 8/4/1979, [oPJV]

   BC617   U   1772 - s2, East Yard, 23/11/1976, [oRXO]

   BC618   U   1773 - s1, East Yard, 12/1976, [oRXO]

   B1519   U   1775 - part view, Canal Zone, 1/4/1978, [oPJV]

   BC619   U   1775 - s2, East Yard, 23/11/1976, [oRXO]

   BC620   U   1776 - s1, Spencer Street, 22/10/1976, [oRXO]

   BG706   U   1776 - s2e1, Casterton, 11/8/1976, [oPJV]

   BY168   U   1783 - part view, Spencer Street, 29/4/1979, [oPJV]

   BC621   U   1786 - s2, East Yard, 15/10/1976, [oRXO]

   DA571   U   1786 - s2, disc wheels, full end/s2, Dandenong, 17/7/1976, [oPJV]

 
   Diagrams   for  'U  '

   FileID  Description................................................



   BF550   U        -  (2 dia), 1904, [oD04]

   BF551   U        -  10t steel & iron, 1904, [oD04]

   CP836   U        -  15 ton, GA 3007, c1921, [oPTC]

   11837   U        -  16t 4whl, 1950s, [sPJV]

   BF724   U        -  3 dia, 4/6 wheel, [sPJV]

   DF073   U        -  GA, c1898, [oPTC]

   DF025   U        -  GA U 1, [oPTC]

   CQ758   U        -  GA U1, with amendments, [sPJV]

   CS165   U        -  Part drawing 2992, 11/10/1898, [oPTC]

   CQ851   U        -  Single door, wood type, [sPJV]

   BF725   U        -  steel 4whl, [sPJV]

   DF035   U        -  U 1A, steel, 10/10/1957, [oPTC]

   DF036   U        -  U 1B, construction welded, 14/11/1945, [oPTC]

   DF037   U        -  U 1C, 11t, conversion, 30/6/1955, [oPTC]

   CQ768   U        -  U1A GA, [oPTC]

   CQ769   U        -  U1B GA, [oPTC]

   CQ770   U        -  U1C GA, 11t ex scrap underframes, c1958, [oPTC]

 
File c021m, compiled by Peter J. Vincent, updated 22/1/2007