---
RT - Rail Tractor
---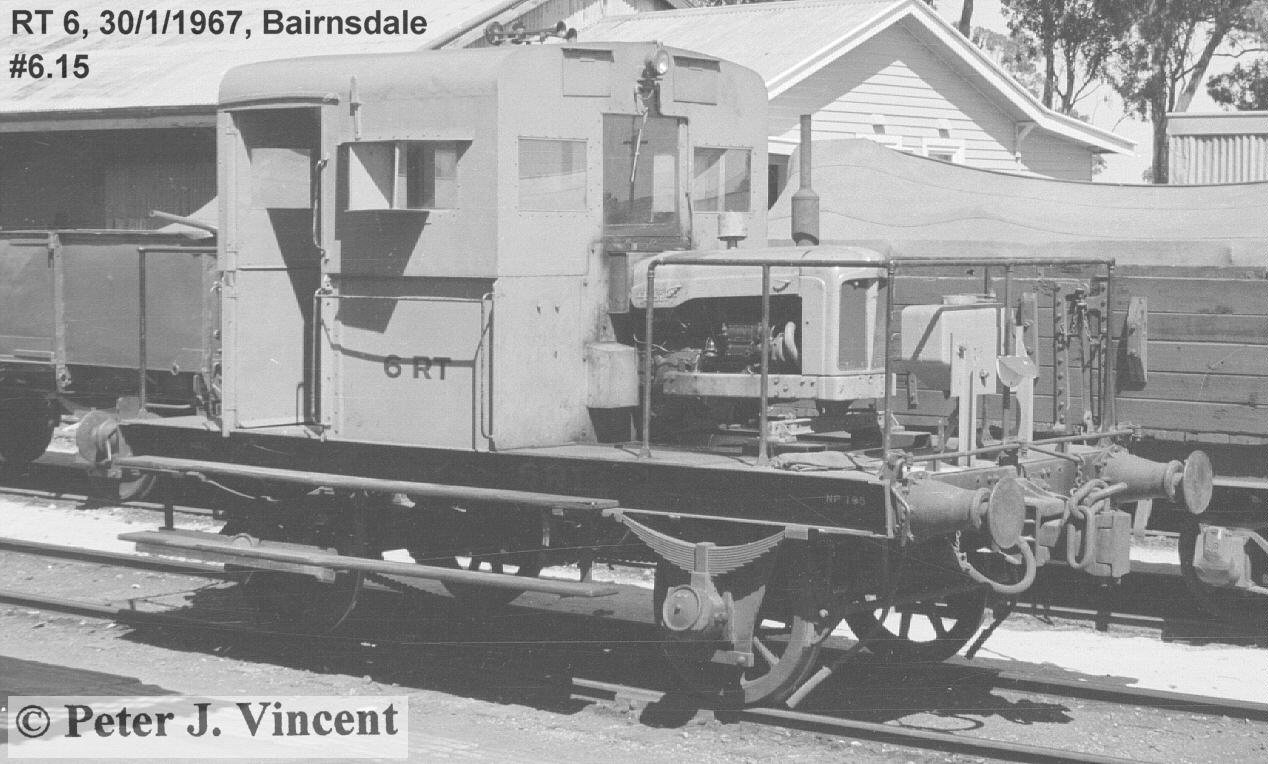 The first rail tractor entered service in 1932. It was a low powered unit with a wooden cab and was used in some line construction.
Between 1957 and 1969 more rail tractors entered service. These units were designed for shunting loose trucks with station limits only and were driven by suitably qualified station staff. They were for general shunting when train engines were not available and they were a replacement for horse shunting.
Most four wheel wagons were fitted with hooks on each side. At large station yards, a horse and attendant were provided to move and spot wagons as required. These were gradually phased out.
On flat ground, The RT maximum load was 200ton; about 10 loaded four wheel wagons.
The rail tractors were built on short wheelbase _I__ wagon underframes. Built onto this underframe was a farm tractor engine and metal cab. The transmission was chain drive to one axle with each axle connected by another chain. A large lever handbrake only was provided. The cab was complete with spring steel supported metal tractor seat. The cab was fitted with external mirrors to allow the operator to view both sides in both directions from the central seat position.
The 1932 rail tractor was No.1 and is currently preserved at the Newport Railway Museum.
RT 2 to 51 were converted ex I wagon underframes.
RT 54 was ex Port of Portland shunter about 1975.
RT 52, 53: author has no information
Most rail tractors were withdrawn from service in the 1980's when freight distribution was removed from many stations and consolidated to regional freight depots.
Some RT's are still in use.
A second rail tractor was built similar to the first design. This tractor was for yard use inside Newport Workshops. From local information the tractor was a failure. The underframe of this tractor still exists at November 2007. It is used as a parts platform.
   Photos   for  'RT  '

   FileID  Description................................................



   CR276   RT        -  FA scheme, shunting, Kensington, 23/7/2002, [oPJV]

   CR277   RT        -  with shunter, pushing grain wagons, Kensington, 23/7/2002, [oPJV]

   AU245   RT        - distant, Bairnsdale, 22/9/1975, [oPJV]

   BC932   RT      4, Oakleigh, 21/1/1977, [oRXO]

   CF665   RT      4, Ballarat Workshops, 17/4/1978, [oPJV]

   AW740   RT      6, Bairnsdale, 1/1967, [oPJV]

   AW741   RT      6, Bairnsdale, 1/1967, [oPJV]

   AI356   RT      7 - Vline, no engine, Bendigo, 25/3/2000, [oPJV]

   BC933   RT      9, Bendigo, 1/11/1976, [oRXO]

   BC934   RT     12, Yarrawonga, 18/9/1976, [oRXO]

   CB203   RT     12, Oakleigh, 13/4/1979, [oPJV]

   BC936   RT     14, Camperdown, 28/11/1976, [oRXO]

   BK417   RT     17, Yarraglen, [sNET]

   DH256   RT     17 - detail: axle sprockets for chain drive, Yarraglen, 4/7/2003, [oPJV]

   DH255   RT     17 - front view, stored, no chains, Yarraglen, 4/7/2003, [oPJV]

   DH266   RT     17 - lettering: BOL 5.93, Yarraglen, 4/7/2003, [oPJV]

   DH265   RT     17 - lettering: P 12.72 BO, Yarraglen, 4/7/2003, [oPJV]

   DH267   RT     17 - lettering: tare X10.5.0.0, Yarraglen, 4/7/2003, [oPJV]

   DH253   RT     17 - part view: cab lettering/drivers seat, Yarraglen, 4/7/2003, [oPJV]

   DH270   RT     17 - sand b ox operating lever, in cab, Yarraglen, 4/7/2003, [oPJV]

   DH269   RT     17 - sand box and cab lever detail, Yarraglen, 4/7/2003, [oPJV]

   DH271   RT     17 - sandbox/tail disc, Yarraglen, 4/7/2003, [oPJV]

   DH252   RT     17 - stripped/no chains, Yarraglen, 4/7/2003, [oPJV]

   DH268   RT     17 - underframe detail: waybill clip, Yarraglen, 4/7/2003, [oPJV]

   11020   RT     18 - part view/driver, Irymple, 20/4/1978, [oPJV]

   BC937   RT     21, Warragul, 9/10/1976, [oRXO]

   CA903   RT     23, Numurkah, 15/4/1979, [oPJV]

   BA439   RT     25 - Orange, Vline, [sRXO]

   CF867   RT     26 - shows tractor seat, Birchip, 19/4/1978, [oPJV]

   BM119   RT     27, Williamstown, 12/6/1980, [oPJV]

   DE612   RT     27 - FA scheme, at  Ballarat Tractors , Ballarat West, 21/4/2003, [oPJV]

   CG235   RT     28, Sealake, 21/4/1978, [oPJV]

   BC938   RT     33, Oakleigh, 26/9/1976, [oRXO]

   AT819   RT     33, Korong Vale, 22/4/1979, [oPJV]

   11016   RT     34, Irymple, 20/4/1978, [oPJV]

   B3150   RT     35, Footscray Goods Yard, 25/3/1979, [oPJV]

   CP646   RT     38 - FA repaint, Kensington, 5/7/2002, [oPJV]

   BC939   RT     39, Warragul, 9/10/1976, [oRXO]

   DG861   RT     39 - e1p, stored, South Dynon, 18/6/2003, [oPJV]

   DG845   RT     39 - stored, South Dynon, 18/6/2003, [oPJV]

   DE615   RT     43 - part dismantled, Vline, at  Ballarat Tractors , Ballarat West, 21/4/2003, [oPJV]

   BG642   RT     46, Newport Workshops, 6/11/1975, [oPJV]

   CU383   RT     46 - e1p, Spotswood Rec Depot, 11/1/1979, [oPJV]

   CU382   RT     46 - e1q, Spotswood Rec Depot, 11/1/1979, [oPJV]

   CU384   RT     46 - e2p, Spotswood Rec Depot, 11/1/1979, [oPJV]

   CU385   RT     46 - s2e2c, Spotswood Rec Depot, 11/1/1979, [oPJV]

   CU381   RT     46 - s2p, Spotswood Rec Depot, 11/1/1979, [oPJV]

   CU380   RT     46 - s2q, Spotswood Rec Depot, 11/1/1979, [oPJV]

   BC940   RT     49, Morwell, 9/10/1976, [oRXO]

   BC941   RT     52, Castlemaine, 13/11/1976, [oRXO]
   No diagrams found for RT   
---
File c466m compiled by Peter J. Vincent, updated 24/11/2007