---
M - Comeng Motor Car
---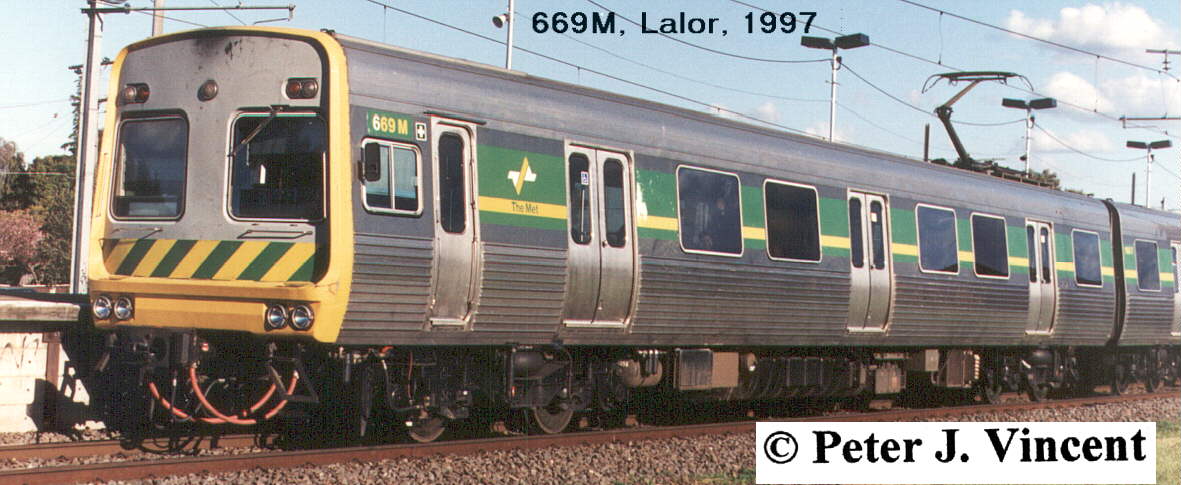 By 1979, the rail administration was beginning to plan for new suburban train sets. The sets were to be a different design to the last suburban trains, the 'Hitachi' trains.
Testing of equipment for the new trains included self adhesive transfers; pantographs and handbrakes. The couplers were to be changed too. Schaffenburg self centering and electric/air connections were delivered to the Workshops for inspection.
The new contract was awarded to the Comeng, Dandenong factory, despite Martin & King offering an air conditioned 'Hitachi' version. Overhead wire was placed down to the plant and into the siding which was off the Lyndhurst line. A wooden mock up of the car interior was built and inspected by railway staff. Luggage racks were to be provided but during the inspection their use was decided against.
Between 1981 and 1989 the sets were delivered to VicRail, then to the MET administration. To assist with electrical problems, a GEC representative was stationed at Jolimont Workshops for about four years.
The motor cars finally delivered were numbered 301 - 554, 561 - 680, 691 - 698. The sets were made up as three cars in M-_T__-M configuration. The sets were semi-permanently coupled. Cars were fitted with GEC air operated camshaft traction control, rear mount AusBreck pantographs, load compensating brakes, power doors, cast bogies with tread brakes and air conditioning.
On 10/1/1985 the set 477M-1089T-478M-479M-1090T-480M was issued to service with the lettering '45th Super Train' on each car on each side. Whilst the car numbers represented the '45th' set, there had only been about 41 sets issued to that date. The self-adhesive lettering had been removed by January 1991.
Cars 561M, 562M, 563M and 564M were the first cars fitted with LHB ( Link-Hoffman-Busch) disc brake bogies. The set was delivered as 433M, 434M, 435M and 436M respectively. It was renumbered about a week later.
Cars 691M, 692M were 'chopper' control cars. They were released to service as 469M and 470M respectively and renumbered shortly after. Replacement cars re-used these numbers.
The initial sets were delivered in VicRail orange scheme. As all M's were built facing the same way, some M's had to be reversed. As there was no method of turning the M cars at Dandenong, M cars were towed to Melbourne and returned to Dandenong via the loop. Only much later were cars able to be turned at the plant itself.
Cars were changed to green/yellow stripes with curly MTA logo when the Metropolitan Transit Authority was formed about 1984.
With the introduction of 300 series numbers, many Tait _M__ cars had to be re-numbered out of the 301 to 400 block. When car numbers encroached the Tait 400s number block, Tait M cars were renumbered into the 1000s; 470M becoming 1470M &etc.
Cars M 561 and onwards were fitted with Link-Hoffman-Busch disk brake bogies that featured slip-slide equipment.
First car destruction was M 315, destroyed by fire at Hurstbridge 10th April 1983. This car entered service May 1982.
   Photos   for  'M  '

   FileID  Description................................................



   B1253   M        -  ce, Bayside part view, Flinders Street, 8/2001, [oMID]

   B3766   M        -  ce, Bayside, arr at plat, Showgrounds, 20/9/2001, [oPJV]

   CZ702   M        -  ce, DDU shows  Special Message Please Wait , 30/10/2004, [oPJV]

   BL661   M        -  ce, impact damage, Holmesglen, 6/2000, [sPJV]

   DC404   M        -  ce, panto shadow on platform, Eltham, 10/2/2003, [oPJV]

   BT773   M        -  ce, pre conversion, Ballarat Workshops, 2001, [oMXK]

   CS893   M        -  ce, smashed drivers side cab, with driver, 1980s, [sPJV]

   CP648   M        -  ce, spare Comeng fibreglass fronts, Epping, 7/7/2002, [oPJV]

   CP649   M        -  ce, spare Comeng fibreglass fronts, Epping, 7/7/2002, [oPJV]

   DC288   M        -  ce, Wheelslip and foot pilot valve dash lights, 9/2/2003, [oPJV]

   CB661   M        - ce, collision 14, end of damaged car, Holmesglen, 6/2000, [oMXK]

   BP765   M        - ce, Driver John McMahon / console, Ringwood, 3/1982, [oPJV]

   CB644   M        - ce, e/e car of stationary train, Holmesglen, 6/2000, [oMXK]

   BG253   M        - ce, front guards side damaged, Jolimont Workshops, c1981, [oPJV]

   BP238   M        - ce, part view, Dandenong, 14/4/1982, [oPJV]

   AY066   M        - ce, rep:fibreglass front on ground, Jolimont Workshops, 31/12/1983, [oPJV]

   AY891   M        - ce, scharfenberg coupler head, Jolimont Workshops, 27/8/1983, [oPJV]

   BP250   M        - ce, unlettered shell at Comeng/construction, Dandenong, 14/4/1982, [oPJV]

   BI042   M        - ce, vic, Alamein h/b, 390M ce met, Jolimont Workshops, 2/8/1983, [oPJV]

   B1263   M      6 - ce, e1, Lilydale, 7/7/2001, [oMID]

   CA880   M     15 - mk, through fence, cab view, Lilydale, 31/12/2000, [oMID]

   DA854   M     86 - mk, s1e1c, behind fence, 4rd, Epping, 28/12/2002, [oPJV]

   CZ299   M    113 - swd - 1 x CE, 3 x ghosts, Jolimont Workshops, 4/6/1983, [oPJV]

   BP256   M    123 - ce, mockup at factory, Dandenong, 14/4/1982, [oPJV]

   BR269   M    156 - swd, with CE, F 211 washdock loco, Jolimont Workshops, 22/11/1984, [oPJV]

   DF588   M    157 - mk, s1e1c, behind fence, ex c/m, Epping, 19/5/2003, [oPJV]

   DG004   M    301 - ce, part view, staff presentation, 1980s, [oPTC]

   DB662   M    301 - ce, vic, part view, s1e1, VicRail presentation, 1980s, [oPTC]

   AT686   M    302 - ce, part view, Jolimont Workshops, 16/6/1983, [oPJV]

   BQ239   M    302*- ce, e/e, vic, unlettered, 3 car set, Jolimont Workshops, 3/3/1981, [oPJV]

   BQ242   M    302*- ce, e1p, Jolimont Workshops, 3/3/1981, [oPJV]

   DN433   M    304 - ce, with 2T, prior delivery, Dandenong, 30/7/1981, [oPJV]

   DJ489   M    308 - ce, DEUTA-WERKE axle odometer, 17459kms, 16/11/1982, [oPJV]

   DJ490   M    308 - ce, DEUTA-WERKE axle odometer/axlebox/wheel, 16/11/1982, [oPJV]

   AU713   M    308 - ce, front drawgear damage, Jolimont Workshops, 1/11/1983, [oPJV]

   DP544   M    309 - ce, Mtrain, part view/cab, Flinders Street, 3/10/2003, [oPJV]

   DJ392   M    313 - ce, detail: description box for VicRail system map, 8/1/1982, [oPJV]

   DJ390   M    313 - ce, detail: VicRail City Loop map, 8/1/1982, [oPJV]

   DJ391   M    313 - ce, detail: VicRail Melbourne System map, 8/1/1982, [oPJV]

   DJ146   M    313 - ce, saloon to #1 end, 8/1/1982, [oPJV]

   AW428   M    314 - ce, part view, end of track, Alamein, 20/11/1984, [oPJV]

   AY080   M    315 - ce,  burnt body, 2 x pieces, Jolimont Workshops, 21/12/1983, [oPJV]

   AY081   M    315 - ce,  burnt body, cab piece, Jolimont Workshops, 21/12/1983, [oPJV]

   DJ483   M    315 - ce, body burnt, on ground, s1e1c, Hurstbridge, 13/4/1983, [oPJV]

   DJ484   M    315 - ce, body two piece, cab part, Jolimont Workshops, 24/4/1983, [oPJV]

   DJ152   M    315 - ce, burnt body at section cut in two, Jolimont Workshops, 10/7/1983, [oPJV]

   DJ156   M    315 - ce, burnt body on ground, s1e2, Hurstbridge, 13/4/1983, [oPJV]

   DJ147   M    315 - ce, burnt body on ground, s2e1c, Hurstbridge, 13/4/1983, [oPJV]

   DJ151   M    315 - ce, burnt body, 2 sections from e2, Jolimont Workshops, 18/5/1983, [oRXO]

   DJ150   M    315 - ce, burnt body, 2 sections, saloon section/cab, Jolimont Workshops, 18/5/1983, [oRXO]

   DJ153   M    315 - ce, burnt body, 2 sections/cab, Jolimont Workshops, 24/4/1983, [oPJV]

   DJ154   M    315 - ce, burnt driver cab/console damage, Hurstbridge, 13/4/1983, [oPJV]

   BI662   M    315 - ce, burnt interior parts on platform, Hurstbridge, 13/4/1983, [oPJV]

   DJ157   M    315 - ce, burnt saloon/door, Hurstbridge, 13/4/1983, [oPJV]

   DJ158   M    315 - ce, burnt saloon/interior from cab to e2, Hurstbridge, 13/4/1983, [oPJV]

   BI663   M    315 - ce, burnt shell on ground/cutting up, Hurstbridge, 13/4/1983, [oPJV]

   DJ155   M    315 - ce, burnt van area/electrical cabinet, Hurstbridge, 13/4/1983, [oPJV]

   DJ485   M    315 - ce, cab section upside down, at Sims, Brooklyn, 29/5/1984, [oRXO]

   AU915   M    315 - ce, part view, body on ground, Jolimont Workshops, 22/9/1983, [oPJV]

   BI404   M    315 - ce, rear burnt section, Jolimont Workshops, 25/5/1983, [oPJV]

   DJ149   M    315 - ce, rear section, burnt body, s1, Jolimont Workshops, 24/4/1983, [oPJV]

   DJ148   M    315 - ce, saloon, interior burnt/door, Hurstbridge, 13/4/1983, [oPJV]

   CS891   M    315 - ce, vic, burnt body, s2e1c, Hurstbridge, 4/1983, [sPJV]

   DC186   M    316 - ce, one of last non refurbs 316M-T-319M, Spencer Street, 1/2/2003, [oPJV]

   DA522   M    316 - ce, set 316-1033-319, Spencer Street, 12/2002, [oPJV]

   AI394   M    317 - ce,  Vic, radio, Flinders Street Yard, 1/8/1983, [oPJV]

   AW751   M    317 - ce, turned block, 19/10/1983, [oPJV]

   DA239   M    319 - ce, 3 car umod with 3 car Mtrain set/rear, Richmond, 12/2002, [oPJV]

   DC848   M    319 - ce, Down, Plat 4, from 624M Up plat 3 arrival, Flinders Street, 13/2/2003, [oPJV]

   DC102   M    319 - ce, s1, Flinders Street, 31/1/2003, [oPJV]

   DD261   M    319 - ce, unmod, plat 4, Flinders Street, 21/2/2003, [oPJV]

   DJ159   M    320 - ce, detail: crumbling brake block at tread, 20/10/1983, [oPJV]

   DJ160   M    320 - ce, detail: crumbling brake block at tread 2, 20/10/1983, [oPJV]

   AZ707   M    320 - ce, MET, no Bayside logo, plat 4, Flinders Street, 26/10/2002, [oPJV]

   BP689   M    321 - ce, part bogie / scotch block, Flinders Street Yard, 29/3/1982, [oPJV]

   DJ635   M    325 - ce, met, s1e1c, Unipan/Ausbreck, Flinders Street Yard, 18/5/1986, [oPJV]

   DJ161   M    325 - ce, part view, coupled transfer with 219M MK, Flinders Street, 15/3/1983, [oPJV]

   DJ482   M    325 - ce, rear view being towed by MK set, for turning, Flinders Street, 15/3/1982, [oPJV]

   BH374   M    328 - ce, white on black peel off lettering, 1984, [oPJV]

   DJ162   M    329 - ce, vic, s1e2c, Jolimont Workshops, 1/10/1983, [oRXO]

   BR282   M    330 - ce, repair damage/no fibreglass front, Jolimont Workshops, 22/11/1984, [oPJV]

   BP512   M    332 - ce, s2e1c, vic, Jolimont Workshops, 17/6/1982, [oPJV]

   AU829   M    333 - ce, cab window, Footscray, 6/2001, [oAXB]

   AV137   M    333 - ce, compressed cabs 2, Footscray, [sPJV]

   AU857   M    333 - ce, compressed cabs, cab view, Footscray, [sPJV]

   AV141   M    333 - ce, compressed with M, south view, Footscray, [sPJV]

   BO839   M    333 - ce, end flutes / detail, Flinders Street Yard, 17/7/1982, [oPJV]

   AV138   M    333 - ce, s2e1 shows compressed centre motor cabs, Footscray, 2001, [sPJV]

   BP600   M    333 - ce, Shell M 33, Flinders Street Yard, 7/6/1982, [oPJV]

   BP599   M    333 - ce, Shell M 33 ID, Flinders Street Yard, 7/6/1982, [oPJV]

   BP601   M    333 - ce, Shell M 33, tow by 168M mk, Flinders Street Yard, 7/6/1982, [oPJV]

   BP597   M    333 - ce, shell M 33, tow by 168M mk, Flinders Street Yard, 7/6/1982, [oPJV]

   BO835   M    334 - ce, vic s2e1c, Flinders Street Yard, 17/7/1982, [oPJV]

   BP240   M    336 - ce, car shell, s2e1c, Dandenong, 14/4/1982, [oPJV]

   BP242   M    336 - ce, ID, bolster stamp M36, Dandenong, 14/4/1982, [oPJV]

   AU647   M    337 - ce,  marker light console, Flinders Street Yard, 30/8/1983, [oPJV]

   AU646   M    337 - ce,  trip console, Flinders Street Yard, 30/8/1983, [oPJV]

   AU709   M    337 - ce, cab class/number, Flinders Street Yard, 30/8/1983, [oPJV]

   AU648   M    337 - ce, destination indicator instructions, Flinders Street Yard, 30/8/1983, [oPJV]

   DJ165   M    338 - ce, detail: 4 pipe trip as attached/not in service, Jolimont Workshops, 4/8/1982, [oPJV]

   DJ163   M    338 - ce, detail: 4 pipe trip/PTC design/rear view/raised, Jolimont Workshops, 4/8/1982, [oPJV]

   DJ164   M    338 - ce, detail: side view of 4 pipe trip, Jolimont Workshops, 4/8/1982, [oPJV]

   BO988   M    338 - ce, s2e1c, Jolimont Workshops, 2/8/1982, [oPJV]

   DJ166   M    339 - ce, vic, s2e1c, Jolimont Workshops, 14/10/1983, [oRXO]

   BK750   M    342 - ce, cab rof, sigma a/c, Flinders Street Yard, 1/11/1982, [oPJV]

   DJ167   M    342 - ce, vic, s1e1c, Lilydale, 28/4/1985, [oPJV]

   BM125   M    344 - ce, overrun sdg a/c bogies cut out, Epping, c1990, [oRAQ]

   BQ470   M    344 - ce, panto damaged/missing, Flinders Street Yard, 19/10/1984, [oPJV]

   AW795   M    347 - ce,  bogie/turned block, 19/10/1983, [oPJV]

   AW785   M    347 - ce,  turned block, 19/10/1983, [oPJV]

   AW826   M    347 - ce, bogie, part view, 19/10/1983, [oPJV]

   BI323   M    347 - ce, part view, Flinders Street Yard, 9/5/1983, [oPJV]

   BB017   M    349 - ce,  vic, Flinders Street Yard, 19/4/1984, [oPJV]

   BB019   M    350 - ce,  vic, Flinders Street Yard, 19/4/1984, [oPJV]

   AW622   M    351 - ce, Williamstown h/b, Vic, Jolimont Workshops, 10/10/1983, [oPJV]

   AY100   M    354 - ce,  with 406M(l), 113M swd, Jolimont Workshops, 26/12/1983, [oPJV]

   DJ168   M    358 - ce, detail: part turned brake block, Flinders Street Yard, 20/10/1983, [oPJV]

   CO542   M    360 - ce, part view, Burnley, 24/1/2002, [oMID]

   AI390   M    361 - ce,  stabled trains, Flinders Street Yard, 1/8/1983, [oPJV]

   BE685   M    361 - ce, s2e1, Flinders Street Yard, 5/10/1984, [oPJV]

   BB013   M    364 - ce,  Vic, South Morang h/board, Flinders Street Yard, 19/4/1984, [oPJV]

   DJ486   M    368 - ce, vic, s2e1c, Jolimont Workshops, 14/3/1983, [oPJV]

   AW978   M    370 - ce,  part view - elec boxes open, on te, Jolimont Workshops, 6/6/1983, [oPJV]

   B4496   M    372 - ce, 6 car: 3Vic-3Met, Flinders Street, 22/10/1984, [oPJV]

   AI404   M    372 - ce, Vic, Glen Waverley headboard, Flinders Street Yard, 1/8/1983, [oPJV]

   AQ599   M    373 - ce, 6CR stabled behind gate, Victoria Park, 9/7/2002, [oPJV]

   CP395   M    374 - ce, 3rd last CE 3 car set, Epping, 11/7/2002, [oPJV]

   AI496   M    374 - ce, with Connex, MK units and 527M ce (l), Epping, 11/7/2002, [oPJV]

   AW595   M    375 - ce,  Laverton H/board, Vic, Jolimont Workshops, 10/10/1983, [oPJV]

   BB016   M    375 - ce,  vic, Flinders Street Yard, 19/4/1984, [oPJV]

   BB014   M    376 - ce,  Vic, Flinders Street Yard, 19/4/1984, [oPJV]

   BN104   M    376 - ce, part view, Glen Waverley, 17/3/2001, [oPJV]

   DJ169   M    381 - ce, met, s2e1c, Flinders Street Yard, 14/10/1983, [oRXO]

   B4500   M    382 - ce, grey front trim/original, Flinders Street Yard, 13/7/1983, [oJXW]

   B3399   M    382 - ce, Vic, Jolimont Workshops, c7/1983, [sPJV]

   CM831   M    384*- ce, M>Train refurb, Up, Footscray, 12/1/2002, [sPJV]

   BA969   M    385 - ce,  cab profile/s2/Met, Flinders Street Yard, 13/6/1984, [oPJV]

   BA968   M    385 - ce,  Met, Flinders Street Yard, 13/6/1984, [oPJV]

   CZ156   M    386 - ce,  Met, part view, Flinders Street Yard, 13/6/1984, [oPJV]

   BA971   M    386 - ce,  Met, s1e2, Flinders Street Yard, 13/6/1984, [oPJV]

   AY056   M    391 - ce, with 140M mk Met set, Flinders Street Yard, 30/12/1983, [oPJV]

   BA382   M    398 - ce,  met, Flinders Street Yard, 4/7/1984, [oPJV]

   CZ573   M    399 - ce,  Met, Flinders Street Yard, 13/6/1984, [oPJV]

   CZ163   M    400 - ce,  Met, Flinders Street Yard, 13/6/1984, [oPJV]

   CZ155   M    400 - ce,  Met, part view, Flinders Street Yard, 13/6/1984, [oPJV]

   CQ899   M    403 - ce, part view, Flinders Street, 10/7/2002, [oPJV]

   CQ899   M    403 - ce, part view with 507M, 156M, Flinders Street, 10/7/2002, [oPJV]

   CS563   M    404 - ce, Bayside, s1e1, 3 car set, Flinders Street, 19/9/2002, [oPJV]

   AY070   M    406 - ce,  3 car Met, Jolimont Workshops, 21/12/1983, [oPJV]

   AY100   M    406 - ce,  354M(r) - Met, 113M swd, Jolimont Workshops, 26/12/1983, [oPJV]

   AY095   M    406 - ce,  Met, Jolimont Workshops, 26/12/1983, [oPJV]

   DI474   M    413 - ce, foot pilot valve, unused, raised, right side, 21/8/2003, [oPJV]

   BA380   M    427 - ce,  s2e1 met, Flinders Street Yard, 4/7/1984, [oPJV]

   DJ170   M    427 - ce, detail: bogie/modified rigging (contrasty), 29/5/1985, [oPJV]

   BF906   M    427 - ce, met set, Flinders Street Yard, 1/10/1984, [oPJV]

   BA383   M    428 - ce,  met, Flinders Street Yard, 4/7/1984, [oPJV]

   AV146   M    431 - ce, cab view, Footscray, [sPJV]

   B1266   M    443 - ce, M>Train, e1, Sandringham, 22/7/2001, [oMID]

   BN023   M    467 - ce, cab centre mods, Flemington Racecourse, 12/3/2001, [oPJV]

   BN022   M    467 - ce, cab left mods, Flemington Racecourse, 12/3/2001, [oPJV]

   BN024   M    467 - ce, cab right mods, Flemington Racecourse, 12/3/2001, [oPJV]

   BN026   M    467 - ce, ramp, gaurds stn, tool kit hatch, Flemington Racecourse, 12/3/2001, [oPJV]

   BN025   M    467 - ce, set numbers/saloon door, w/c ramp, Flemington Racecourse, 12/3/2001, [oPJV]

   CS477   M    475 - ce, after tie down for transfer, Epping, 25/7/2002, [oPJV]

   CQ025   M    476 - ce, 6car CR stabled, Victoria Park, 8/7/2002, [oPJV]

   CR137   M    476 - ce, last 3 car non refurb set, Epping, 18/7/2002, [oPJV]

   CR128   M    476 - ce, lettering/number showing sticker layers, 18/7/2002, [oPJV]

   CR138   M    476 - ce, non refurb, last set in service, Epping, 18/7/2002, [oPJV]

   CS474   M    476 - ce, ready for transfer, Epping, 25/7/2002, [oPJV]

   DJ487   M    485 - ce, met, s2e1c, Flinders Street Yard, 24/5/1985, [oPJV]

   CQ947   M    487 - ce, no stripes, on tow rear 6car transfer, Broadmeadows, 7/7/1998, [oGAL]

   DJ172   M    488 - ce, detail: bogie p, Jolimont Workshops, 27/8/1985, [oPJV]

   CP515   M    488 - ce, Dn Epping, Lalor, 27/6/2002, [oPJV]

   DJ171   M    488 - ce, s2e1c, met, Jolimont Workshops, 27/8/1985, [oPJV]

   BX746   M    489 - ce, ANZ ad  Leave Work Early , Macleod, 16/5/2001, [oPJV]

   DJ173   M    490 - ce, detail: underframe stamps M 190 286, 1/4/1985, [oPJV]

   B3398   M    490 - ce, nude, Chopper trials, Flinders Street Yard, 1/4/1985, [oPJV]

   DB229   M    500 - ce, burnt shell, Newport Workshops, 6/1/2003, [oPJV]

   CR698   M    500 - ce, night, on fire, Sandringham, 31/8/2002, [sPJV]

   CR701   M    500 - ce, night, s1, damage/smoke/fireman/hose, Sandringham, 31/8/2002, [sPJV]

   CR697   M    500 - ce, on fire, night, Sandringham, 31/8/2002, [sPJV]

   CR696   M    500 - ce, on fire, part view, Sandringham, 31/8/2002, [sPJV]

   CR700   M    500 - ce, part view night, s2e1, smoke/side damage, Sandringham, 31/8/2002, [sPJV]

   DB231   M    500 - ce, part view s2/cab/burnt, Newport Workshops, 6/1/2003, [oPJV]

   CT478   M    500 - ce, part view, night, c2hrs before SHM fire, Flinders Street, 30/8/2002, [oPJV]

   CR699   M    500 - ce, s2, night, smoke filled saloon, Sandringham, 31/8/2002, [sPJV]

   DB090   M    501 - ce, Bayside unmodified, s1e1, Flinders Street, 10/1/2003, [oPJV]

   CS577   M    502 - ce, Bayside, s1e1, Flinders Street, 19/9/2002, [oPJV]

   DA277   M    502 - ce, down 6 car set 3carCE+3carCR Mtrain, Flinders Street, 12/2002, [oPJV]

   DB092   M    502 - ce, s2e2, Bayside unmod, Flinders Street, 10/1/2003, [oPJV]

   AV146   M    503 - ce, Bayside logo/cab view, Footscray, [sPJV]

   DP544   M    503 - ce, Mtrain, part view/cab, Flinders Street, 3/10/2003, [oPJV]

   CP396   M    527 - ce, 2nd last CE set, with Connex, MK units, Epping, 11/7/2002, [oPJV]

   CQ021   M    527 - ce, 3car set numbers on comm door/coat hanger, 8/7/2002, [oPJV]

   CQ018   M    527 - ce, cab controls, Camberwell, 8/7/2002, [oPJV]

   CQ017   M    527 - ce, cab controls, unmodified, Camberwell, 8/7/2002, [oPJV]

   CQ020   M    527 - ce, control panel, STOP flag, Camberwell, 8/7/2002, [oPJV]

   AQ776   M    527 - ce, guards seat, 9/7/2002, [oPJV]

   CQ003   M    527 - ce, in mixed refurb set, Camberwell, 9/7/2002, [oPJV]

   CP585   M    527 - ce, Isolated Equipment sticker, 3/7/2002, [oPJV]

   CR129   M    527 - ce, just split 6 car, 3car set to shops for transfer, Epping, 18/7/2002, [oPJV]

   CR131   M    527 - ce, move to shops, 475M ce rear, Epping, 18/7/2002, [oPJV]

   CQ019   M    527 - ce, van compartment/comm door/Ned Kelly plate, 8/7/2002, [oPJV]

   CP397   M    527 - ce, with Connex and MK sets, Epping, 11/7/2002, [oPJV]

   AI496   M    527 - ce, with Connex, MK units and 374M ce(r), Epping, 11/7/2002, [oPJV]

   CQ023   M    527 - ce,3 car set, Camberwell, 8/7/2002, [oPJV]

   DH080   M    529 - ce, part view cab, with XT, Flemington Racecourse, 28/6/2003, [oPJV]

   DB230   M    533 - ce, burnt shell, s1e1, Newport Workshops, 6/1/2003, [oPJV]

   DB228   M    533 - ce, burnt shell, s1e2, Newport Workshops, 6/1/2003, [sPJV]

   DB228   M    533 - ce, part view cab/lettering, Newport Workshops, 6/1/2003, [sPJV]

   DA492   M    534 - ce, s2, SA eqmt test, Flinders Street, 12/2002, [oPJV]

   CR989   M    546 - ce, Bayside, Up 3 cars, Flinders Street, 16/9/2002, [oPJV]

   CQ948   M    546 - ce, cab damage ex Broadmeadows collision, Newport Workshops, 11/1996, [oGAL]

   CS064   M    550 - ce, Bayside, platform view, Flinders Street, 24/7/2002, [oPJV]

   CS579   M    550 - ce, Bayside, s1e1c, Flinders Street, 19/9/2002, [oPJV]

   DF895   M    555 - ce, simulator cab, South Dynon, 30/5/2003, [oPJV]

   DJ174   M    562 - ce, met, detail: bogie q, Flinders Street Yard, 31/3/1985, [oPJV]

   CB317   M    569 - ce, collision damage, Holmesglen, 6/2000, [oMXK]

   DJ637   M    570 - ce, bogie plate: Comeng LHB #042, Flinders Street Yard, 28/4/1985, [oPJV]

   DJ175   M    570 - ce, met, detail: bogie p, Flinders Street Yard, 28/4/1985, [oPJV]

   CB647   M    570 - ce, with 590M, Holmesglen, 6/2000, [oMXK]

   AT961   M    577 - ce,  6 car, Up, Lalor, 15/8/1997, [oPJV]

   DJ488   M    580 - ce, bogie p, Flinders Street Yard, 10/9/1985, [oPJV]

   DJ638   M    580 - ce, damaged frame of Ausbreck/unipan, Flinders Street Yard, 10/9/1985, [oPJV]

   DT626   M    582 - ce, controls, non refurb car, green stripe/controller, c2001, [oGRE]

   DT635   M    582 - ce, part view modified drivers cab/door removed, Eltham, c2001, [oGRE]

   BP048   M    588 - ce, Hillside, cpld Connex 590M refurb, Epping, 17/2/2001, [oPJV]

   BA282   M    590 - ce, collision damage, Holmesglen, 26/7/2000, [oAXB]

   CB647   M    590 - ce, with 570M, Holmesglen, 6/2000, [oMXK]

   DJ639   M    592 - ce, met, s2e1c, Flinders Street Yard, 10/9/1985, [oPJV]

   DJ640   M    592 - ce, stamped numbers: M 220  330, Flinders Street Yard, 10/9/1985, [oPJV]

   DJ636   M    606 - ce, disc bogie, Flinders Street Yard, 18/5/1986, [oPJV]

   CB317   M    612 - ce, collision damage, Holmesglen, 6/2000, [oMXK]

   CP988   M    614 - ce, closeup of cab front/night/IR, Flinders Street, 6/7/2002, [oPJV]

   CT982   M    620 - ce, 6 car set, Lalor, 9/1/1997, [oPJV]

   CT864   M    620 - ce, disc bogies, Lalor, 9/1/1997, [oPJV]

   CT949   M    620 - ce, trip hoses/gear, Lalor, 9/1/1997, [oPJV]

   CT958   M    620 - ce, trip hoses/gear/bogie, Lalor, 9/1/1997, [oPJV]

   DG420   M    661 - ce, coupler/front damage a/c post/stanchion, Flinders Street Yard, c1995, [oDVC]

   DG419   M    661 - ce, derailled a/c overrun siding, Flinders Street Yard, c1995, [oDVC]

   DG413   M    661 - ce, e1q, overrun buffers/pole damage, Flinders Street Yard, c1995, [oDVC]

   DG416   M    661 - ce, front damage/bent pole at base, Flinders Street Yard, c1995, [oDVC]

   DG421   M    661 - ce, front step/damage on s2, Flinders Street Yard, c1995, [oDVC]

   DG412   M    661 - ce, Met, s1e1, overrun buffers, Flinders Street yard, c1995, [oDVC]

   DG415   M    661 - ce, part view, undergear s2, derailed/overrun, Flinders Street Yard, c1995, [oDVC]

   CB649   M    661 - ce, removal by truck/low loader, Holmesglen, 6/2000, [oMXK]

   CB650   M    661 - ce, removal by truck/low loader 2, Holmesglen, 6/2000, [oMXK]

   DG422   M    661 - ce, s1e2c, derailled a/c overrun siding, Flinders Street Yard, c1995, [oDVC]

   DG418   M    661 - ce, s2@e1, damage, overrun, Flinders Street Yard, c1995, [oDVC]

   DG417   M    661 - ce, s2e1c, overrun, bent pole, Flinders Street Yard, c1995, [oDVC]

   BM126   M    661 - ce, siding overrun, Flinders Street Yard, c1989, [oRAQ]

   BM124   M    661 - ce, smashed buffers/bent pole, overrun, Flinders Street Yard, c1989, [oRAQ]

   DF965   M    661 - ce, smashed into end of siding/mast, Flinders Street Yard, c1990, [sDCR]

   CW868   M    668 - ce, bogie makers plate: Comeng-LHB, serial 321N, Hurstbridge, 31/10/2002, [oPJV]

   DI461   M    668 - ce, Innovonics plate/Anti-Neutral device, 21/8/2003, [oPJV]

   BL635   M    671 - ce, met, Ballarat Workshops, c2000, [oMIK]

   BL636   M    671 - ce, met, s2e1, stripped, Ballarat Workshops, c2000, [oMIK]

   DE551   M    671 - ce, part view stripped cab front, Ballarat Workshops, 21/4/2003, [oPJV]

   B1207   M    672 - ce, Connex refurb interior 1, 7/2000, [oCXG]

   B1206   M    672 - ce, on trestles Connex scheme 1, Ballarat Workshops, 7/2000, [oCXG]

   DE537   M    672 - ce, part view s2e1, stripped car/Met/no front, Ballarat Workshops, 21/4/2003, [oPJV]

   AJ089   M    673 - ce, oc, approach Up train (IR), Mitcham, 12/7/2002, [oPJV]

   CR132   M    695 - ce, 3 car move to shops for Ballarat transfer, Epping, 18/7/2002, [oPJV]

   CT840   M    695 - ce, Chopper equipment boxes, A side, Camberwell, 10/7/2002, [oPJV]

   CT839   M    695 - ce, Equipment cutout box, Camberwell, 10/7/2002, [oPJV]

   CQ016   M    695 - ce, part view, cab/Hillside logo (3H), Camberwell, 8/7/2002, [oPJV]

   CQ063   M    695 - ce, POTS device information, 8/7/2002, [oPJV]

   CT833   M    695 - ce, pr/cab/Hillside, Camberwell, [oPJV]

   CQ061   M    695 - ce, Up 6CR set, Epping, 9/7/2002, [oPJV]

   CQ062   M    695 - ce, Up view, cab view, 3xHillside sticker, Epping, 9/7/2002, [oPJV]

   CQ015   M    695 - ce, with MK, Camberwell, 8/7/2002, [oPJV]

   CT837   M    695 - ce, with MK and Connex, Camberwell, 10/7/2002, [oPJV]

   DH019   M    707 - nx, 3 car stickered set, new logo, s1e1c, with CE, MK, Newport Workshops, 27/6/2003, [oPJV]

   DB914   M    858 - xt, set being cleaned and readied for service, s1e1, Burnley, 22/1/2003, [oPJV]

   DC756   M    864 - xt, part view/fence, s1e2, Bayswater, 8/3/2003, [oPJV]

 
   Diagrams   for  'M  '

   FileID  Description................................................



   BF554   M        -  t, 412+, c1925, [sPJV]

   12094   M        -  Tait/swd, sketch of whistle, [sPJV]

 
---
File c432m compiled by Peter J. Vincent, updated 14/11/2007