---
BRS - Economy/Buffet 'S' Car
---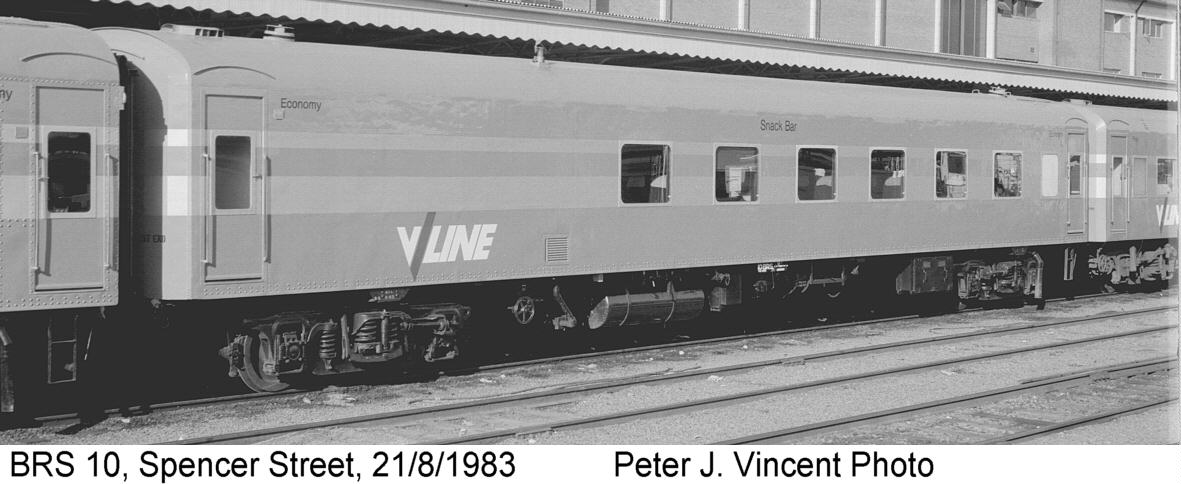 With the introduction of N cars and the new passenger services, older steel cars were also revamped.
Between 1983 and 1985, ten steel cars were modified to BRS, a car with combined sitting accommodation and a mini refreshment service.
Some cars were surplus from the altered standard guage passenger train working. Two overnight trains were combined into one train leaving a surplus of cars which were returned to broad guage.
The BRS car numbers were: 1, 2, 3, 224, 225, 226, 227, 8, 9, 10. Midway through the project the steel cars were allocated to '200' number range. Cars 1,2,3,8,9,10 became 221, 222, 223, 228, 229 and 230 between 1984/1985. Cars 224, 225, 226, 227 were converted directly with those numbers.
The BRS group came from classes: _AS_, _BS_, MBS_, VFR_, VFS_.
   Photos   for  'BRS  '

   FileID  Description................................................



   DJ574   BRS      1 - vic, Snack Bar, Spencer Street, 18/12/1984, [oRXO]

   AT017   BRS     10 - part view, Vl, lettering, Spencer Street, 21/8/1983, [oPJV]

   12445   BRS    223 - Vl, lettering, Ballarat East, 10/6/2003, [oPJV]

   12447   BRS    223 - Vl, lettering, WCR sticker overlay/graffitti d, Ballarat East, 10/6/2003, [oPJV]

   12446   BRS    223 - Vl, T, stored WCR, Ballarat East, 10/6/2003, [oPJV]

   AB067   BRS    224 - s2, WCR, Spencer Street, 25/3/2000, [oPJV]

   AA610   BRS    225 - s2, WCR, Spencer Street, 25/3/2000, [oPJV]

   AA526   BRS    225 - s2e2, WCR logo, Spencer Street, 25/3/2000, [oPJV]

   DJ575   BRS    226 - Vline, Snack Bar, Flinders Street Yard, 16/8/1985, [oPJV]

   DH113   BRS    227 - T, lettering/Snack Bar/VR colours, Spencer Street, 29/6/2003, [oPJV]

   DH112   BRS    227 - T, VR scheme, Snack Bar lettering/distant, Spencer Street, 29/6/2003, [oPJV]

   DJ576   BRS    227 - Vline, s2e1, Snack Bar, Flinders Street Yard, 9/8/1985, [oRXO]

   CB789   BRS    230 - preserved by Steamrail, ex BRS 14, Birchip, 14/2/1998, [oJAB]

   DJ577   BRS    230 - Vline, Snack Bar, s1e1, Newport Workshops, 25/8/1984, [oRXO]

 
   No diagrams found for BRS   
---
File c400m compiled by Peter J. Vincent, updated 1/11/2007