---
BJ - Joint Stock 'Overland' Sitting Car
---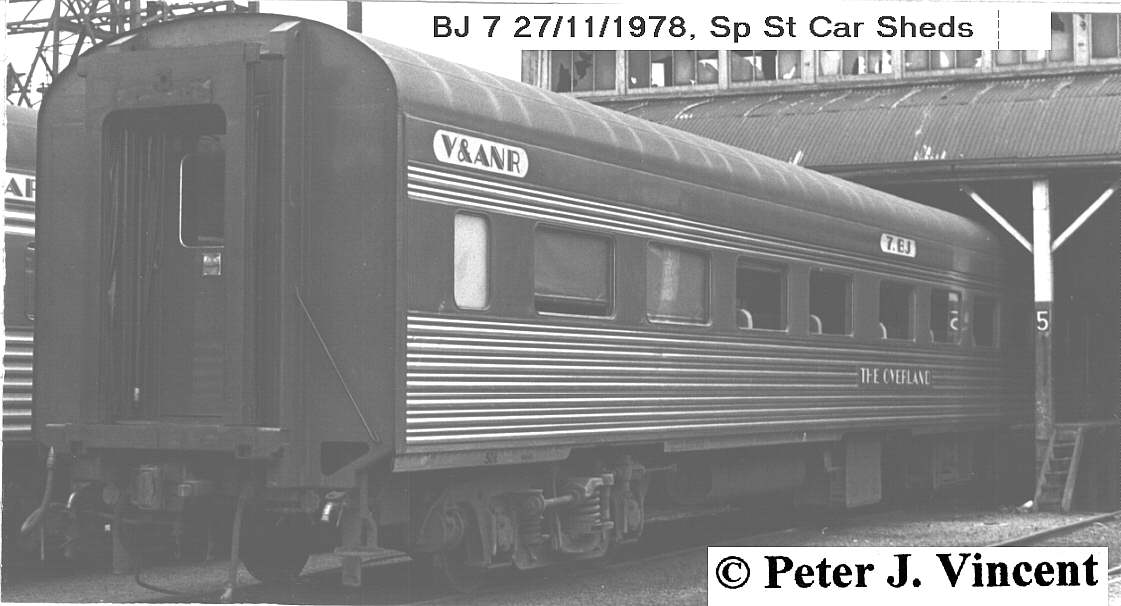 Ten 'Second Class' sitting cars were built for the 'Overland' service. The cars were coded BJ and were numbered 1 to 10.
Four cars were built in 1952, two in 1960, two in 1966 and two in 1968.
In 1971, BJ 1, 2 and 3 were modified internally and a Buffet section added. The cars were recoded to RBJ_ with the same numbers kept.
   Photos   for  'BJ  '

   FileID  Description................................................



   BQ662   BJ      2 - V&ANR, Spencer Street, 26/4/1979, [oPJV]

   BK570   BJ      6, Spencer Street, [oPJV]

   BK564   BJ      6 - V&ANR, Spencer Street, 4/1979, [oPJV]

   BK569   BJ      7, [sPJV]

   BK566   BJ      7 - V&ANR, Spencer Street, 4/1979, [oPJV]

   BQ580   BJ      7 - V&ANR, Spencer Street, 26/4/1979, [oPJV]

   BD115   BJ      9 - s1, Spencer Street, 27/10/1976, [oRXO]

 
   No diagrams found for BJ   
---
File c396m compiled by Peter J. Vincent, updated 1/11/2007