---
AD / XZ - 1st Class Car and Van
---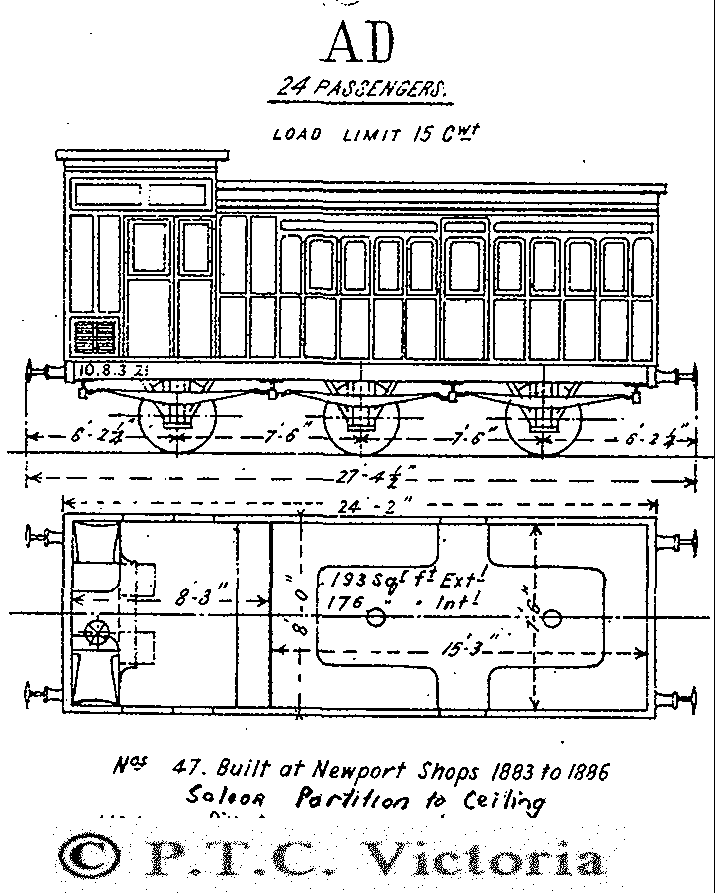 AD
These vehicles entered service between 1881 and 1886. They were built to a similar design to _YZ_ vans but were for First Class.
The number group is 1 to 58. However many cars are missing from the list. From the data it appears that the class was re-organised in 1886. Many vehicles in service prior to 1886 were scrapped and the numbers left vacant for replacements that were never built.
Cars 3, 7, 17, 18, 24, 30, 37 - 44, 55 - 57 were never in service after 1886. Cars 1, 2 and 4 entered service about 1886 as replacements for earlier cars. Car AD 4 is now _YZ_ 69, preserved in running condition at Seymour.
Between 1887 and 1904, the vehicles were converted to _BD_ at about the rate of about two or three per year with twelve conversions for 1891.
In the 1910 recoding the sole remaining vehicle in the class, AD 4, was recoded to XZ, number 1.
XZ
In February 1914, XZ 1 was relettered to YZ 69.
   No photos found for AD   
   No diagrams found for AD   
   No photos found for XZ   
   No diagrams found for XZ   
---
File c378m compiled by Peter J. Vincent, updated 26/10/2007