---
BEBE / BE / BDS - 2nd Class Car/Mail Van
---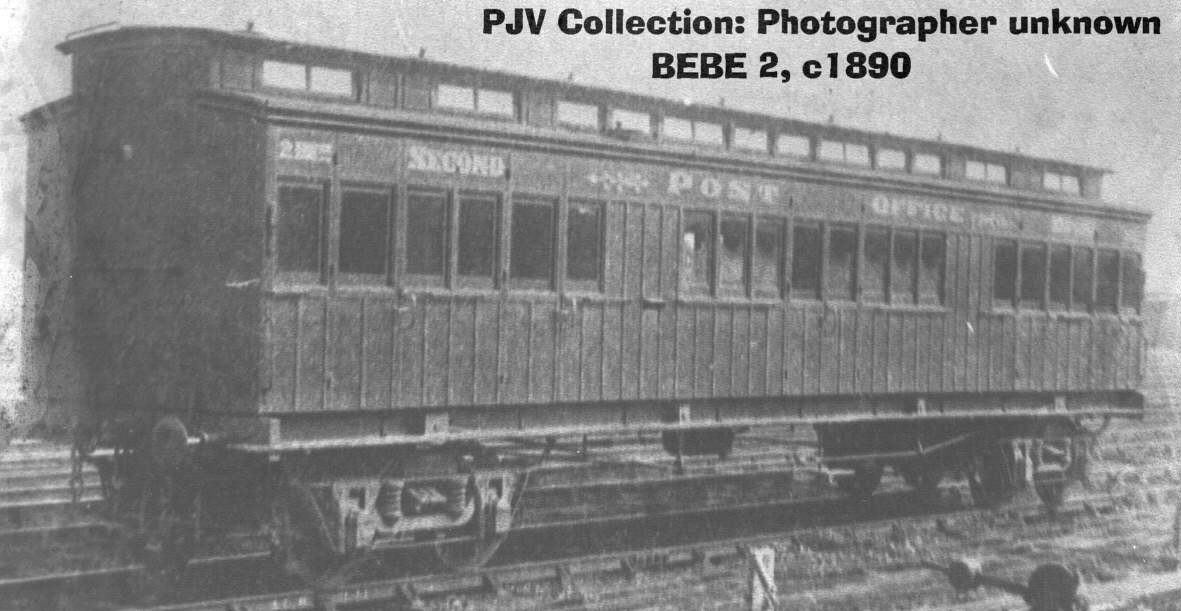 BEBE
In 1888 a combined Second class carriage with a mail sorting section entered service. It was classified BEBE 1. In 1890, car No. 2 entered service.
The was unusual in design in that the middle section was the van area, with two passenger compartments at each end.
In 1907 these cars were reclassed to BE, with the same numbers.
The lettering "E" in this code indicates "Mail Van".
BE
As 'BE' cars, they were recoded to BDS in the 1910 recoding with the same numbers retained.
BDS
In 1922 the cars were modified and reclassed to _B__, Second Class bogie carriages. This would presume the reconstruction of the van area back to passenger compartments.
Car BDS 1 became B 2 and car BDS 2 became B 1. In both cases they were the second carriages with those numbers. The first carriages had been converted to electric suburban service.
Both these cars were stripped out for use as works sleepers in 1951. Car B 1 was scrapped in 1959. Car B 2 was recoded to _WW_ 76 in 1959. It was out of service in 1977 and last sighted 1992 marked for preservation. It was believed to have been scrapped about 1995.
   Photos   for  'BEBE  '

   FileID  Description................................................

 
   Diagrams   for  'BEBE  '

   FileID  Description................................................



   BF509   BEBE        -  1,2, [sPJV]

 
   No photos found for BDS   
   Diagrams   for  'BDS  '

   FileID  Description................................................



   BF677   BDS        -  (BE) compt/post office, [sPJV]

 
---
File c283m compiled by Peter J. Vincent, updated 14/2/2007