---
Hospital Car
---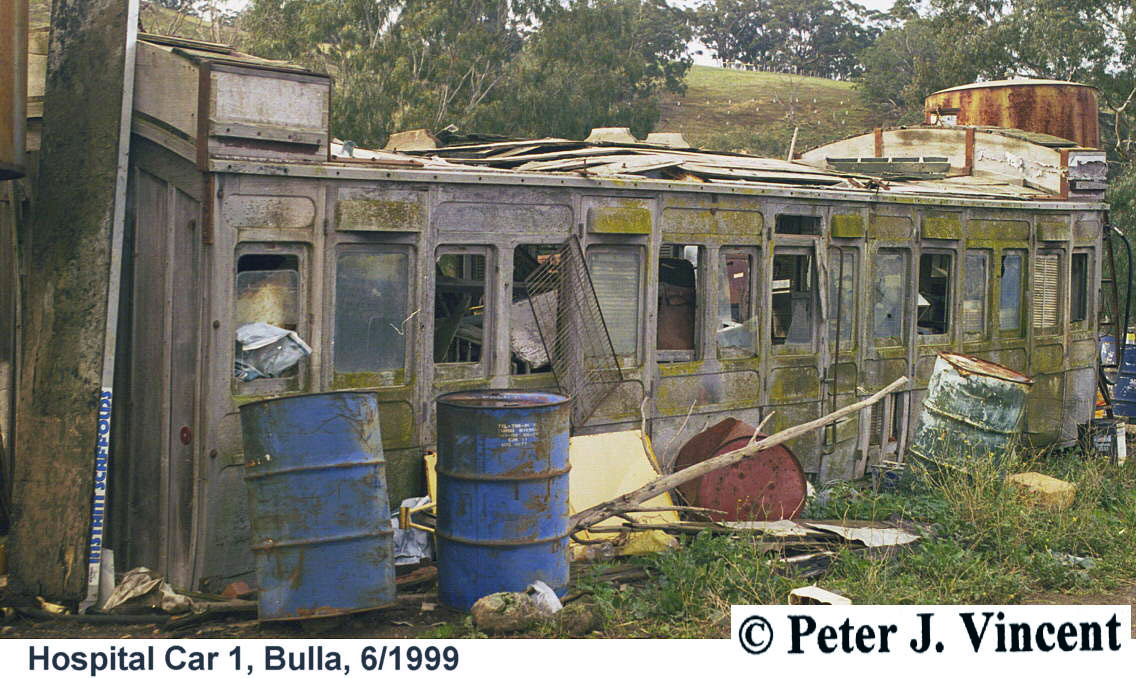 Following on from the disastrous collision at Sunshine/Braybrook Junction in 1908, the Victorian Railways placed into service two 'Hospital cars' with medical equipment: water, strechers, rest benches and cabinets with medical dressings and supplies.
The two cars apparently entered service on 24/12/1909. There is some confusion with the dates as correspondence shows 1909 dates with the official source showing 1908 for one car and 1909 for the other.
Hospital Car 1 was converted from _B__ 328. B 328 was built as _A__ 138 in 1883 and converted to B some time in 1889.
Hospital Car 2 was converted from B 343. B 343 was built as A 153 in 1883 and converted to B in April 1892.
Car 1 was scrapped in 1940. It was sold and placed onto a property at Somerton. About 1949 it was sold and moved to Bulla when the land at Somerton was developed for industrial use.
Car 2 was scrapped in 1939.
There is a photograph of one of the cars at Geelong Loco Depot during the 1930s.
   Photos

   FileID  Description................................................



   AV618   Hospital Car 1 - body end 1, Bulla, 13/6/1999, [oPJV]

   AV619   Hospital Car 1 - body end 1/roof tank, Bulla, 13/6/1999, [oPJV]

   AV617   Hospital Car 1 - body side 1, Bulla, 13/6/1999, [oPJV]

   AV629   Hospital car 1 - body, house and yard, Bulla, 13/6/1999, [oPJV]

   AV628   Hospital car 1 - body, interior, Bulla, 13/6/1999, [oPJV]

   AV623   Hospital Car 1 - body, interior, Bulla, 13/6/1999, [oPJV]

   AV625   Hospital car 1 - body, interior lettering, Bulla, 13/6/1999, [oPJV]

   AV622   Hospital Car 1 - body, part side 1, Bulla, 13/6/1999, [oPJV]

   AV620   Hospital Car 1 - body, part side 2, Bulla, 13/6/1999, [oPJV]

   AV631   Hospital car 1 - body, roof, Bulla, 13/6/1999, [oPJV]

   AV621   Hospital Car 1 - body, side 1, Bulla, 13/6/1999, [oPJV]

   AV630   Hospital car 1 - body, side 2, Bulla, 13/6/1999, [oPJV]

   AV632   Hospital car 1 - body, tank, Bulla, 13/6/1999, [oPJV]

 
   No diagrams found for  
---
File c253m compiled by Peter J. Vincent, updated 10/9/2007