---
JX - Bogie Cement Transport
---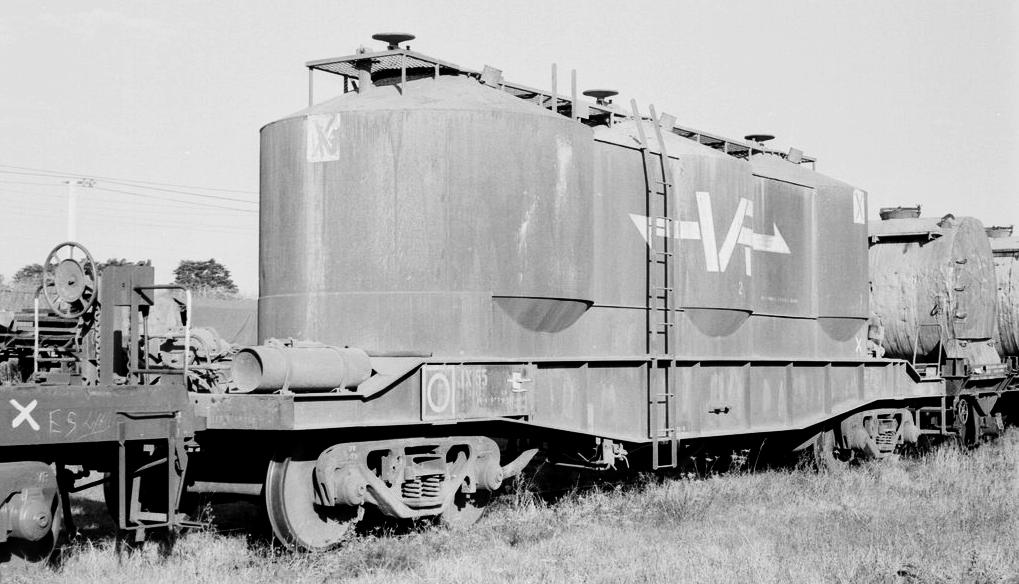 The JX hopper wagons were introduced between 1963 and 1977. They were a pneumatic discharge hopper, using "Air Slide" type equipment: porous floor with air pumped through it to allow the powder to flow like liquid.
JX wagons were numbered 1 - 108 and the class was recoded to VPCX from 1979.
Numbers 1 - 58 were built 1963 to 1971. Numbers 59 to 108 were built 1976/1977. The first 58 wagons were fitted with a three pipe air feed arrangement. These were modified to a single feed supply from the mid 1970's.
The material for two wagons in the JX project of the late 1960's was used to build two flour wagons which were coded _FX_.
   Photos   for  'JX  '

   FileID  Description................................................



   CZ576   JX        - gash dents along hoppers, s2, Ballarat North Workshops, 2/10/1976, [oRXO]

   AL437   JX        - in consist, Richmond, 9/1968, [oPJV]

   BY340   JX      1, Footscray Goods, 29/4/1979, [oPJV]

   BD355   JX      1 - s2e2, small VR, Albury, NSW, 30/3/1975, [oPJV]

   CF492   JX      2 - mod pipes s1, Arden Street, 28/4/1978, [oPJV]

   CB155   JX      8, Shepparton, 15/4/1979, [oPJV]

   AH377   JX     11, North Geelong Yard, 29/4/1979, [oPJV]

   B2871   JX     14, Flinders Street Yard, 4/4/1978, [oPJV]

   DA697   JX     18 - s1e1c, 3 pipes, Flinders Street Yard, 13/7/1976, [oPJV]

   DA696   JX     18 - s2e2, 3 pipes, Flinders Street Yard, 13/7/1976, [oPJV]

   BV603   JX     33 - s2, North Geelong Yard, 9/5/1979, [oPJV]

   B3291   JX     34, North Geelong Yard, 25/3/1979, [oPJV]

   BM387   JX     36 - s1e2, Wodonga Coal Siding, 10/5/1980, [oPJV]

   BW206   JX     40 - s2, North Geelong Yard, 9/5/1979, [oPJV]

   CF553   JX     42 - s2 mods, Arden Street, 27/4/1978, [oPJV]

   BG638   JX     46 - s1e1, Newport Workshops, 6/11/1975, [oPJV]

   CZ231   JX     47 - s2e1c, Westall, 10/11/1976, [oRXO]

   B3261   JX     49 - instruction plate: wrong plate  PUSH.. , North Geelong Yard, 25/3/1979, [oPJV]

   CN075   JX     49 - s1e2, 1970s, [oBAU]

   DA695   JX     50 - s1e1c, Flinders Street Yard, 13/7/1976, [oPJV]

   DA698   JX     50 - s2e2, Flinders Street Yard, 13/7/1976, [oPJV]

   AH378   JX     55, North Geelong Yard, 29/4/1979, [oPJV]

   CU294   JX     57 - s2e1, Jolimont Workshops, 25/5/1977, [oPJV]

   B3167   JX     60, North Geelong Yard, 25/3/1979, [oPJV]

   CU502   JX     63, North Geelong Yard, 12/3/1979, [oPJV]

   CU504   JX     64, North Geelong Yard, 12/3/1979, [oPJV]

   CU503   JX     68, North Geelong Yard, 12/3/1979, [oPJV]

   CT622   JX     75 - s1e2, Flinders Street Yard, 4/9/1977, [oPJV]

   CT638   JX     92 - s2e1, Jolimont Workshops, 4/9/1977, [oPJV]

   CN076   JX    101 - s1e2, Arden Street, 1970s, [oBAU]

   CT621   JX    106 - s1e2, Flinders Street Yard, 4/9/1977, [oPJV]

 
   Diagrams   for  'JX  '

   FileID  Description................................................



   11843   JX        -  VR, [sPJV]

 
---
File c165m compiled by Peter J. Vincent, updated 24/7/2007