---
OC - Fixed Wheel Sand Hopper
---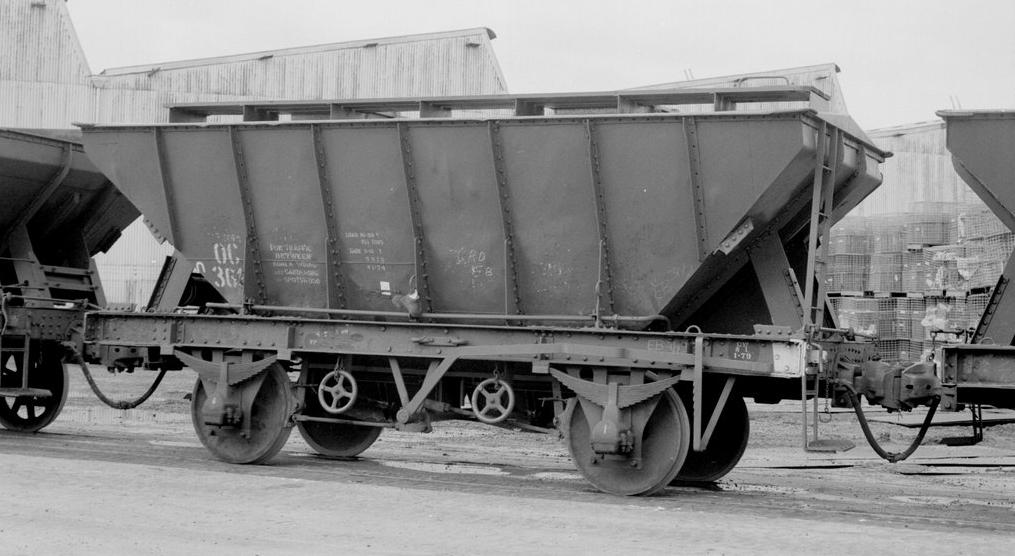 In the early 1960's sand traffic commenced between Koala Siding, Lang Lang and the Spotswood Glass factory. The sand was transported in covered hopper wagons converted from _O__ and _ON_ wagons with the original numbers retained.
The hopper interiors were specially coated to stop the sand from contamination.
With the demise of four wheel wagons in the late 1970's, early 1980's, the traffic was retained with the use of JSX_ bogie sand hoppers.
   Photos   for  'OC  '

   FileID  Description................................................



   DK420   OC        -  Off Reg, scrapping, 2nd vehicle, Spotswood Rec Depot, 8/6/1977, [oPJV]

   B3336   OC        -  rake with ZL van, Tottenham Yard, 18/3/1979, [oPJV]

   BL285   OC    216 - s1e1, Spotswood, 19/9/1975, [oPJV]

   BL286   OC    216 - s1p, Spotswood, 19/9/1975, [oPJV]

   BL294   OC    231 - s1e1, Spotswood, 19/9/1975, [oPJV]

   CN157   OC    245 - s1, Off Reg, Rangelea, 1970s, [oBAU]

   BA101   OC    252 - s1p, Koala Siding, 7/8/1976, [oRXO]

   BA108   OC    263 - s2p, Koala Siding, c1977, [oRXO]

   BL289   OC    271 - s2e1, L4, Spotswood, 19/9/1975, [oPJV]

   BP267   OC    278, North Melbourne C&W, 7/4/1982, [oPJV]

   BP269   OC    279 - s1, North Melbourne C&W, 7/4/1982, [oPJV]

   BG667   OC    309 - s2e2, L4, Newport Workshops, 27/1/1976, [oPJV]

   BB688   OC    320 - s2, Tottenham Yard, 29/3/1981, [oPJV]

   BP176   OC    328 - s1e2, North Melbourne C&W, 1/7/1982, [oPJV]

   BL293   OC    337 - s1e2, L7, Spotswood, 19/9/1975, [oPJV]

   BL292   OC    338 - e1p, Spotswood, 19/9/1975, [oPJV]

   BL291   OC    338 - e1q, Spotswood, 19/9/1975, [oPJV]

   BL290   OC    338 - s2e1c, L4, Spotswood, 19/9/1975, [oPJV]

   BG206   OC    340 - lettering - class / traffic, Tottenham Yard, 13/9/1981, [oPJV]

   BG205   OC    340 - s2e1, Ardeer-Totteham, Tottenham Yard, 13/9/1981, [oPJV]

   B3339   OC    350, Tottenham Yard, 18/3/1979, [oPJV]

   BG915   OC    353 - body scrapped, top detail, Newport Workshops, 5/2/1981, [oPJV]

   BH207   OC    353 - body, scrap road, Newport Workshops, 16/3/1981, [oPJV]

   BA125   OC    357 - s2, lids open, Koala Siding, 7/8/1976, [oRXO]

   AU878   OC    362 - s1e2, Bendigo, 18/2/1977, [oPJV]

   BA126   OC    362 - s1p, Koala Siding, 7/8/1976, [oRXO]

   CN158   OC    366 - s1e2, Off Reg, Rangelea, 1970s, [oBAU]

   BL287   OC    369 - s1e1, Spotswood, 19/9/1975, [oPJV]

   BL288   OC    369 - s1p, Spotswood, 19/9/1975, [oPJV]

   AJ037   OC    373, Tottenham Yard, 29/4/1979, [oPJV]

   B3338   OC    373, Tottenham Yard, 18/3/1979, [oPJV]

 
   No diagrams found for OC   
---
File c158m compiled by Peter J. Vincent, 4/7/2007