---
JSF / JSX - Bogie Sand Hopper
---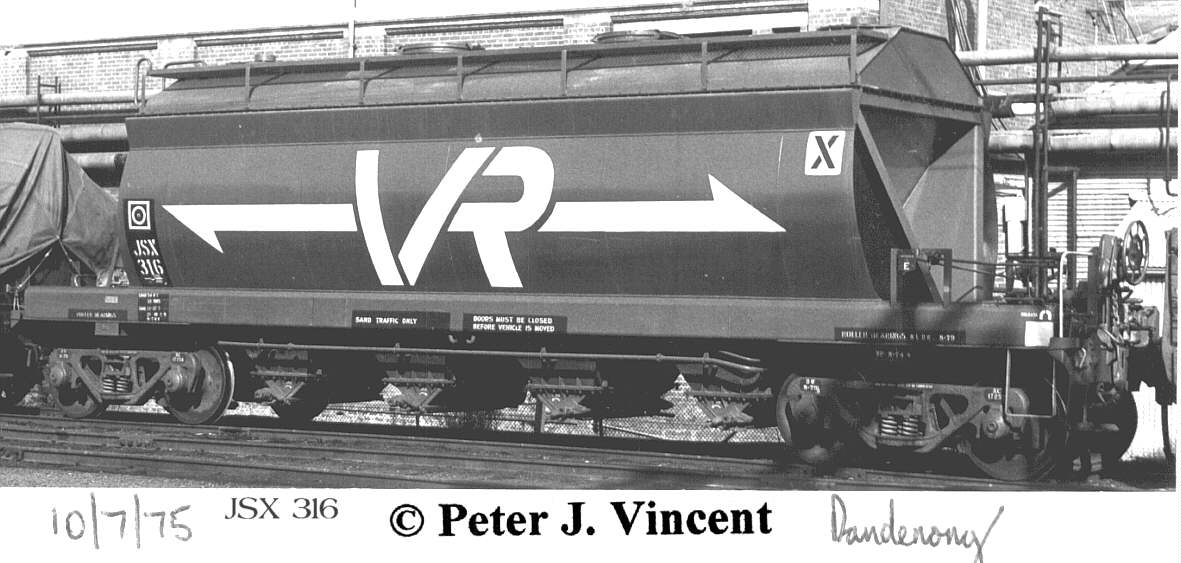 JSX
In 1974 a new 'modular' design hopper wagon was built. The wagons allowed for different top cover designs and bottom discharge features.
For sand traffic, used in the manufacture of glass products, twenty wagons were issued to traffic in 1974. The class was JSX and the numbers were 301 - 320.
To reduce the number of 'X' bogie exchange wagons in service, many wagon classes were relettered to 'F'. The JSX class became the JSF class. These changes took place from October 1977.
By late 1977, five more wagons were built, numbers 321 to 325. These wagons were delivered to Newport Workshops ex Ballarat as JSX. At Newport, they were repainted to JSF prior to release to traffic. They were photographed at Newport during October 1977 as JSF. This conflicts with official records which show the group 321 to 325 issued to service as JSX during December 1977.
JSF
JSX wagons 301 to 325 were recoded to JSF 301 to 325 by December 1977.
During 1978/1979 a further fifteen more wagons were built. These were numbers 326 to 340.
In the 1979 recoding the wagons were relettered to VHSY.
   Photos   for  'JSF  '

   FileID  Description................................................



   CF682   JSF        -  3 wagons unlettered, Ballarat Workshops, 17/4/1978, [oPJV]

   CU648   JSF        -  rake of ten wagons, Tottenham Yard, 12/3/1979, [oPJV]

   CF724   JSF        -  row framed in wheelset, Ballarat Workshops, 17/4/1978, [oPJV]

   CF676   JSF        -  row of 5 wagons/new, Ballarat Workshops, 17/4/1978, [oPJV]

   CF718   JSF        -  row of new wagons, Ballarat Workshops, 17/4/1978, [oPJV]

   CF722   JSF        -  row of new wagons 2, Ballarat Workshops, 17/4/1978, [oPJV]

   B1188   JSF    301, Spotswood, 25/3/1979, [oPJV]

   B1589   JSF    302, Tottenham Yard, 12/3/1979, [oPJV]

   CU691   JSF    308 - ID/lettering, Dandenong, 10/1/1979, [oPJV]

   CU687   JSF    308*- top, Dandenong, 10/1/1979, [oPJV]

   CU689   JSF    308*- top hatches, Dandenong, 10/1/1979, [oPJV]

   AM150   JSF    309, [oPJV]

   AM151   JSF    322, [oPJV]

   AM152   JSF    328, [oPJV]

   CU690   JSF    328 - ID/lettering, Dandenong, 10/1/1979, [oPJV]

   CU692   JSF    328 - part view, Dandenong, 10/1/1979, [oPJV]

   CF675   JSF    328 - s1p, Ballarat Workshops, 17/4/1978, [oPJV]

   CF674   JSF    328 - s1q, Ballarat Workshops, 17/4/1978, [oPJV]

   CU688   JSF    328*- top, Dandenong, 10/1/1979, [oPJV]

   CU686   JSF    328*- top hatches, open, Dandenong, 10/1/1979, [oPJV]

   CU693   JSF    329 - s2e1c, Dandenong, 10/1/1979, [oPJV]

   CF679   JSF    331, Ballarat Workshops, 17/4/1978, [oPJV]

   CU685   JSF    331 - lettering: class/number/LC symbol, Dandenong, 10/1/1979, [oPJV]

   CF680   JSF    332, Ballarat Workshops, 17/4/1978, [oPJV]

   CF681   JSF    333, Ballarat Workshops, 17/4/1978, [oPJV]

   CN072   JSF    333 - s2e1, 1970s, [oBAU]

   CF686   JSF    334 - part view left/unlettered end, Ballarat Workshops, 17/4/1978, [oPJV]

   CF684   JSF    334 - underframe stamp, Ballarat Workshops, 17/4/1978, [oPJV]

   CF683   JSF    334 - unlettered, Ballarat Workshops, 17/4/1978, [oPJV]

   CF686   JSF    335 - part view right/unlettered end, Ballarat Workshops, 17/4/1978, [oPJV]

   CF685   JSF    335 - unlettered, Ballarat Workshops, 17/4/1978, [oPJV]

   CU650   JSF    336, Tottenham Yard, 12/3/1979, [oPJV]

   CU649   JSF    338, Tottenham Yard, 12/3/1979, [oPJV]

   CU648   JSF    339 - in rake of ten JSF wagons, Tottenham Yard, 12/3/1979, [oPJV]

   CU656   JSF    339 - s1e2, Tottenham Yard, 12/3/1979, [oPJV]

   CU692   JSF    340, Dandenong, 10/1/1979, [oPJV]

 
   No diagrams found for JSF   
   Photos   for  'JSX  '

   FileID  Description................................................



   BA119   JSX    305 - s2, XB frame bogies, Koala Siding, c1977, [oRXO]

   AM153   JSX    316, [oPJV]

   BA120   JSX    316 - s2, Spotswood, 20/11/1976, [oRXO]

 
   Diagrams   for  'JSX  '

   FileID  Description................................................



   AS686   JSX        -  diagram J-6, 22/7/1974, [oPTC]

 
---
File c393m compiled by Peter J. Vincent, updated 31/10/2007